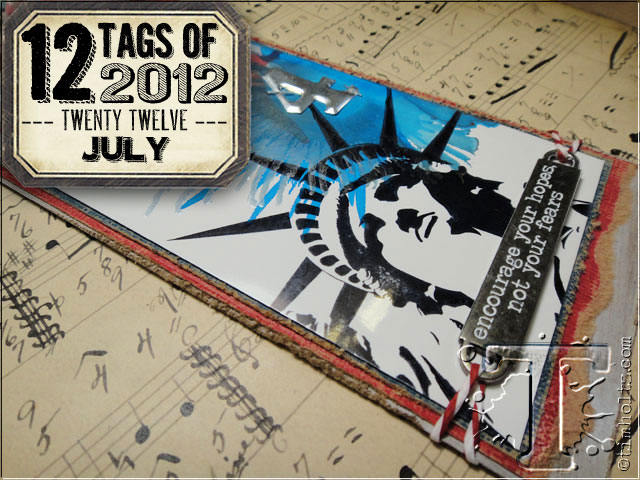 happy summertime – i must say i was inspired by the upcoming 4th of july celebrations for this month's tag, but as you check out this tutorial keep in mind this technique can definitely be applied to other themes.  since i love to use alcohol inks for a variety of techniques, you'll soon see why this particular one is a definite favorite.  get ready to get inky…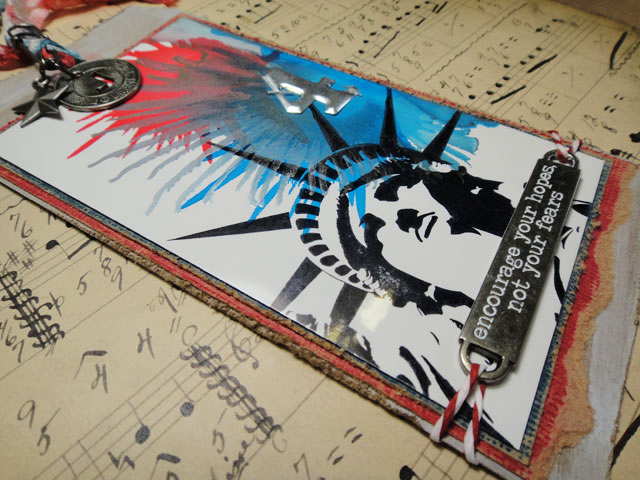 supplies: craft sheet, alcohol inks/watermelon/sail boat blue, metallic mixatives/silver, blending solution, jet black archival ink, alcohol ink cardstock or gloss cardstock, heat tool, distress stains/barn door/faded jeans/picket fence, #8 kraft tag, collage glue stick, paint dabber/snow cap; word bands, mini numerals, wire pins, muse tokens, crinkle ribbon, jump rings, adornments, tiny attacher, sanding grip; kraft core cardstock; paper distresser; string; canned air
before we start on the tag, check out this video tutorial i did a while back showing this fun technique using alcohol inks with canned air, one of those blasts from the past…literally.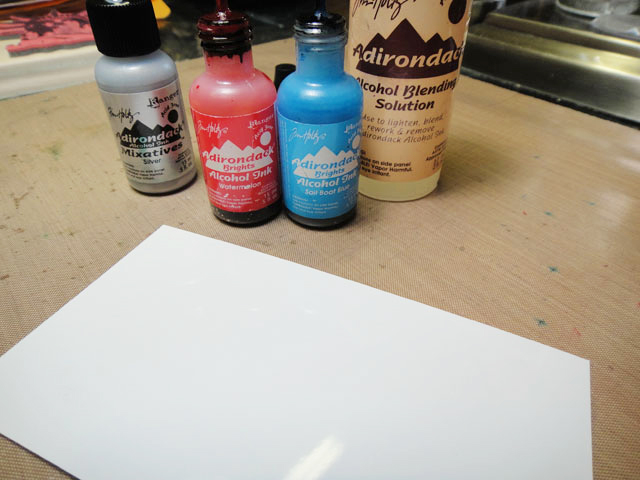 step 1: get your work surface ready.  this will include removing the caps from the alcohol inks, having your cardstock cut to size (2 3/4″x5″), and protecting your surface using a craft sheet.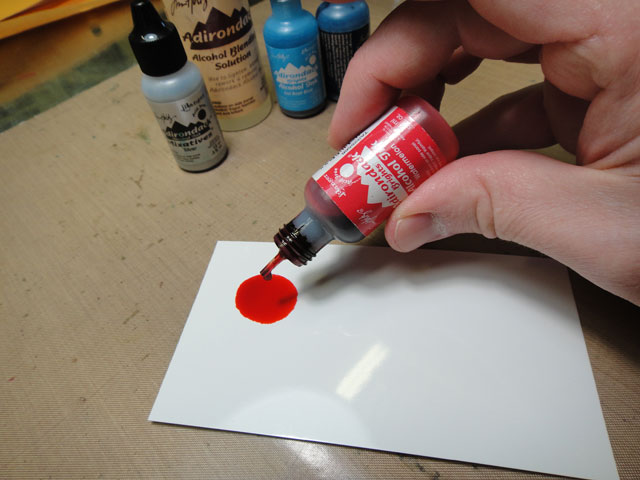 step 2: apply one drop of alcohol ink to gloss surface.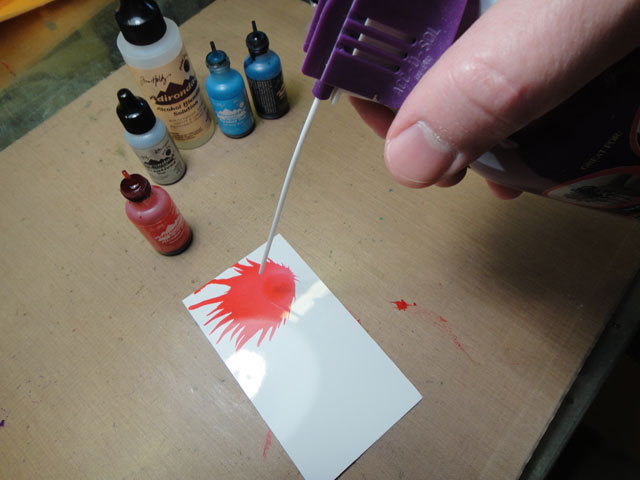 step 3: immediately blast the ink with canned air making sure nozzle is fairly close to the center of the dot of ink so the ink move out all around creating a splatter. *note: it's better to give quick short "blasts" of air as alcohol inks dry quickly.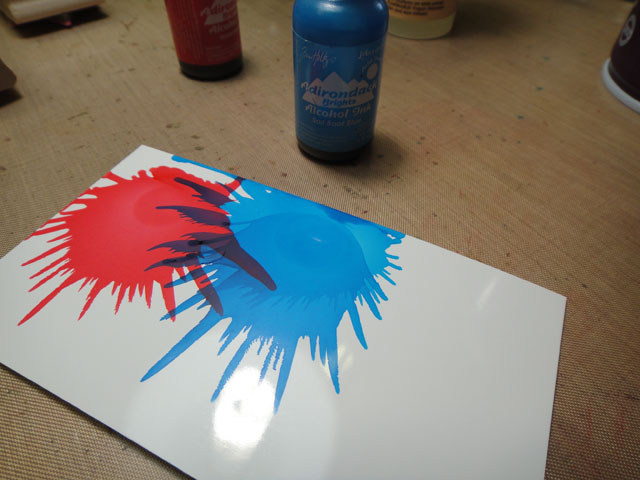 step 4: repeat previous steps with another color of ink.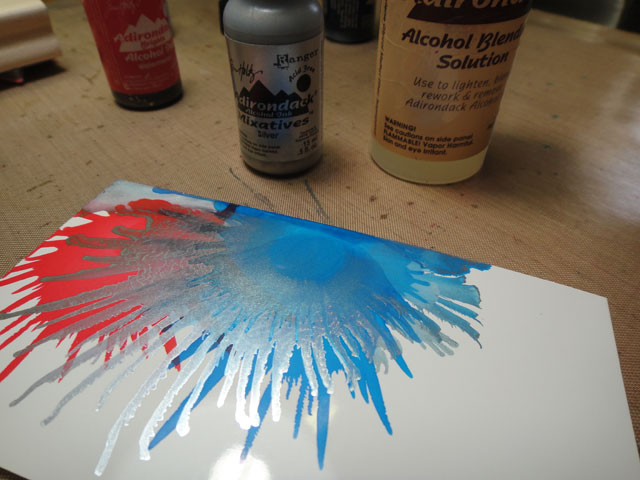 step 5: to create a splatter of metallic, apply 2-3 drops of blending solution to the surface first and then add one drop of mixative to the center.  then blast with air to create a semi-translucent metallic splatter. *note: you can also add another color splatter over the metallic one to create a colorful effect.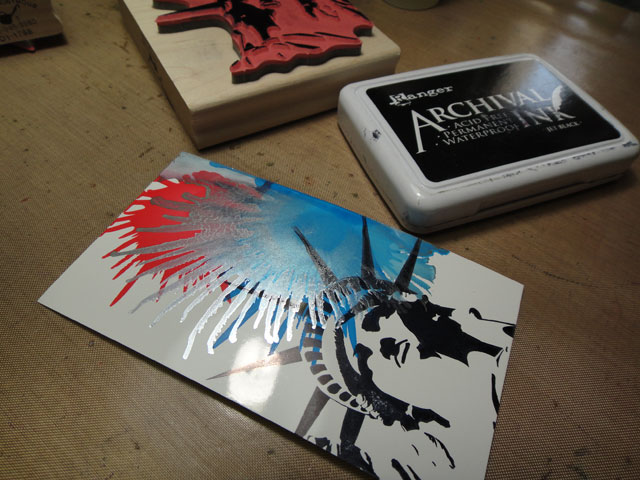 step 6: stamp image with archival ink and dry with heat tool.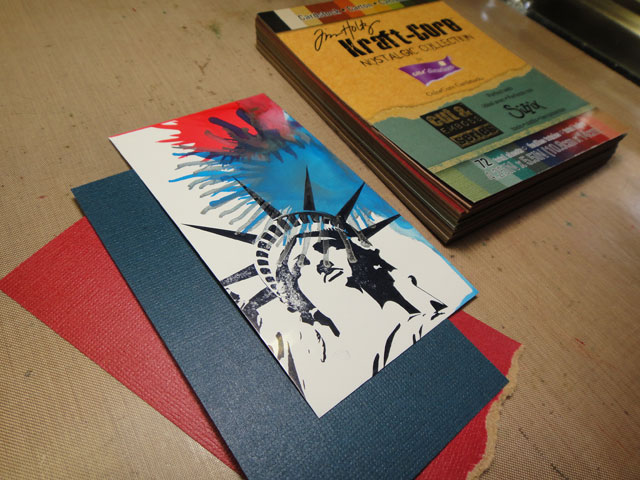 step 7: cut colors of kraft core to layer.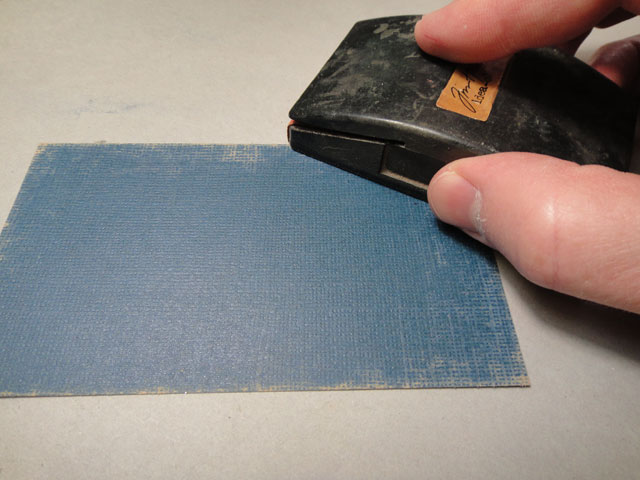 step 8: place kraft core on to sandable surface (not your craft sheet) and lightly sand the edges to reveal the kraft core.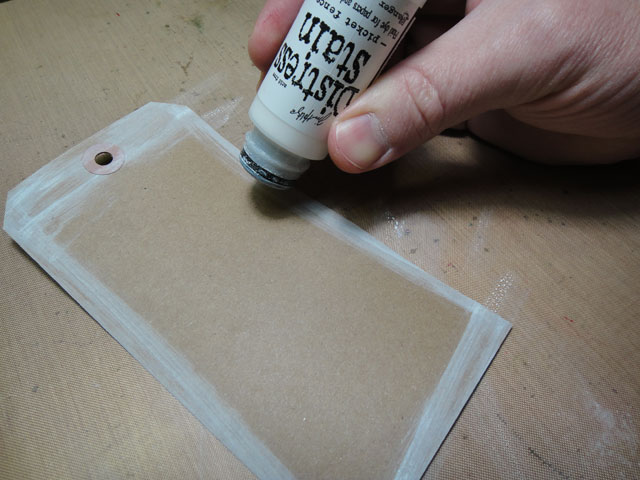 step 9: shake the picket fence distress stain and swipe around the edges of a kraft tag to create a washed effect.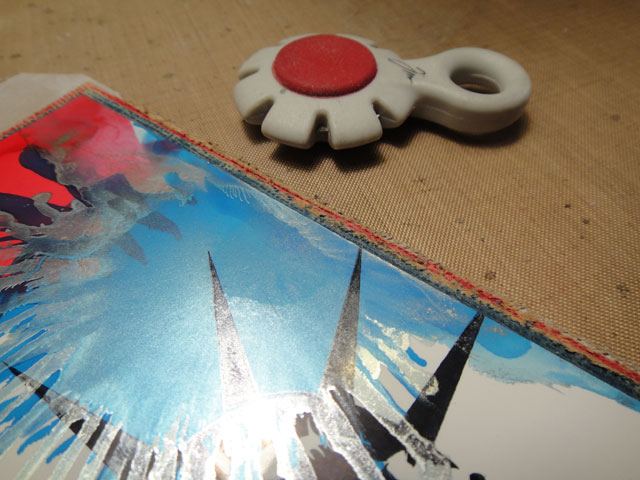 step 10: distress all edges using a paper distresser and layer your stamped background and colored cardstocks to tag using a collage glue stick.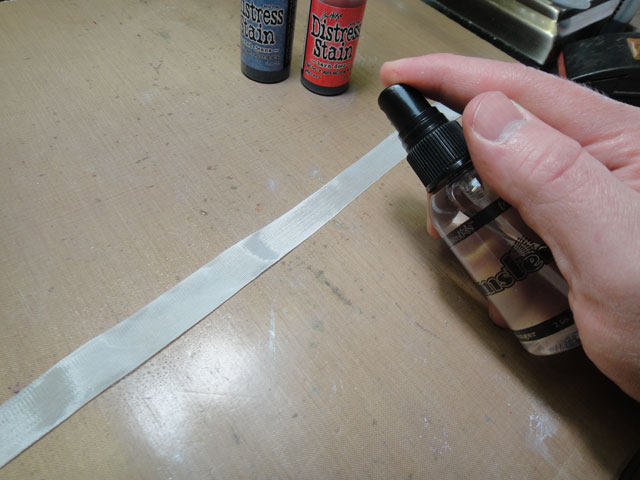 step 11: lightly mist crinkle ribbon with water.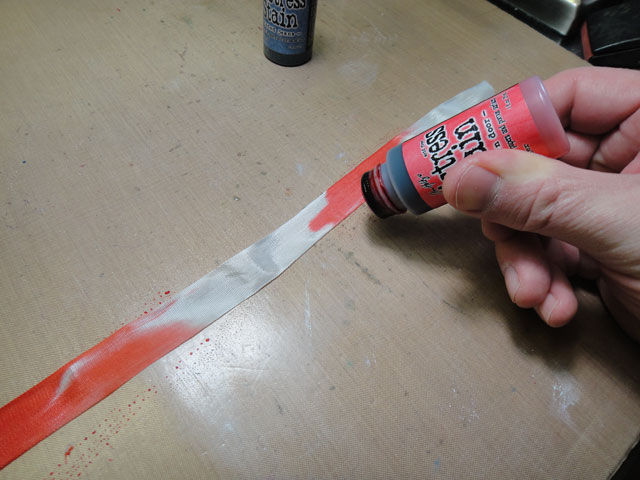 step 12: apply barn door distress stain to various areas of ribbon.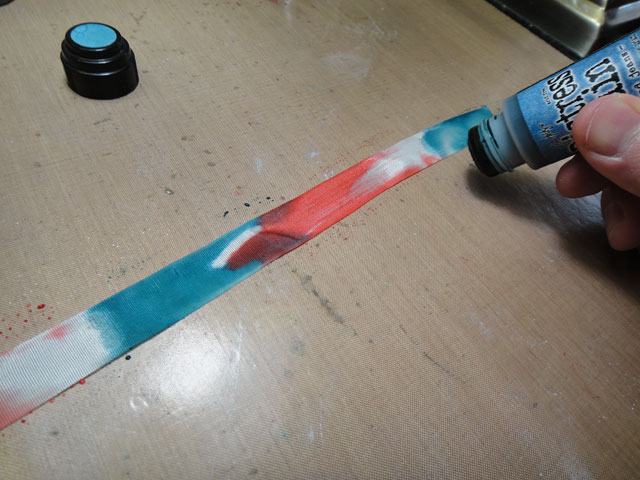 step 13: apply faded jeans distress stain to other various areas of ribbon.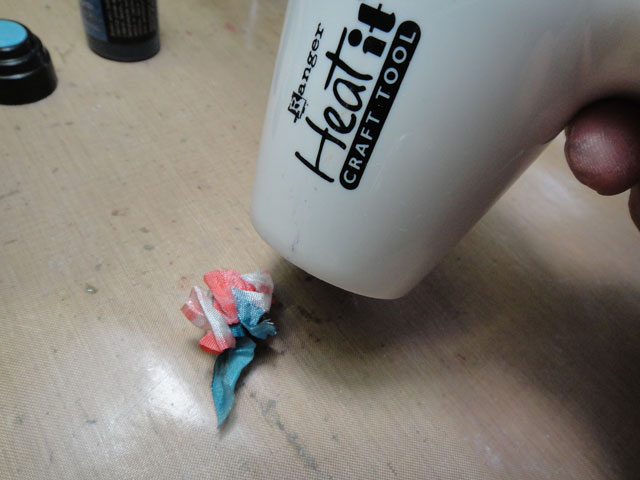 step 14: crinkle ribbon into a ball and dry with a heat tool.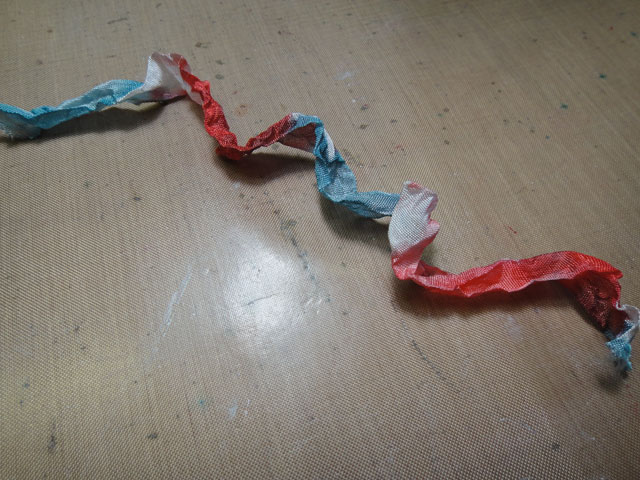 *this is the cool effect you get! *note: the water helps to blend the colors.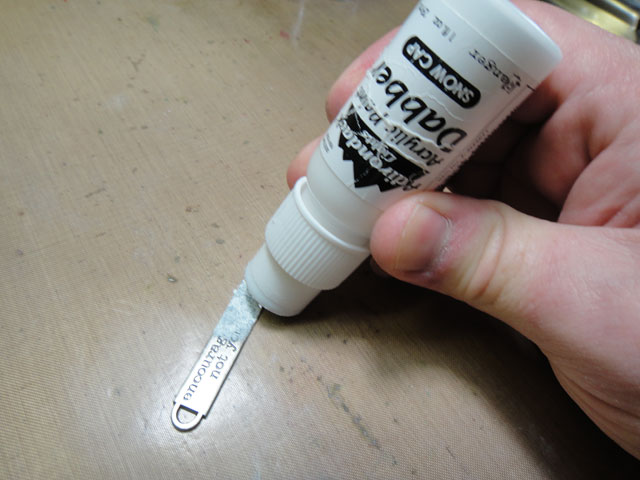 step 15: to alter the word band, apply white paint dabber over the words.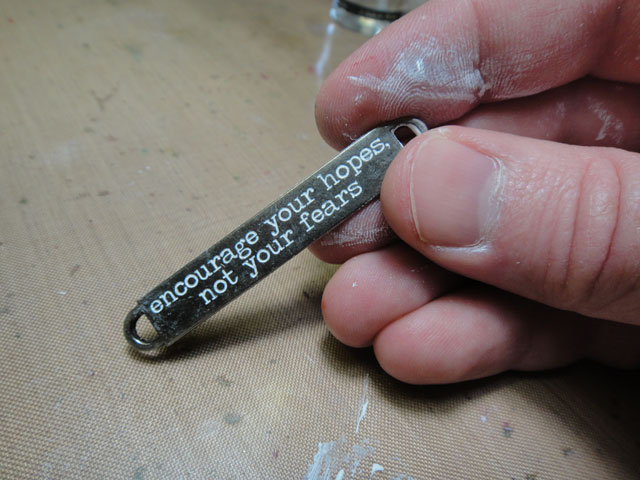 step 16: quickly wipe away excess wet paint to reveal the words.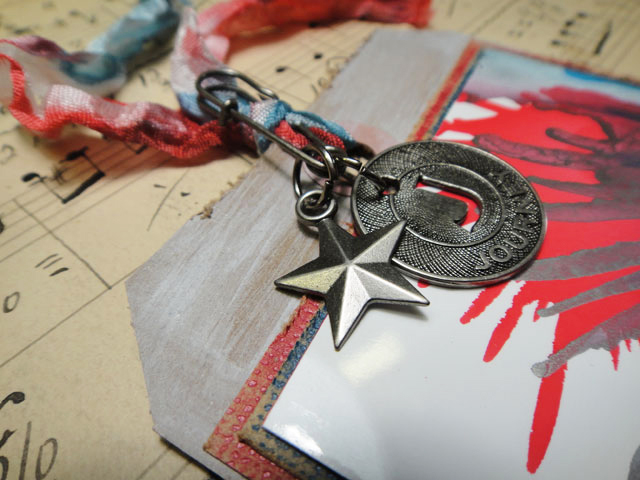 *the details: i like the way these silver metal embellishments look with the red, white, and blue crinkle ribbon.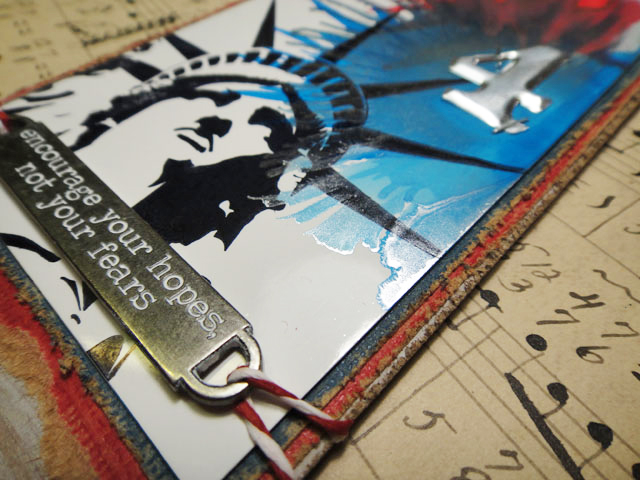 *the details: the paint really popped the word band – funny, i think i used most of the same embellishments as last month's tag.  weird how they work, but with a completely different look.
you'll see for yourself how fun this is to do and even more fun to figure out other clever uses for the splatter effect – i can't wait to see what you come up with.  here's to an inky day for you to simply play and laugh out loud (it's hard not to when you're trying this).  remember to have fun and try new things, after all…that's what this tag series is all about…t!m
congrats to the winners from the june 12 tags of 2012 gallery posts.  if you see your name below and it links to your tag, please contact mario@timholtz.com to claim your prize!
1. emeraldradio
2. Barbara Ford
3. Dottie
4. Michelle Nun
5. Miss Laballade
6. Antonia
7. Bararayaya
8. Creative Tara
9. Pamela Bennett
10. Anita Houston
11. Judy C.
12. stampersuzz 
*be sure to check your local stores for these supplies or you can
click the links below to purchase online…
(SSS=simon says stamp / IE=inspiration emporium)
GREAT NEWS! both of these online stores are offering a discount of 10% off your purchase – use the following codes with your order:
(SSS code: 712TH10 / IE code: timtime)