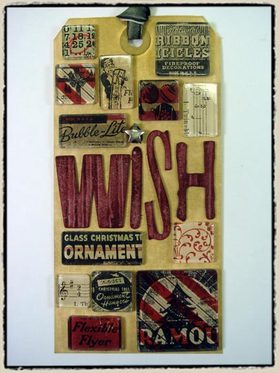 "holiday fragments" – tim holtz 2007
supplies:
craft sheet (ranger)
glossy accents (ranger)
distress inks: aged mahogany, old paper (ranger)
jet black archival ink (ranger)
ink blending tool & foam (ranger)
stamp set (stampers anonymous)
scissors (tonic studios)
fragments (tim holtz idea-ology)
grungeboard (tim holtz idea-ology)
patterned paper (cosmo cricket)
glue dots (glue dots)
tag and embellishments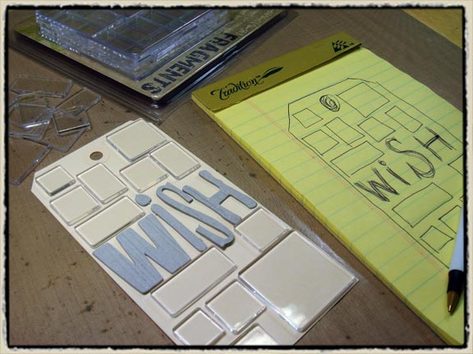 step 1: believe it or not, for today's tag, it's a good idea to plan ahead. i know i'm not much of a planner or thinker, but when creating a mosaic using the fragments it does help to know how many and what sizes you'll need before you get started. i like to lay out whatever fragments i am going to use on my project. then once i'm happy with the look, i'll sketch the layout on a piece of paper – nothing fancy here, let's not get carried away with this thinking thing…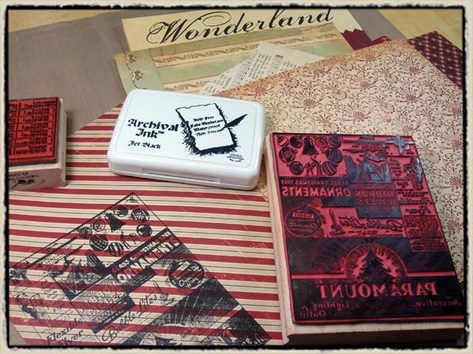 step 2: when creating custom embellishments with fragments you have so many options like i listed above, but on today's tag i wanted to incorporate 2 things i think most of us have lots of – stamps and scraps of paper. stamp images on various pieces of patterned scrapbook papers using waterproof ink – you do not need to stamp everything, (*tip: you could also stamp and color your images, create inked background papers, or stamp in other colors of ink – but EVERYTHING you use for this step must be waterproof, even the markers – or your images and colors will bleed when we adhere them!).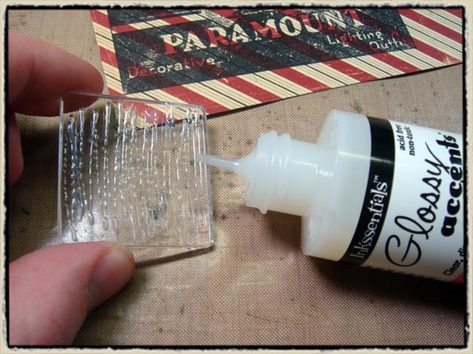 step 3: to start making our fragments, apply a small amount of glossy accent to one side of the fragment by scribbling it with the applicator tip of the bottle. (*tip: fragments do not have a front or back, top or bottom – anything goes!).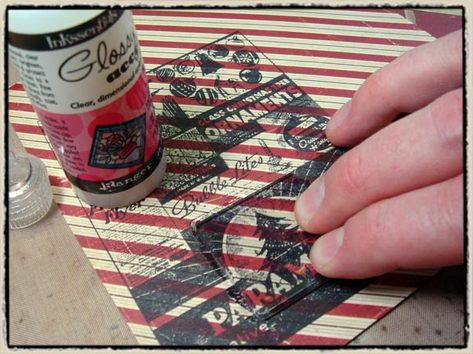 step 4: immediately press the fragment over the area you want for your embellishment. i like to rotate it a little on the paper to spread the adhesive, but you must work QUICKLY! (*tip: glossy accents has a 5 second drying time on paper when using it as an adhesive – cool huh? this is why it is important that whatever we use on the paper is waterproof or the colors will become a mess. you may be asking about "other" dimensional adhesives on the market – my advice, i've tried the others and have had the best luck with glossy accents, enough said.).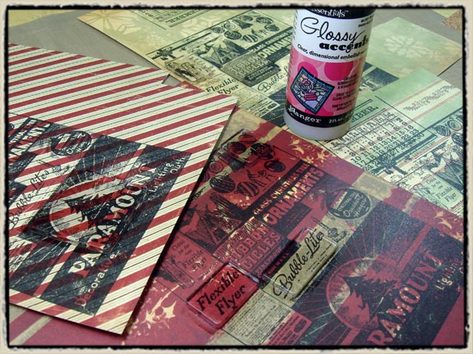 step 5: repeat the above step until all of your fragments are adhered to the papers. (*tip: be sure to leave a little space between your glued fragments so you can get the scissors in there to cut them out.).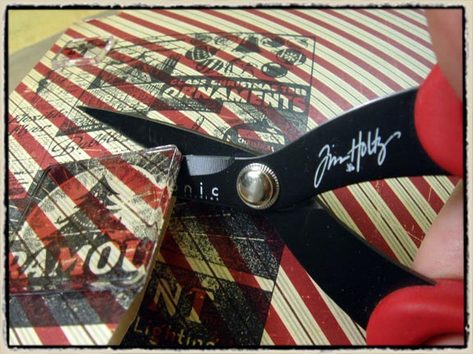 step 6: once all of the fragments are adhered, you're ready to cut them out. remember they were dry in 5 seconds. i prefer to use non-stick scissors to cut them out in case there is extra adhesive on the edges of these. (*tip: my scissors from tonic are detailed, self-sharpening, and non-stick. i can't say it enough, they are really great scissors).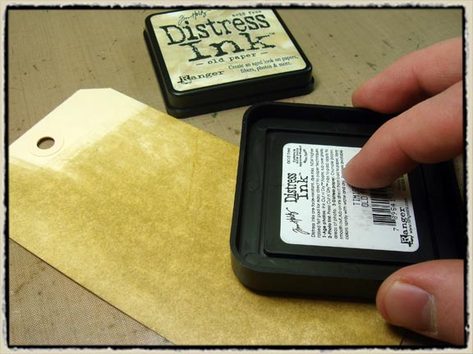 step 7: ink the background of the tag by going direct to paper. rub the old paper distress ink pad on the tag until the background is inked. (*tip: you can use any color for this and for a softer background, use your ink blending tool).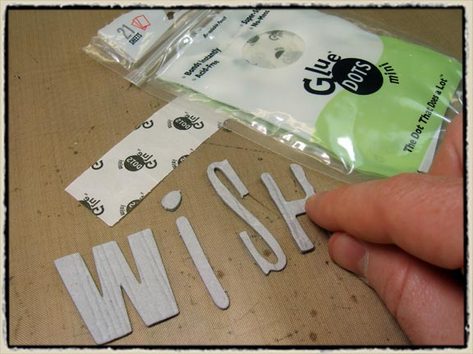 step 8: remove the letters "w-i-s-h" from grungeboard sheets and adhere to craft sheet with glue dots. (*tip: i use this trick whenever i'm inking, painting, or even embossing small pieces of grungeboard or chipboard)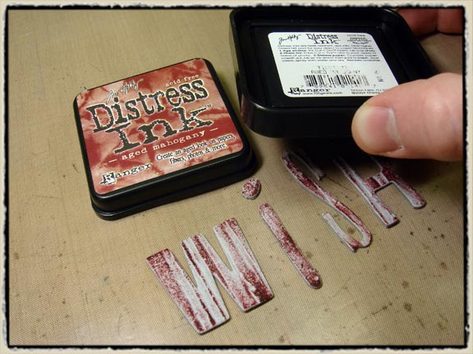 step 9: apply aged mahogany ink directly to them to hit the high textured areas.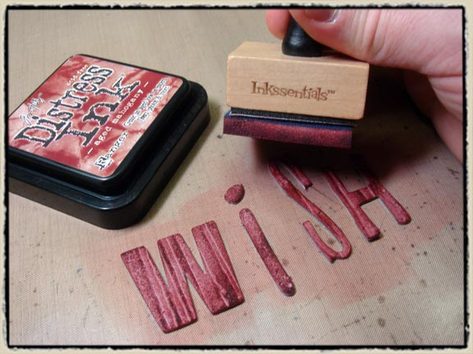 step 10: rub over the letters with ink blending tool & foam to soften the color and get it into the recessed areas of the grungeboard.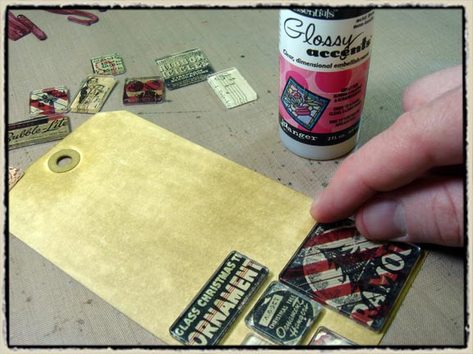 step 11: using the sketched map from earlier, begin adhering your fragments to the tag using glossy accents once again as your adhesive. (*tip: only use a small amount of glossy accents from this step by placing some only on the back center of the fragment to avoid any oozing out.)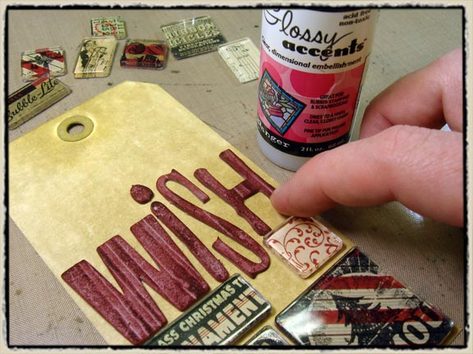 step 12: adhere your grungeboard letters to tag also using glossy accents and embellish tag. (*tip: even though glossy accents is often used for a dimensional effect, i use it as an adhesive for paper, grungeboard, metal, glass, wood, and ribbons – amazing stuff!).