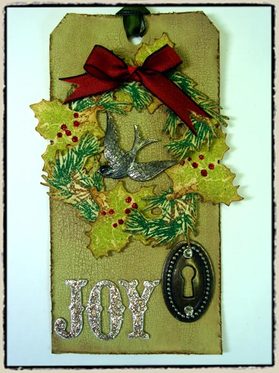 "wreath of joy" – tim holtz 2007
supplies:
craft sheet (ranger)
ink blending tool & foam (ranger)
distress embossing ink (ranger)
distress embossing powders: pine needles, shabby shutters, vintage photo (ranger)
distress crackle paint: shabby shutters (ranger)
distress ink: brushed corduroy (ranger)
mini mister (ranger)
stickles (ranger)
stamp set (stampers anonymous)
paper distresser (tonic studios)
scissors (tonic studios)
thickers letters (american crafts)
glue dots (glue dots)
tag and embellishments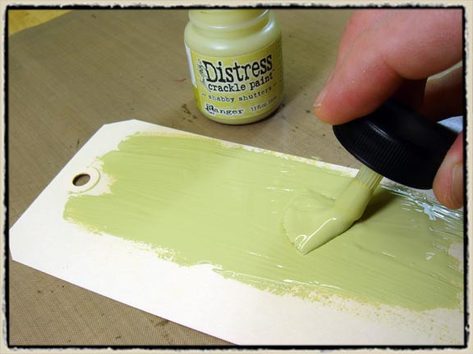 step 1: paint tag with shabby shutters distress crackle paint and allow to dry and crack. (*tip: remember – a medium to heavy coat of paint for a larger crackle effect. distress crackle paint is a one step crackle paint.)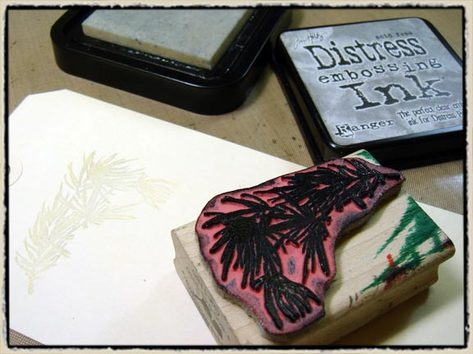 step 2: on a new tag, stamp pine stamp with distress embossing ink. (*tip: i love using these smaller stamps as accent stamps to create bigger things!)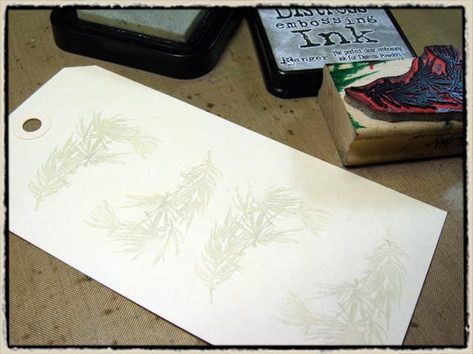 step 3: re-ink the stamp and stamp 3 more times on tag for a total of 4 images. (*tip: don't worry about time – you have about 5-10 minutes to get your powders on while the ink stays wet so relax!).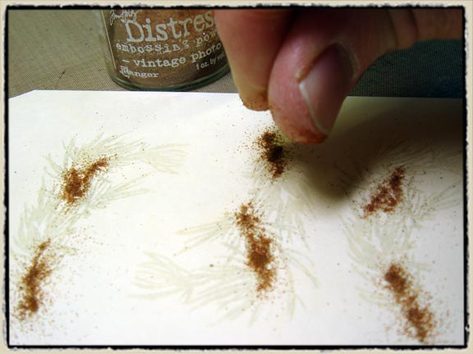 step 4: using your fingers, take a "pinch" of vintage photo distress powder and hold your fingers directly over the part of the image you want to color (the branches). twist your fingers together to SLOWLY let the powder fall on that part of the image (*tip: hold your hand directly over the tag.)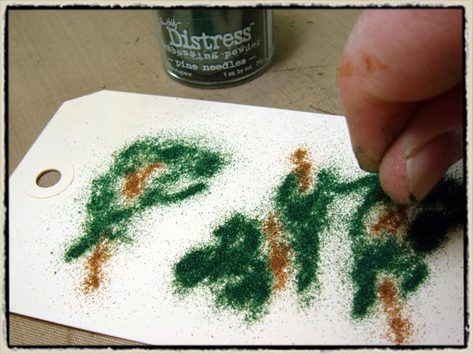 step 5: repeat the above step using pine needles powder on the "needles" and until entire image is colored with powders.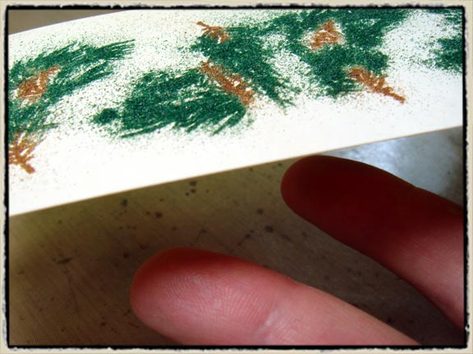 step 6: IMPORTANT STEP – keeping your tag flat, hold it up with one hand and place 2 fingers under the tag with the other hand. using a tapping motion with your fingers, tap under that tag to bounce around the powders.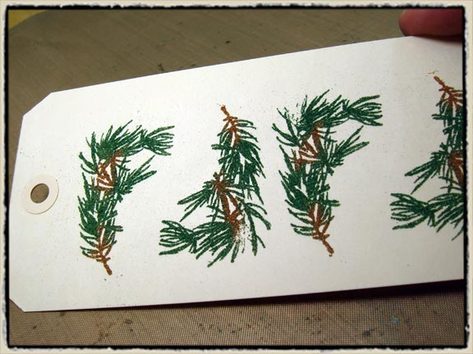 step 7: tip tag to remove any/all excess powders that don't stick to your stamped image – cool huh? (*tip: do not flick! these leftover powders are obviously all mixed up, but store them in an empty jar to save as a "party mix" for another project)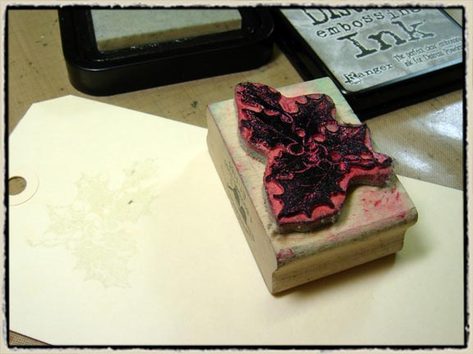 step 8: on another new tag, stamp holly stamp with distress embossing ink, and re-ink the stamp and stamp 3 more times on tag for a total of 4 images.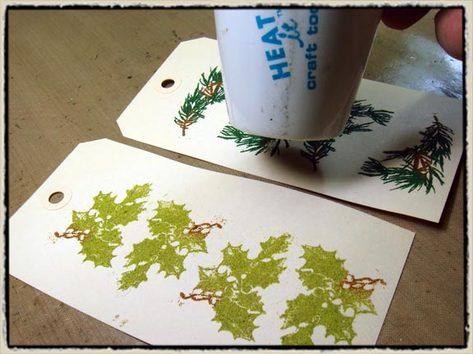 step 9: repeat embossing technique above using vintage photo on branches and shabby shutters on holly leaves. emboss the images on both tags using your heat tool. first thing you'll notice is that these powders never really change from matte to glossy like regular embossing powders do when they melt. so how do you know when they're done? well, practice… the colors of the powders will actually change when they are melted, but if you're not sure, just heat as long as you think you would normally emboss something (*tip: the best part of distress powders is they can never be over-embossed like regular powders can so no worries).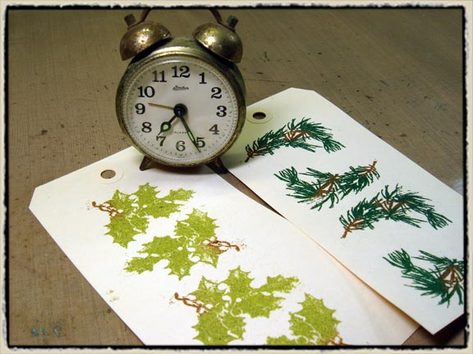 step 10: THE MOST IMPORTANT STEP – distress powders MUST COOL before you can touch them. unlike regular embossing powders that stick when melted, distress powders only stick once they have been melted and COOLED! that's right, if you rub them while they're still hot, everything will fall off the paper. just be patient.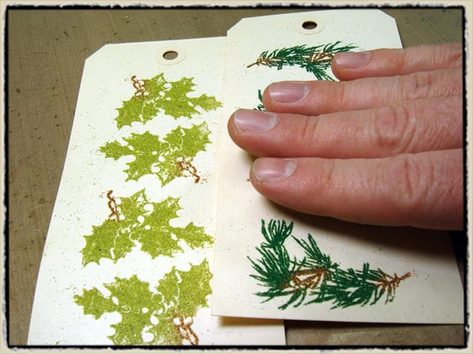 step 11: once cool, touch areas of your image to make sure they feel like sandpaper vs. sand on the beach. if they feel loose, just re-heat, let cool again, and then rub your hand across the image to remove the release crystals. (*tip: the release crystals are random what's done is done. do not put release crystals back into the jar, just throw them away)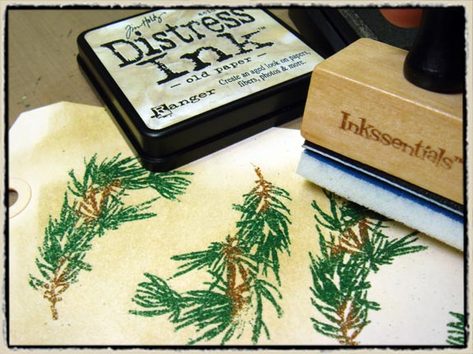 step 12: ink the tags with old paper distress ink using an ink blending tool with ink blending foam. your image is already colored with the powders so you're just filling in the background.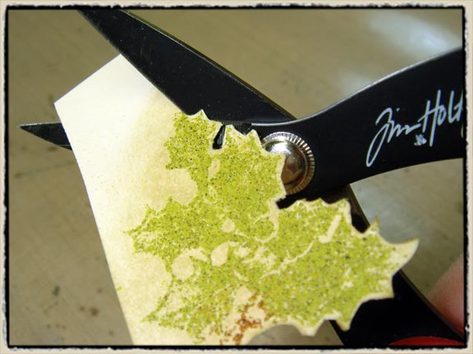 step 13: cut out all 4 pine boughs, and 4 holly springs with scissors.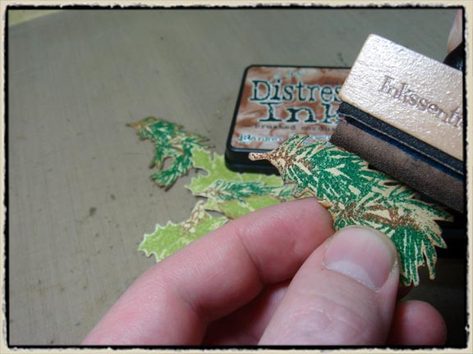 step 14: ink edges of cut pieces with ink blending tool & foam using brushed corduroy distress ink.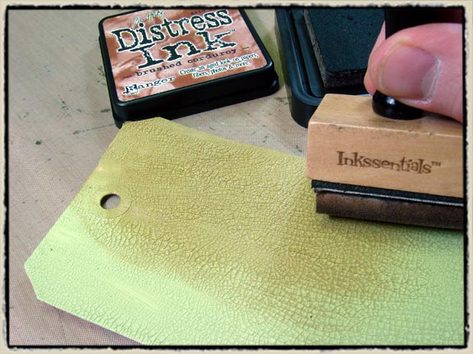 step 15: once tag has dried and crackled, ink with brushed corduroy using ink blending tool & foam – be sure to cover tag with ink and force down into cracks with foam. (*tip: if tag is not completely crackled, but has started to crack, you can use your heat tool on it to dry and finish cracking).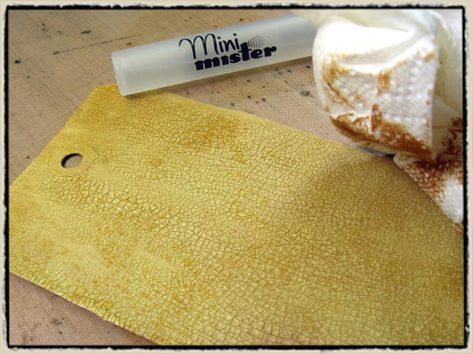 step 16: mist tag with water using mini mister and blot excess ink off using a paper towel. (*tip: the brown ink will remain in the cracks and the rest will be removed to reveal painted color).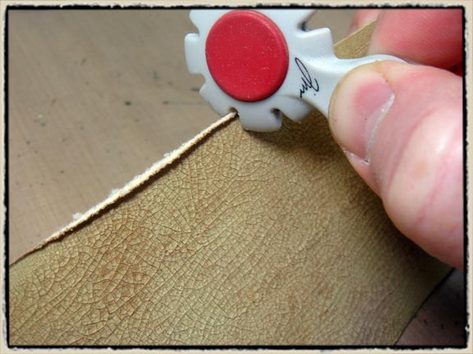 step 17: drag paper distresser along edges of tag to tatter tag.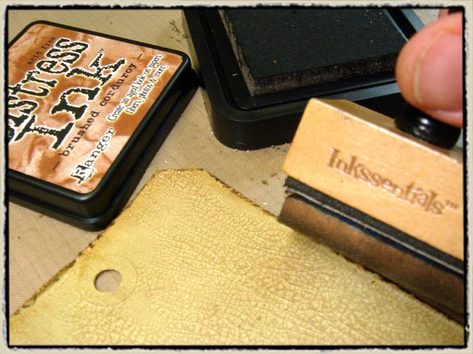 step 18: ink edges using ink blending tool & foam with brushed corduroy distress ink. (*tip: this will stain the raw paper edge and make it appear burnt).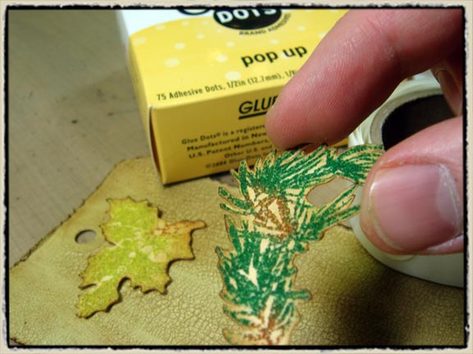 step 19: begin assembling tag by adhering the pine and holly pieces in a "wreath" form – alternating each image piece with dimensional glue dots (*tip: you can overlap each image or tuck one under the other as you build the wreath).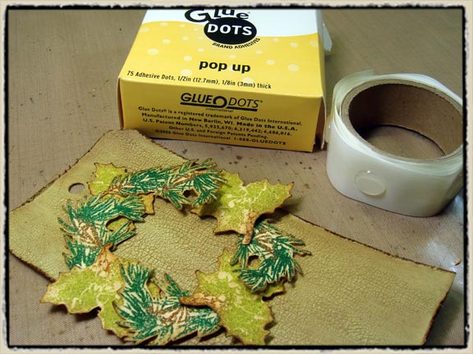 step 20: repeat until wreath is completed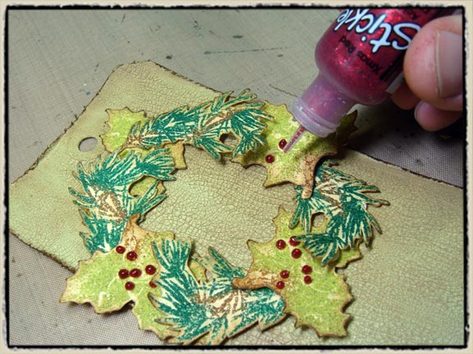 step 21: accent holly images with xmas red stickles. let dry.
step 22: place "thickers" letters JOY on craft sheet and accent with platinum stickles. let dry.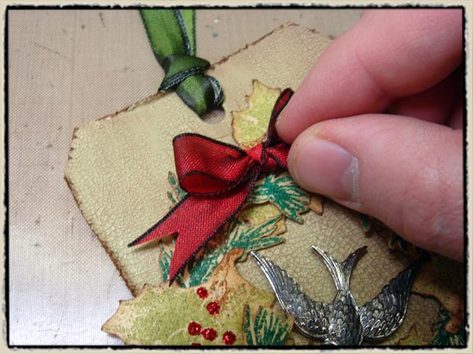 step 23: attach ribbon bow to top of wreath and embellish tag.