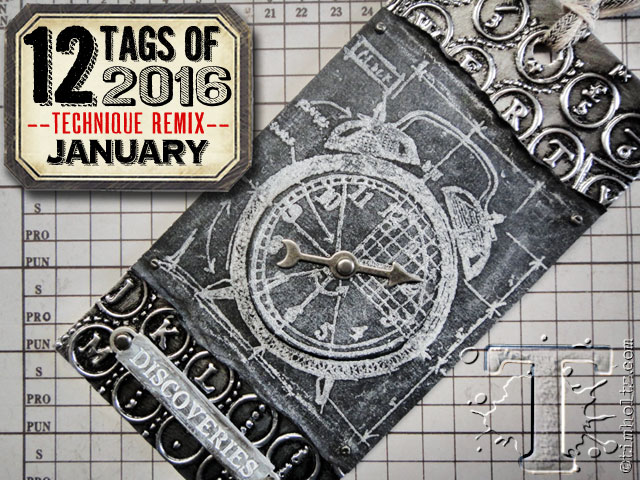 happy 2016!  as we embark on a new year, many of us set new goals, plan new adventures, and like any creative person, seek new ideas (after all it's those ideas that drive our passion for making things).  so as i sit here in my studio knowing it was the first day of the month when i usually post a new tag, i started looking back through my previous "12 tags".  it's hard to believe this will be the 10th year of doing "12 tags" on my blog?!  what started out as a way to share inspiration with "12 tags of christmas" back in 2007, turned into a monthly tag series in 2012, and the rest as they say, is history.   years of step by step photos, instructions, and videos shared on these tutorials reminded me of some favorite techniques that inspired me all over again.
i believe that when it comes to seeking new ideas, sometimes our creative focus is blurred by the products used like a specific stamp, die, embellishment or color of ink vs. the techniques being shared which is most important part of learning things.  as a designer it's a balance between the excitement of new products and remembering to use what we already have.  so i've decided to change things up with the "12 tags of 2016 – technique remix".
remix /rē'miks/: a piece of media which has been altered from its original state by adding, removing, and/or changing pieces of it.
i'm going to be taking you back into the archives of my blog to explore techniques that might be new discoveries for some, and re-discoveries for others.  each month i will be "remixing" two previous 12 tags techniques to show you an entirely different outcome using the same techniques.  i plan to highlight new ideas i may have, perhaps show a new product that might exist now to achieve a similar effect, or just helpful hints i've learned since i originally shared the technique.  my goal is to empower your creative way of thinking and remind you that inspiration is right at your fingertips.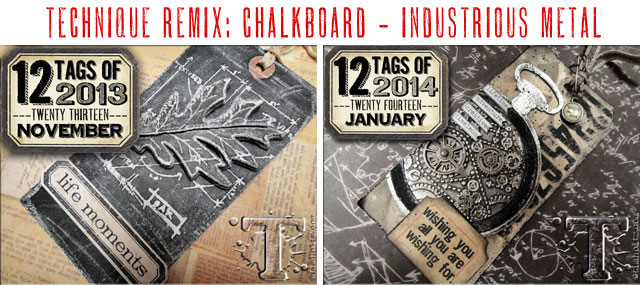 supplies:
surfaces: metal foil tape, #8 manila tag, black cardstock or tag
inks: distress embossing ink
paint: distress paint/black soot/picket fence
embossing powder: frosted crystal
embellishments: word band/observations, long fasteners, mini fasteners, game spinner, trimmings
adhesives: foam tape, glossy accents
tools: texture fade/typewriter set, stamp/CMS152 vintage things blueprint, vagabond, on the edge cutting pads, heat tool, scissors
misc: white chalk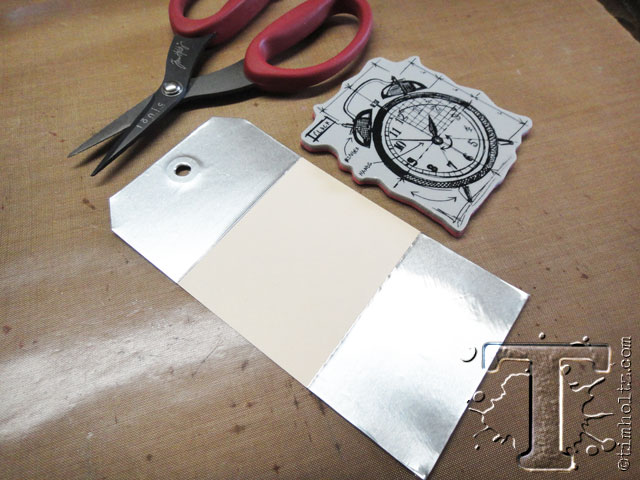 – for this tag i wanted to use the industrious technique on the background so i first chose my stamp to determine the space it would take up on the tag.  next i adhered the foil tape to the top and bottom portions of the tag that would be showing.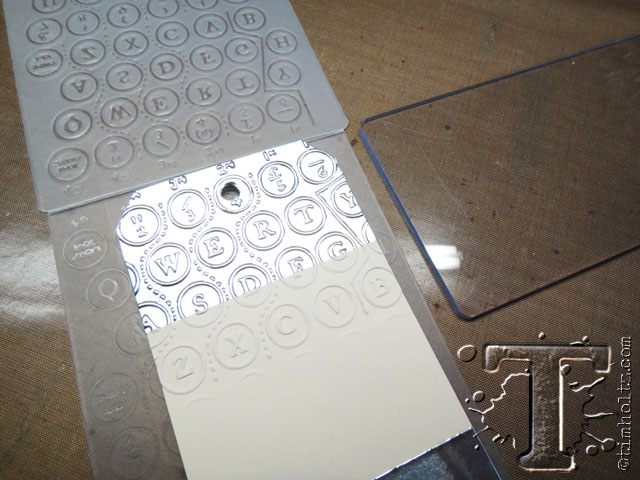 – a trick for embossing part of the texture fade is using a smaller cutting pad.  i placed the top of the tag in the texture fade and used an "on the edge" cutting pad as my top cutting pad to only emboss the top section.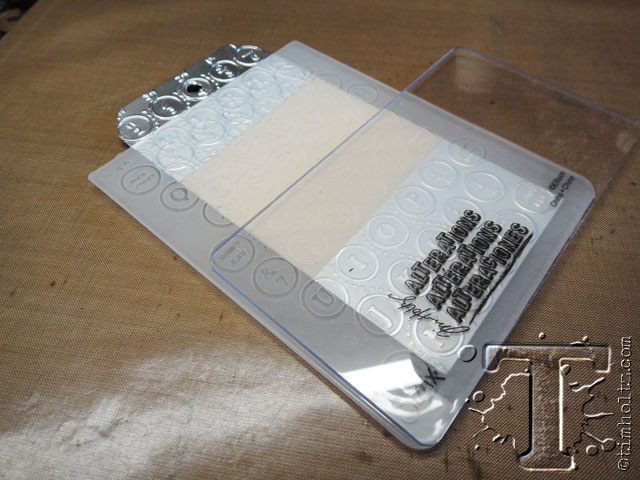 – next i cut a slit through the top of my embossing folder (which i do to every folder) so i can slide the tag through the folder.  i used the "on the edge" cutting pad again to only emboss the bottom section this time.
– following the technique i created the industrious finish to the taped areas – such a cool effect.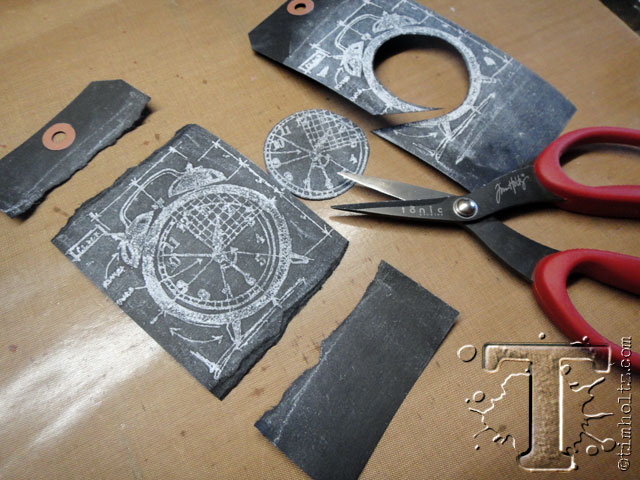 – since i wanted to layer this image, i created the effect on two black tags (or you could use black cardstock).  i tore the edges on the main image, and cut out the area i wanted to layer from the second image.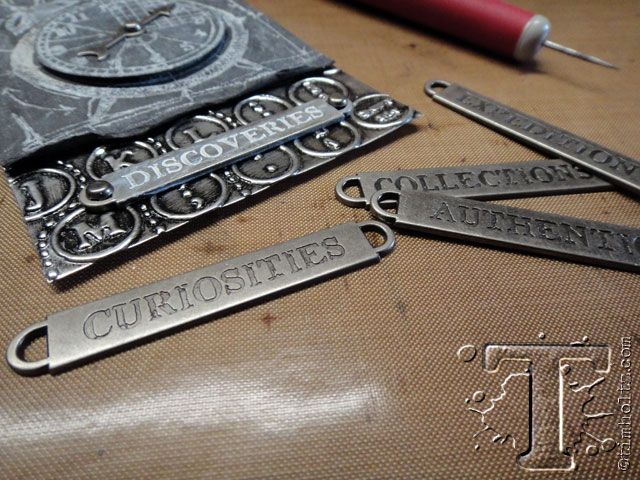 – to embellish i added a word band painted with picket fence distress paint and wiped off.  i added a game spinner to the center of the clock and some mini fasteners to the corners.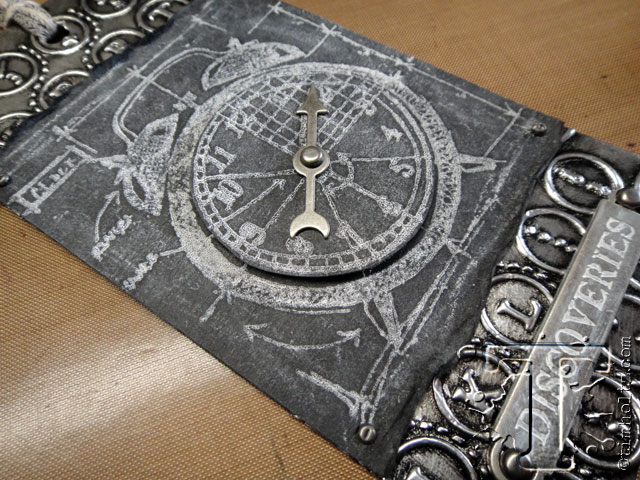 see how inspiring it is to create an entirely different project using the same techniques?  i hope you're ready to join me for another year of the "12 tags" series here on the blog, and let your creativity be reminded that when you change the way you look at things, the things you look at change…t!m
congrats to the winners from the december 12 tags of 2015.  if you see your name (and it links to your tag), please email mario@timholtz.com to claim your prize…
1. Inkysplatters
2. Crooked Stamper
3. Super Stick Chick
4. Anita H
5. Diana
6. Katy Leitch
7. Joi S
8. Jody
9. Laura Vi
10. Nox
11. Stefania
12. Delphine
*be sure to check your local stores for these supplies, or click on the links below to purchase online from Simon Says Stamp with a discount of 10% off your purchase – use code: 10JANUARYTH