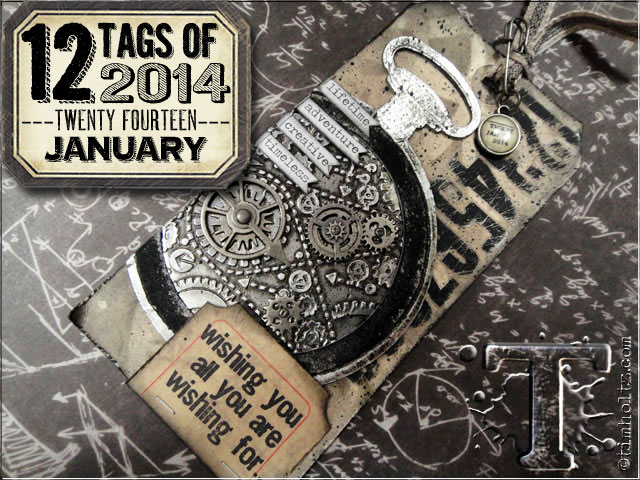 happy new year!  as we begin 2014 here's wishing everyone a year filled with everything you are wishing for.  whether it's seeking new adventure, creative inspiration, or anything else, it's most important to "remember the now".  i think no matter how busy and chaotic everyday life gets, we all need to take time to do something creative for ourselves.  for me, the monthly "12 tags" are my outlet because it allows me to just make whatever comes to mind.  i don't try to discover a new and exciting technique every month, or to make something never before seen – that's not the intention.  what i make sure to do is just spend time in my studio every month making a new tag to enjoy the creative process…
the greatest thing about the "12 tags" is the ability for you to join in the fun and upload your creation to share with the world right here on the blog.  it's so rewarding to see all of you who are taking time to create and share your inspired projects, not to mention it gives you a chance to be one of our random monthly prize winners.  so as we start a new year, i am encouraging all of you to make a commitment to do something creative for yourself, and take time to enjoy the journey.  with that, let's get to our first "12 tags of 2014" inspired by what the new year reminds us of  – "time"…
i'm excited to announce tomorrow starts the sneak peeks of the new products debuting at the cha2014 show – enjoy today…t!m
supplies:
surfaces: #8 manila tag, foil tape, grungeboard
layering stencils: clockwork
stamps: cms132
dies: pocket watch frame, movers & shapers die sized circles
texture fades: blueprint & gears set
embellishments: remnant rubs, chit chat stickers, journaling tickets, type charms, sprocket gears, mini gears, game spinners, mini fasteners, wire pin, jump rings
trimmings: black & cream trimmings
distress ink: pumice stone, black soot
distress stain: pumice stone
distress paint: black soot
archival ink: jet black
mediums: glossy accents
tools: mister, craft sheet, heat tool, tiny attacher, sanding grip, vagabond, splatter brush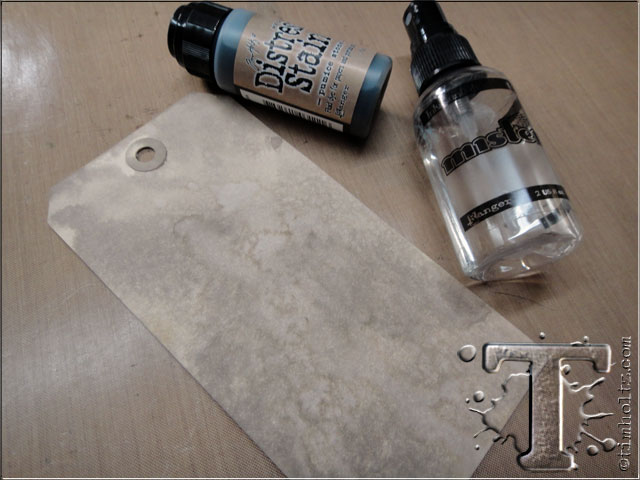 step 1: stain manila tag with distress stain and mist with water to react color – dry with a heat tool.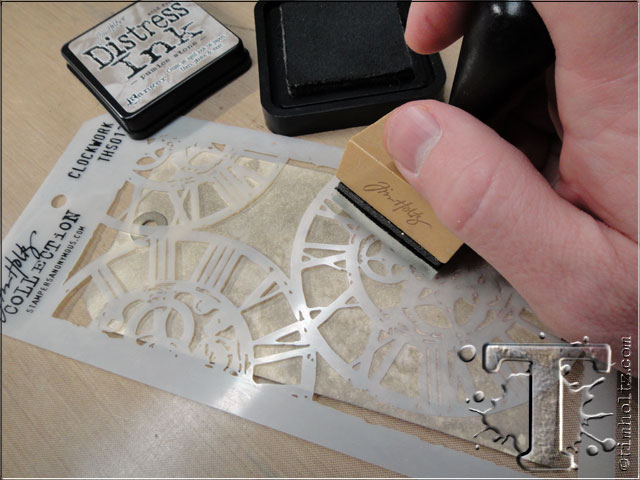 step 2: place layering stencil over tag and ink with distress ink using ink blending tool to create shading effect.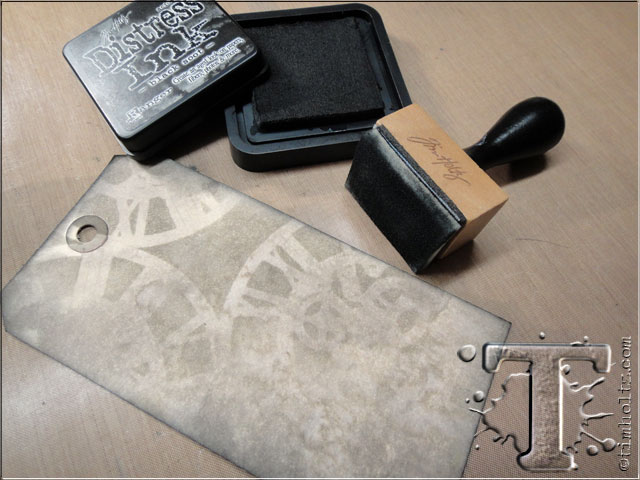 step 3: ink edges of tag with distress using blending tool to create contrast.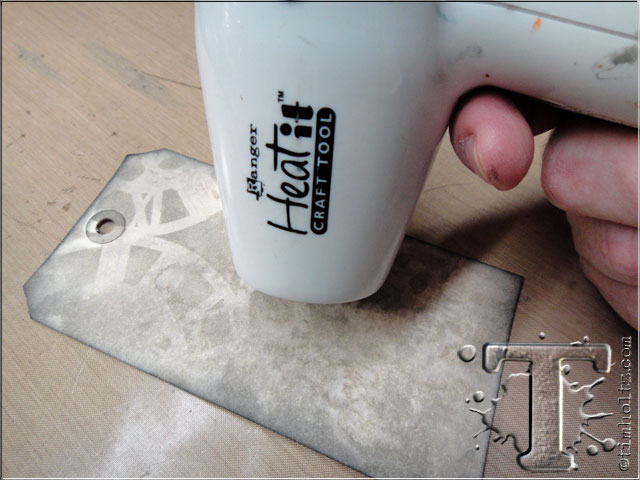 step 4: dry inked tag with heat tool (this step dries the resins in distress ink allowing the rubs to stick in the next step).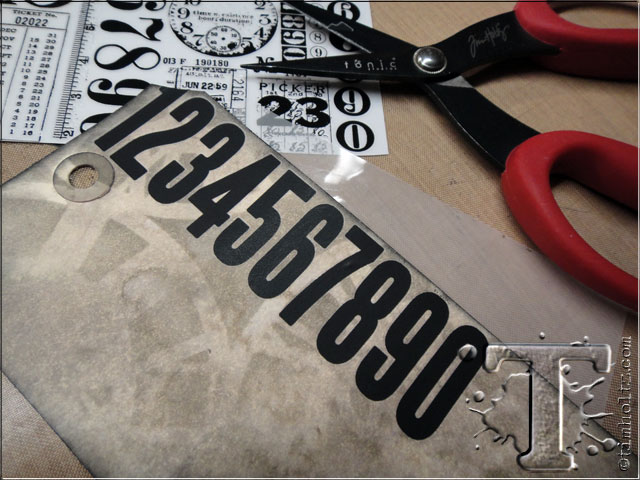 step 5: apply remnant rubs to tag using craft stick.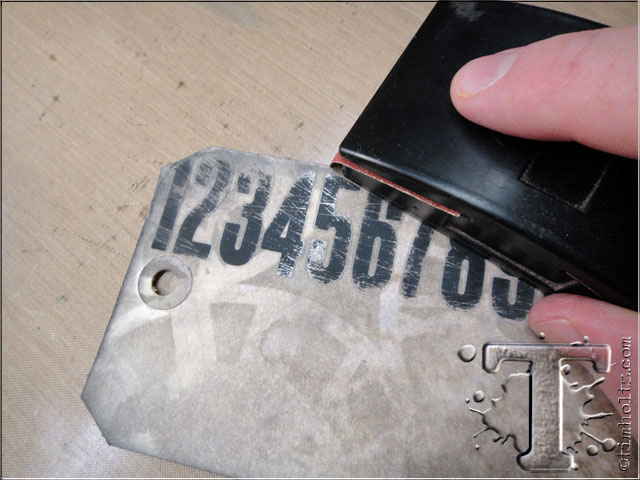 step 6: sand and scuff over remnant rubs to create a distressed effect.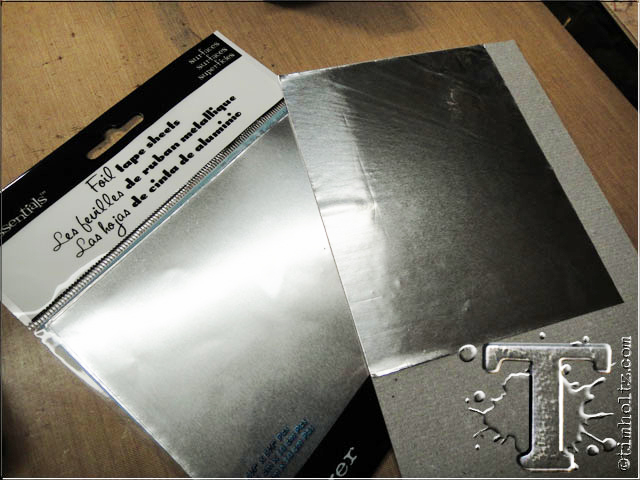 step 7: adhere metal foil tape to a piece of grungeboard.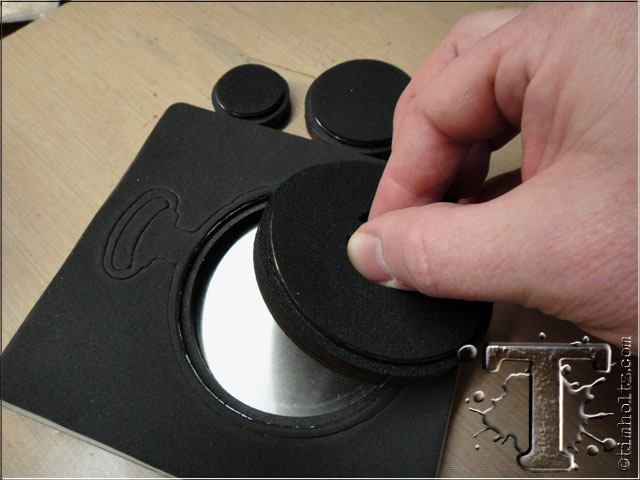 step 8: insert largest sized circles movers & shapers into pocket watch frame die.  this will create a frame out of this shape instead of a solid pocket watch – love the versatility of movers & shapers.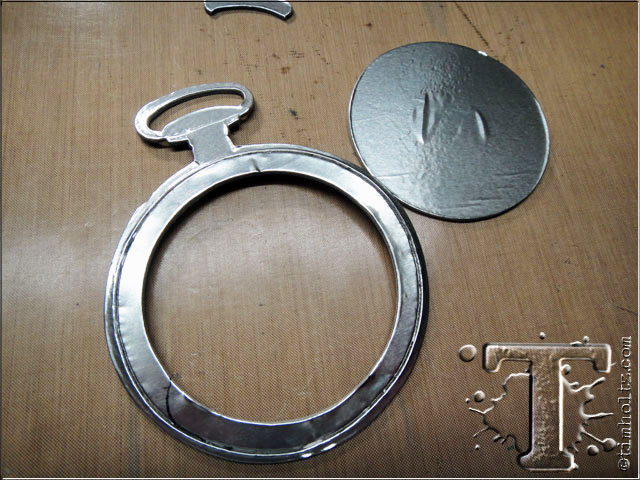 step 9: die cut foil covered grungeboard with vagabond.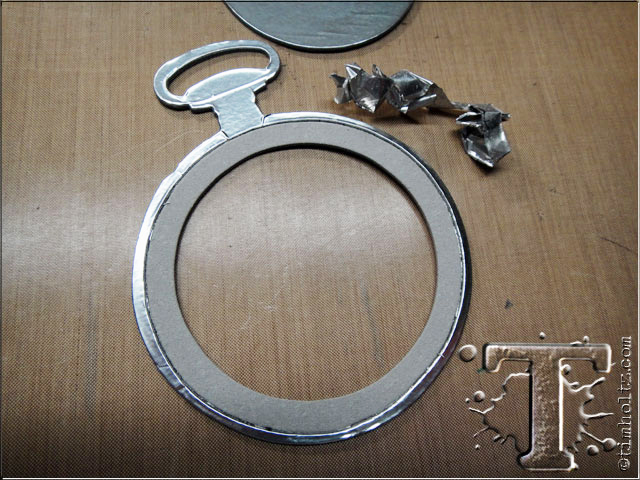 step 10: remove the foil tape from the inner edge of grungeboard.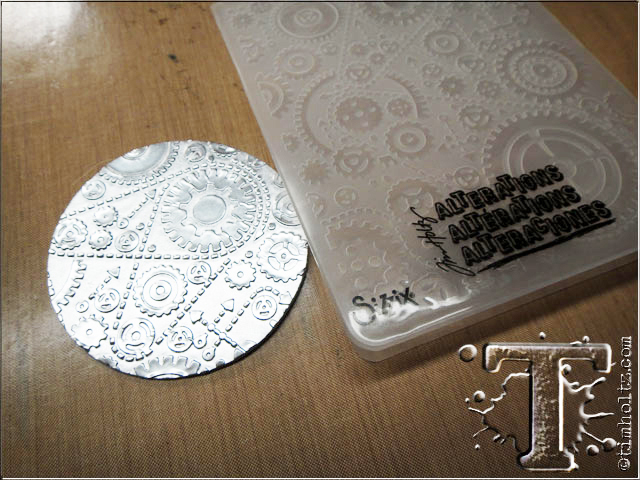 step 11: emboss inside circle from cut watch frame using gears texture fade.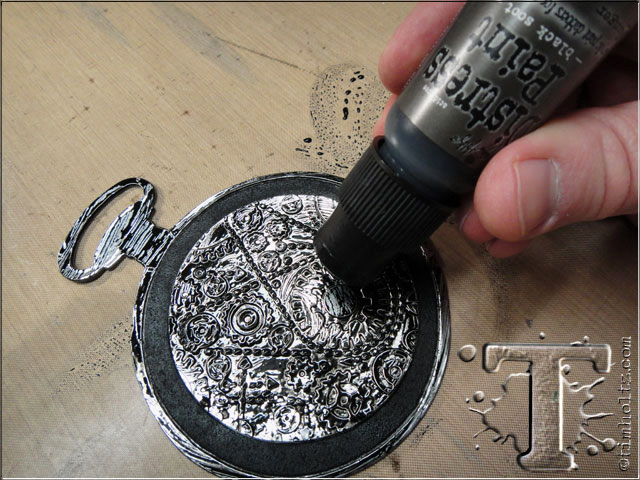 step 12: paint all pieces with black soot distress paint.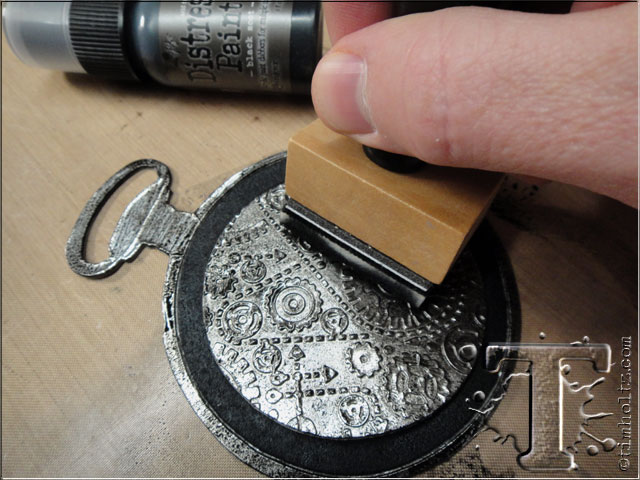 step 13: using blending foam on blending tool, work the paint into all areas of cut and embossed pieces.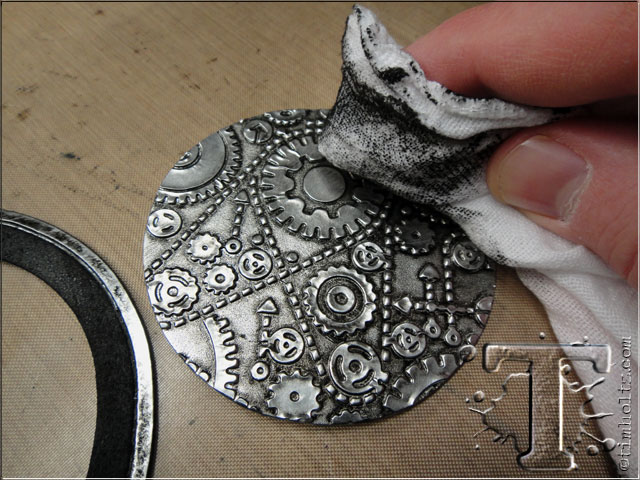 step 14: using a soft cloth or paper towel, wipe away excess paint from surface to reveal metal.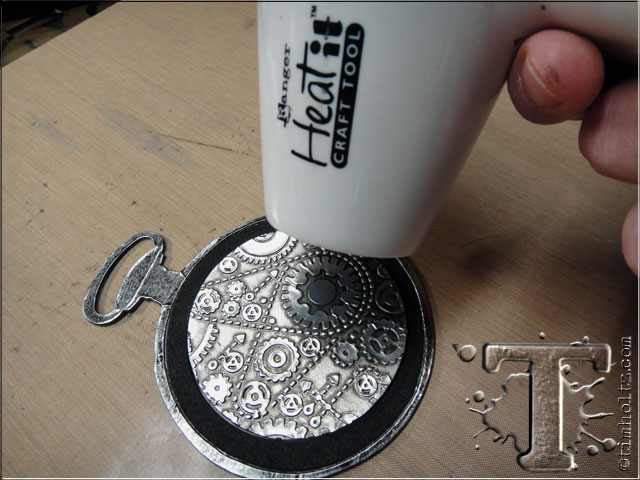 step 15: once desired look is achieved, dry remaining paint with heat tool.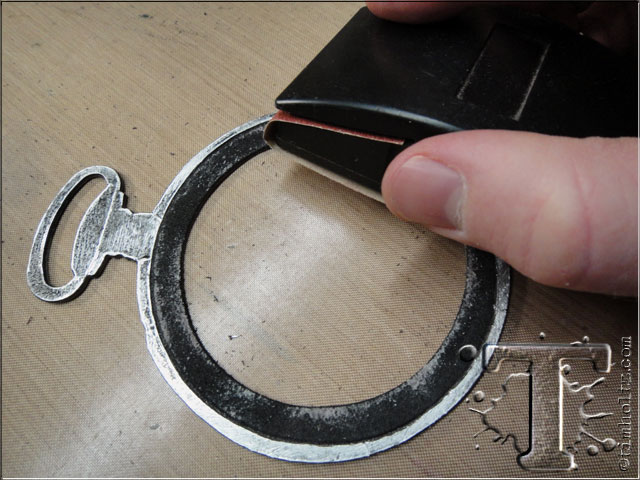 step 16: sand over watch frame to scuff painted areas.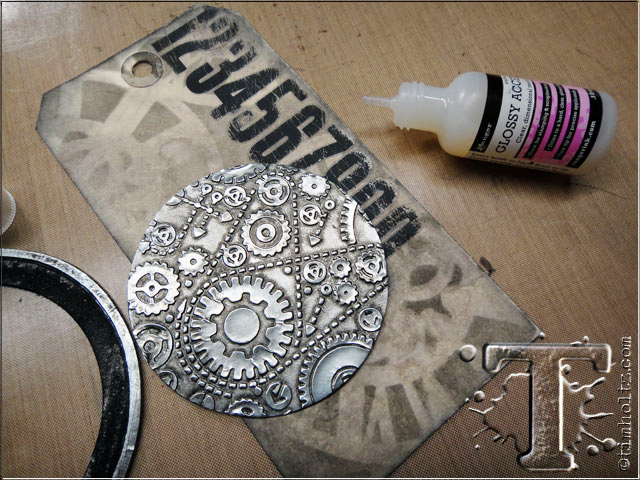 step 17: adhere embossed grunge circle to tag with glossy accents.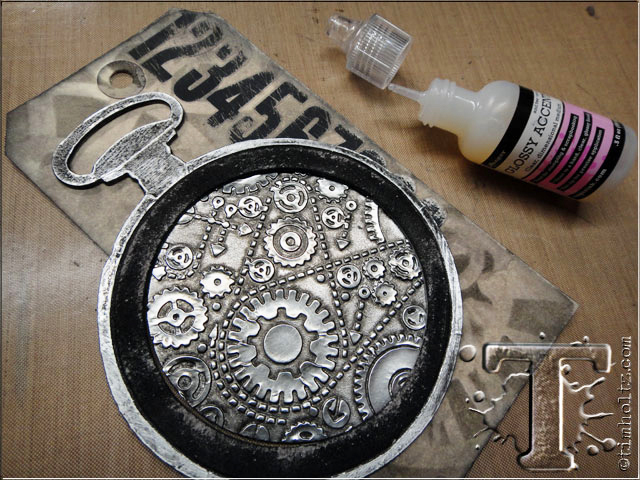 step 18: adhere outer pocket watch frame over circle with glossy accents.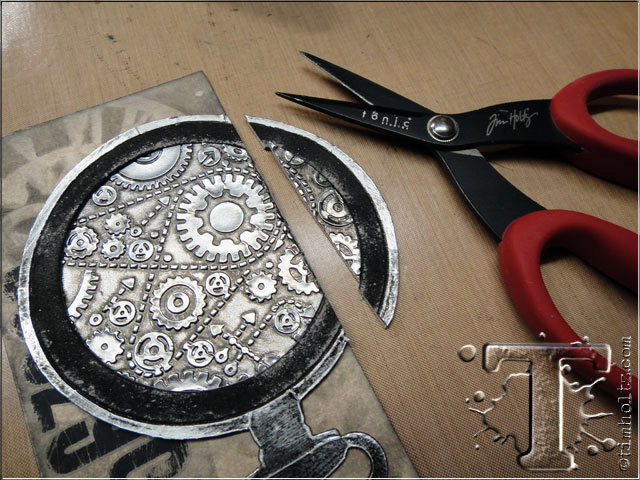 step 19: cut off excess clock from the edge of the tag with sharp scissors able to cut through grunge and metal.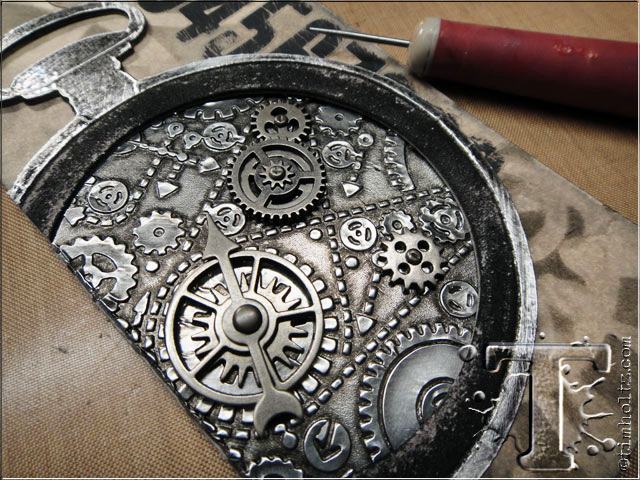 step 20: attach sprocket and mini gears to the embossed gear area of the tag using fasteners.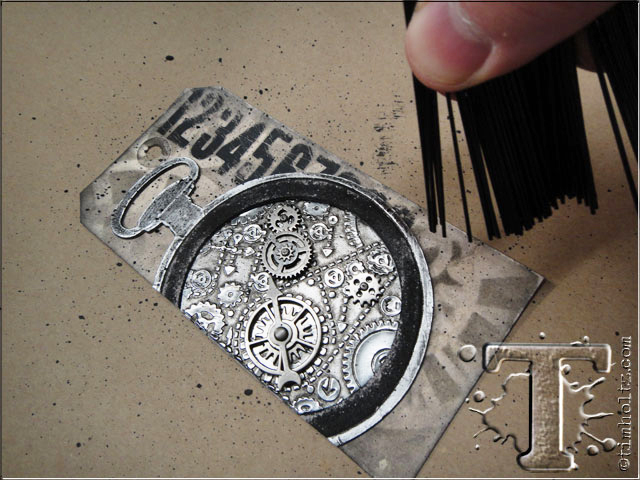 step 21: oh yes, we are using this splatter brush again… splatter on distress paint over entire tag.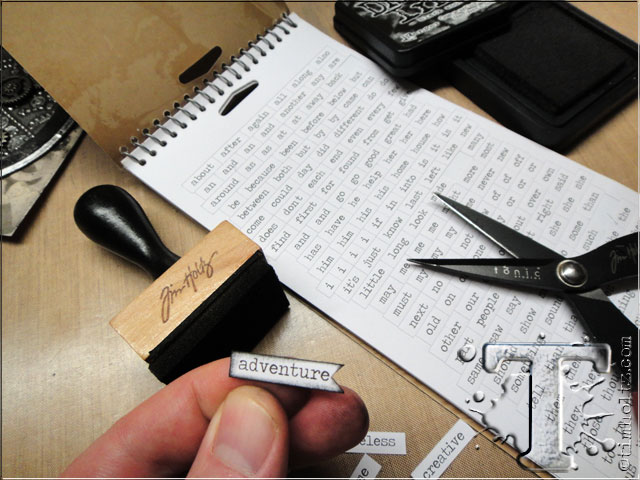 step 22: select words from chit chat stickers, snip one end to create a flag, and ink edges of sticker with distress ink using ink tool.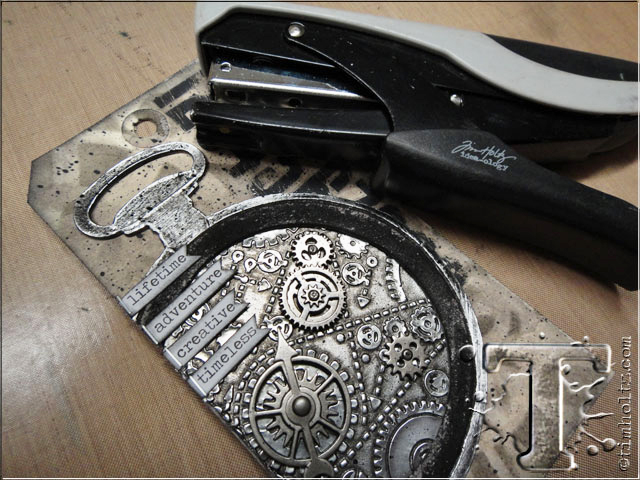 step 23: secure chit chat stickers to the edge of the tag using a tiny attacher.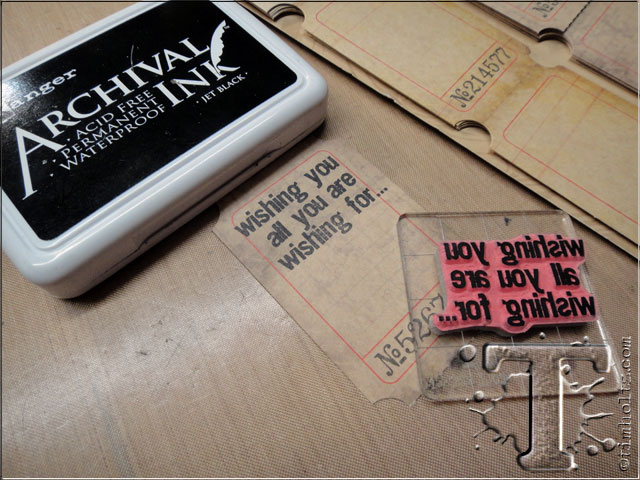 step 24: stamp top area of a journaling ticket with archival ink.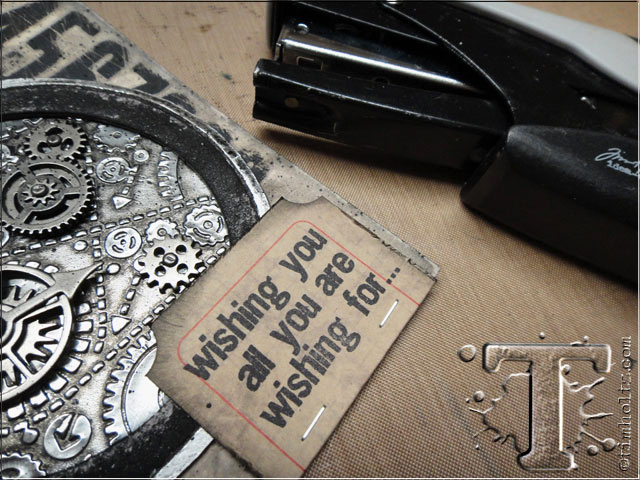 step 25: fold ticket in half and attach to the bottom edge of the tag using a tiny attacher.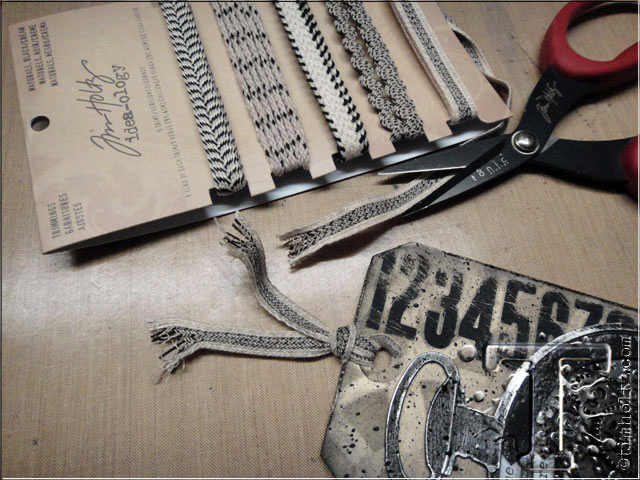 step 26: tie a piece of trimmings through the top of the tag.
well i don't usually get this crazy detailed, but when i'm inspired i just go with it…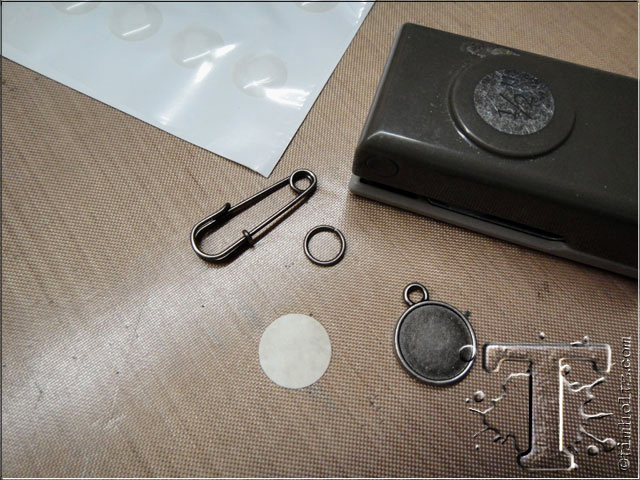 step 27: create a custom type charm by punching a 1/2″ circle from cardstock.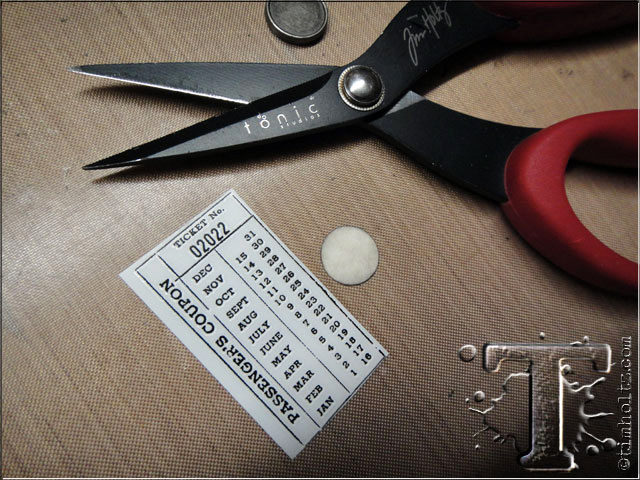 step 28: cut this ticket calendar from remnant rubs.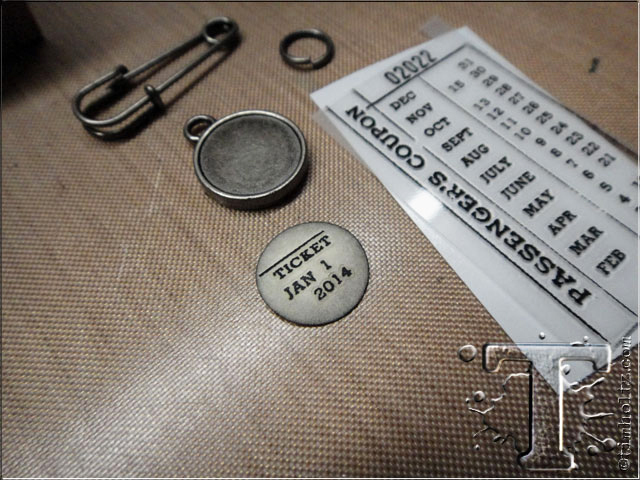 step 29: create a custom dated charm. (oh yeah, it took serious patience and a toothpick)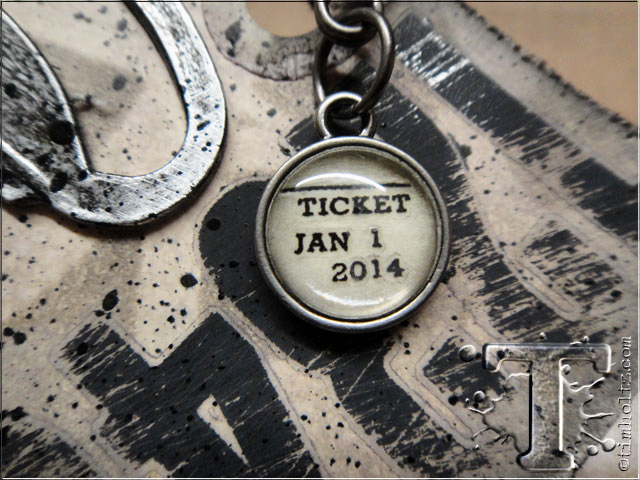 step 30: adhere punched piece to the type charm, apply included epoxy sticker, and attach to the trimmings with a wire pin.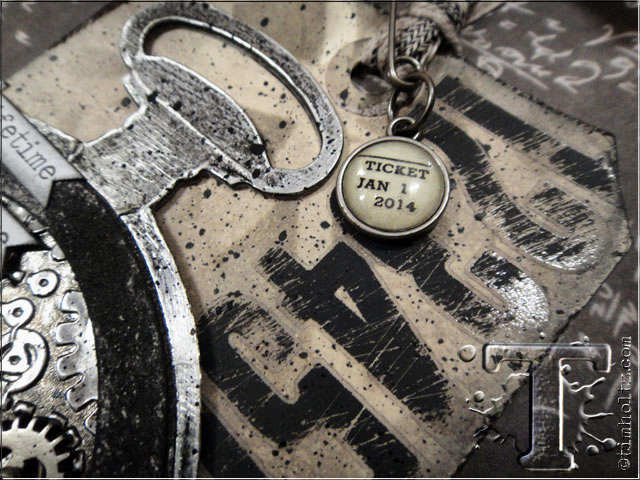 the details: besides this cool type charm, i love the scuffed look of the rubs and the grunge splattered look of the distress paint…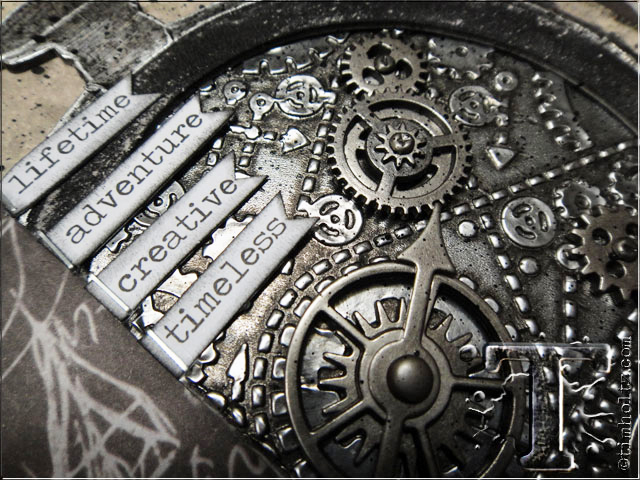 the details: this industrial metal technique is so amazing.  i also like layering simple words from chit chat stickers to share my thoughts…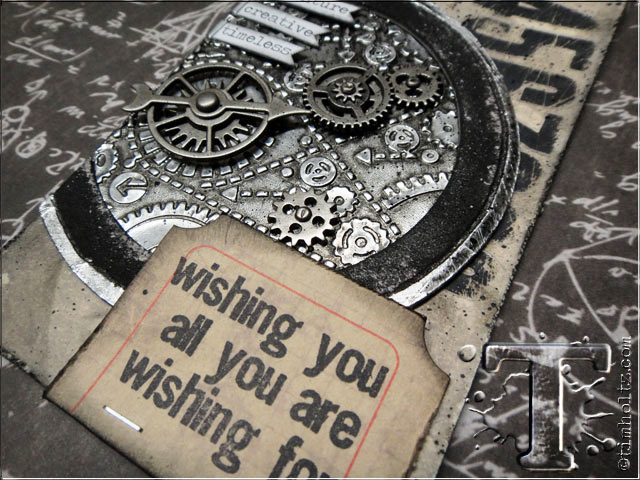 the details: the overall layers of the tag is what i enjoy the most.  between the embossed metal, grunge pocket watch, attached metal gears, and stamped journaling ticket, this tag is a dimensional cool…
*be sure to check your local stores for these supplies or you can
click the links below to purchase online…
(SSS=simon says stamp / IE=inspiration emporium)
GREAT NEWS! both of these online stores are offering a discount of 10% off your purchase – use the following codes with your order:
(SSS code: THJAN10 / IE code: timtime)