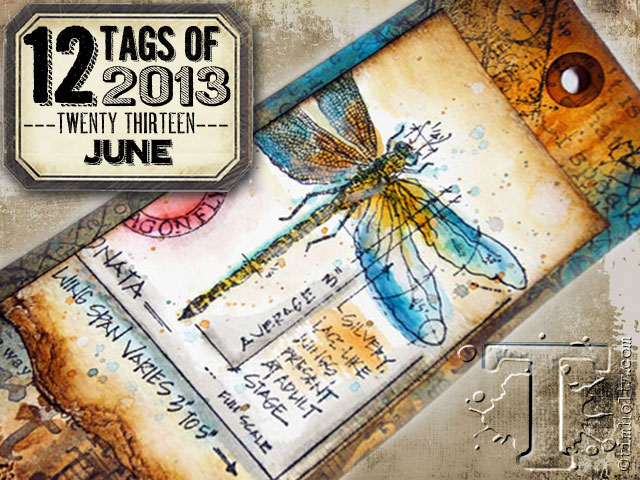 welcome back to another "12 tags of 2013".  as the weather starts to warm up for the summertime, it's also time to heat up those creative skills.  even though school may be out or vacation plans are in the works, remember to take time for yourself to do artful things.  today's tag was inspired by the many emails i get asking about sharing some tips and tricks for using distress markers.  i have to say that before these markers i wasn't much of a "colorer" but distress markers have certainly changed all that.  for this tutorial i decided to use one of my favorite stamps from stampers anonymous and even though i've used it just a couple of months ago certainly doesn't mean i can't use it again.  in fact, one of the best things about rubber stamps is their versatility simply by how you use them.  so time to get out those distress markers and color along as i share my own style of coloring…distress style that is…
i want to start off with a couple of "did you know" things about distress markers: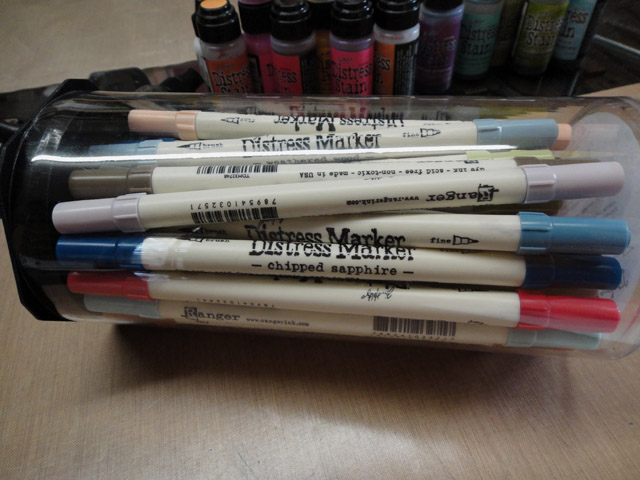 – "did you know" distress markers should really be stored horizontally?  the continuous barrel wicks ink to each end of the marker simultaneously.  storing them vertical could cause one end of the marker to seem dried up or could cause the ink color to shift altogether.  so be sure to keep your markers laying flat.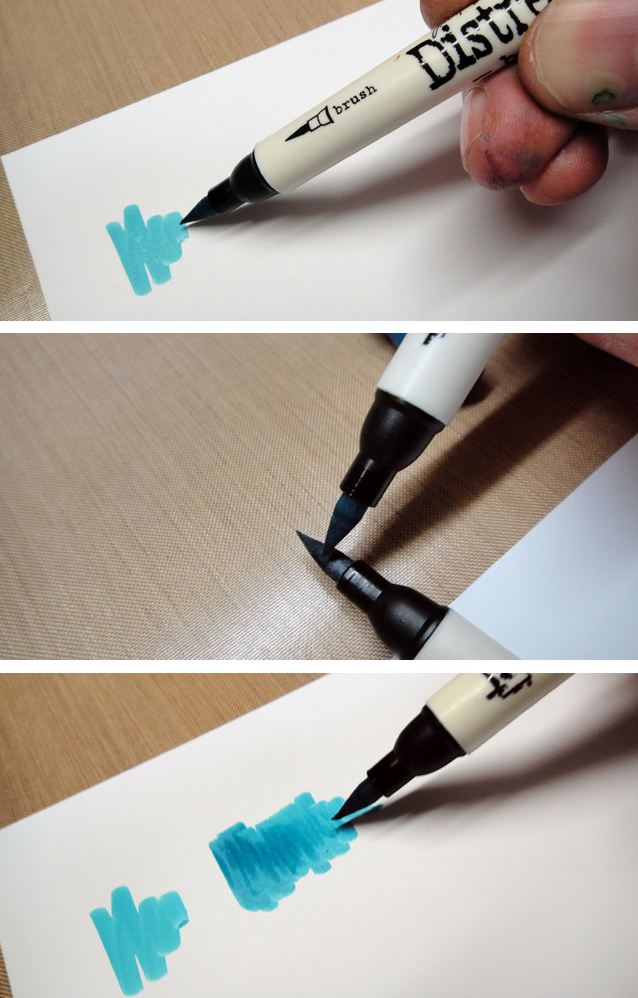 – "did you know" distress markers are dual tipped markers with a brush nib on one end, and a plastic detail nib on the other?  you can blend two colors of markers simply by swiping the brush nibs together and color them out (this will not contaminate either marker by doing this).  choosing the right type of paper is key however. watercolor paper is my favorite to use, but you can experiment with other papers to see how the color blends on the surface.
– "did you know" distress markers are water based dye markers that (like other distress products) are reactive with water?  darker colors can be easily shaded by dipping the brush nib into water?  this will create a subtle gradation of color going from light to dark (the longer the nib stays in the water, the lighter the color begins from the marker).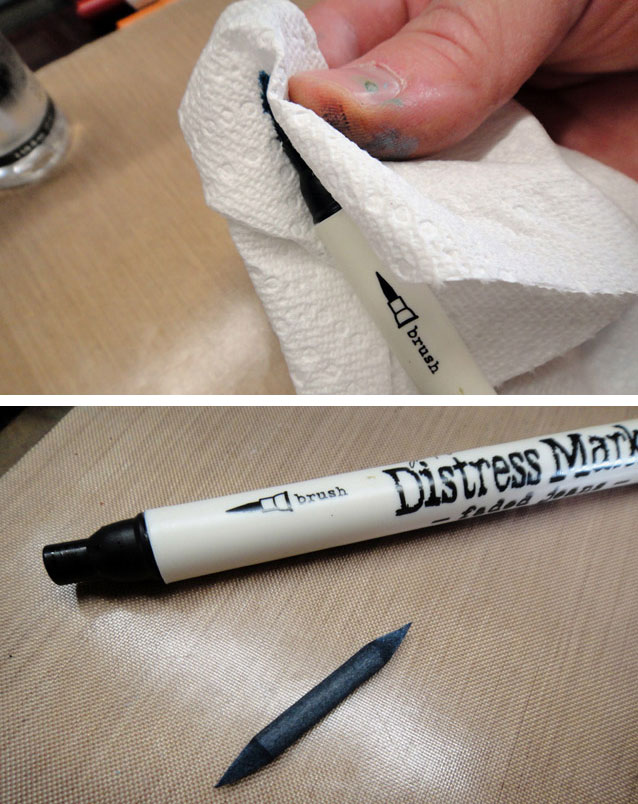 – "did you know" that even though distress markers are non-refillable, the brush nib of the distress marker has a back-up replacement?  sometimes i've been coloring chipboard or other surfaces where i accidentally smashed the brush nib.  if that happens and you damage the brush nib, simply grab the nib with a paper towel and pull it straight out of the marker. flip the nib over, and reinsert back into the marker with the new nib sticking out (simple as that).
supplies: craft sheet, distress markers, water brush/detailer, distress ink, distress stain, distress paint, ink blending tool, mister, #8 manila tag, watercolor paper, jet black archival ink, heat tool, glossy accents; stampers anonymous classic favorites stamp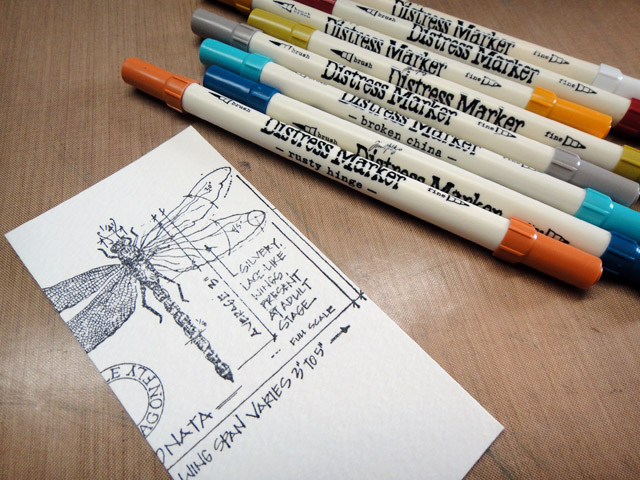 step 1: stamp your image on to watercolor paper using jet black archival ink or other waterproof ink – i like using 140lb. watercolor paper.
step 2: begin coloring your image with whatever color you want to start with.  it doesn't matter if it's light or dark, just get some color on the paper.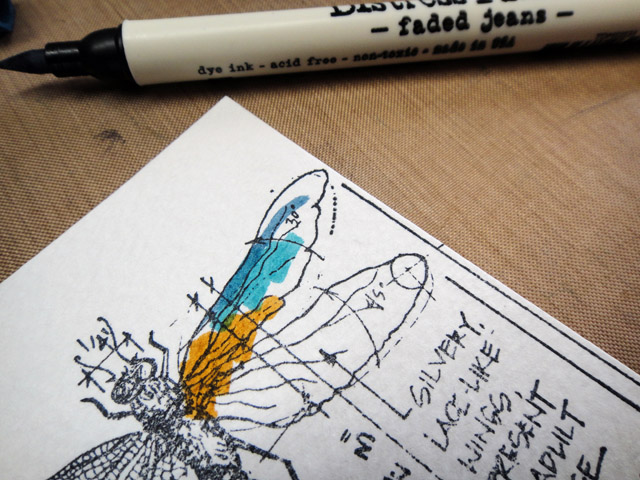 step 3: next apply another color or two that you want to blend with the first color use.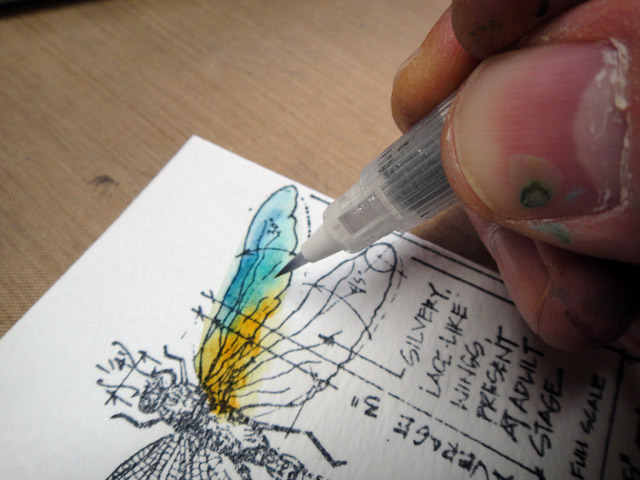 step 4: since i like to watercolor when using distress markers i'm going to blend the colors with a detailer water brush.  this self-feeding brush provides the perfect continuous flow of water when blending.  you don't have to worry about getting too much water on your surface and "flooding" the image.  you'll also notice when i applied color to the area, i simply colored part of the area.  just remember that watercolor requires 2 things: water + color so if you color the entire area with markers, it doesn't leave you room to blend with water.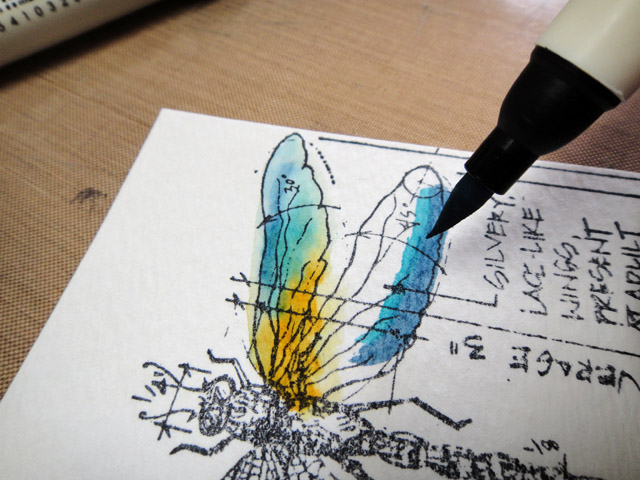 step 5: continue coloring the next area of your image by coloring with your distress markers.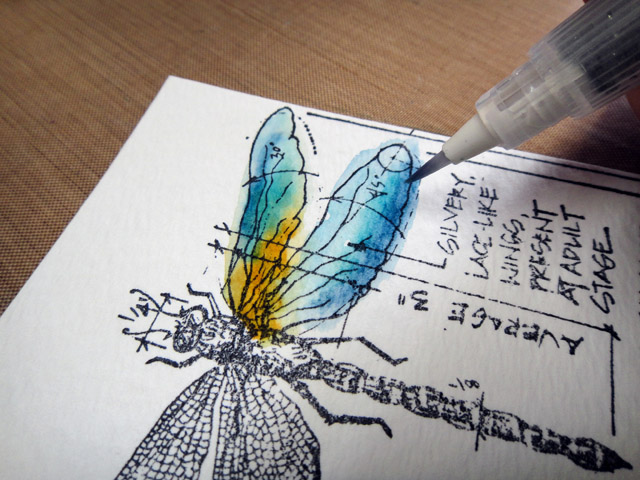 step 6: blend the colors again with the water brush, easy right?
now let's talk about adding more color to an area you've already watercolored.  you should not color directly on to wet paper with the markers.  simply for the fact that one: the nib will want to wick up the water (remember the "did you know" tip about shading with water?), and two: it will start to wear on the paper causing it to get all bumpy and peel apart.  if you want to add color you will need to either dry your colored areas with a heat tool first, or follow these simple steps to blend wet color into wet color…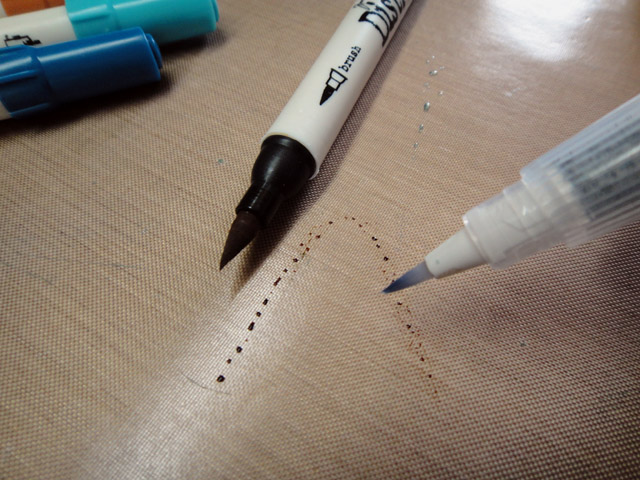 step 7: scribble the color or colors of distress markers you would like to add to your already colored area and pick up the color on to the tip of your water brush.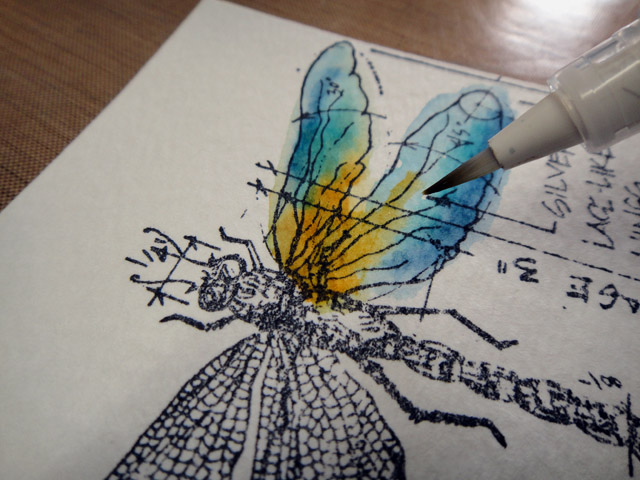 step 8: begin blending that additional color into the areas with the inked water brush.  this will allow the wet color to float right into the wet color on the surface with ease.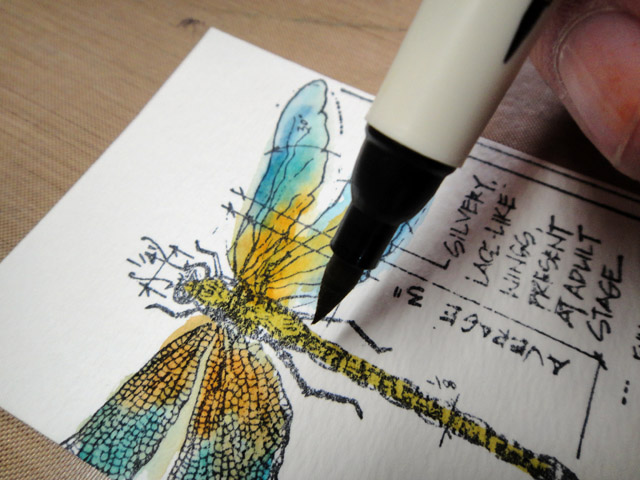 step 9: continue coloring the next section of your image with distress markers and blend with the water brush.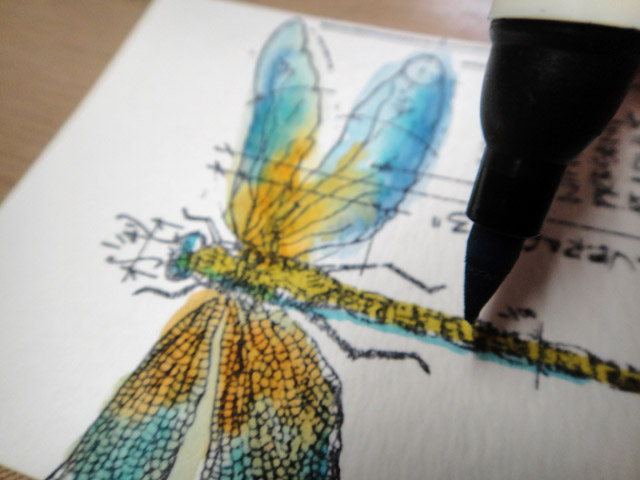 step 10: color one section at a time, blending with the water brush as you go.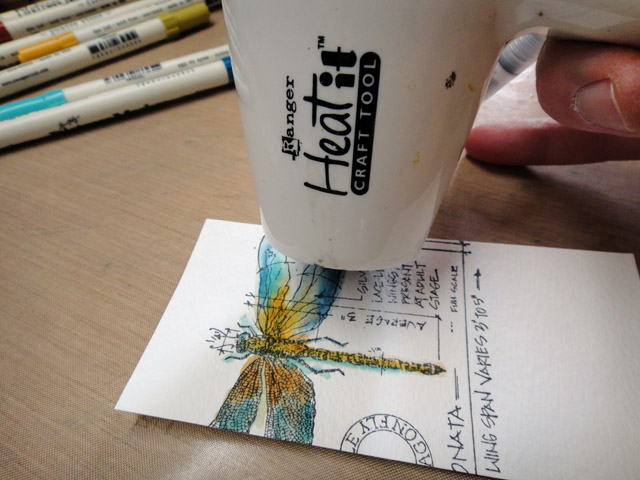 step 11: once you're happy with your coloring of the main image, allow the entire image to dry or quickly dry it with a heat tool before moving on to the accent images.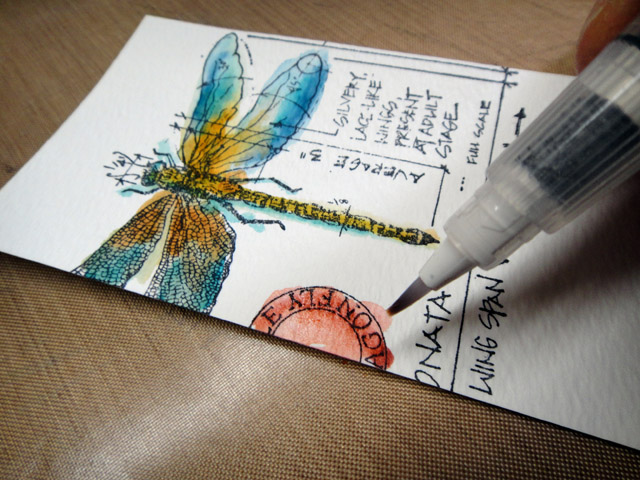 step 12: color the accent image the same way, select areas with the markers and blend with the water brush.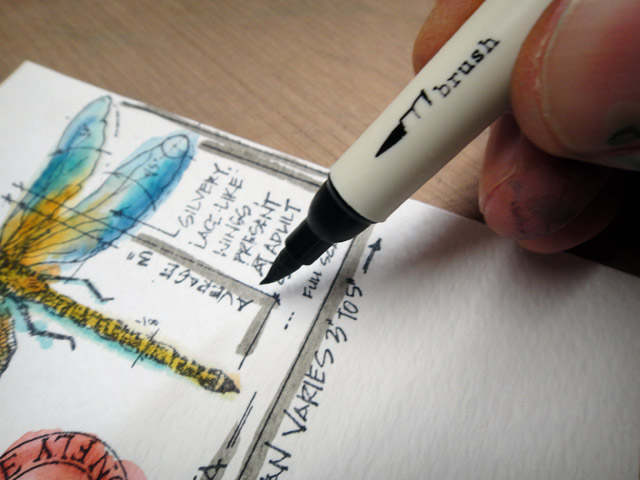 step 13: i think adding a drop shadow really gives depth to your coloring.  "pumice stone" is my favorite distress marker color for this.  just lightly sketch over the lines or areas you want the shadow to be.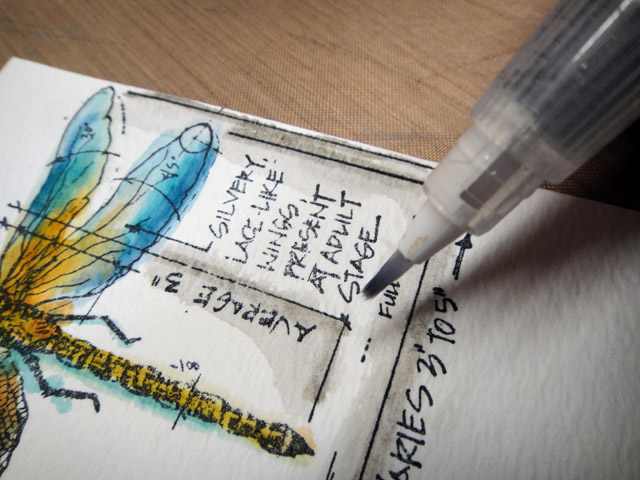 step 14: now blend that color in one direction with the water brush.  pumice stone creates the perfect shadow color that is just the right amount of dingy.  (*i don't give this part much thought to be honest, i just pick a direction and go)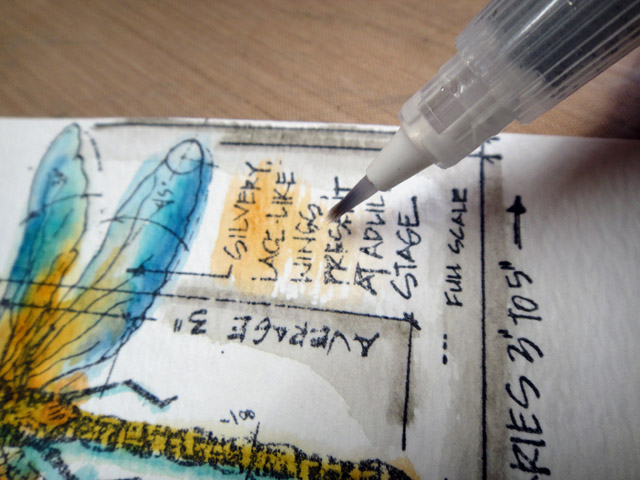 step 15: you can also add accent color behind words by scribbling the distress markers on the craft sheet as before and apply a wash of color using the water brush – simple and effective.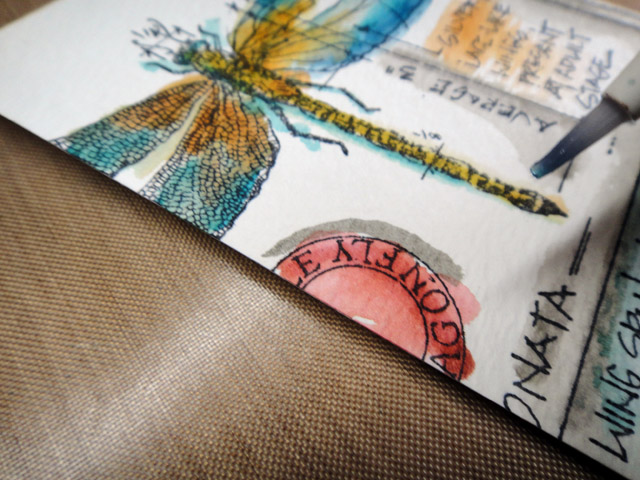 step 16: if you want to add a drop shadow to a place you've colored, swipe the pumice stone marker along the edge and blend it with the water brush.  this will tint the shadow with a little color from that image.
so far so good right?  at this point our image is colored, finished, blended beautifully; however for me, it's just not finished the way i want.  the next few steps will show you how i go from a normal colored image to a distressed colored image – are you ready?…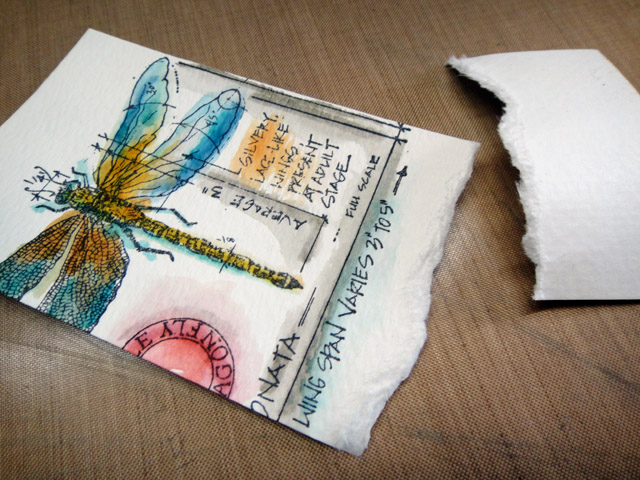 step 17:  tear the bottom edge of your watercolor paper.  i always tear one edge when i watercolor something.  i just think it gives it that artsy look.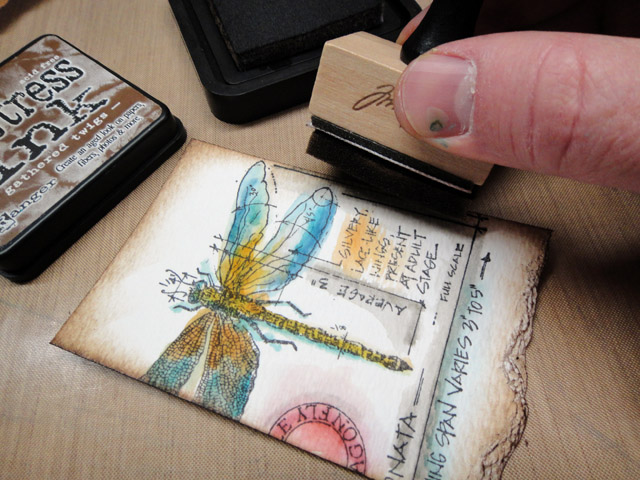 step 18: using your ink blending tool, ink all of the edges with distress ink, but only the edges.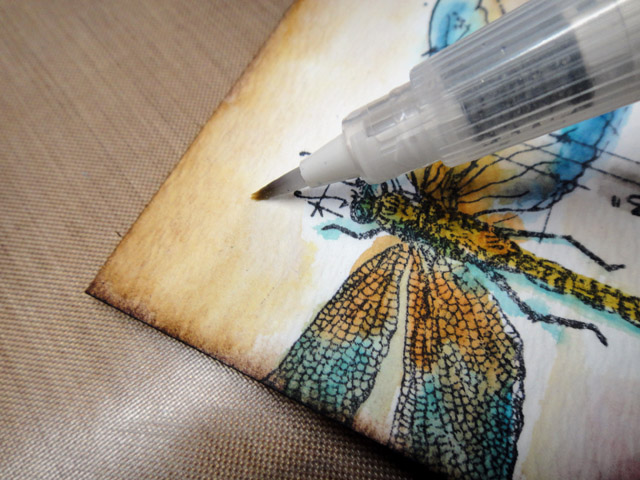 step 19: now take your wet water brush and pull the distress ink from the edge to color in your background.  this is the easiest way to get the perfect background color for your watercolor since it blends the darker inked edge into the background (and it doesn't always have to be brown).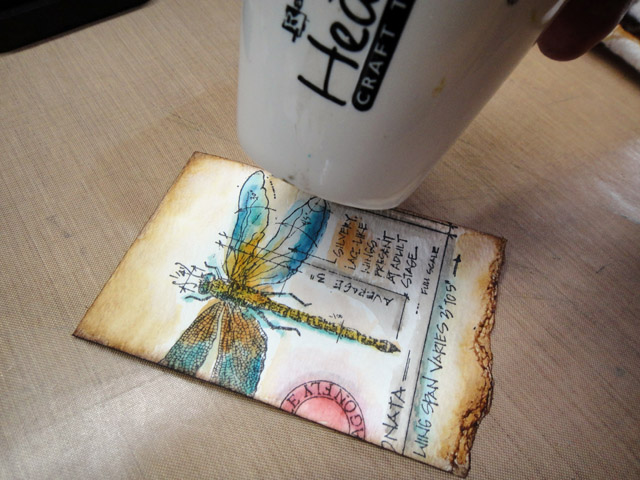 step 20: dry your colored image completely using a heat tool.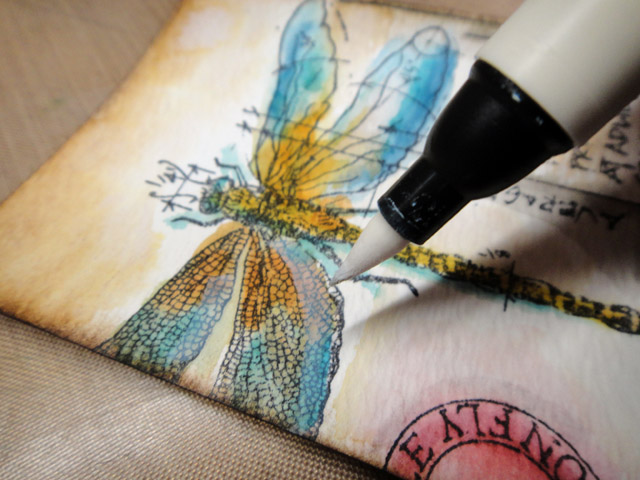 step 21: they say when you color you should always leave a "light source" to show highlights on your image.  while i agree, i simply never bother to think about it when i'm coloring which is why i like to add my highlights at the end.  the "picket fence" distress marker is designed for just that.  swipe the marker directly over the parts of the image you want to highlight.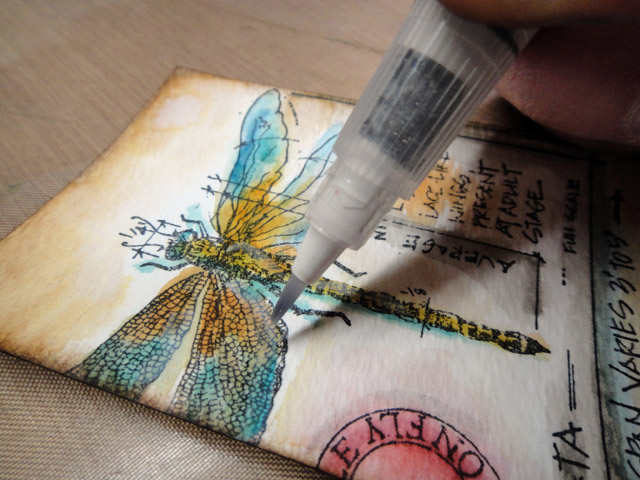 step 22: since even the picket fence distress marker is blendable, use the water brush to soften the white glow over your image for the perfect "light source".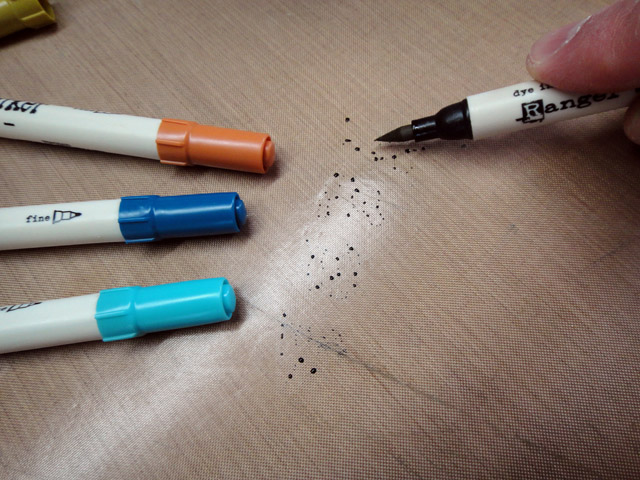 step 23: scribble several colors of distress markers on to your craft sheet.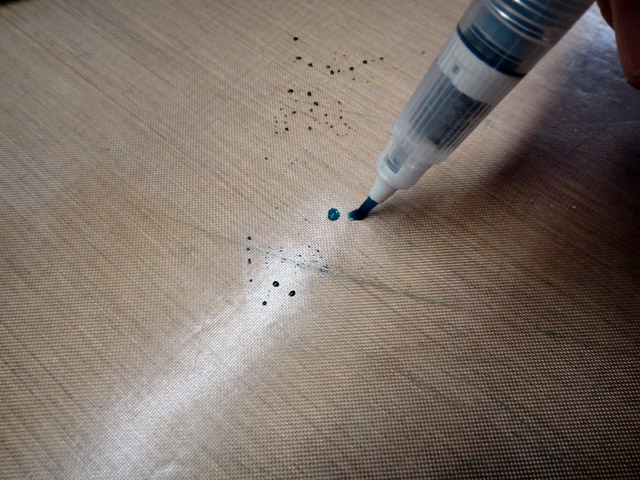 step 24: get the tip of your water brush really wet and soak the bristles with one color at a time.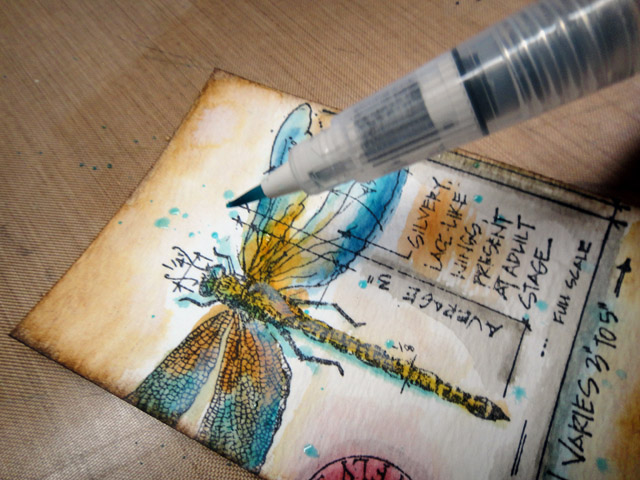 step 25: flick and tap the end of the water brush over your background image to create droplets of ink over your image.  repeat the previous steps with each color until you're happy with the results.  i love this effect.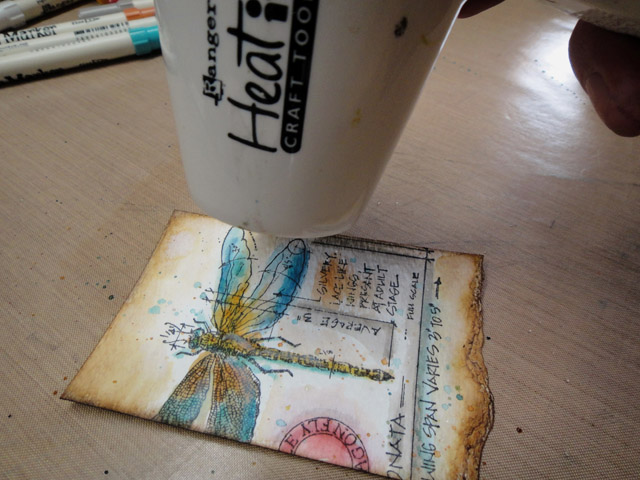 step 26: partially dry the ink droplets with a heat tool for a few seconds.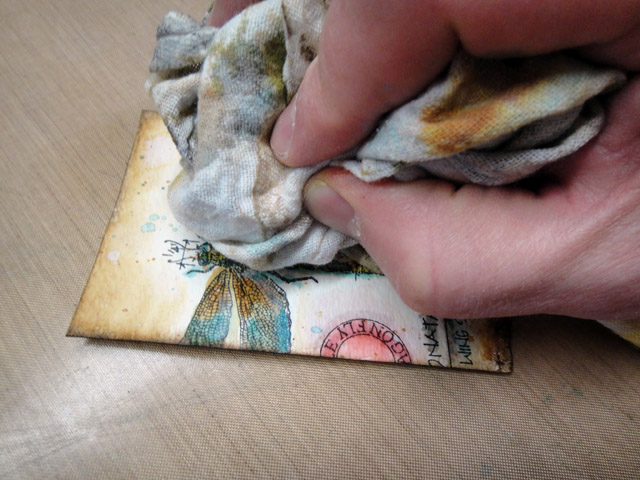 step 27: using a towel, blot off the excess ink and water.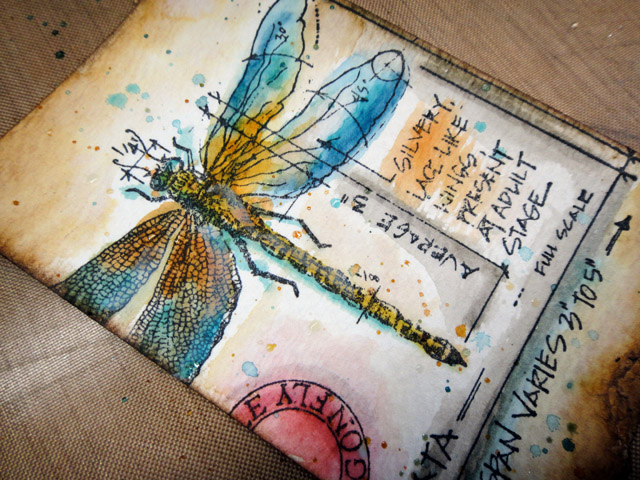 just like that, your coloring is finished!  i love the blending, shading, highlights, background, and ink splatters – check out all of that distressed goodness…
now it's onto the tag itself to put this on.  for the background i wanted to use my other favorite distress products: inks, stains, and paints.  the combination of translucent and opaque creates a cool foundation for our watercolor.  let's get started…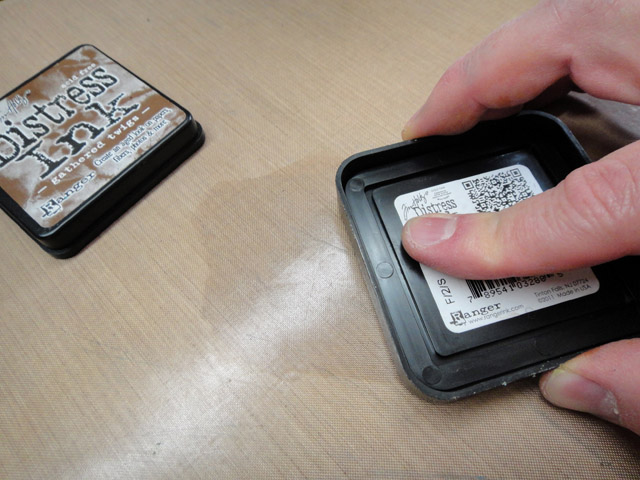 step 1: swipe a distress ink pad directly on to the craft sheet.  remember to press down on the pad while you're swiping to get ink from the pad.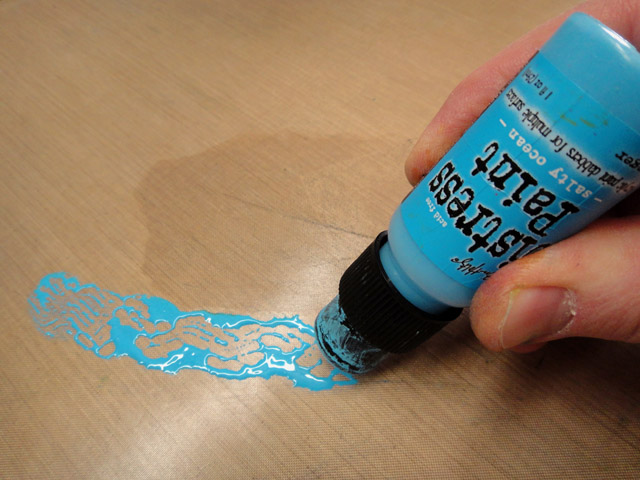 step 2: shake the distress paint and apply a color of paint next to the ink on the craft sheet.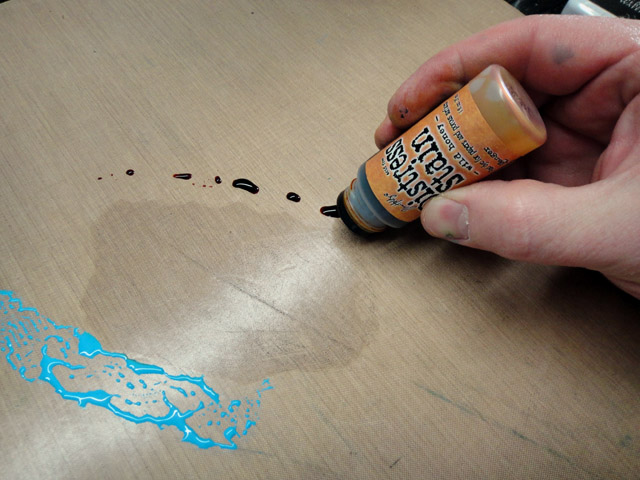 step 3: apply a swipe of distress stain on the opposite side of the ink on the craft sheet.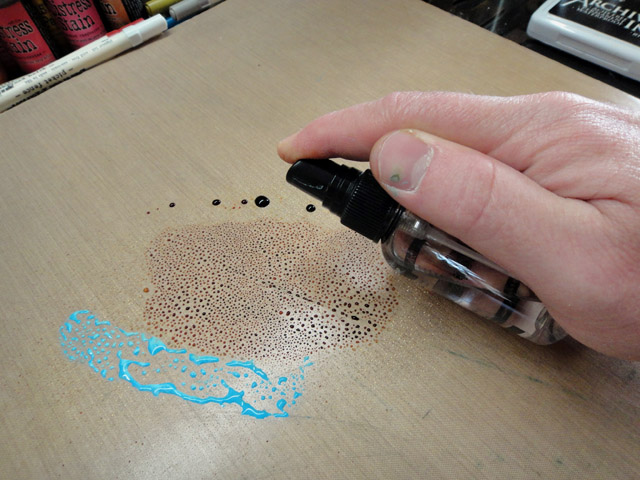 step 4: mist the craft sheet with water to blend the mediums.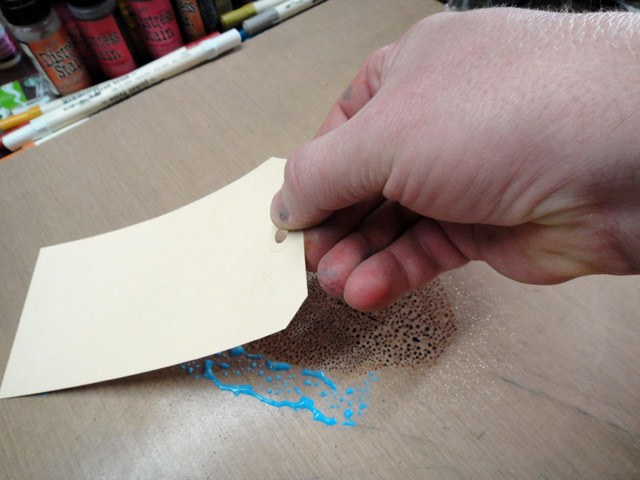 step 5: swipe a manila tag through the mixture.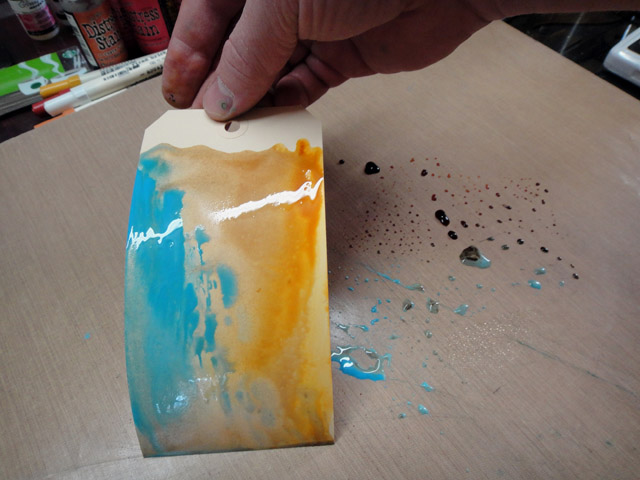 step 6: lift the tag allowing everything to flow together.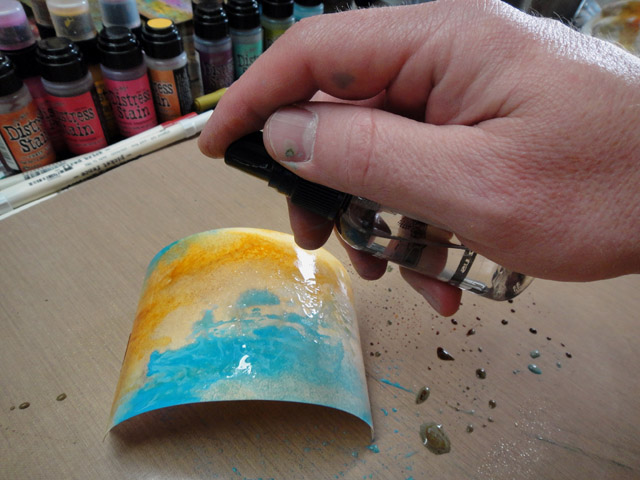 step 7: mist the tag with water to blend the colors and products event more.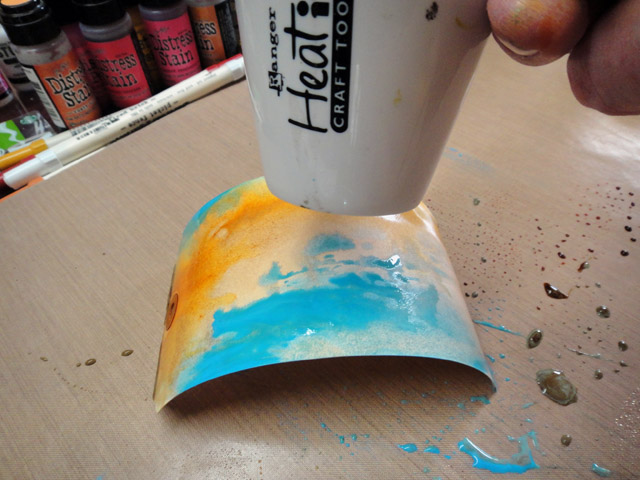 step 8: dry the first layer with a heat tool.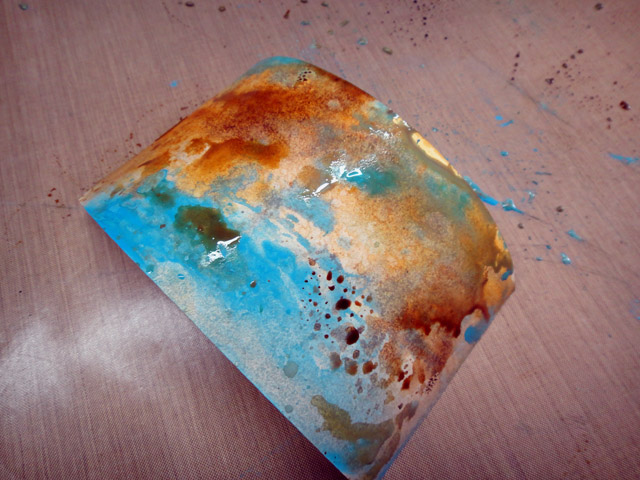 step 9: tap the dry tag back into the remaining mixture on your craft sheet and dry with a heat tool.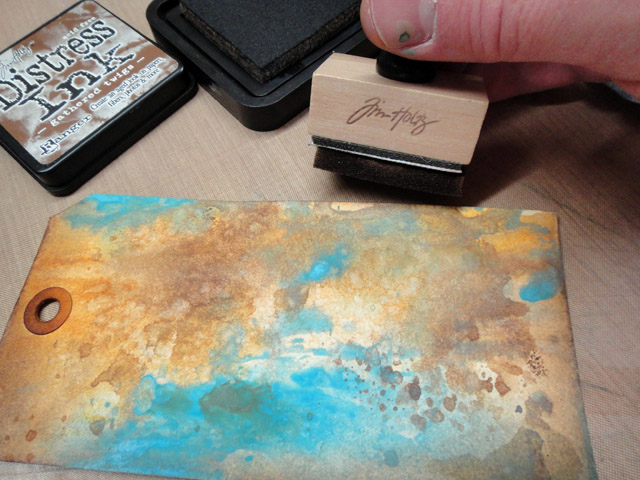 step 10: ink the edges of the tag with distress ink using an ink blending tool – nice huh?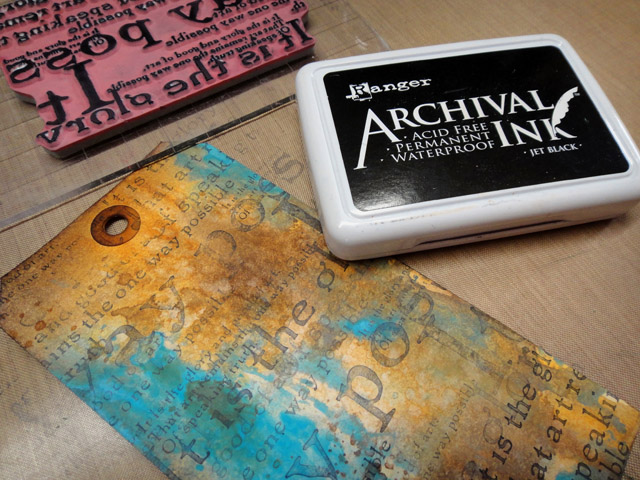 step 11: lightly stamp various images with archival ink and let dry.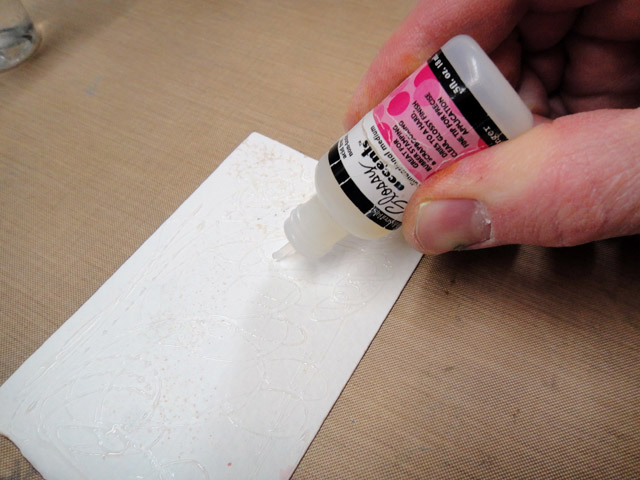 step 12: apply glossy accents to the back of the watercolored image to adhere.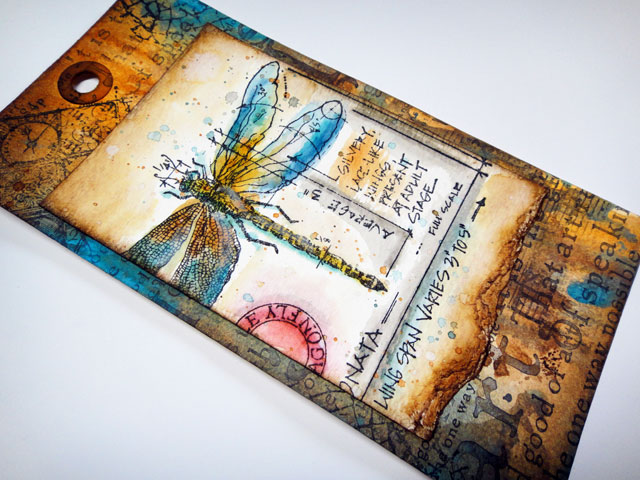 there we have it bloggers, a distress marker masterpiece.  i hope these step by step instructions will take the intimidation away from coloring.  distress markers are so versatile and so easy to use, you just have to remember to get them out and play.  i can't wait to see your colorful creations this month on the blog – have fun…t!m
congrats to the winners from the may 12 tags of 2013.
if you see your name (and it links to your tag)
please email mario@timholtz.com to claim your prize…
1. Canadian Nickel Scrapper
2. Nicolle Kramer
3. Sara Jansen
4. Lorraine
5. Johnna Moore
6. Pam
7. Nikki K
8. Berdien Weideveld
9. Antonia
10. Meme
11. Patty
12. Anne Christine
*be sure to check your local stores for these supplies or you can
click the links below to purchase online…
(SSS=simon says stamp / IE=inspiration emporium)
GREAT NEWS! both of these online stores are offering a discount of 10% off your purchase – use the following codes with your order:
(SSS code: JUNETAG10 / IE code: timtime)