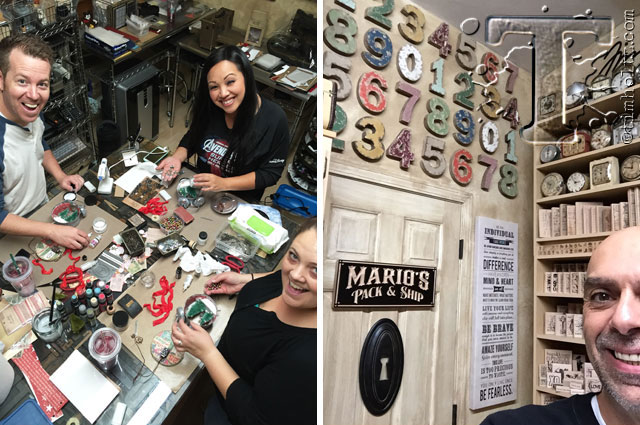 i always believe in making the best of any situation.  so even though we are up to our eyeballs around here with prep work to get ready for the upcoming CHA show next month, we're still having fun with it all. the balance of trying to enjoy the holiday season, get all of the deadlines met, and of course trying to have a life can be tricky, but when you have great friends that are willing to help it sure makes things easier.  last week our friends joy and chelle drove from cali to stay with us for a few days to lend a hand and of course mix in a little fun.  we had a busy agenda while they were here which included kitting 400+ make & takes, taking time for some holiday crafting, and most importantly…eating!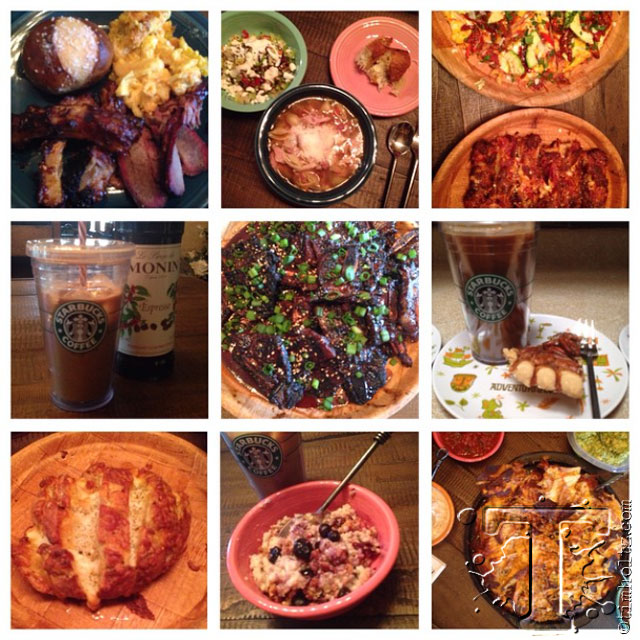 oh yes, mario is quite the host making sure we're not only fed well, but fully caffeinated day and night.  as you know, food is an important thing around here and mario worked his magic making some of our favorite things.  in just 3 days our menu consisted of: homemade oatmeal with granola & blueberries, fresh baked pumpkin scones, pizza, bbq chicken & avocado flatbread, chopped salad, turkey soup, cheesy garlic bread, smoked pork ribs, smoked bbq beef brisket, homemade mac & cheese, pretzel rolls, nachos, kalbe beef, and of course pecan pie and lots of starbucks – yum!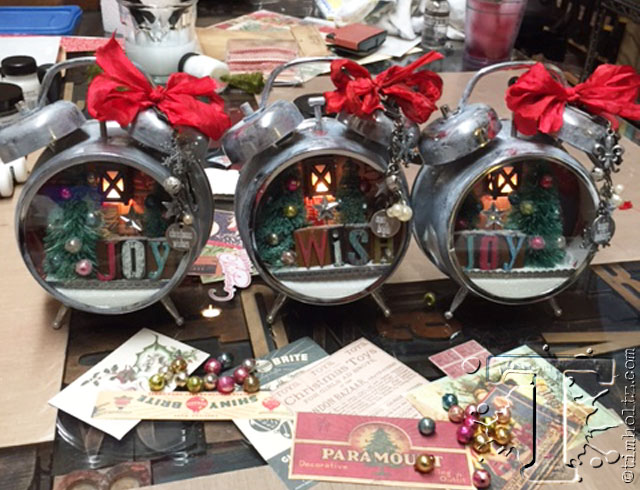 we took time for some creative play in the studio too making these holiday assemblage clocks.  it was great fun and we made quite the mess in the studio (some more than others – right chelle?), but it was all worth it.  i love how these magical little clocks look like a winter wonderland all lit up with the mini lantern and filled with distress glitter snow.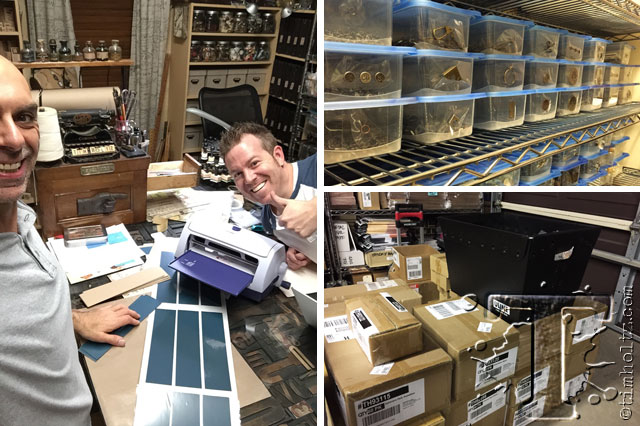 this week mario and i have continued kitting and prepping for my CHA workshops and it seems there are piles of cut, stamped, and sorted things everywhere, but i call that progress.  we seem to be busy all the time, but when you love what you do it's really not all that bad.  i guess the most challenging thing is to keep everything under wraps for now until we can start sharing sneak peeks of the new products starting in early january – i can't wait.
throughout all of the busy work i think it's important to make time to enjoy the season, and as i've shared on then blog already, i love decorating for holidays.  it seems each year i try to add a little "something" to the festive decor, and this year it was time to spruce up the outside (pun intended).  so i headed to hobby lobby once again to pick up some of my favorite holiday greens.  i started with one style as a base, cut the others apart, reassemble them, and added a few of my favorite icicle branches (bought online) to give it wintery touch.  this year we created a new swag around the front door and used the leftover pieces to add to the ones over the windows.  i absolutely love how it looks and makes this cabin home feel even more comfy and cozy – so happy to be home for the holidays…t!m