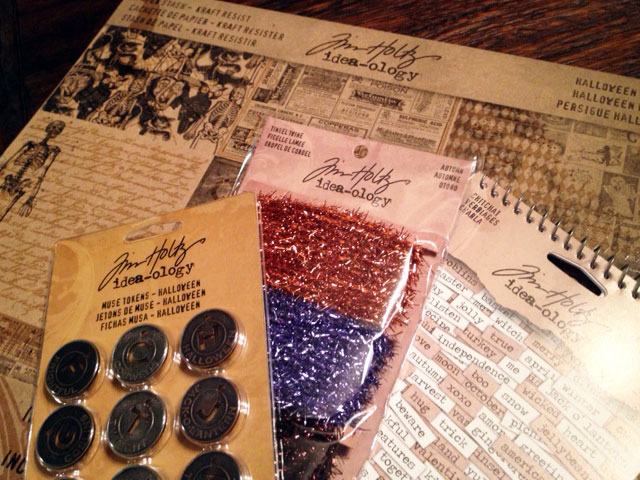 well bloggers, it's really all about treats today!  i was unpacking some of the new seasonal idea-ology stuff today when i discovered this stash of last year's/no longer available halloween kraft resist paper stash and muse tokens – quite the treasure to find.  so i decided to to a random giveaway to show appreciation to those of you who took the time to post a comment on the blog for this month's tag post (you know i always love reading your comments). in addition to the paper and tokens, i'm throwing in a pack of the new seasonal chit chat stickers as well as the new autumn and black tinsel twine packs for a great halloween treat don't you think???
so congrats to the following winners!  just email mario@timholtz.com with your mailing info and we'll get your prize out right away so you can enjoy it to make some halloween creations of your own…
1. Tamera says:  congrats to the winners!! Thanks for the glitter coloring trick! will definitely be trying this!!
2. Margaret in NY says:  I love this tag! Next to Christmas, Halloween is my favorite holiday and the tag is fabulous…definitely worth the wait! I like the tissue paper technique as well as coloring rock candy. Thanks again for sharing your creativity!
3. Michelle Reaves says: So glad to hear you enjoyed your "down" time in Florida!!! It's good to see you giving yourself a fun break! I am in love with this month's tag…sooooo worth the wait!!!!!!! Congratulations to all of the lucky winnners, I recognize some names on the lists I hated the color orange until I used Spiced Marm Distress ink for the first time..now I love all shades of orange!
4. Chelle says: love it!!! seriously need that glitter S.T.A.T!!! thank you for another fabulous tag!!
5. Terry says: Fun challenge! Love the inky background and awesome glittler fun on your tag! Now I have that glitter on my hurry up list! Thanks for another great challenge!
6. Linda Ledbetter says:  SUPER cool tag, Tim! I love the Rock Candy custom glitter technique. I'll be using that A LOT, especially with the holidays barreling down on us so quickly.  Congrats to all the winners! It makes my heart happy to see some dear friends on that list. You're the BOMB, sir, being all generous and inspiring all the time.
7. Tracey A. in NH says:  Awesome tag! I couldn't sleep last night so I got up and made my black rock candy glitter…fun! Too bad I had to get some sleep otherwise I would've been up all night creating my tag…so many ideas in my head! Hopefully, I can go home soon to play and create. Thanks for the inspiration, Tim!!
8. Larissa Heskett =) says:  LOVE the tag!! THANKS for sharing and CONGRATS to the LUCKY WINNERS!! Have a FABULOUS WEEK!! =)
9. Candy Colwell says:  Congrats to all of the winners! Wonderfully inspiring tags. I really like this October tag, Tim. Love the background. Love the die cuts and the use of the new Stickles glitter. It's wonderful stuff! Thanks for this fun creation!
10. Barbara Albrecht says:Love the October tag and the tutorial on custom coloring the glitter…thank you!! Congratulations to all the winners!
11. Di F says:  Congratulations to all the winners!!  Love the look of the new tag, and the effects using the dry glitter. Gotta get my hands on some very soon!  Glad you had some downtime, but Welcome Back!!!