well bloggers, just wanted to share with you a few photos of the projects i taught this past weekend at my holiday hideaway.  this was such a great time to get together with my friends and be creative for a weekend!  here's what we did: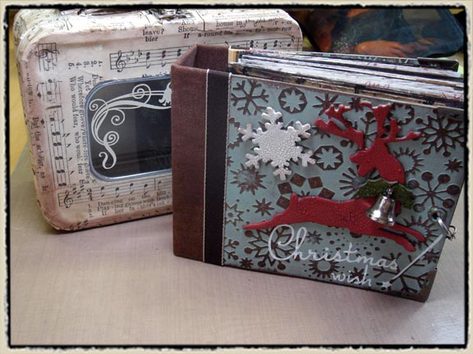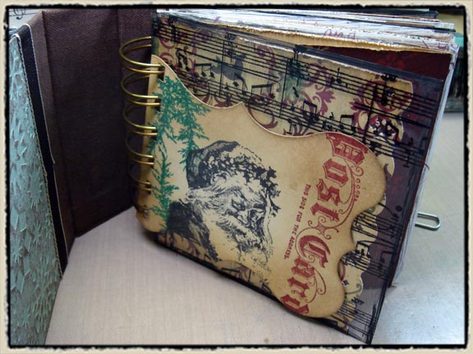 tin pocket book: on this project we collaged on a tin with vintage music and then created a mini book to go inside.  we used grungeboard, canvas, my favorite cosmo cricket paper, and the binditall to assemble this little project.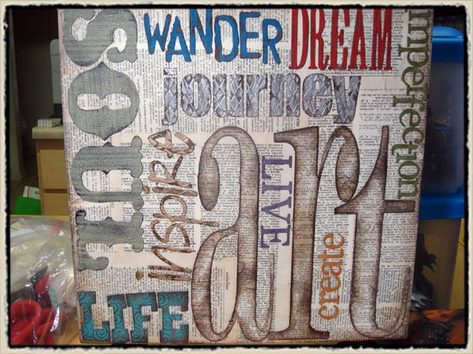 word canvas: so i have this thing for letters and numbers and i like to use them on my projects.  this one was all about the many things we can do with grungeboard including emboss, collage, crackle, dabbers, and distress ink.  everyone used whatever words inspired them and they were all quite different and so unique.
metal book: okay so my newest addiction has to be metal embossing.  seriously this is so simple with amazing results.  my friends at ten seconds studio provided everyone with the tools we needed to custom emboss metal sheets to use for our book covers.  we hand-stitched this 90 page book and then assembled these works of art.  can't wait to teach this one in 2009.
holiday hangers: this was a make & take i did during my east coast holiday festival this year and i liked it so much we did our own mini project with them.  we used vintage ephemera, rub-ons, and distress ink to create these fun hangers with vintage holiday photos.  we stuck them behind the large 3 3/4" fragments for an interchangeable and personal memento. (isn't that screaming kid photo hysterical?)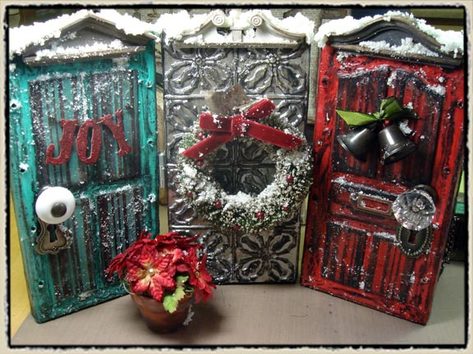 festive doorways: one of the best things about this event is that it was a chance for me to do some projects that inspire me.  i have always had a fascination with doorways, they can lead to such possibilities.  in this workshop we played with beeswax and paints to create doorways from canvas, we used grungeboard panels, and then accented with with festive decor and cool hardware.  the finishing touch was the UTEE snow i shared with all of you on the 12 tags of christmas.  to top it off, this whole thing lights up with mini lights surrounding the canvases.  holiday fun at it's best!
so that was a project recap from the holiday hideaway event.  hopefully you'll get some creative inspiration and play.  have a great weekend everyone!  see you monday…t!m