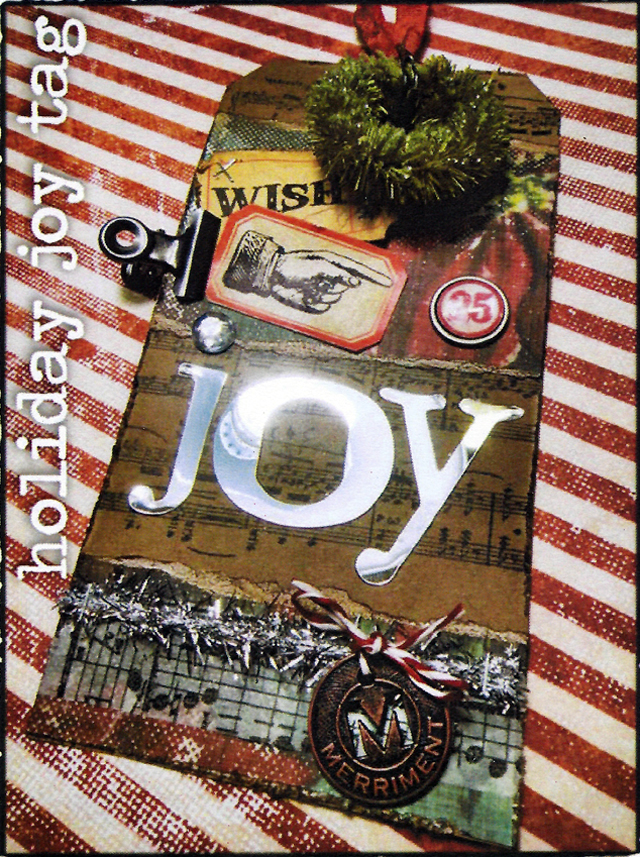 hi bloggers… thanks for the kind comments and celebrating our final tags for the "12 tags of 2012".  i wanted to share more holiday cheer with a photo of this tag we made at cha earlier this year as a make & take.  it was a favorite of mine so here are the directions for you to create one of your own if you want.  not only that, but simply for taking time to post a comment on the blog over the weekend, we chose a few random winners who will receive a kit for this tag with all of the supplies prepped and ready to go (just add your own ink and adhesive) as well as a printed instruction sheet to make it.  scroll to the bottom of the post to see if you're a winner.  happy monday everyone…t!m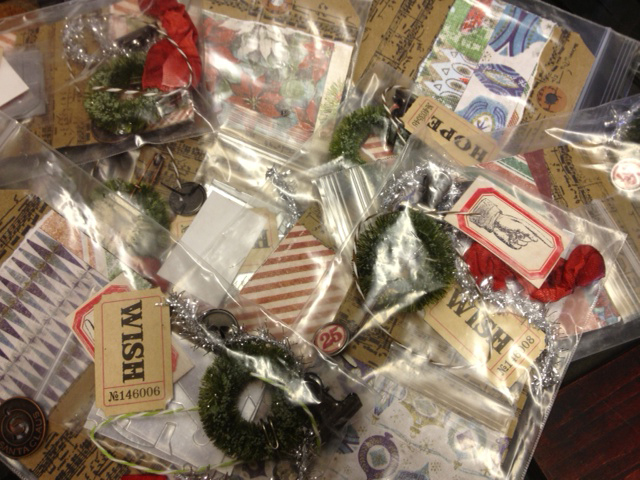 supplies: woodlands, mirrored, custom fasteners, tinsel twine, paper string, wire pin, paper stash/holidays past, crinkle ribbon, adage ticket, hinge clips, vial label, muse token, tissue tape, tiny attacher, distress ink, distress stain, archival ink, ink blending tool, rock candy dry stickles, collage glue stick, glossy accents, collage glue stick, word play die, cms048 festive sounds stamp, cms124 warehouse district stamp, paper distresser, scissors
step 1: stamp kraft tag with music notes and vial label with pointing finger using archival ink.
step 2: tear holiday paper stash into strips and adhere to tag using glue stick.
step 3: distress edges of tag with paper distresser to tatter.
step 4: ink tag, ticket, and stamped label with distress ink using ink blending tool.
step 5: adhere a piece of tissue tape along bottom of tag.
step 6: attach tinsel twine above tissue tape and attach adage ticket to top area of tag using tiny attacher.
step 7: adhere stamped pointing finger label over edge of ticket.
step 8: tie on muse token around tinsel twine using paper string.
step 9: die cut "joy" from mirrored using word play die and adhere to tag, glue gem for dot on "j".
step 10: embellish tag with "25" created with a custom fastener and clip hinge clip along edge of tag.
step 11: color woodland wreath with distress stain or dilute distress reinker and blot to dry.
step 12: swipe a small amount of glossy accents over wreath with your finger and dust wreath with dry rock candy distress stickles.
step 13: secure wire pin around wreath and attach to tag using a piece of crinkle ribbon colored with distress stain.
congrats to our surprise winners (remember to email mario@timholtz.com with your info right away to claim your prize)…
1.  Anita B says:  As always you are leaving me with some wonderful inspiration to incorporate in my scrapbooking this month and since you mentioned it, the remaining cards I have to make.  I for one prefer the 12 tags throughout the year, as I can play with each technique for a full month. In find my work is more creative that way. Thanks so much, enjoy your holiday season.
2.  Robin S says:  Oh, wow, there's nothing like starting off December with your Christmas tags–gorgeous, gorgeous, gorgeous!! I have to admit that as a long-time follower of your blog, I'm going to miss the 12 consecutive days of tags, but I'm sure it was hard for you during this very busy time.  So thank you SO much for keeping all the archives easily available to us. May all of your family and friends and coworkers have a happy, fun, and blessed holiday season.
3. Theresa B. says:  I always look forward to the first of the month for the latest new tag! LOVE THE TAGS!!
4. Nicie Ibarra says:  One word: BEAUTIFUL!!!!! Both tags are wonderful inspirations!!! Thank you for sharing all your talents with us and being such a great teacher!
5. Deborah M says: Awesome!!! Love both ideas that give great inspiration. Thank you SO MUCH for taking the time to do the 12 tags of 2012!!! Can't wait to see wait ideas and goodies you come up with for 2013 for everyone to have fun with!
6. Cash Wall Browning-Smith says: AMAZING! Two tags with so many possibilities! While it may be bittersweet – thank you for sharing all year long!
7. Diane Young says: A whole year of inspiring tags. Thanks, Tim for sharing your creativity!
8. Frankie says: They're both beautiful! I can't wait to get busy making these — thanks for the inspiration!
9. Nancy B says: What a crafty Santa you are to give us two tags in one month. They are both wonderful tags! Thanks, Tim.