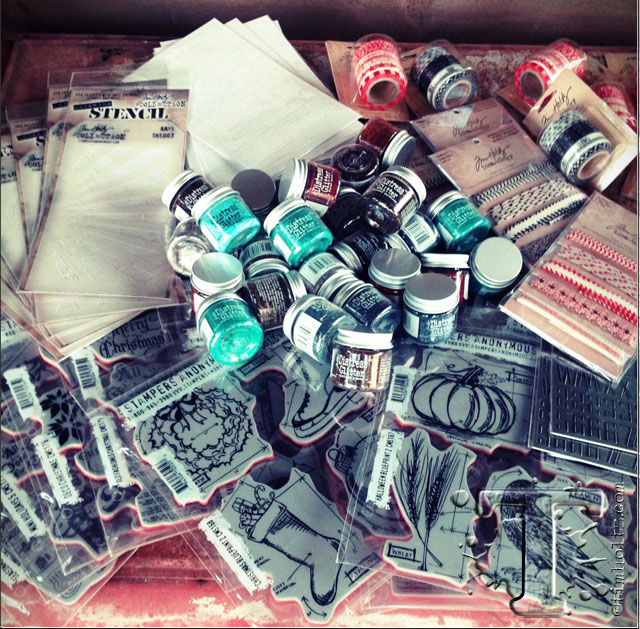 thank you for sharing a week of show recaps, and for posting all of your comments on the blog and sharing on facebook – wow what excitement!  i know many of you posted comments that you wish you were able to be at the show, and i don't blame you, it's truly a wonderful thing to see.  we did our best to capture the highlights, photos, and videos of all the great displays and projects from the show, and hope this glimpse into all of the creativity coming your way has certainly inspired you.  congrats to the winners of some of the new stuff we managed to stuff in our bags from the show!  if you see your name and comment, please email mario@timholtz.com with your mailing information and we'll get your prize shipped out. don't forget tomorrow is the 12 tags of 2013 august tag – see you then…t!m
– Kathi R: I can't begin to tell you how excited I am by the Chemist stamp set! I'm married to a chemist and have been hoping for a set just like this one. I'm also totally stoked about the new stencils! I know that I will have to get them all!  Congrats Mario III and Sara for the reception you got at CHA!And of course, the booth and samples are gorgeous!
– TC: I wish Everyone could have seen the Booth in Person!!!! Words can not describe HOW AMAZING all the Yummy New stuff is! I am soooooo Ready for the Holidays!!! Bring on Halloween and Christmas I am ready to stock up and Create!!!
– Roxanne Pafundi: Wow! I really love the new Distress Glitter! So cool that you can change the look by inking it…and the fact that you can heat it too! What a great new product! Can't wait to find some of these! Thanks for sharing Tim…the video was cool!
– Libby from Oakland: This is amazing! I love the booths with the old books. Everything is such a visual feast. The new stamps with the dies are great – I appreciate seeing the demo. Wow!!!!
– Trent miller: Awesome! Great samples and videos. I can't wait for the stencils. Excited here for the new products. I am a huge fan on the blue print stamps and will be adding many of these new ones to my collection. Thanks.
– Christy Q: Wow, what an incredible display! You can definitely see all of the hard work and the personality (and you!) in your booth. Love everything that went into the booths, the ephemera, the trinkets, the projects (WOW!!!), the creativity and inspiration of all of the designers, and all of the found objects. My favorite is the Christmas portion – I'm so ready to decorate my house and get cracking on some Christmas projects right now as I'm inspired by all of the projects I saw!
– Dona Stallworth: Must be wonderful to work with people you care about. It shows in your products!
– karen aka soccerboyzmom: Love being able to see the samples. I have to get those stencils. You always make faulous products. Wish I was ere to get some stamps signed by you. Thanks Ted for believing in Tim.
– Julie C: Glitter from you makes me laugh….I remember back in 2005 when I gave you a tag and mentioned I had to bling it and you had such a smirk to that….glad to see you've come around! We knew we could bring you to the dark side!
– Sylvia Tabor: So exciting to see the new products!!! I simply do NOT know where you find the time to create all these goodies, what with all the shows, scrapfests, BTS planning, shipping and setups!! But it is greatly appreciated!!!
– Barbara Mason: What a great wind up to a week full of eye candy with Ideology…always a favorite in the gotta haves department!!! Love all of the new stuff but those domes are a fave….
– Linda: There are so many things to love in this new release, I don't know where to start! The new framelits/stamps, the sizzlets, the dies, Halloween, Christmas! I want it all right now, but reality tells me to pace myself.
– Donna: I've enjoyed the posts all week but today's is absolutely a visual feast! Thank you so much for sharing the details of the show and all of the amazing new products and designs. It's only August 1 but I can't wait till Halloween and Christmas!
– Lynne: So cannot wait to get my hands on the stencils. Already have a project started that I need them for. Thank you for always coming out with the greatest products.
– Kristina M. Anderson: I just love the new Distress Glitter! Beautiful. Definitely reminds you of glass glitter and mica. It will be such fun to play and create with it! The design team did a wonderful job! Gorgeous cards and tags. So much wonderful inspiration!
– KimMJ: I am in LOVE with the display! Those books are such a beautiful background. You creative team is simply amazing. LOVE LOVE LOVE those samples, so inspirational.  Thanx so much for all the pics and the videos. They are all really appreciated.
– Patty Gracey:  Can I just say that I agree with you about everything! What a fabulous booth – and all the props and wonderful samples would make you want to explore for hours. Makes me want to drop the projects I'm working on now and move on to Christmas designs. Thanks for the inspiration.
– ArteDar: Outstanding…you're all Super Stars in my book! Honestly, you always bring so many creative supplies for all the artists no matter what their favorite medium is….and it makes us happy and our art look fantastic.  TY so much for all your hard work.