hey bloggers! today i get to share one of my favorite Ranger products and it happens to be ink – surprised? I love the versatility inks and all that i can create with them. of course i love stamping with inks as well and making backgrounds, tinting, blending, shading, and embossing with inks…i love ink!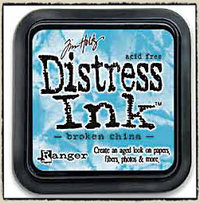 today's product: Distress Ink
these 24 vintage inspired colors are perfect for paper crafting, home decor, and so much more. this palette of nostalgic tones can be used for a variety of techniques most waterbased dyes only dream of. here are a few:
-Use Distress Ins with the Ink Blending Tool for a controlled, blending inked surface – also perfect for edging papers and photos.
-Distress Inks are reactive with water so try crumpling a tag, rubbing the ink directly on the surface and then spritzing with water and watch the colors travel across the surface.
-Distress Inks are also heat stable so dry them with a craft iron or heat tool and the colors won't loose their integrity.
-Embossing, did you know you can emboss with Distress Ink? That's right, stamp with any color of Distress Ink and apply clear embossing powder. Heat emboss for a coordinating color of embossing – cool huh?
-You can also tint your black & white photos with Distress Ink. This ink has bee formulated to work with most photo papers to allow you to colorize photos using Ranger's Cut n' Dry Nibs. Simply swipe the nib across your Distress Pad and color directly on your photo. (be sure to test you photo paper first for compatibility)
-Stamping with Distress Inks is one of the simplest things to do with this ink. The colors allow you to stamp a variety of tones on to your surface to create a collage effect with a timeless hue.
-Wrinkle-Free Distress: okay this has to be my most favorite thing to do with this ink and the results are amazing. Simply swipe various colors of Distress Ink on to a Non-Stick Craft Sheet. Mist with water from a Mini Mister, and press a tag into the ink. Lift off and dry with a heat tool. Press the tag back on to various areas of your inked craft sheet and dry between layers. The results are a layered, distressed, and colorful background. Try it!
today's giveaway: A FULL SET OF Distress Ink Pads! Yes, all 24 vintage, nostalgic, timeless colors found only in Ranger's Distress palette. The winner could be you simply for posting a comment on today's post. So what are you waiting for? Get inky…get distressed….t!m