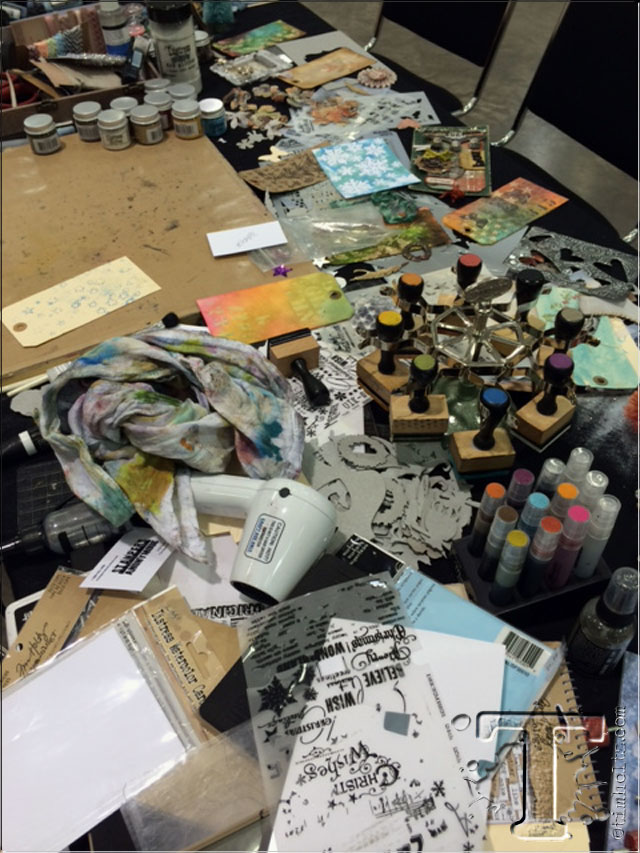 greetings from chilly wisconsin: we just finished a great weekend at the one of a kind stamp show in madison.  thanks to everyone who came out to the show this weekend, joined the fun at the demos, and shop, shop, shopped!  we had a great time, lots of creativity shared, and by the end of each day my demo table looked like a total disaster (it was awesome)…
thanks also for the great comments about the new layering stencils, loved reading all of the great ideas you were posting in the blog comments.  congrats to the following winners of the 2 new layering stencils "holly bough" and "harlequin".  if you see your name (and it's your comment) please email mario@timholtz.com to claim your prize.
we fly out this morning and head back to arizona.  it's been a great travel year, but certainly looking forward to being home until cha – enjoy today…t!m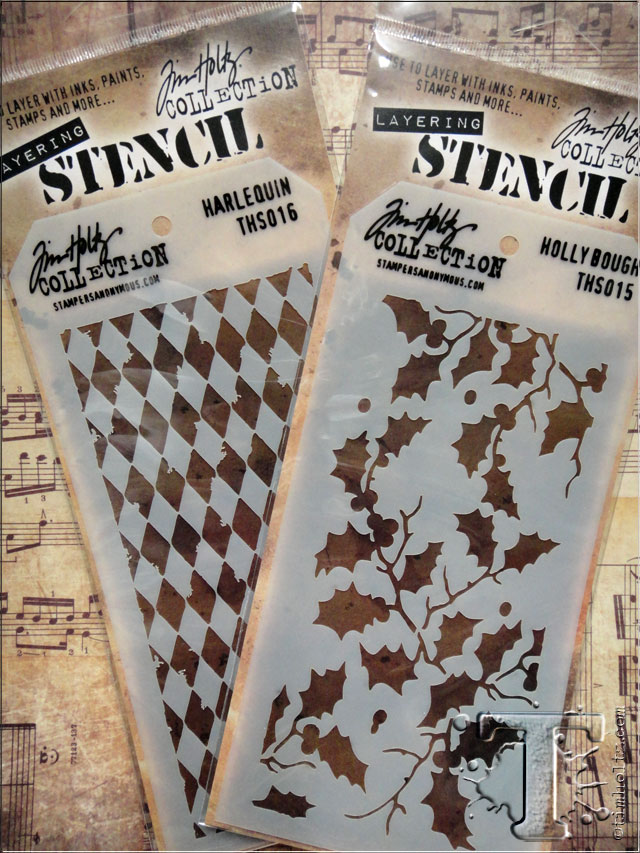 1. Sheri K – Love your gorgeous tags, love the new stencils. I'm so sorry to hear you are ill–you gotta take care of yourself Tim! Don't forget your hat and scarf to stave off the chill as you travel to WI! I love to use stencils to make greeting cards and holiday decorations.
2. Jan Castle – I love my stencils and mostly use them with my Gelli Plate to create backgrounds along with Distress Paints….lots of fun!!!!!  Your two new stencils are now on my Wish List. Thanks for the chance to win them!!!!!
3. Cathy Homan – The background is awesome. So many layers, but there is a softness to it. I love the use of embellishments, and the fact that the Tag became a card. Thank you for sharing. As always, you continue to inspire and amaze me.
4. Sharon Margiotta – Stencils …. yes, for painting, spritzing, tracing, inks … great backgrounds … and to just look at and admire! Love the rustic harlequin. Flu … not good … glad you're feeling better … the worst when you're traveling.
5. Rosiej – Wow Tim! Can't believe how you were still creating even when you were so sick! Thats a true genius! Even an illness doesn't stop you. I love the holly bough layering stencil and the nice soft effect it had on the tag and it really made the tag pop! So cool! I am glad you are so much better. Remember to drink plenty of fluids like Starbucks! LOL