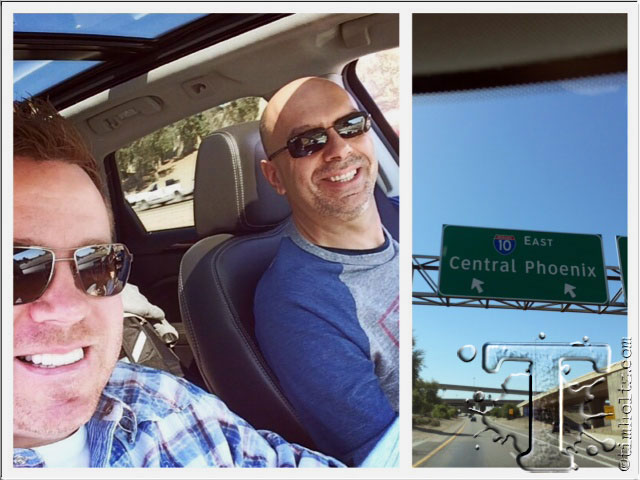 it's great to be home for a few days after another 2 week adventure.  it seems we just got unpacked from our trip to south africa, and it was time to hit the road again.  considering the airport is about 100 miles from home, this drive to phoenix is certainly a familiar route.  lucky for us mario loves to drive, so it makes the frequent trips a little more fun. our first stop was dallas, texas were we spent a couple days at the dallas gift market, followed by a day of antiquing and good bbq with our sweet friend monica (owner of stamp asylum in plano)…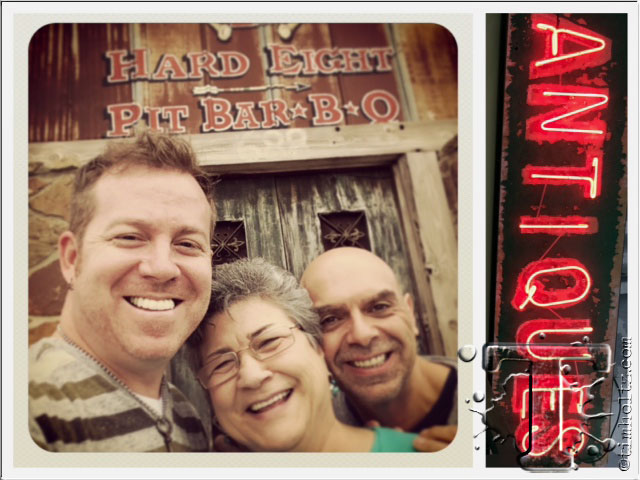 next stop was boston, massachusetts for the collins rep show where i met up with fellow ranger signature designers dyan and dina. we were there for a trade show day, and to teach workshops.  the first evening was a mixed media class taught by dina featuring her new media line.  day two was an all-day ranger retailer workshop taught by dyan and myself showcasing lots of our new release products from cha.  it was certainly a busy couple of days, and i want to thank all of the retailers who attended the event.  thanks also to mario for all of his help, and the ranger crew who were there to help us out as well: patti, colleen, steve, and alain…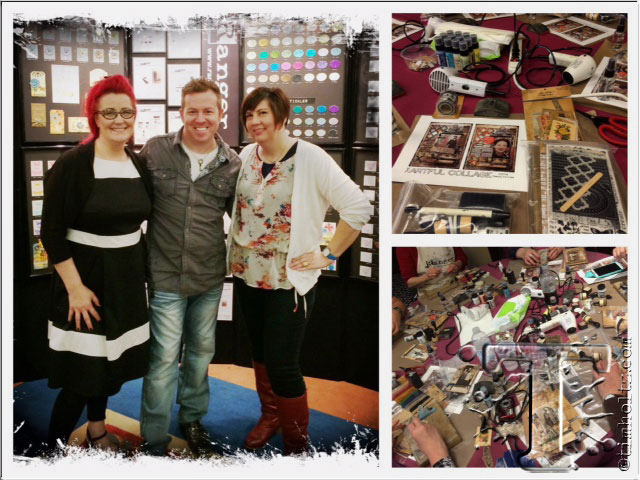 then we were on the road again for a 5 hour drive from massachusetts to new jersey to spend the rest of the week at ranger.  the place was in high gear producing lots of products to stock the warehouse and ship to retailers across the globe.  ranger is always such an inspiring place to visit (even after 11 years of working for them) i am always amazed at the amount of products produced here…
thanks to everyone at ranger who come together as a team to help, design, develop, manufacture and deliver some of most innovative products this industry has ever seen.  check out this photo i took of the production floor where all of product ranger manufactures is mixed, filled, and packaged – pretty cool right?…
as i mentioned, ranger was busy as ever and it was exciting to see the next release of the new mini distress inks being made.  these new kits #4, #5, and #6 are scheduled to release monday, april 14th.  i captured a few photos of the production process where each ink pad is hand filled in an ink bath, hand assembled in the case, hand labeled, and then hand packaged in the kit.  what many don't realize is that this is the same process and amount of labor for the regular distress ink pads, which explains why it took over seven years to convince ranger to make these mini distress ink pads.  i'm just happy they've agreed to release all 48 colors…
i know with so many channels of social media available including facebook, twitter, and instagram, it's tough to keep up sometimes.  i want to continue to share our journey and technique tutorials here on the blog, and the comments you post encourage me to keep blogging.  so i want to thank those of you who take a few minutes to post comments here on the blog.  it's always great to read them, and let's me know you enjoy the content i post here.  believe it or not, the "april 12 tags of 2014" post currently has over 11,000 views in the past 6 days, yet only 77 comments….  so how about a surprise giveaway?  as a way to say thanks to those who take the time, here are winners selected from the 77 comments.  in fact, i really like the idea of these surprise giveaways so keep interacting with us on facebook, twitter, instagram, and of course right here on the blog – you never know when the next one might be…t!m
if you see your name listed below, please email mario@timholtz.com to claim your prize and keep those comments coming…
1. julie heyer: Gorgeous tag Tim! As always, love the use of the dies.
2. Claire: Beautiful tag! Love the framework die. Thanks , Tim!
3. Karen Garrard: I cannot wait to try this months tag. Looks awesome. Karen.x
4. Colleen Dickinson: Tim, Love this one thanks for putting another great design together.
5. Pinky Borres: I love this tag. I've made a few of these roses myself. Still have to get some of those framework dies.
6. trace metcalfe: oh wow evry month I love your tag and feel so ready to get playing but wow this tag is utter gorgeousness . just lovelovelove it!
7. Linda Bell: Love the frameworks, need to get right out and get them. Love the tags, you are so inspiring! thanks for sharing.
8. Sharon Grant: love, love, love it!
9. Kirsten Alicia: Wow! Gorgeous, gorgeous tag Tim. I love the trellis die, it looks so lovely behind the pine cone flowers.
10. Kathy Eddy: Oh this is my favorite so far! Got my dies in the mail too!
11. debbiew: Another great tag. Thanks for reminding me I can make the flower with the pinecone die.
12. Carol Watson: Love the look the washi tape gives the base card. Another beautiful tim tag!
13. Patricia A Paola: I know you made this month's tag for me since my birthday is in 10 days…lol I cannot wait to get those new dies that you introduced in January.
Currently I am in the middle of setting up my Creative Space and trying to figure out where my "Tim" section will be.