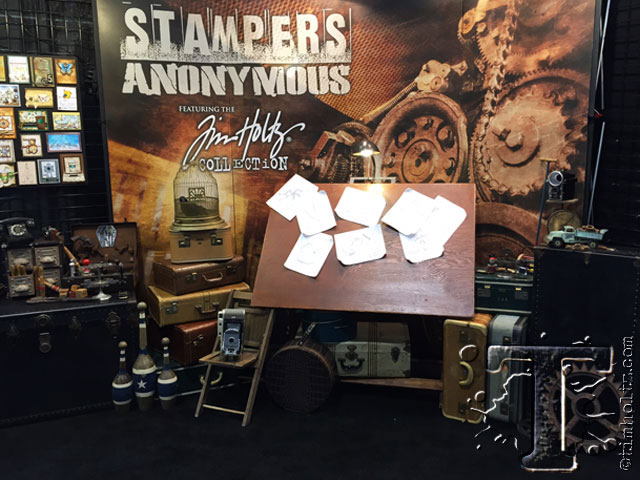 thanks for posting your comments – it was wonderful to read the kind words about LaDorna, the sizzix booth, and Mr. Stampers Anonymous.  thanks also for sharing your favorite new stampers anonymous stamps and stencils.  if you see your name (and your comment) congrats you are the winners of a new stamp set and layering stencil from stampers anonymous.
please email mario@timholtz.com with your shipping info and we'll get your new stamps & stencil out to you.  enjoy the rest of the weekend…t!m
Sandra Nosek– I love the Anchor that has been long awaited due to my daughter being in the US Navy! I can't wait to get my hands on one !!!
Cim Allen– I love the traveler layering stencil .. actually I love them all .. and I will have them all ! LaDorna is quite a beautiful woman .. I would never have guessed 92 .. WOW ! Your whole release is FANTASTIC !!
Queen Mary– Tim, although it is difficult to choose, I love coffee, so i!ll go with your new coffee and tea time on the stamps, but what I really like is the ability to purchase the blueprints in smaller sets now. It's kinder to those of us on smaller budgets who aren't professional artists. As for the stencils, not a single favorite there, I can use them all! I'm learning art journaling — and I'm learning how to use them all from Vicky P. (She just did a page with your huge new numbers), and it is gorgeous! She uses Tons of your stuff! I'm sorry I can't spell her last name, it's Greek, as is she, wonderful Youtube channel, if you haven't seen her work, you should!
Heather P.– First of all, let me say that LaDorna looks FANTASTIC!! She definitely does not look 92. If I look like that at her age, I'll be dancing a jig. Ok stamps and stencils…..hard to pick a fave. But, since I'm a butterfly freak, I love all the new ones with butterflies. I also love the cityscapes set. The Scribbles stencil is gorgeous and I love the Treads b/c my husband is a mechanic and a total gearhead. Thanks for the chance to win!!
Sara Emily Barker– Firstly, I must say how amazingly youthful La Dorna Eichenberg is!! My chin dropped when I read her age at 92!!! Secondly, the Sizzix booth is AMAZING! I could stare for hours! I can't wait to sit down and view the videos! Thirdly, thank you for another chance to win some awesome products! Favorites are so hard to narrow down–how about top six? Perspective, Flower Garden, Botanical Sketch, Water Color, Handwritten Thoughts, and Life Quotes! Well, if I must…WATERCOLOR! And no playing around with the stencils–easily it is FLOURISHES! All of them have incredible crafting potential in my book!