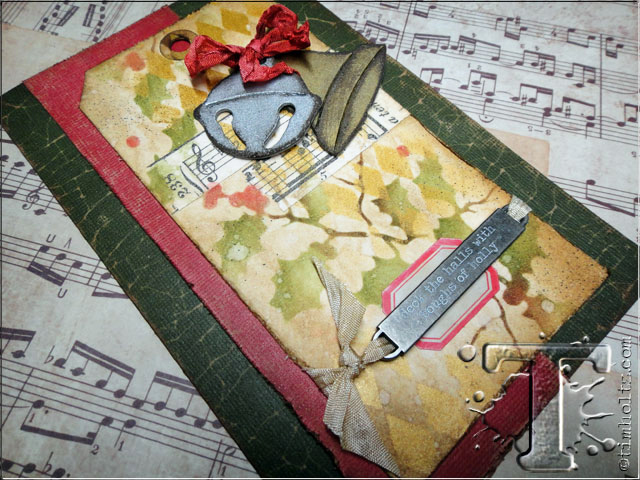 hey everyone, sorry i've been quiet here on the blog for so long.  my least favorite thing about the weather getting colder is the most likely chance to get a cold, or in my case the flu.  i've been lying low for the past week as i came down with the flu during our visit to ranger headquarters last week.  we still had tickets to wicked that weekend in new york but aside from me dragging my body into my theater seat to watch it, i have been bed ridden – horrible right?  well luckily i think i'm on the mend and just in time as we head out tomorrow morning to our last event of the year: the one of a kind stamp show in madison, wisconsin.  i'm looking forward to meeting lots of new people there as i've not attended this show before so it should be fun (although i must admit 14 degrees is a bit on the frigid side…brrr!). nevertheless i've packed warm clothes, and mario's packed his shorts as always…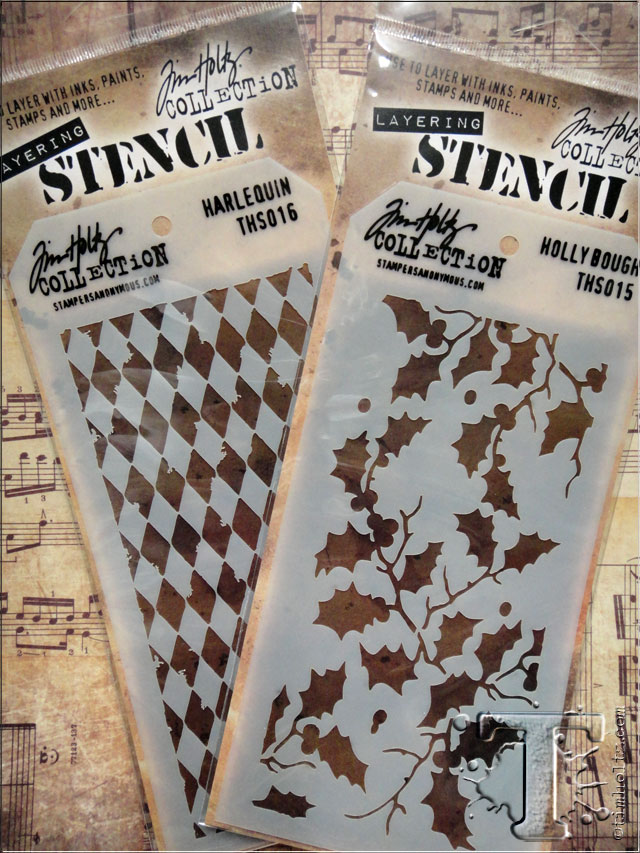 today i finally had a little creative energy to get into the studio to share a project showcasing my new holiday layering stencils that were released earlier this month.  i love these new festive designs and just in time for holiday projects!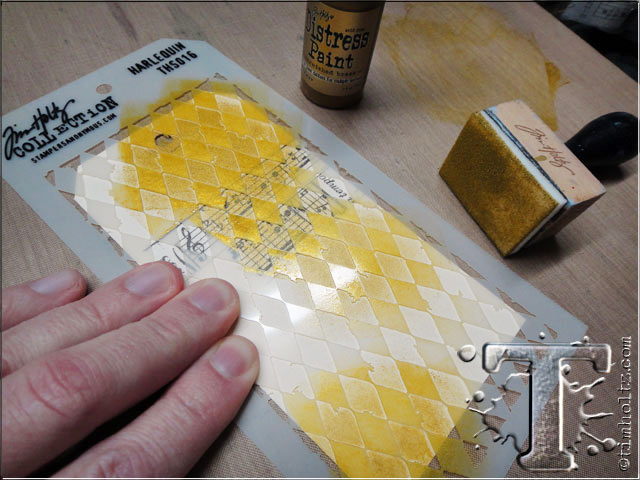 – i started with a manila tag that i applied a couple of pieces of tissue tape.  then using the new harlequin layering stencil, i applied tarnished brass distress paint to random areas using an ink blending tool.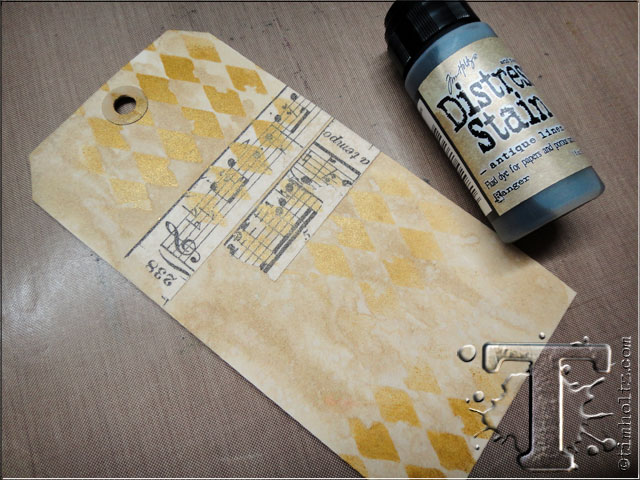 – after removing the stencil and drying the paint with a heat tool, i covered the entire tag with antique linen distress stain, a little mist of water, and dried the entire tag again with a heat tool for the perfect vintage background.  i love the way the distress paint resists the distress stain allowing the brass harlequin to shine.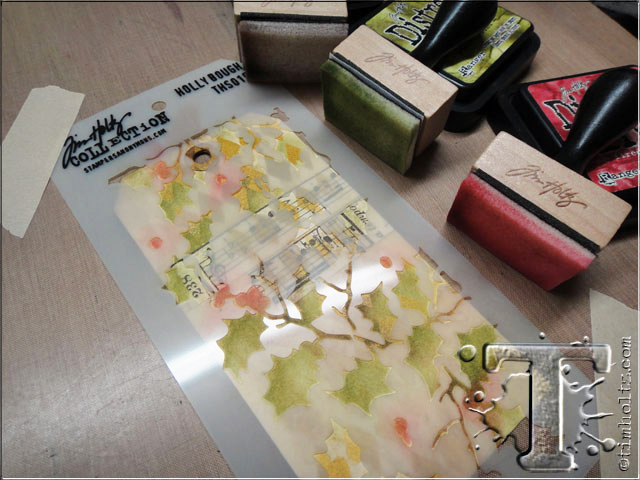 – next i applied the holly bough layering stencil over the tag and taped it to my craft sheet to keep it from moving.  i applied various colors of distress ink (peeled paint, fired brick, gathered twigs) to areas of the stencil using ink blending tools.  this gave me complete control of the color and shading of this wonderfully detailed design.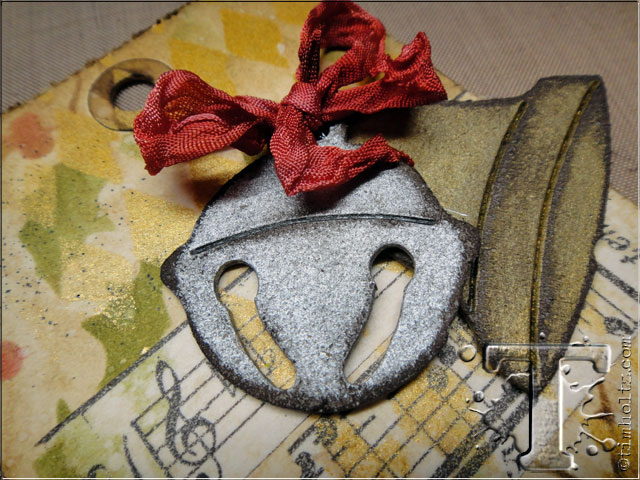 – with the background done all that was left were a few embellishment opportunities so i die cut a couple of mini bells from my sizzix alterations die, painted them with distress paint, distressed them, and attached them to the tag along with some crinkle ribbon.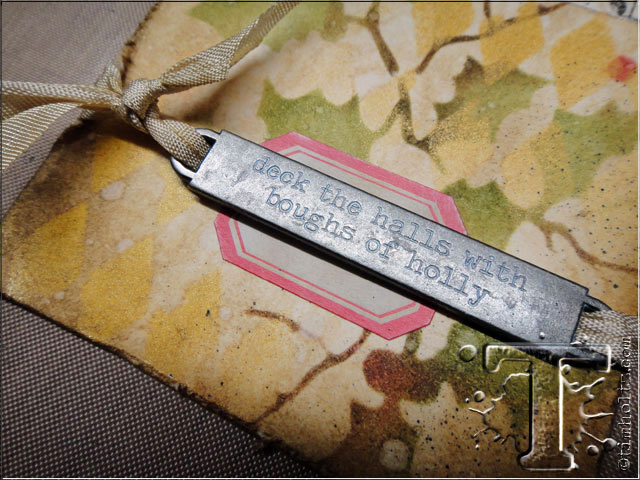 – then i tied on a seasonal word band using crinkle ribbon around the tag over a vial label.  to finish, i adhered the tag to a piece of folded kraft core shattered that i layered with red and green – the perfect holiday colors.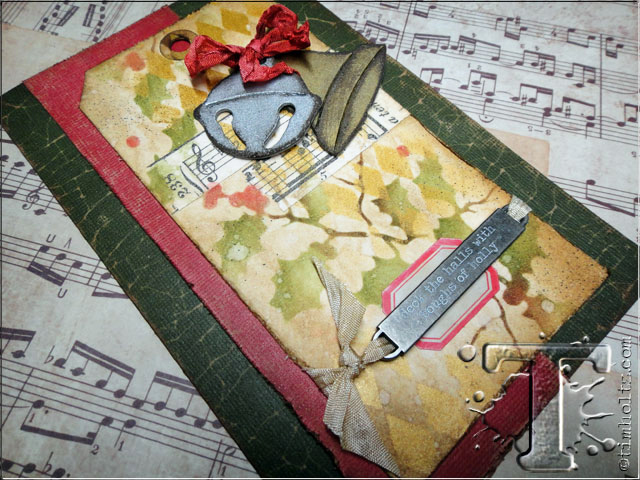 pretty simple, yet so many great layers to see, that's what i love about layering stencils.  hope you find some holiday inspiration in addition to the card i'm sharing today on the blog by checking out the fabulous project paula cheney did over on her blog, and the wonderful card richele christensen did over on her blog – all using these new layering stencils.  if you'd like a chance to win a set of the two new holiday layering stencils, just post a comment here on the blog and share your favorite use for stencils – 5 winners will be announced on monday.  good luck everyone and happy holidays…t!m