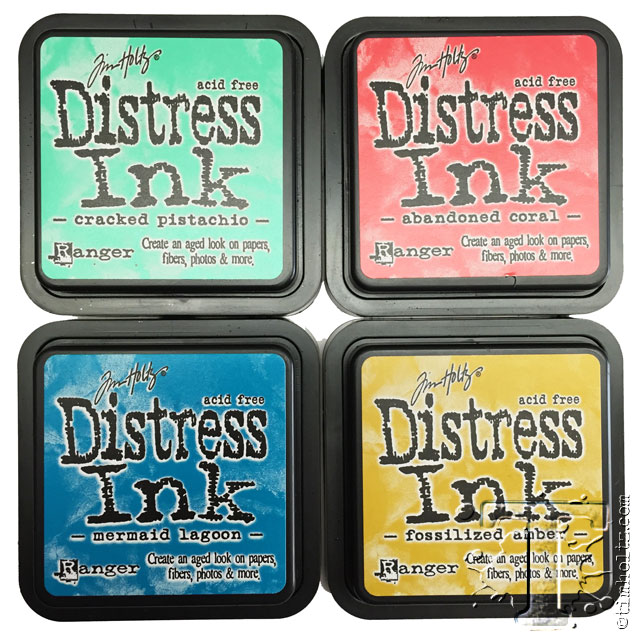 thanks for sharing in the continued excitement of the new distress color palette launching throughout 2015.  i love the anticipation i feel when we get to announce the new color at 12:00noon EDT the first friday of each month.  it's been such fun to see the frenzy on social media when the color is announced and i sincerely appreciate the shares on facebook, tweets on twitter, and likes on instagram along with reading your comments here on the blog…
there have been several questions about the new colors of distress so i thought i would do my best to answer them here:
Q: where are the new colors of distress products sold?
A: since i don't handle sales of any products i design, i don't have specific answers.  i do provide links on my site, but you should certainly check with your local store first and ask if they will be stocking them.
Q: why do they seem to sell out so quickly, is ranger not making enough?
A: i'm beyond thankful for the support of this launch, and honestly ranger is working round the clock on production of the distress to keep up with demand.  they are also following an outlined production schedule to maintain stock of other ranger products (it can't all be about distress i suppose…lol).  please know they are doing their best and shipping out american made quality products as fast as they can.
Q: now that there are 4 colors released, when are the mini distress ink pads being released?
A: as i mentioned during the debut launch at CHA, the mini distress ink pads will be available the following month after 4 colors have been released.  this means the minis for the first 4 colors will be shipping next month in may; then the next 4 colors in september; and the last 4 colors in december (since we didn't want to make you wait until 2016 for the final mini colors).
Q: will the new colors of the mini distress inks be sold open stock like the rest?
A: yes they will, but this will not happen until early 2016.
Q: do i already have all 12 of the new distress colors selected?
A: yes, i would say they are 99.9% confirmed – but you know how the creative mind can get.
Q: where do i come up with the names of the distress colors?
A: it's a team effort really.  i work with the art dept. at ranger to brainstorm on color names.  the name needs to consist of two words that describe, yet indulge the creative senses to imagine what that color would potentially resemble.  it's a fun process for sure, and i just love the final names i choose.
Q: how do i determine what colors to blend in my new color video each month?
A: i honestly try to be as random as possible with this process and embrace the "what if" method.  the distress palette has been designed to work and blend with every color in the palette, it's pretty amazing all of the possibilities you can come up with.
Q: since i've shared a color comparison for the last three colors: abandoned coral, mermaid lagoon, and fossilized amber, will i also create one for the first color cracked pistachio?
A: absolutely…please check it out below.
Q: is there a sheet i can print to make my own product swatches for the new distress colors?
A: yes, click here to go to ranger's site and print one.
Q: are there labels to print for the new distress ink pad colors?
A: yes, click here to go to ranger's site and print them – you will find labels sheets for the new colors, the full palette, and the mini ink pads along with other organizing items.
hope this info helps and here's to welcoming 8 more wonderful colors to the distress family throughout the year…t!m