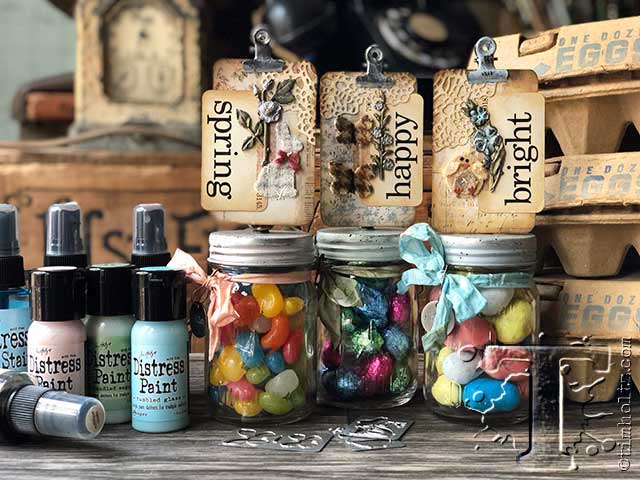 creating special little gifts for any season is always fun, but it's even more fun when they're filled with colorful candies – am i right? this quick DIY is the perfect way to share some easter treats with family, friends, teachers, coworkers, even yourself. take a look at this simple tutorial below and gather up your favorite craft supplies along with plenty of treats to eat…i mean craft with…t!m
supplies used:
idea-ology: mini mason jars; photo clip kit; flashcards; memoranda paper stash; design tape; adornments/nature; crinkle ribbon; typed tokens; loop pins
ranger: distress paint/tattered rose/bundled sage/tumbled glass/ground espresso; distress spray stain/antique linen/tattered rose/tumbled glass/bundled sage; distress ink/walnut stain; mini ink blending tool; distress collage medium
sizzix: sidekick; side-order spring; doily; vagabond; precision base plate; die pick
tonic: media mat; scissors; shears; paper trimmer
misc: wool felt; craft thread; needle; candy (and lots of it)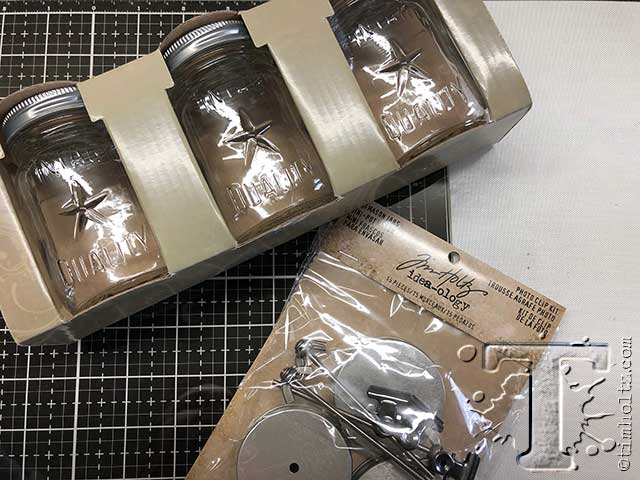 – one of my favorite things about the idea-ology mini mason jars (besides their cute size and vintage quality star design) is the fact that they are food safe so you can fill them with your favorite treats. pair them with the photo clip kit which contains lids with pre-drilled holes, threaded posts, washers, wing nuts, and hinge clips and you have the perfect way to create a few special gifts.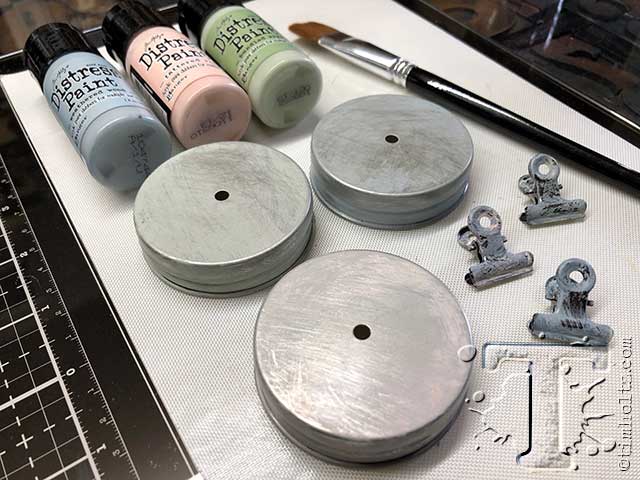 – start by painting the lids & hinge clips from the photo clip kit. as for the lids that originally come on the mini mason jars, you can repurpose them in another project or use them to sort small embellishments, as a paint palette, etc. once the paint is almost dry, rub away any excess with a dry paper towel to create a distressed look.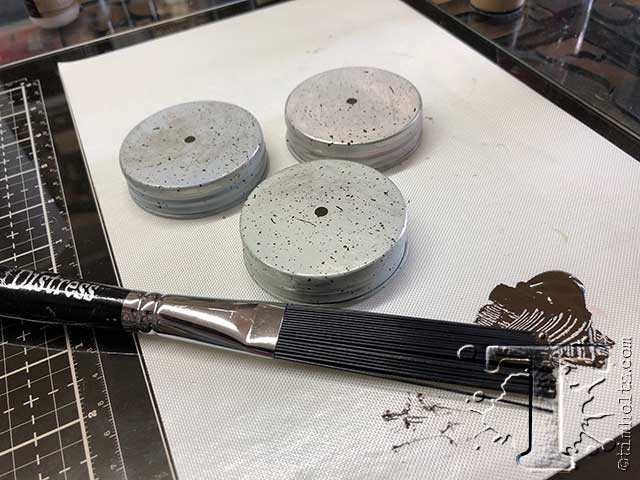 – splatter a little brown paint using a splatter brush to mimic robin eggs and set aside to dry completely.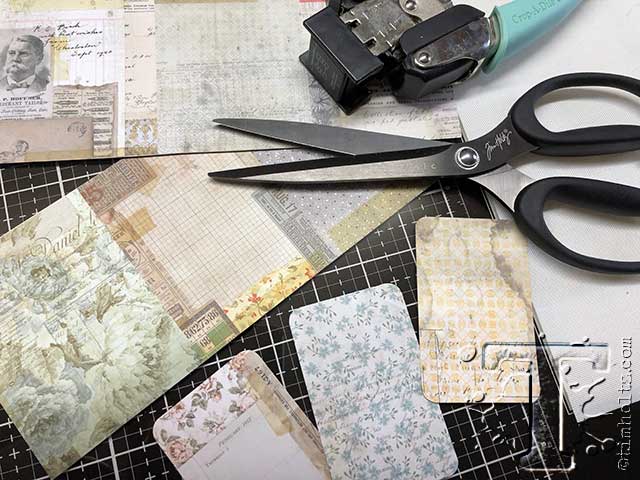 – create a card for the top of the jars any size you want up to 3 1/2″ in height. i chose the size of a gift card which is approx. 2 1/8″ x 3 3/8″ and cut them from the smaller pieces of memoranda paper stash and rounded the corners.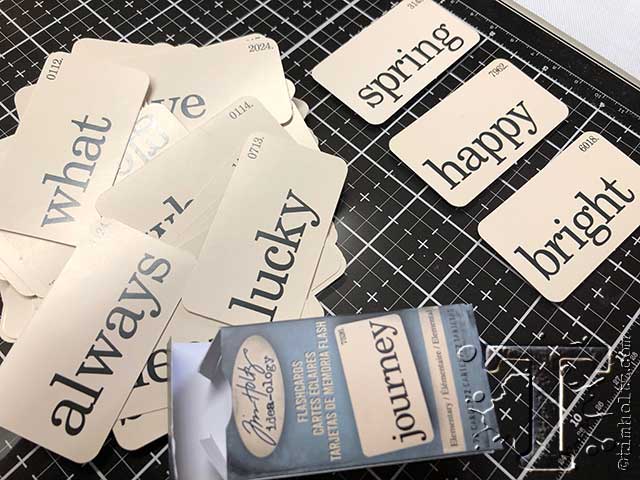 – select any paper embellishments to layer, i went with a few idea-ology flashcards.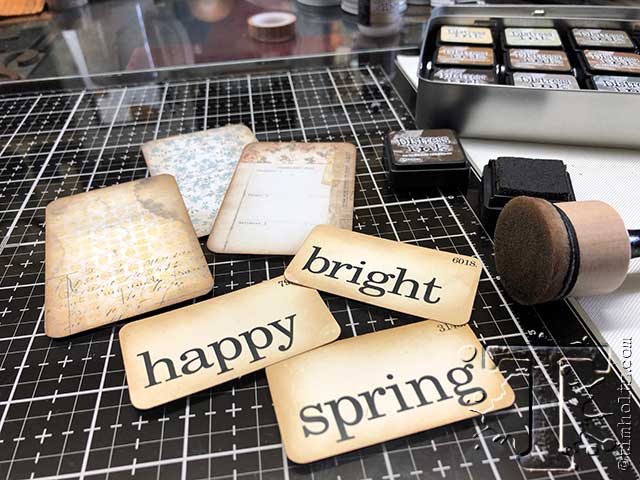 – ink the edges of all paper pieces with distress ink using a mini ink blending tool.
– adhere the paper elements using distress collage medium and accent with design tape.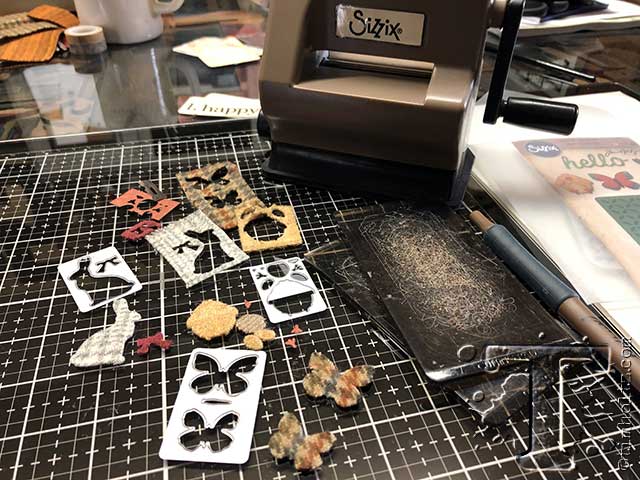 – using the sizzix sidekick and side-orders, cut a few elements from wool felt. did you know you can cut thicker materials like felt from thin dies? just run them through the machine about 3 times to make sure they cut all the way through – it's that's simple!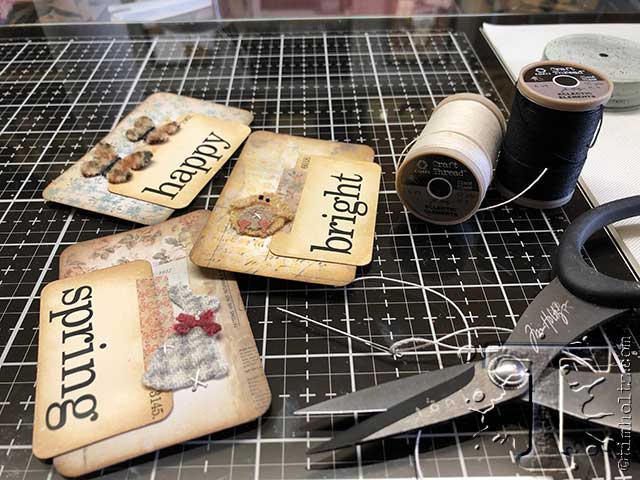 – adhere the felt pieces to the cards using distress collage medium and add a few hand stitched accents with craft thread.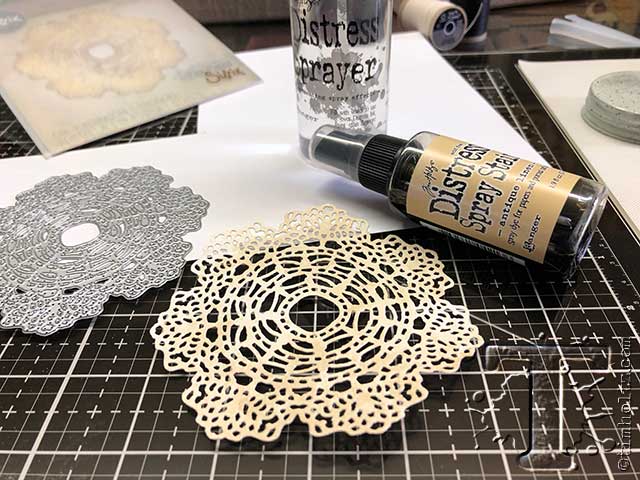 – distress a piece of white cardstock with antique linen spray stain and dry with a heat tool. next die cut the doily using a vagabond and a precision base plate. (note: whenever you're cutting detailed dies, the precision base plate is important to ensure everything cuts clean).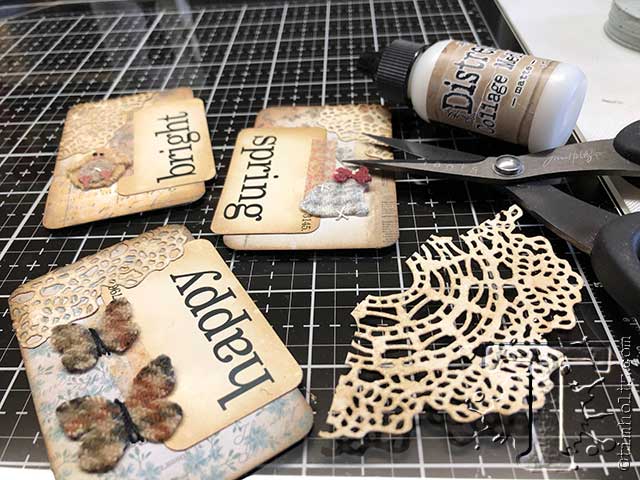 – trim small pieces from the doily and adhere them to the cards with distress collage medium.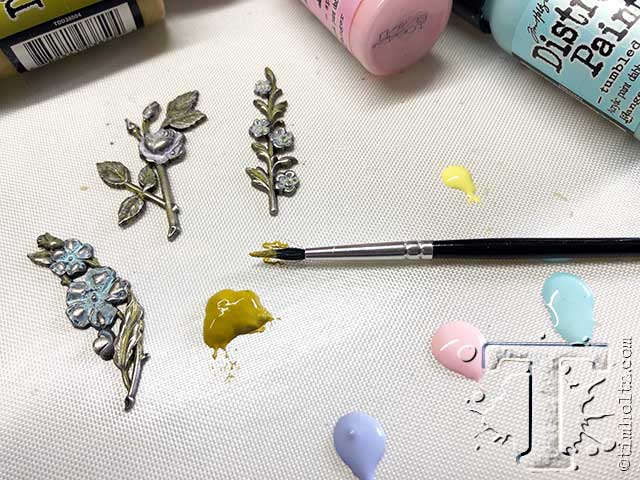 – paint the nature adornments with distress paint, let dry a little, and rub off excess paint for the perfect distress.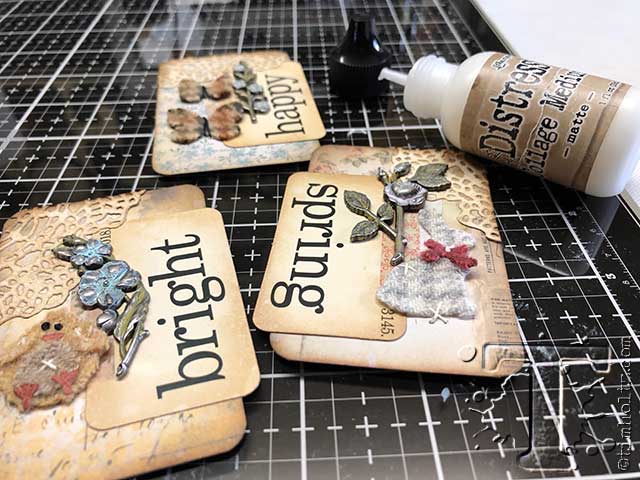 – adhere adornments to cards using distress collage medium and set aside to dry.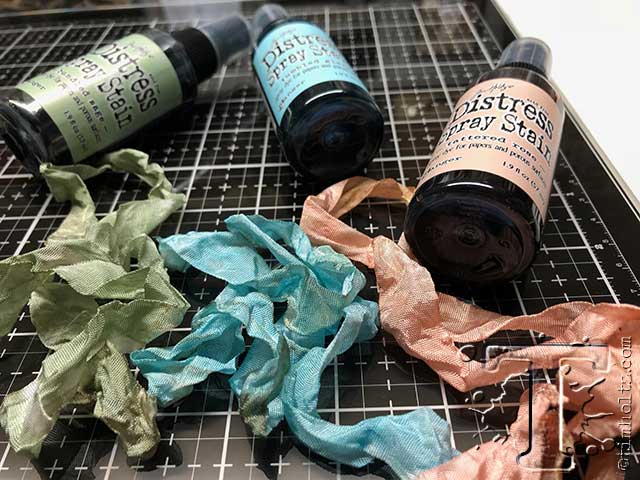 – colorize crinkle ribbon with distress spray stain and let dry.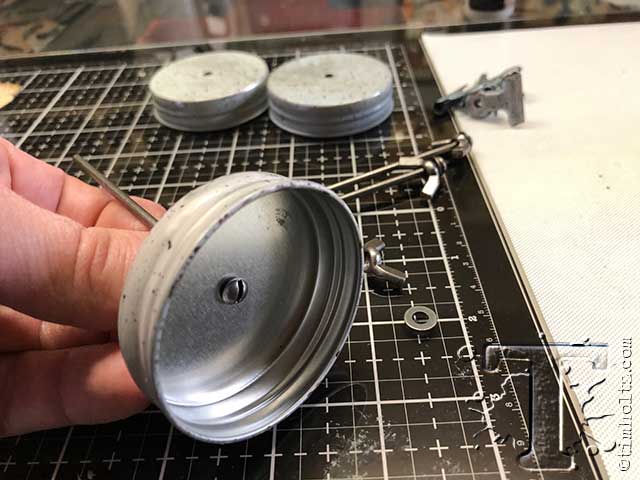 – assemble the lids by inserting the post from the inside of the lid as shown.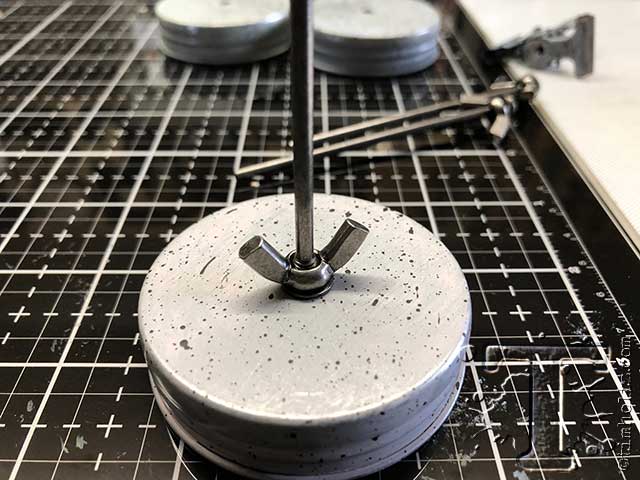 – slide on the washer and secure with the wing nut. (note: tighten by using a dime or small screwdriver on the screw inside the lid while turning wing nut).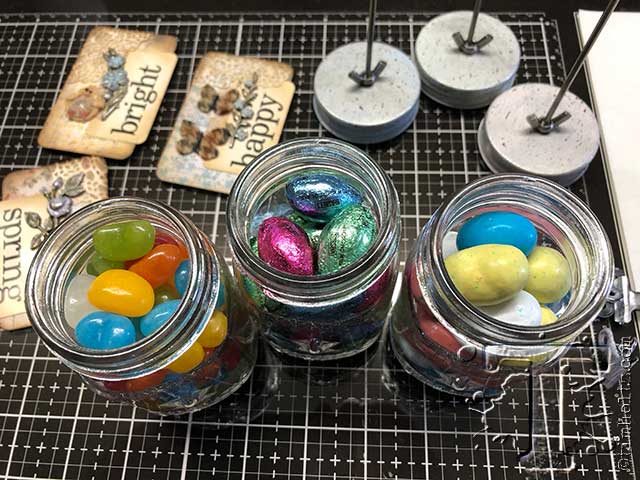 – fill the jars with your favorite treats and screw the lids on to the jars.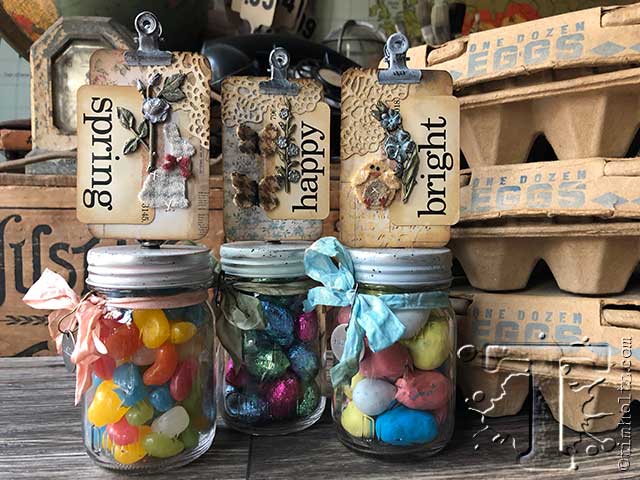 – finish by tying ribbon around the neck of the jars, add typed token with loop pin, and attach card to top of the post using the hinge clip…that's it!