hey bloggers! thanks for all the great comments about this exciting Ranger week. things have been busy around our factory getting everything ready for the weekend. i love all of the excitement from all of you about Ranger's amazing product line and appreciate your blog comments (i'm sure Ranger does too…). I hope to see more and more of you commenting on the blog – i think if this shows positive results and feedback, other companies might join the fun in sponsoring blog giveaways so tell your friends, post your comments, and be sure to check out Ranger's website for more product ideas…
THE WINNER OF YESTERDAY'S ADIRONDACK PIGMENT INK SET:
{Melissa Miller}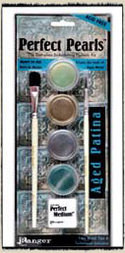 today's product: Perfect Pearls
i have to say, this is one of those products that once you use them, it's a MUST have. Perfect Pearls are pigment powders with binders mixed right into them. so what does that actually mean? well, it means that when you combine these powders with any type of moisture (ink, water, etc.) they will adhere to the surface. they come in a variety of luminous colors with a pearlescent shimmer – really very cool. Perfect Pearls are sold in kits which contain 4 colored powders, one perfect medium ink pad, and 2 brushes – or open stock so you can choose whatever colors you like. here are some techniques to try with these "perfect" pigment powders…
-Perfect Medium: this ink is used to stamp on to papers and simply dust the dry Perfect Pearls over the top of them. the resins in the ink allow the powders to adhere WITHOUT using any sealers over the top like "other" powders.
-Perfect Medium: you can also use this ink to emboss, watermark stamping, and as a resist – truly perfect huh?
-Combine Perfect Pearls with water by dipping a wet brush into the dry powder and mix into a luminous paint on your craft sheet. paint stamped images, over peel-off stickers, or on to canvas.
-Perfect Pearls can be made into a thick paint, or even as a thin pearl wash simply by adding more water.
-Mix these powders into paints or varnishes for a "perfect" glaze on canvas or other home decor items.
-Add some Perfect Pearls into Ranger's Mini Misters and mix with water or Distress Re-Inkers and water to spray the pearly mixture on to cardstock, ribbon, vellum and more. (check out the january technique challenge for more info on this technique).
-Simply add some dry Perfect Pearls into dry embossing powders and shake. The pearls will adhere to the dry embossing powders making them pearlescent embossing powders – pretty cool huh?
-This list could go on and on…so check out Ranger's website for more projects and techniques using Perfect Pearls.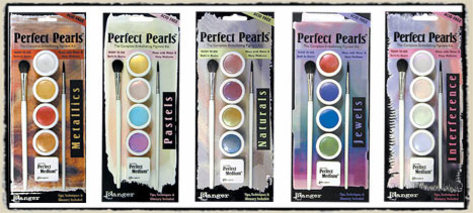 today's giveaway: a FULL SET of Perfect Pearls – are you kidding me? ALL 6 SETS of these amazing Perfect Pearls are going to one lucky winner simply for posting a comment on the blog. the winner will be randomly selected tomorrow – good luck and thanks Ranger! so let today be "perfect"…t!m