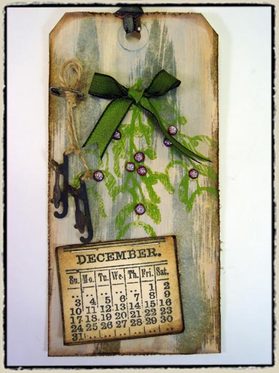 "holiday doorway" – tim holtz 2007
supplies:
craft sheet (ranger)
heat tool (ranger)
adirondack paint dabbers: lake mist, lettuce, cranberry (ranger)
distress ink pad: weathered wood, frayed burlap (ranger)
stickles (ranger)
mini mister (ranger)
ink blending tool & foam (ranger)
stamp set (stampers anonymous)
scratch tool, craft pick (tonic studios)
tag and embellishments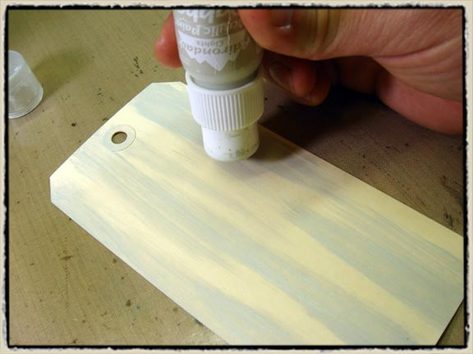 step 1: shake lake mist paint dabber and apply to tag in vertical stripes – be sure to leave areas of the tag exposed (top to bottom) on the tag in a very random motion (*tip: we are going for the look of "wood grain" so be sure to skip over areas, don't be too neat here).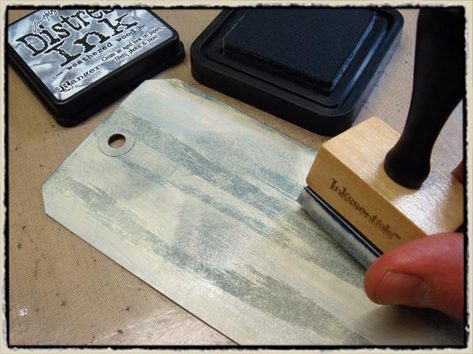 step 2: once paint dries, apply weathered wood distress ink to entire tag using ink blending foam and tool – be sure to ink over the paint and all. (*tip: be sure to tap the tool on the ink pad and apply to the tag using a circular motion and working from your craft sheet)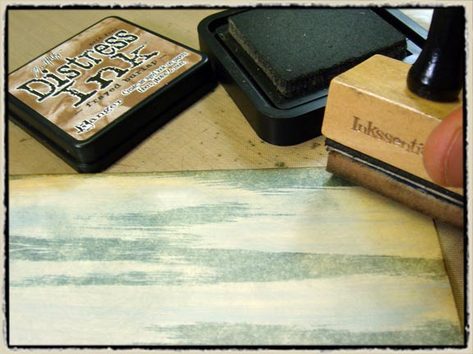 step 3: ink edges with frayed burlap distress ink using ink tool as well.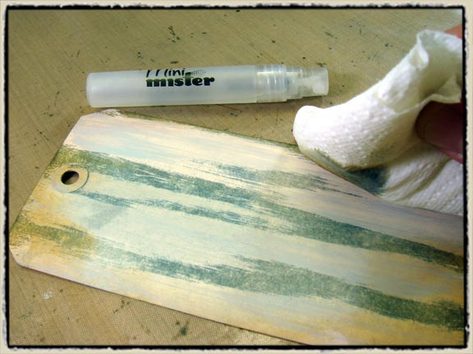 step 4: fill mini mister with water and mist a paper towel. lightly swipe damp paper towel over inked and painted tag. (*tip: you could also use a baby wipe to wipe away the ink)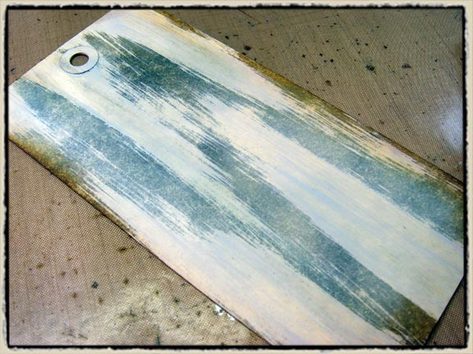 step 5: cool – look and see how the paint actually resists to distress ink to look like "weathered wood!" (*tip: other inks will stain the paint, but distress inks wipe away).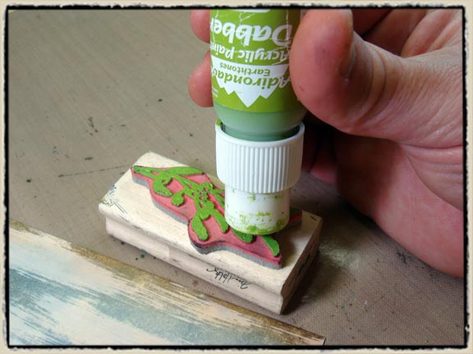 step 6: apply lettuce paint dabber to rubber stamp by dabbing it on.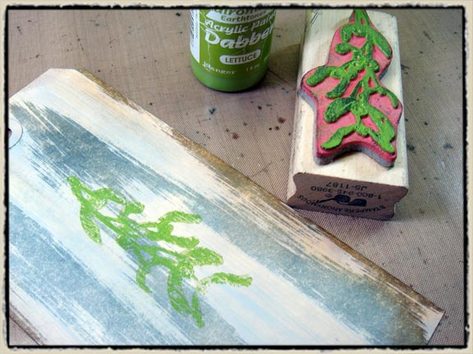 step 7: swipe dabbers across painted stamp and stamp directly on to tag with firm pressure and immediately lift off. re-apply paint and stamp the image a second and then a third time while the paint is still wet. clean stamp with water. (*tip: the reason i swipe the dabber across the stamp before stamping is to level out the paint on the stamp. otherwise it has "peaks" of paint from dabbing it on and if you stamped with it that way, the paint will squish out everywhere and distort your image)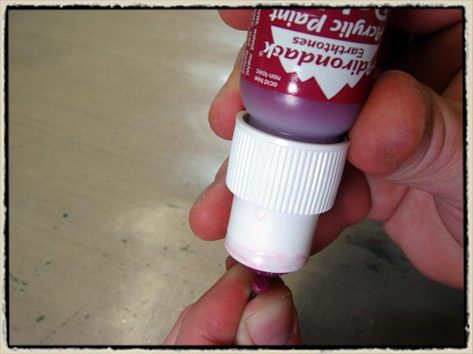 step 8: paint brads with cranberry dabber paint and let paint dry. (*tip: count the number of stamped "berries" to determine how many brads to paint.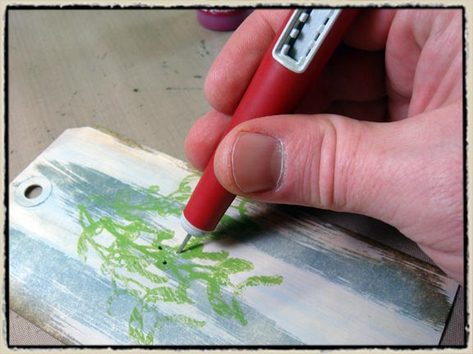 step 9: pierce holes into tag over "berries" of stamped image using craft pick and insert painted brads. (*tip: this new craft pick is retractable, has 7 different settings from long to short, narrow to wide – great for piercing holes in grungeboard, paper, metal, and clay – love it! no more stabbing myself when i'm digging for it!)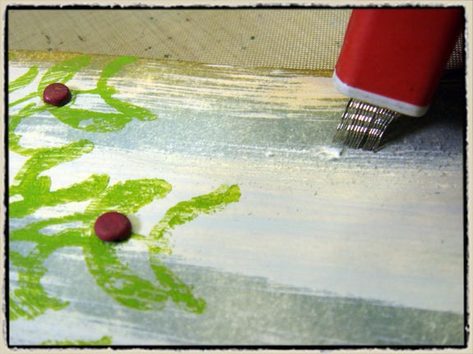 step 10: to distress our "weathered wood" tag even more i like to use my scratch tool. (tip: this new scratch tool is retractable, has wired bristles to "selectively" distress paper, grungeboard and more – my second favorite distressing tool next to my paper distresser!).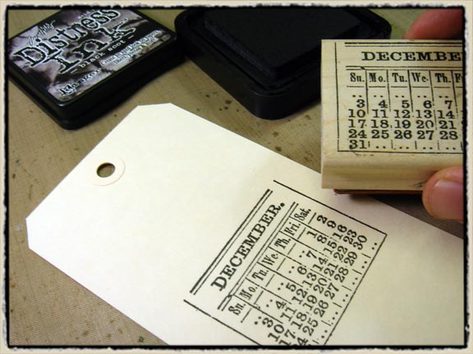 step 11: stamp calendar stamp on separate tag with black ink.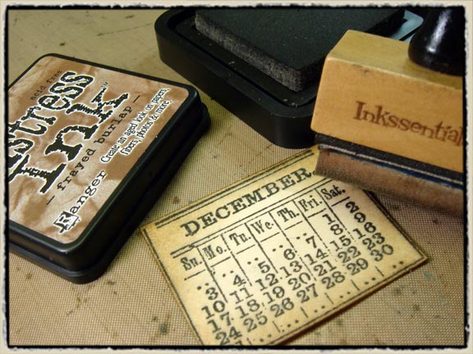 step 12: cut out calendar and ink with frayed burlap distress ink and ink blending tool & foam.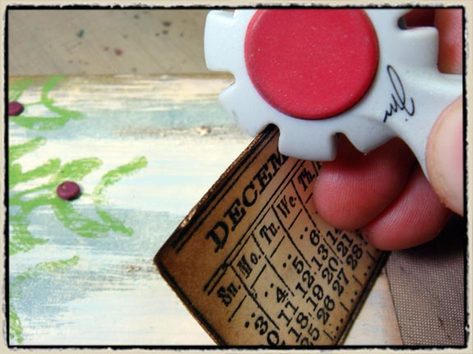 step 13: drag the paper distresser along the edges of the tag and calendar to create a tattered look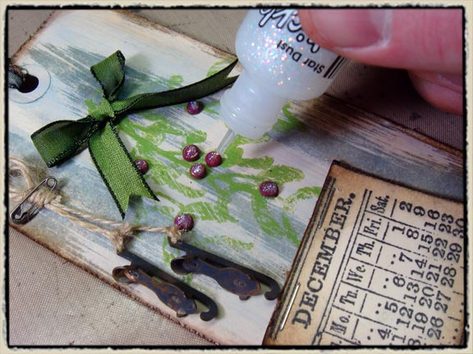 step 14: attach calendar to tag with staples and finish embellishing tag. (*how cool are those vintage ice skate charms? got them long ago, in a place i can't remember, isn't that always how it is?)