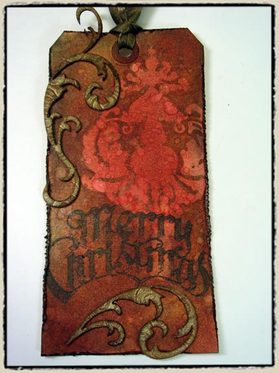 "elegant Christmas" – tim holtz 2007
supplies:
stamp set (stampers anonymous)
craft sheet
distress ink pads: aged mahogany, fired brick, black soot
distress re-inkers: brushed corduroy
mini misters
perfect pearls: heirloom gold
ink blending tool & foam (ranger)
damask mask (heidi swapp)
grungeboard (tim holtz idea-ology)
paper distresser (tonic studios)
tag and embellishments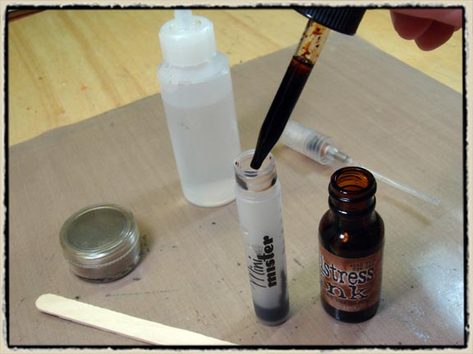 step 1: we are going to make our "pearlized-distress" mist solution first. here's how: add 1 DROPPER full (not drop) of distress re-inker into an empty mini mister. (*tip: i use distress re-inkers for this because they are a concentrated dye, color stable, so you don't have to use much ink to get vibrant colors.)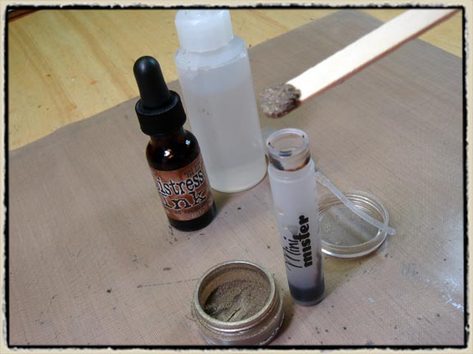 step 2: add a small scoop of perfect pearls to the ink in the mister. (*tip: i like to use the end of a craft stick for this – it fits the mouth of the mister perfect! – wow, using the word perfect a lot today)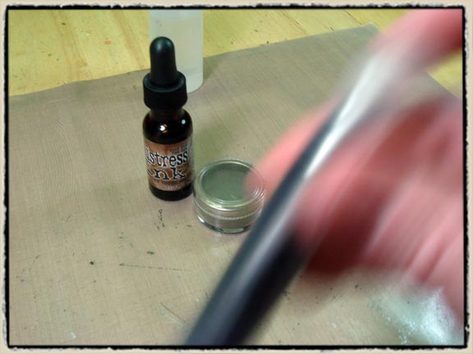 step 3: fill the mini mister about 3/4 of the way with water, replace the sprayer, and shake the solution up to mix it very well. it's important the the ink and perfect pearls emulsify. (*tip: you need to leave room in the mini mister to help everything mix together. by emulsifying everything/like salad dressing, it keeps the perfect pearls from separating.)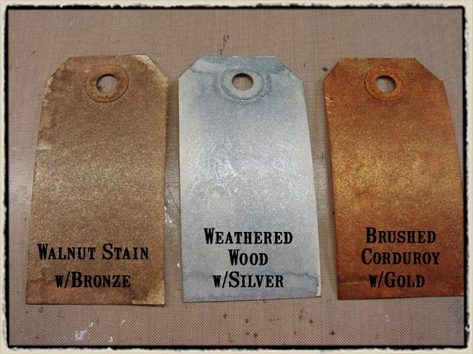 step 4: here's a color swatch of a few other color combinations of distress re-inkers and perfect pearls. it's so easy and affordable to make your own "pearlized distress" sprays. this ink and pearl solution can be used on cardstock, grungeboard, chipboard, canvas, ribbon, etc. another great way to use those distress re-inkers – and 24 colors in the palette, unlimited possibilities!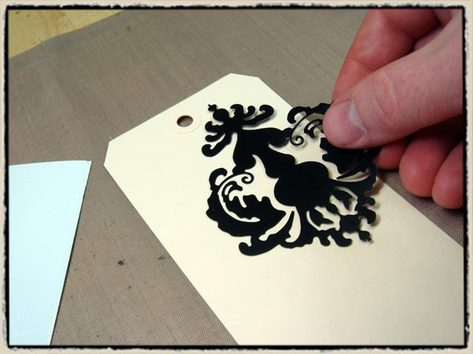 step 5: apply mask to your tag. (*tip: a mask is a reusable, repositionable adhesive backed vinyl die cut that can be inked or painted over – another addiction of mine…guilty!)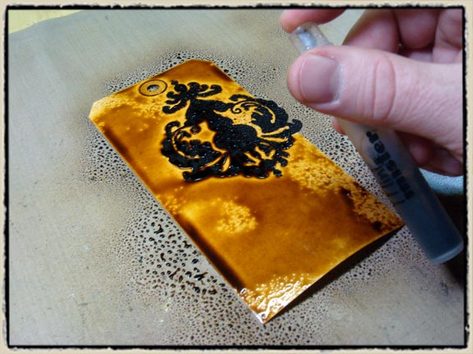 step 6: shake mini mister solution and spray over masked tag. the tag will start to curl but don't worry. let the tag air dry. (*tip: if you feel the need to speed this up, you can use a heat tool but keep your distance because the masks are not heat stable – experience speaking once again!)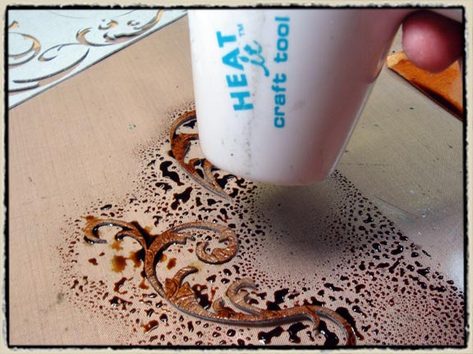 step 7: while the tag is drying remove 2 flourish pieces of grungeboard and place on craft sheet. spray both pieces with mini mister to stain and pearlize these accents. dry with heat tool. (*tip: grungeboard is a stainable material and won't fall apart or swell like chipboard will – it's heat stable too.)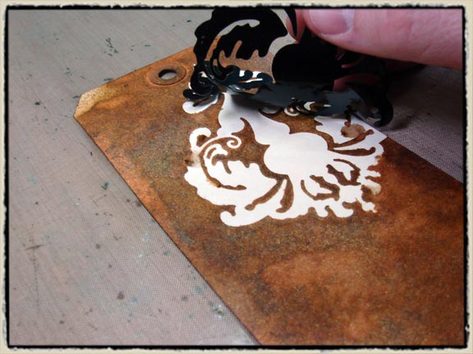 step 8: once the ink on tag is dry, carefully remove the mask to reveal your design – so cool!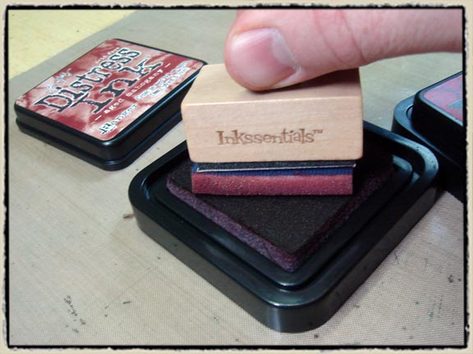 step 9: apply distress ink from the pad to the ink applicator tool with foam. do this by simply tapping the foam on to the pad. i am using 2 tones of red – aged mahogany and fired brick to get more depth. it doesn't matter which color you start with.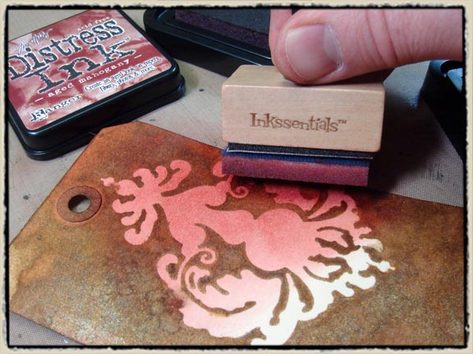 step 10: starting on your craft sheet – if you don't have a craft sheet, this is a must have work surface. place the tool on the sheet and begin pulling the color from the sheet on to your tag using a circular motion. continue inking using both colors of distress ink until the desired look is achieved. (*tip: using the ink blending tool & foam on the craft sheet will provide and soft shading of color and avoid any harsh ink lines)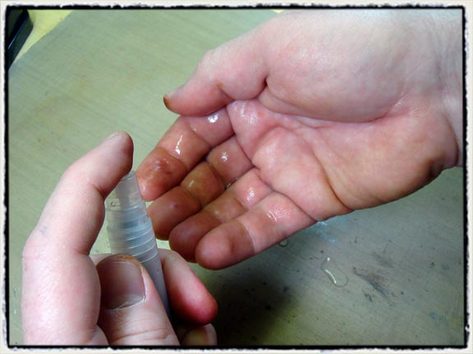 step 11: next, fill an empty mini mister with plain water and spray some water in your hand.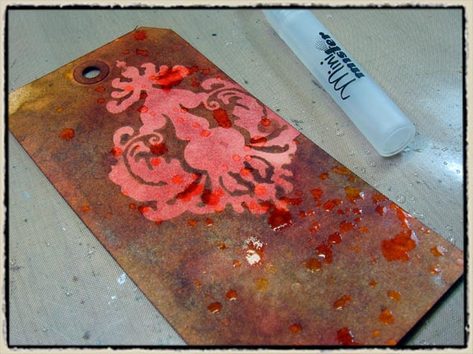 step 12: flick the water on to your inked tag creating droplets and let them sit there for about 10 seconds.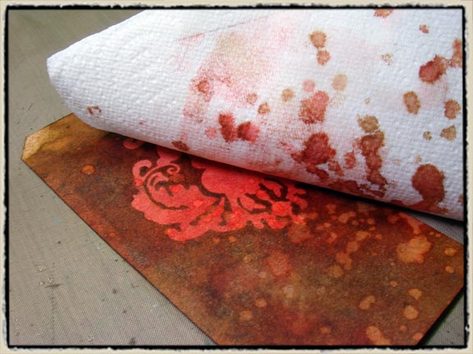 step 13: using a paper towel, blot off the water drops, this will lift the ink off of those areas.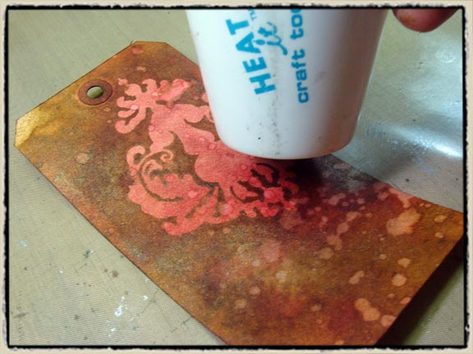 step 14: dry the tag with a heat tool. (*tip: by drying the tag with a heat tool it raises the fibers in the paper and creates a bleaching effect – love it!)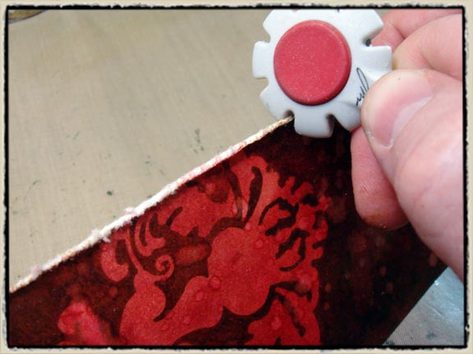 step 15: drag the paper distresser along the edges of the tag to create a tattered look.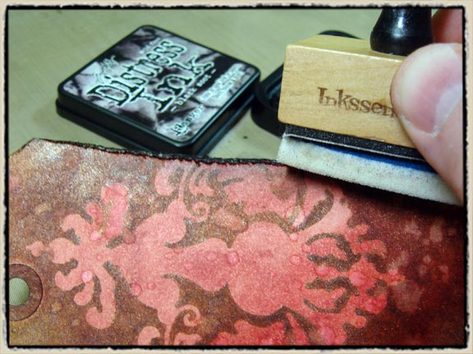 step 16: ink edges with ink blending tool and black soot distress ink. (*tip: this creates a burnt edge effect)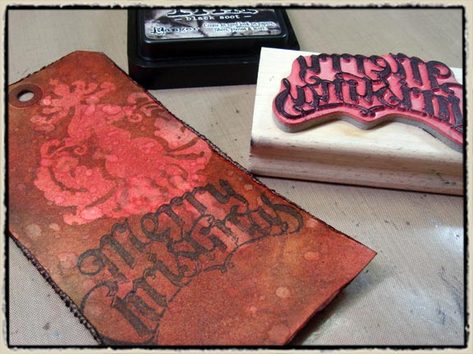 step 17: ink stamp with black soot and stamp on tag slightly overlapping masked design.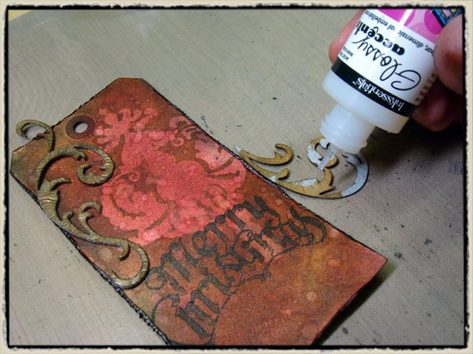 step 18: adhere grungeboard elements to tag using adhesive of choice and add any other embellishments to finish the tag.