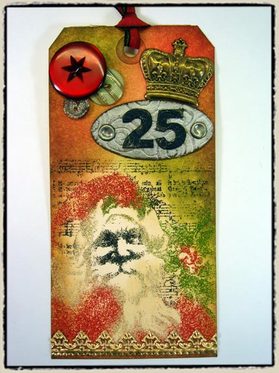 "timeless santa" – tim holtz 2007
supplies:
craft sheet (ranger)
distress embossing powders: fired brick, antique linen, peeled paint, black soot (ranger)
distress embossing ink (ranger)
distress inks: antique linen, fired brick, peeled paint, vintage photo (ranger)
ink blending tool & foam (ranger)
heat tool (ranger)
paint dabbers: pitch black, silver metallic (ranger)
stamp set (stampers anonymous)
grungeboard (tim holtz idea-ology)
tag and embellishments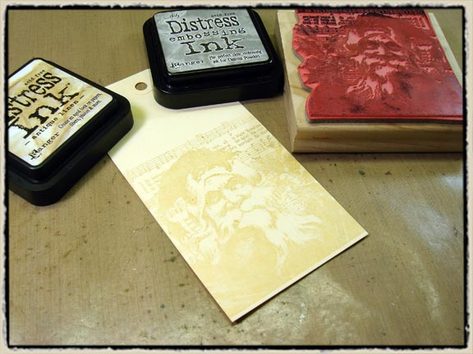 step 1: ink stamp with distress embossing ink and stamp image on to tag (*tip: if you have trouble seeing your image(since the ink is clear), swipe your lightest color of distress ink on to the stamp first – it won't hurt your embossing pad and create a "tinted" embossing ink image)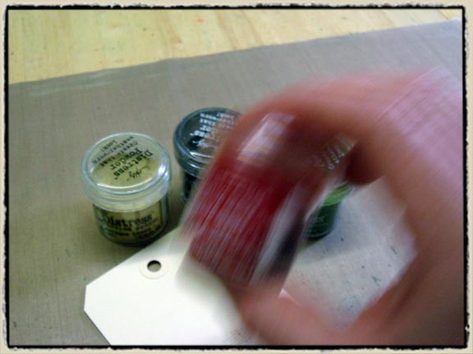 step 2: shake all color of distress powders you're using. open them all up.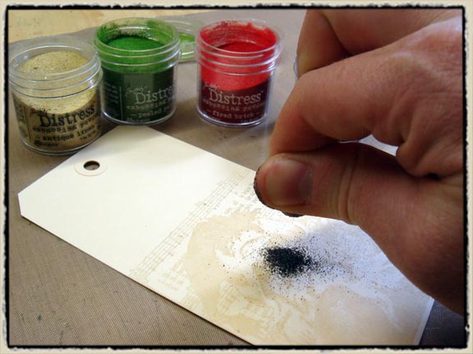 step 3: using your fingers, take a "pinch" of the first color you want to use and hold your fingers directly over the part of the image you want to color. twist your fingers together to SLOWLY let the powder fall on that part of the image (*tip: hold your hand directly over the tag. also, it doesn't matter what color you start with – honest!)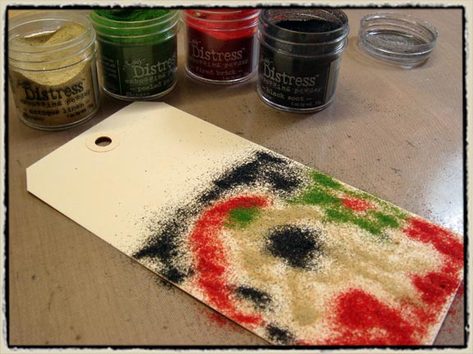 step 4: repeat the above steps for all colors you want to use on the image until entire image is colored with powders (*tip: don't worry about time – you have about 5-10 minutes to get your powders on while the ink stays wet so relax!)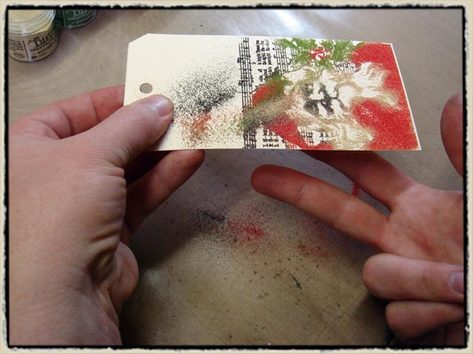 step 5: IMPORTANT STEP – keeping your tag flat, hold it up with one hand and place 2 fingers under the tag with the other hand. using a tapping motion with your fingers, tap under that tag to bounce around the powders.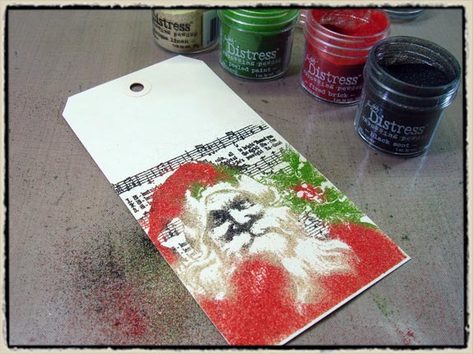 step 6: tip tag to remove any/all excess powders that don't stick to your stamped image – cool huh? (*tip: do not flick! these leftover powders are obviously all mixed up, but store them in an empty jar to save as a "party mix" for another project – maybe for grungeboard huh?)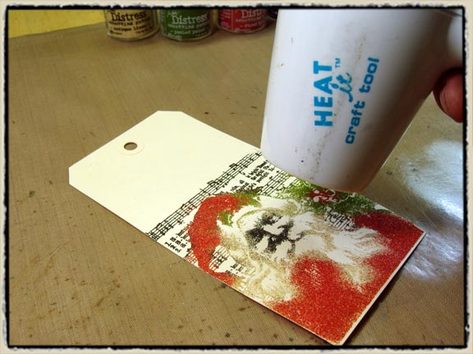 step 7: emboss the image using your heat tool. first thing you'll notice is that these powders never really change from matte to glossy like regular embossing powders do when they melt. so how do you know when they're done? well, practice… the colors of the powders will actually change when they are melted, but if you're not sure, just heat as long as you think you would normally emboss something (*tip: the best part of distress powders is they can never be over-embossed like regular powders can so no worries).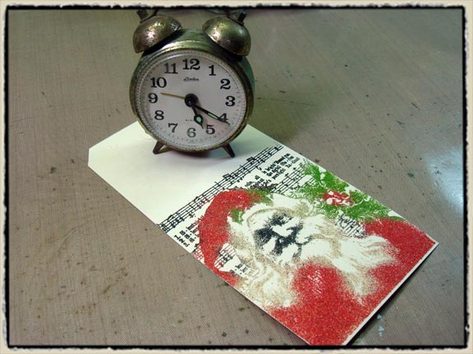 step 8: THE MOST IMPORTANT STEP – distress powders MUST COOL before you can touch them. unlike regular embossing powders that stick when melted, distress powders only stick once they have been melted and COOLED! that's right, if you rub them while they're still hot, everything will fall off the paper. just be patient.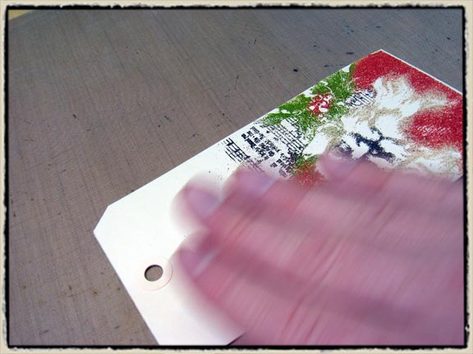 step 9: once cool, touch areas of your image to make sure they feel like sandpaper vs. sand on the beach. if they feel loose, just re-heat, let cool again, and then rub your hand across the image to remove the release crystals. (*tip: the release crystals are random what's done is done. do not put release crystals back into the jar, just throw them away)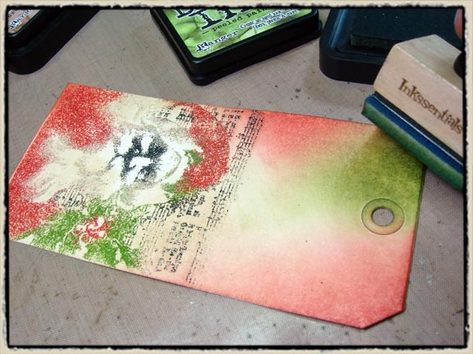 step 10: ink the tag with various colors of distress ink using an ink blending tool with ink blending foam. your image is already colored with the powders so you're just filling in the background(*tip: i like to leave the center of the focal image light)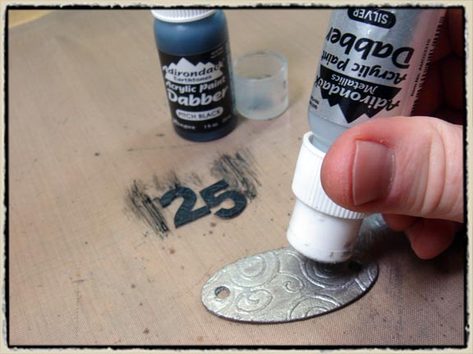 step 11: paint grungeboard number plate and mini numbers with paint dabbers and let dry. (*tip: don't forget the glue dot trick we learned on day 1 – Dec.1st post)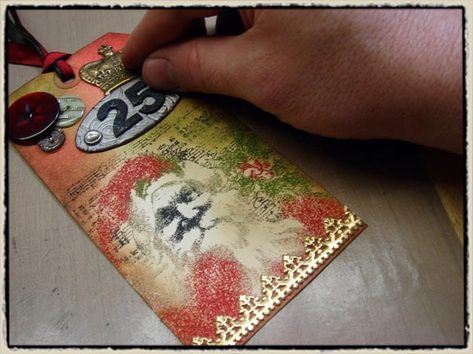 step 12: attach to tag with brads or adhesive and embellish tag with old charms, vintage buttons, and german scrap (this is cool stuff from my friends at paper artsy!)