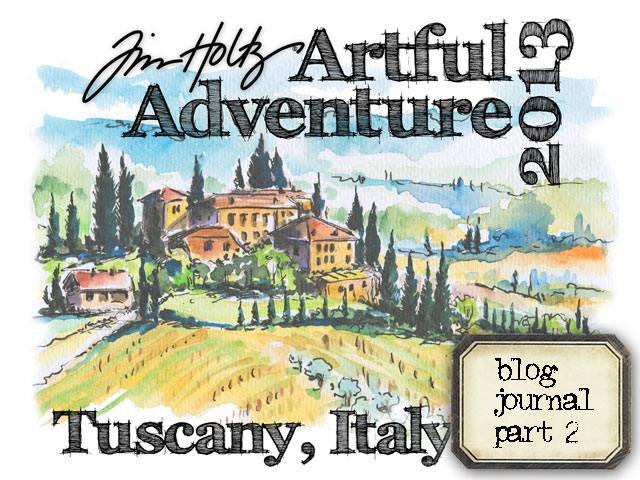 as our journey continues, our evening session of the master class begins.  everyone gathered together in our wonderful classroom once again, class kit and journals in hand, there was certainly a buzz about what was coming next? for me, the idea behind this "master class" was to create a project we could work on throughout our adventure that would be both creative and memorable.  i started the session asking about their overall experience of our travels so far, was it everything they had imagined, or had it exceeded their expectations?  i asked if their perspective had changed about our daily adventures and if they had embraced the attitude to "remember the now"?   many of the students began sharing about of the keepsakes they had started to gather, the often overlooked things became important mementos of the experience they wanted to remember – i knew they were definitely living in the moment.
so it was time to share my plans for the next part of our journal, to document the visual surroundings of our journey in a artistic way no photograph could ever capture.  not personally having much ability to draw or even teach a drawing class, i wanted to make this concept both creative yet personable.  so using the watercolor logo created for our tuscany adventure, i sketched out the various elements from it and designed a customized stamp set exclusive for the group (compliments of stampers anonymous).  this stamp set contained elements to create the beautiful tuscan landscape we've seen, the leaning tower of pisa, and a mini alphabet set to document our destinations.  everyone went crazy for the stamps!  then it was time to teach the basics of watercoloring with the stamps using distress markers, a waterbrush, and distress watercolor cardstock they received in their kits to create the scenes they've experienced – the results we're spectacular…
10/23: each morning following breakfast several of us took our daily walk through the streets of montecatini terme to visit this charming corner caffe' for a quick cappuccino and delicious pastry before heading to our coach.  if you've always had visions of italy being filled with quaint caffe's, bistros, and bakeries, this might be the place you've imagined.  the glass cases were filled with fresh baked delights, rows of colorful cookies, and delectable pastries (most of which didn't even have names, you just pointed and hoped for the best).  it was such fun to try the various assortments each day as we stood at the counter sipping cappuccinos and taking in the sights and smells…
we boarded the coach and headed off to our second winery of the trip – destination: il poggio winery.  today was a big day for me, in fact the one i was the most nervous about for the entire trip.  why you might ask?  well because it involved a cooking lesson which is something i simply find intimidating.  nevertheless we arrived at this charming winery where we met our instructor, an italian grandpa who was now a retired executive chef simply known as "papa".  all 50 of us were shown to our place at the tables, suited up in our custom aprons (compliments of scrap map), and given our own pasta cutter to begin our lesson making pasta.  we watched and listened to papa's thick italian accent as he share his secrets about preparing a simple bolognese sauce (with the help of his translator).  it was fun to watch as he went around the group asking several of the ladies only, to help him – oh that papa was quite the character.  then it was showtime as we were instructed to make a simple dough for our pasta using a heap of flour and a single egg – seriously?  everyone got to work, and as i stood across from mario who was already just about finished mixing his ingredients by the time i could crack my single egg, i could feel the sweat begin to bead up on my forehead.  then i took a deep breath and simply embraced my imperfections and went for it, and to my surprise i had strands of fettuccine and linguini draped across the rolling pin (trust me when i say it wasn't all that glamorous), but i did it…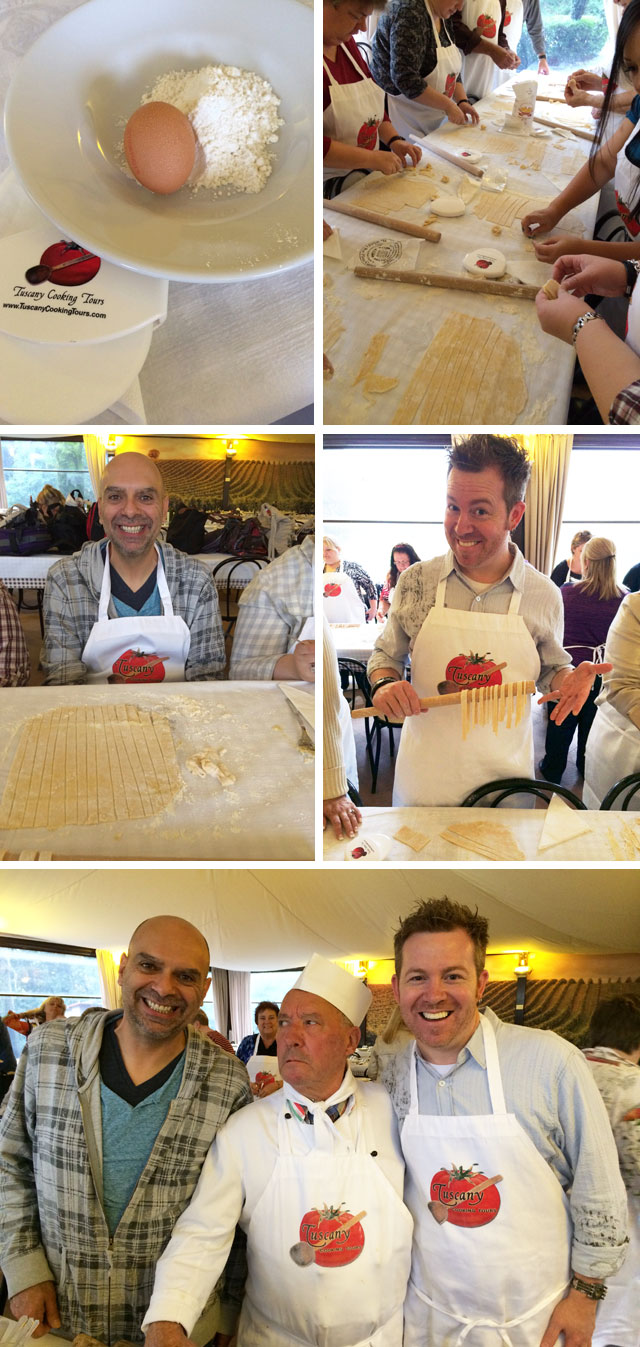 following our cooking lesson we were treated to a tour of the winery to learn about producing olive oil, wine, and the surrounding vegetation filled with fresh herbs everywhere.  it was a great afternoon followed by a wonderful five course lunch and once again all the wine we could drink, truly wonderful.  we made it back on the coach and returned to our hotel for an evening on our own to walk the town, shop, craft, or just relax and enjoy…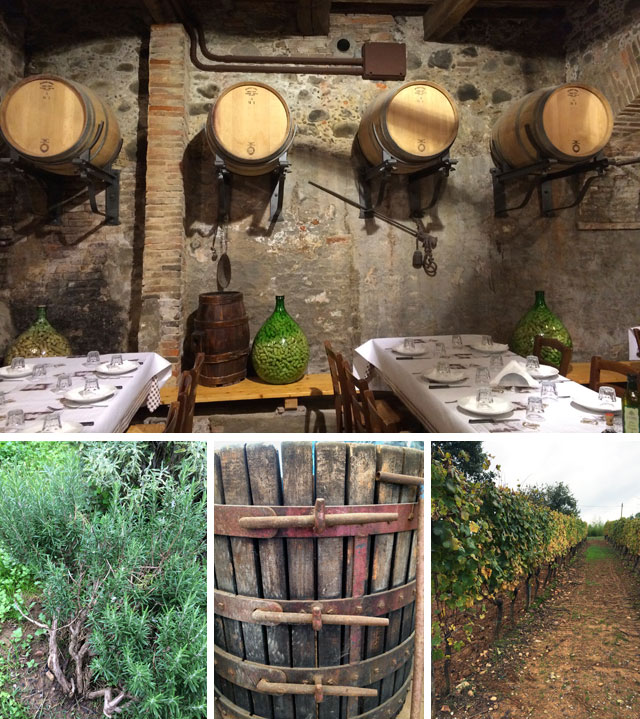 a nightly routine of many was a stroll to one of the local gelaterias to enjoy the most amazing gelato ever!  we definitely became frequent visitors of our favorite spot just minutes from the hotel.  even though the owner and her associate didn't speak english (and none of us spoke italian) we managed to enjoy conversations with them about our day and how much we loved her gelato.  we looked forward to seeing their huge smiles every night we walked in, it was priceless…
10/24: we woke to another perfect day with the sun shining, and clear skies ready for our next adventure.  following breakfast and our stop at the caffe' we boarded our coach to make our way to one of the most picturesque places in all of italy – destination: the cinque terre.  along the drive to the coastal towns we passed the famous carrara marble quarries where michelangelo obtained marble for his many statues, it looked like snow on the mountains.  we arrived at our first of three stops throughout the cinque terre in the town of riomaggiore.  we took a quick stroll of the tiny town filled with charming homes, had a quick cappuccino, and then boarded a train that would take us literally through the mountain along the coast from town to town…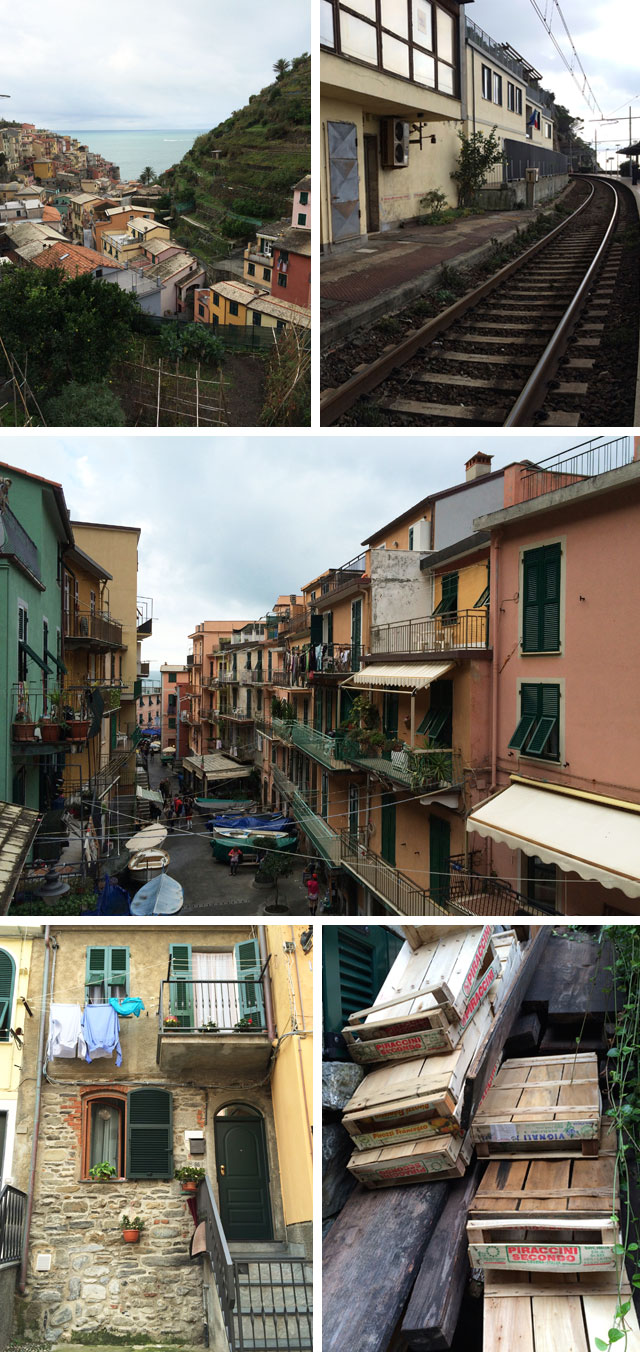 our next stop was the town of vernazza where we enjoyed lunch along the water with breathtaking views of the colorful dwellings lining the hillside.  the food and company was great, and i had the most delicious and vibrant pesto pizza i have ever had.  we enjoyed several shops before boarding the train again for our next stop…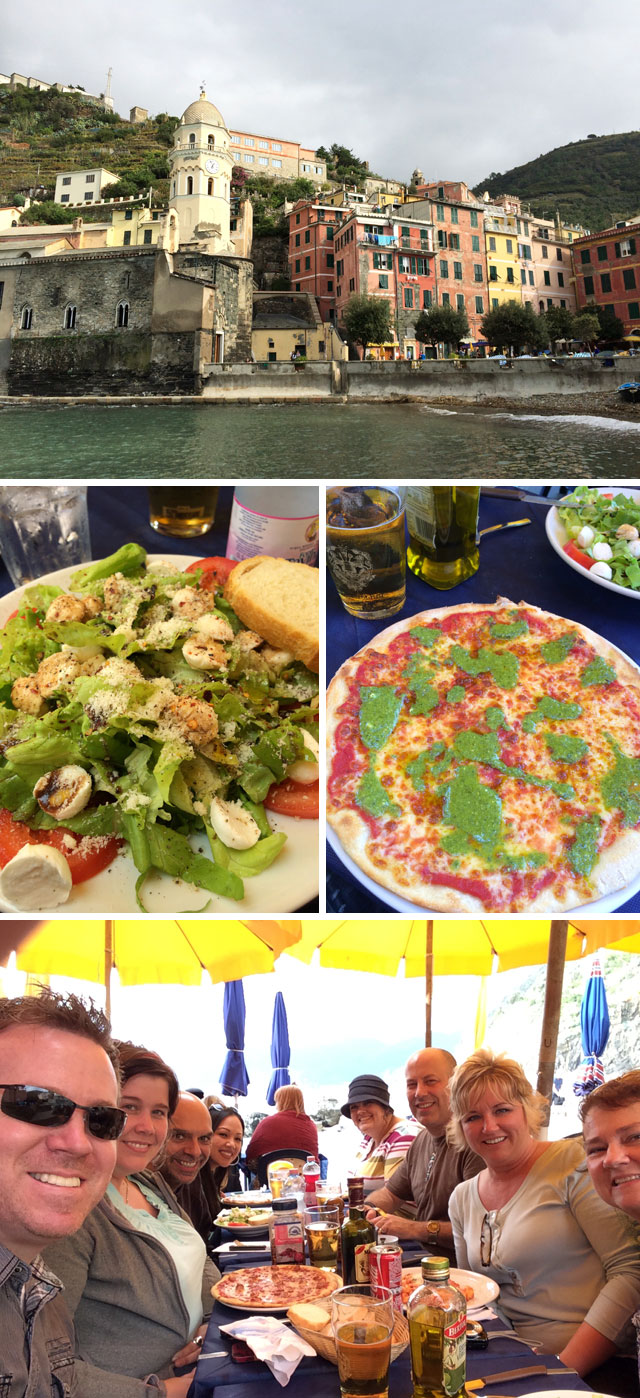 we arrived in the town of monterosso where we enjoyed a walk along the coastline as we made our way into the tiny town to shop and walk through the various markets.  with all of the walking and shopping we did throughout our travels, this custom backpack i designed (and a gift from scrapmap for each of us) sure came in handy.   we stopped into the most delicious limoncello shop where several of our group enjoyed free tastings of this specialty drink.  we had time to enjoy the sights of this amazing town before boarding the train for our final stop back to our coach for a return ride to our hotel.  that night we enjoyed dinner together again at the hotel and got some much needed rest from a long day…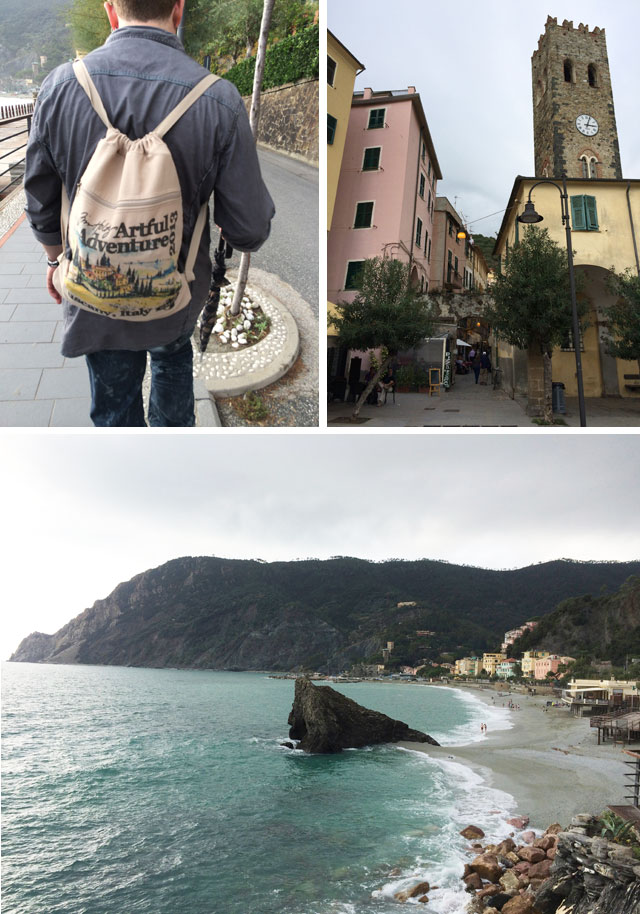 10/25: today was the final session of our master class following breakfast and another beautiful day in tuscany.  the students had made amazing progress in their journals as i shared with them a variety of embellishing ideas, and ways to utilize some of their found treasures as accents for their journals.  we enjoyed our creative time together sharing our inspirations and our favorite "now moments" of our adventures so far. we boarded our coach following class for our final winery visit of the trip (and my personal favorite).  we drove through the picture postcard landscapes of famous chianti region – destination: the verrazzano castle winery.  as we made our way up the winding mountainous roads to the winery, we were greeted to a tour of this stunning and historic winery with breathtaking views of the vineyards and valley below.  we learned about the family heritage of wine making and specifically the significance of chianti…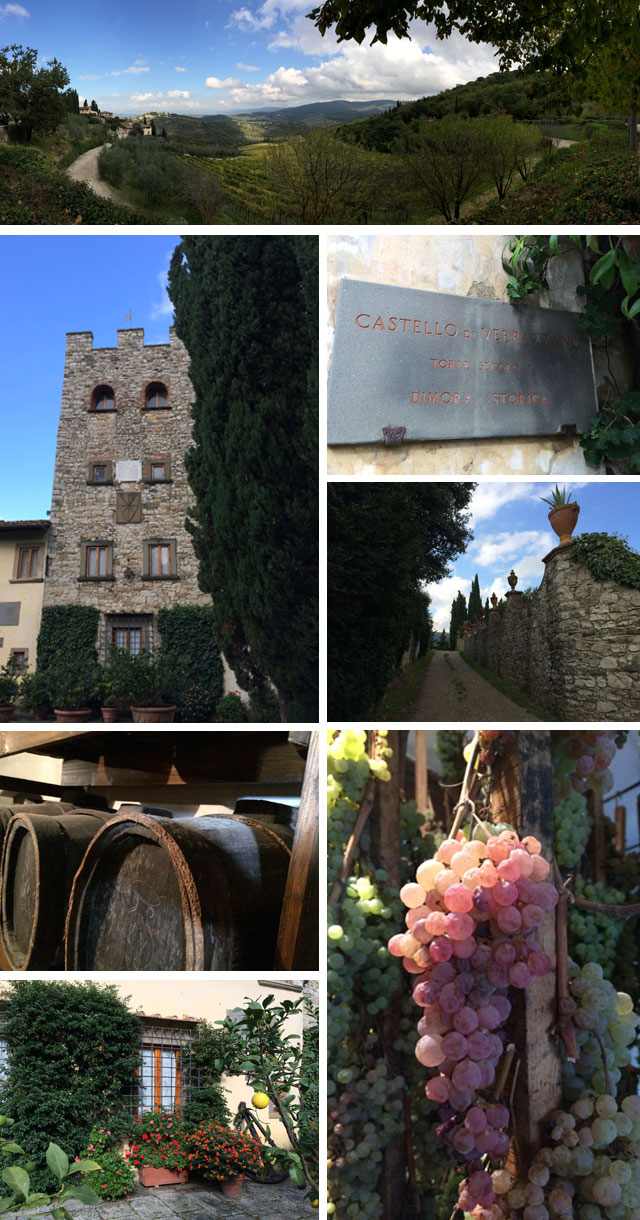 following our tour we were treated to another five course lunch and unlimited access to the various wines they produced.  this was by far the best food and wine of the entire trip for me.  we enjoyed our time together as we shared an afternoon of laughs, good food, and great friendships.  this day was both informative and inspirational as i was reminded to experience life as it comes and not to project your expectations on it – it just is…..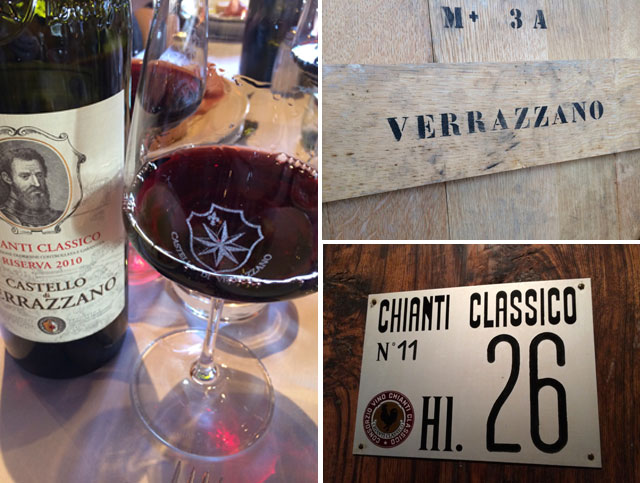 10/26:  today was an early breakfast as we boarded our coach- destination: the historic city of florence.  along the way our group coordinator jim west shared some tips about being in the city as we all learned a catchy tune to ward off the unwanted (a classic moment for us all to remember).  once we arrived in the city center we were met by our tour guide christina and set out on our walking tour to learn about the history of this place known as the "cradle of the italian renaissance"…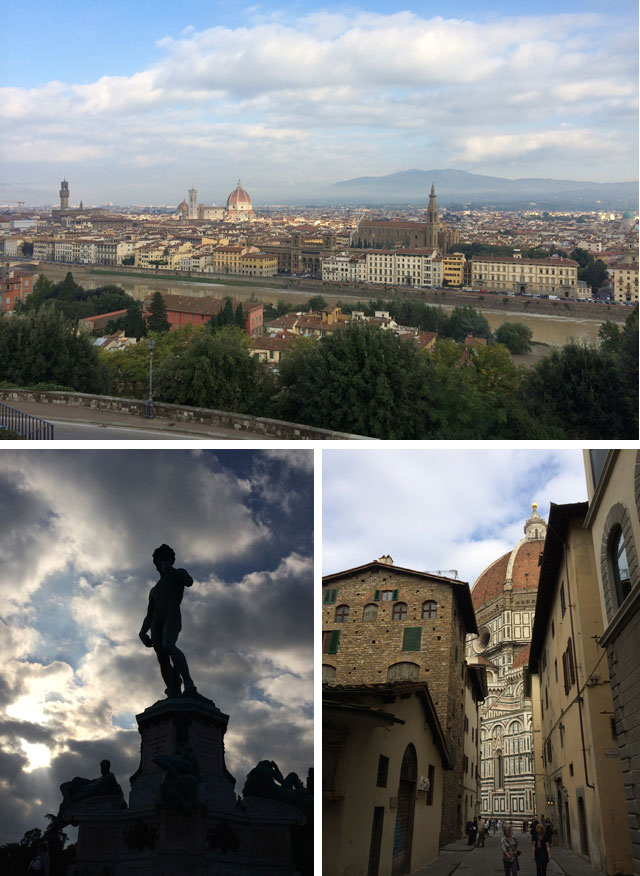 throughout our walk we saw some of the most incredible places including the home of the famous "david" sculpture, a walk to the piazza del duomo, and the cathedral of santa maria del fiore.  we made our way from piazza to piazza as we learned about the artistic influence of so many places in this beautiful city.  we arrived at the church of santa croce which is the burial place of michelangelo, galileo, and machiavelli,  i think our entire group was in awe.  we had the remainder of the day to shop, eat, and take in all this great city had to offer…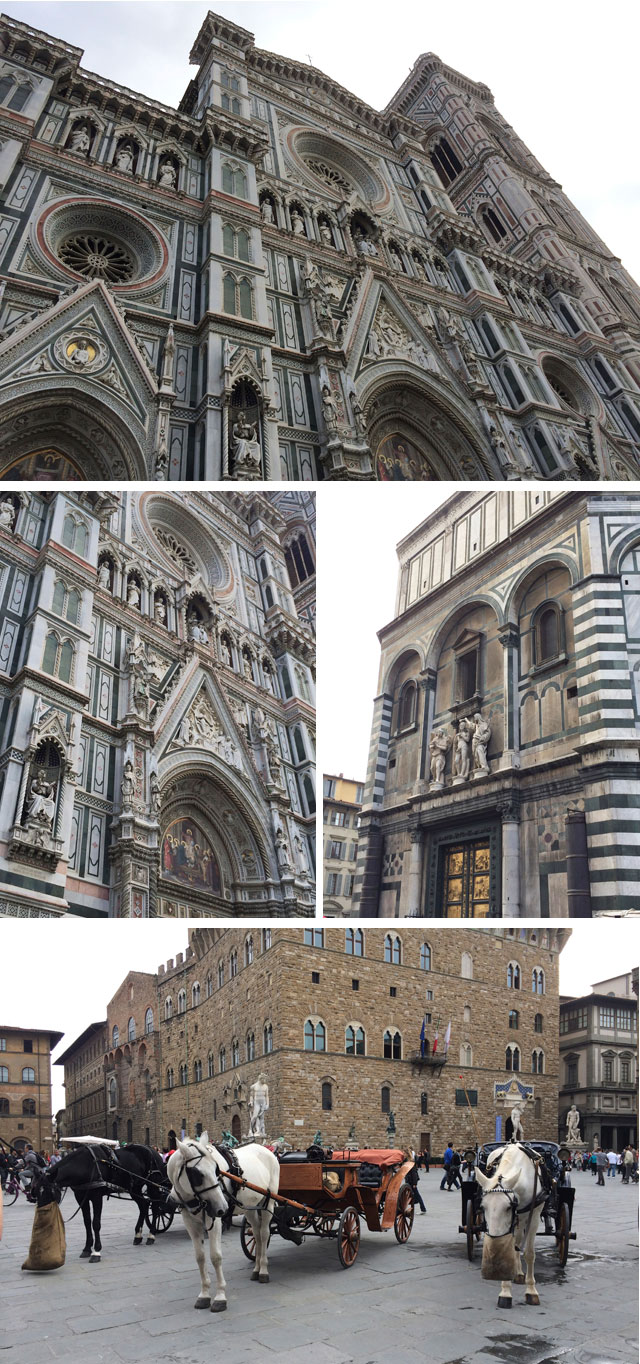 one of my favorite stops i have to share was this amazing candy shoppe.  it was filled with colorful candies, rich chocolates, and the most realistic sculpted marzipan i've ever seen…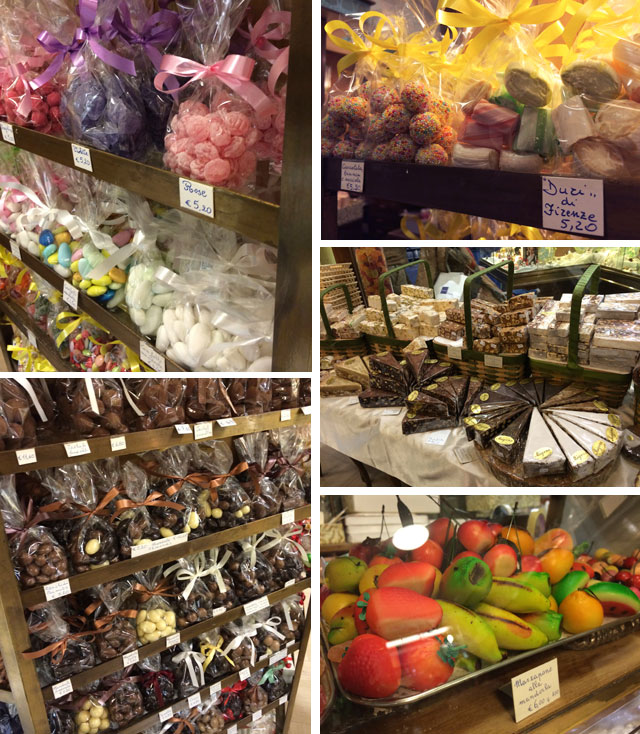 we arrived back to our hotel for our farewell dinner for those in the group that were just joining us for the tuscany portion of our adventure.  we said our goodbyes and i expressed my sincere gratitude to them for sharing in this incredible adventure.  tomorrow i'll share the final entry of my italy blog journal that includes assisi and rome.  it's been great to relive the moments with all of you – hope you're enjoying the journey too…t!m