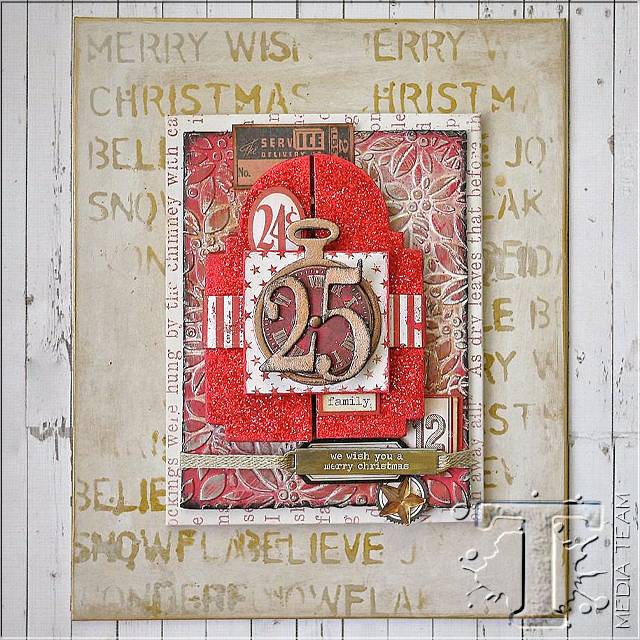 'tis the season for creativity and media team aida haron once again shows us inspiring ways to use sizzix alterations dies to create a home decor masterpiece. this clever panel is filled with festive layers of shapes and color, making it the perfect place to display your favorite holiday greeting or photo. get ready to be inspired for the season…t!m
Hello crafters ! It's Aida and I am back with a decor panel which would be an ideal gift this Christmas. As always, ideas here are meant to inspire and you should feel free to interpret them as you like, have fun making it your own.
One of the most versatile tools to have are dies and there are enough in the Alterations range to suit every project you can think of. Today this tutorial will show you how to use them to assemble this Christmas decor panel where you can insert a family photo, or a sentiment on the inside. This is how it looks.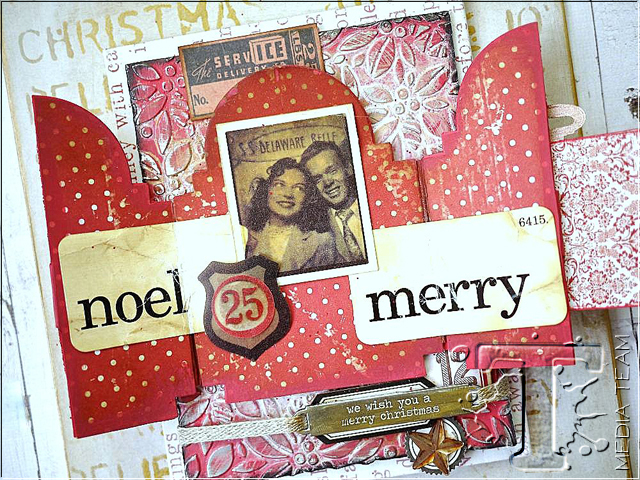 Supplies:
Surfaces: Merriment Paper Stash; Foil Sheets, Kraft Cardstock
Layering Stencil : Christmas THS030
Dies: Mini Cabinet Card,  Reindeer & 25, Mini Clock Key & Pocket Watch,
Embossing Folders: Greetings & Greens
Embellishments: Christmas Ephemera, Christmas Word Bands, Timepieces, Holiday Flashcards, Mirrored Stars, Thrift-shop Vellum Ephemera Pack, Vial Labels
Trimmings: Linen Ribbon
Distress Ink : Gathered Twigs
Distress Paints: Festive Berries, Tarnished Brass, Antiqued Bronze, Picket Fence, Black Soot
Distress Spray: Picket Fence
Distress Glitter: Festive Berries
Mediums: Glossy Accents
Tools : Sanding Block, Ink Blending Tool, Kushgrip Scissors, Non-stick craft sheet; Vagabond, base tray
Adhesive :  Spray Adhesive, Beacons 3-in-1 Adhesive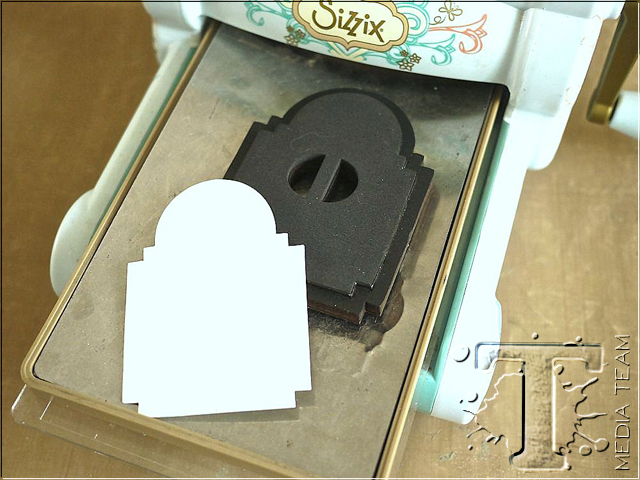 Begin by die-cutting a cream matt board with the Mini Cabinet die.
Cut the die in half at the center.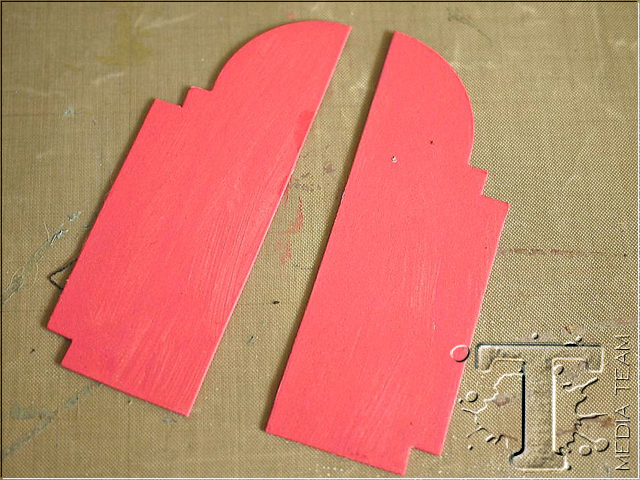 Paint both the top and undersides of the shape.
Coat completely with a spray adhesive or Glossy Accent and pour Distress Glitter Festive Berries making sure it covers all the shapes.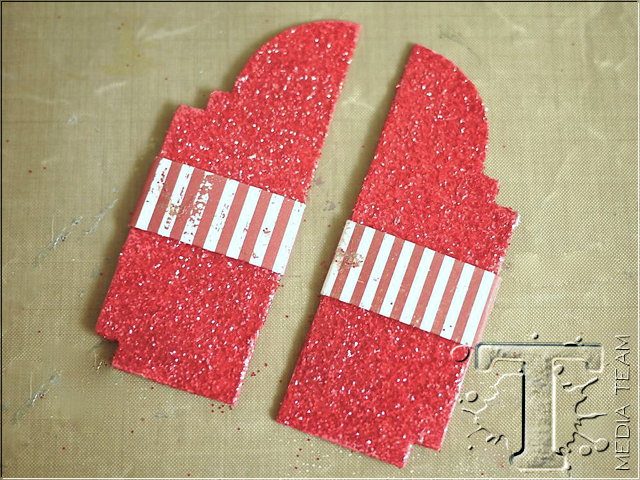 This is how it looks after the strip of pattern paper is added to the front.
Next we will be working to create a gatefold which is a term to describe a fold, once opened, is double the size. Die-cut 2 pieces of pattern paper in the Mini Cabinet shape, and trim 2 pieces the size 2 inches x 2.5 inches.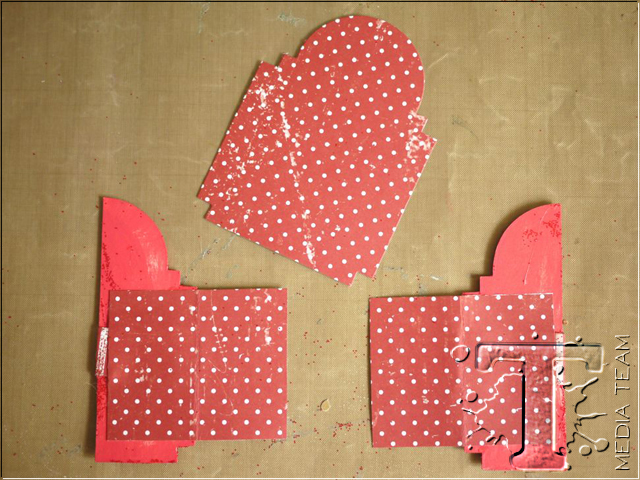 In the photo, you can see how I adhered the rectangular paper to the insides of the die-cuts.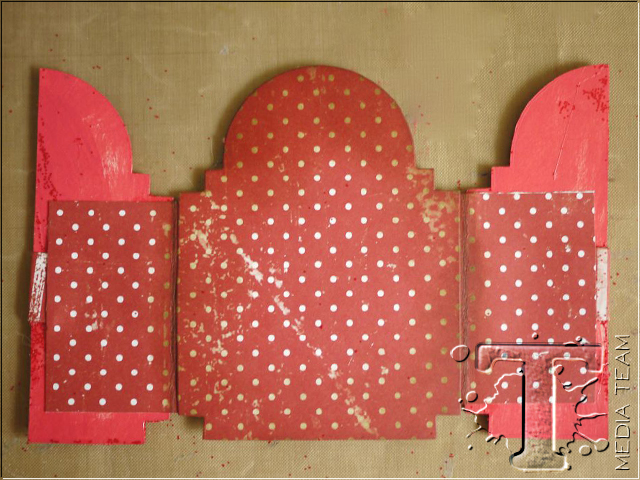 Glue the Mini Cabinet Shape in the center.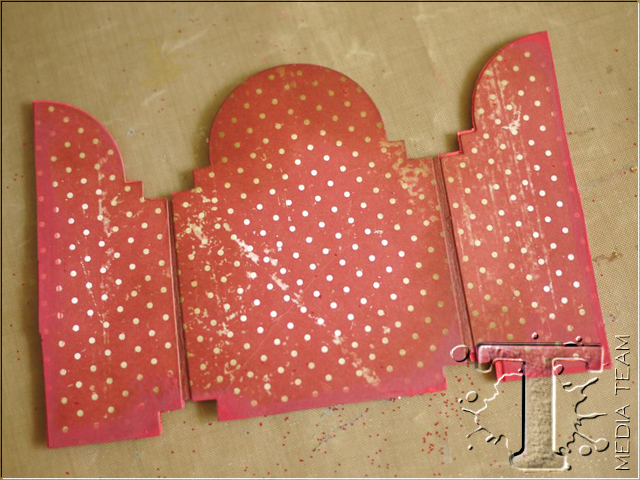 Trim the other piece of Mini Cabinet shape in the center and adhere to each end of the die-cuts. Darken all the edges with Distress Ink Gathered Twigs.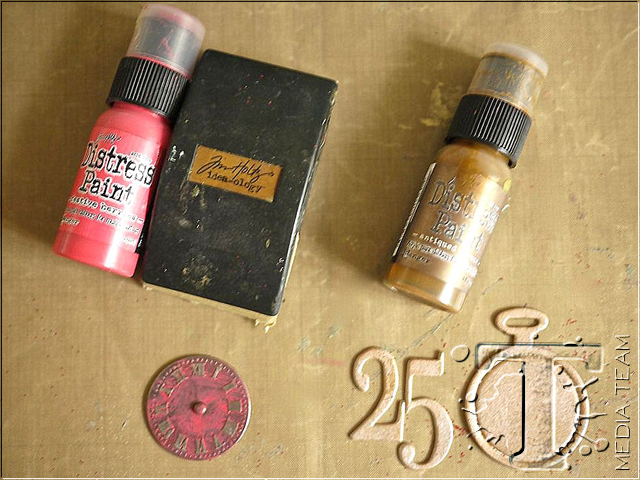 Die-cut the Pocket Watch and the number 25. Color them with Distress Paint Antiqued Bronze and darken the edges with Distress Paint Black Soot. Paint the metal Timepiece clock face with Festive Berries and when dry, use the sanding block to wear away the top layer to reveal the clock numbers.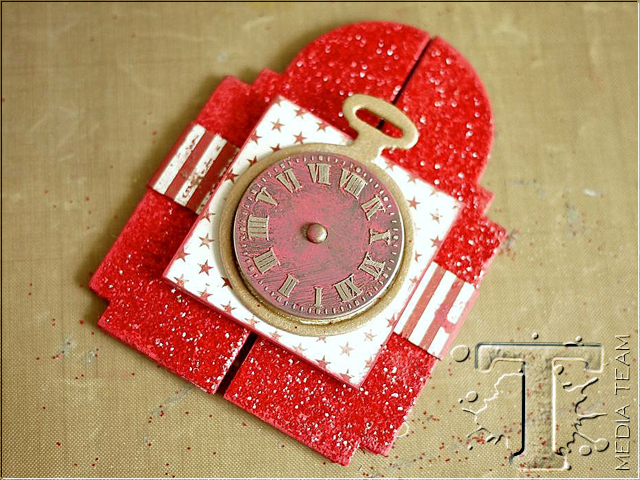 This is how I assembled the layers. Adhere the square pattern paper to the front of the RIGHT gatefold, remember not to get any glue on the other side. The weight of the metal clock will act as a closure to the mini album.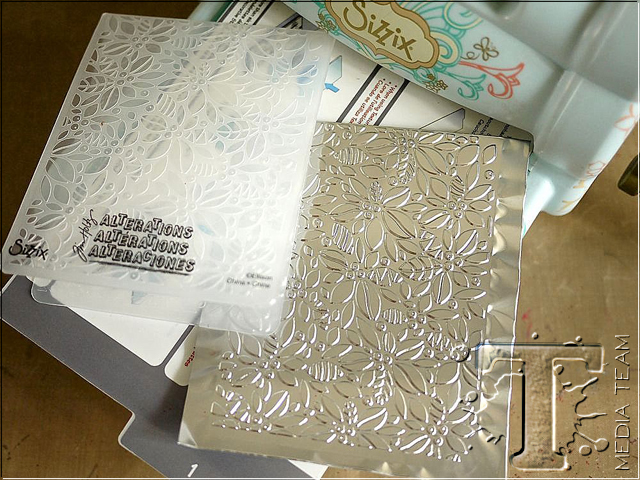 Emboss a tin-foil sheet with the Greens Texture Fades.
I added color by layering Festive Berries, Antiqued Bronze and Distress Spray Picket Fence. How much of each colour you use depends on personal preference as well as experience with mediums. All you need to remember is to dry in-between layers to prevent the paints from blending into a muddy tone.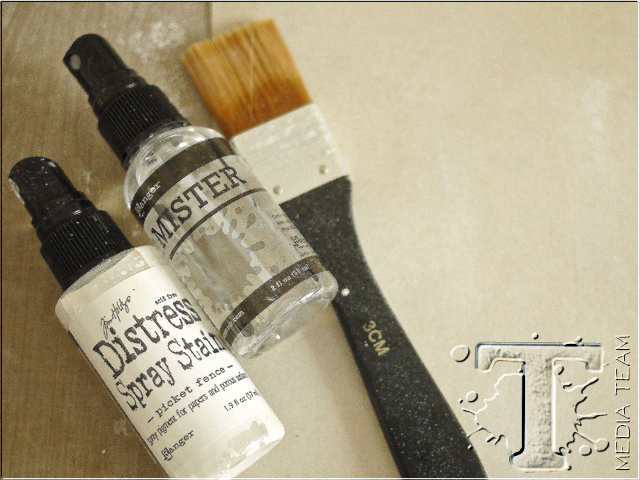 To create the baseboard for the project, I used a Kraft cardstock that was sprayed with Picket Fence and roughly painted with a damp, wide brush.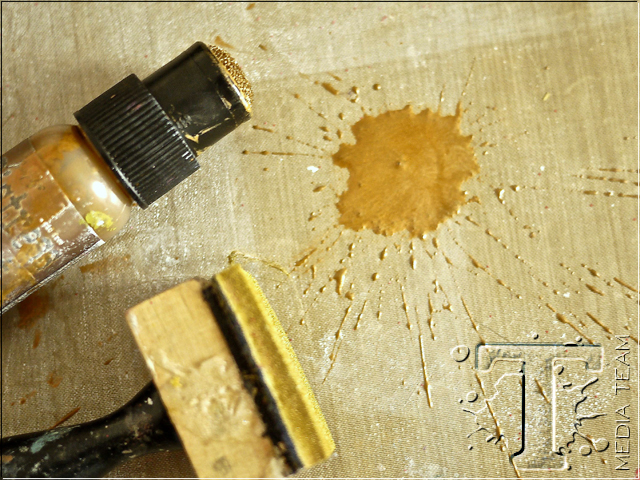 Pounce a little Tarnished Brass on the non-stick craft sheet and use a blending tool to pick up the color.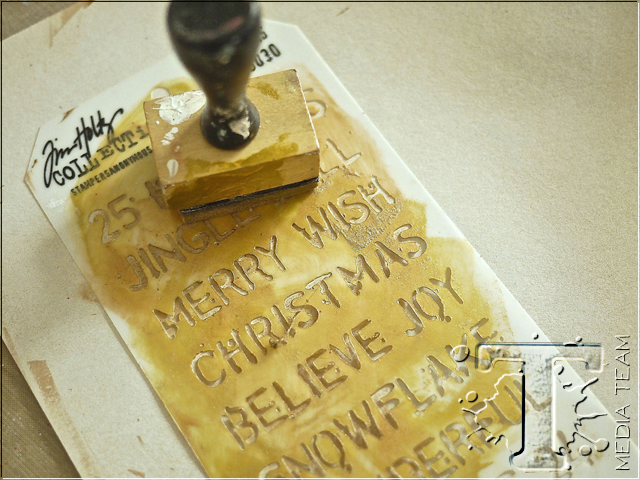 Place the Christmas stencil on the painted Kraft cardstock and gently press in the blending tool with a circular motion. Wrap the cardstock around a chipboard to create the base and glue securely.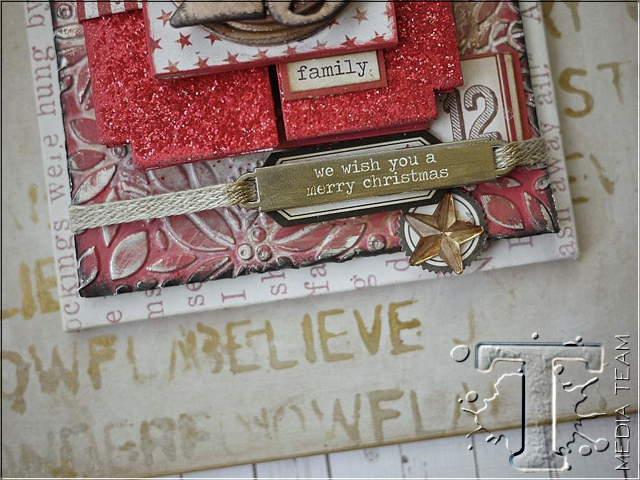 This is the end result.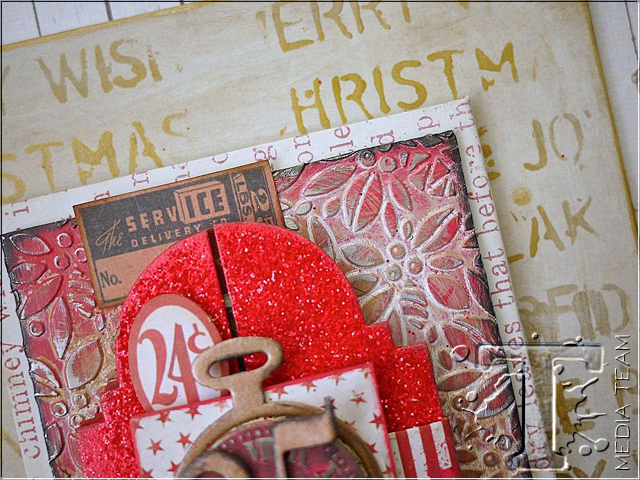 I really hope you've enjoyed my tutorial. This decor panel can be finished any way you like and what's great about this is how you can change the papers and embellishments to suit the occasion be it a birthday, a wedding or the season. Make it in a clean and simple style or as elaborate as you like, just have fun with it!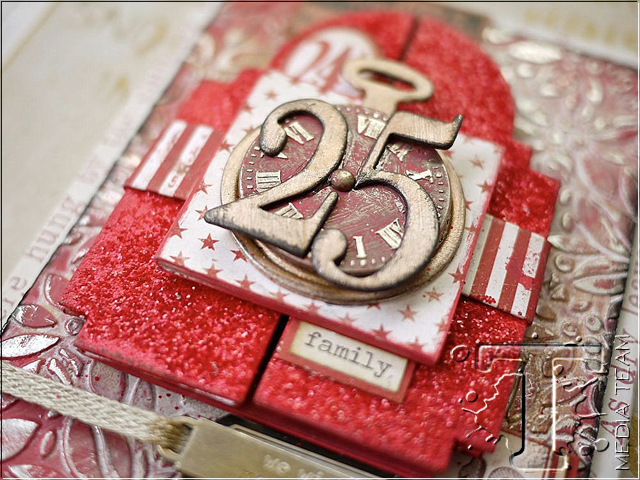 Thank you for stopping by,
—
*be sure to check your local stores for these supplies or you can click the links below to purchase online…
(SSS=simon says stamp / IE=inspiration emporium)

Pin it to remember it!
Don't forget to follow Tim Holtz on Pinterest for more great ideas and inspiration!