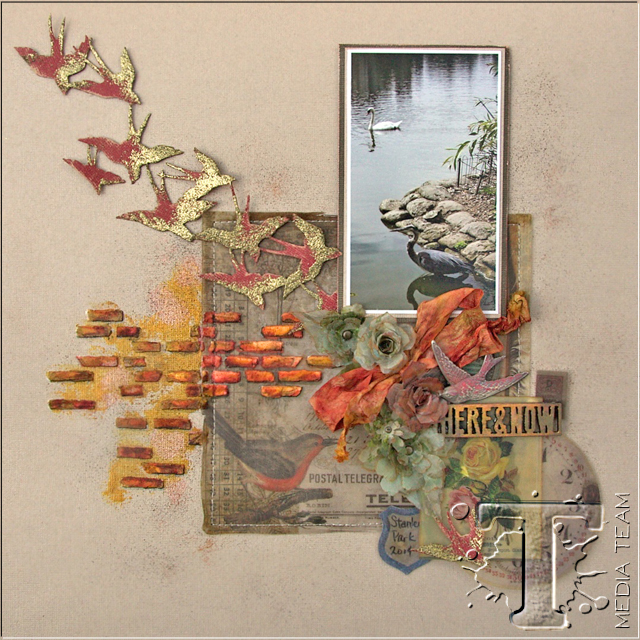 i'm always amazed by the work of media team member jan hobbins. i love the dimensional texture she creates on her projects by incorporating a variety of mediums. her unique approach to explore the versatility of sizzix dies is sure to inspire you as well…t!m
Hi everyone!  Jan here today, with my first Media Team tutorial on Tim's blog.  I think of all Tim's product lines, Sizzix Alterations are my favorite.  I love the idea that the same die-cut can look so different just by changing or altering the materials used. I'm sharing a layout today featuring Sizzix Alterations and the beautiful new Wallflower Vellum paper and ephemera.
Supplies:
Surfaces:Wallflower Vellum Paper Pack; Core-dinations Kraft Core Cardstock
Dies: Brick Wall, Birds In Flight, Tattered Flower Garland, Tattered Pinecone
Distress Ink: Fired Brick
Distress Stain: Vintage Photo, Antique Linen
Distress Paint: Tarnished Brass. Fired Brick, Antique Linen, Dried Marigold, Vintage Photo
Distress Markers: Fired Brick, Gathered Twig, Wild Honey, Rusty Hinge, Walnut Stain, Dried Marigold, Pumice Stone, Vintage Photo
Other Mediums: Ranger Texture Paste, Clear Emboss It Dabber; Ranger Antique Gold Embossing Powder
Embellishments: Thrift Shop Vellum Ephemera Pack, Framed Alpha Parts, Crinkle Ribbon, Nature Adornments
Tools: Distress Spritzer, Waterbrush, Sanding Grip, Craft Sheet, Vagabond: masking tape
With a 12 x 12 #23 Kraft-Core paper as my background paper, I machine-stitched a 6 x 6 Wallflower Vellum paper piece off center.  After my vellum was stitched, I bent the edges up.
Anything brick seems to be a popular choice for scrapbookers, and this Sizzix Brick Wall Decorative Strip makes a great mask.  I cut one strip out with cardstock and then removed some of the bricks from my die-cut.  This will be your stencil.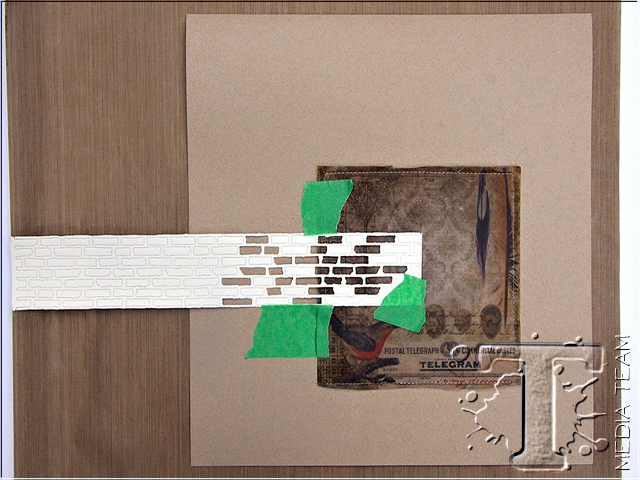 Using masking tape, I taped the side with the punched out bricks on the left side of my vellum.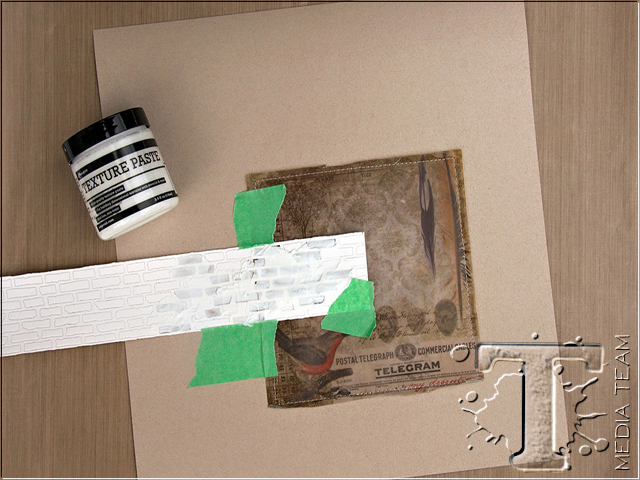 Next, I applied Texture Paste on to my stencil.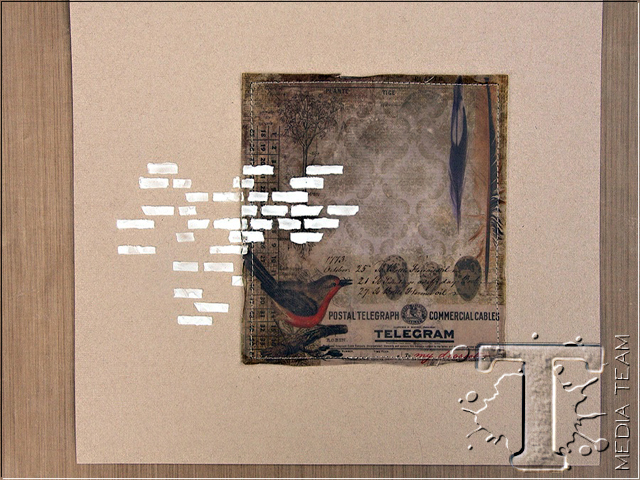 I punched out a few bricks on the other side of my stencil strip and added them underneath the strip.  Discard the brick wall stencil and let your texture paste dry.
Once your texture paste has dried, you are ready to paint.  First I applied Tarnished Brass Distress paint on top of the brick area on the cardstock part.  I lightly dabbed around the outer area, as I didn't want a solid line.  Then wipe off the excess on the bricks before it has dried. Using Fired Brick, Gathered Twig, and Wild Honey Distress Markers, and my Tim Holtz Waterbrush, I painted my bricks.  First apply a bit of colour and then dilute with the waterbrush.  I go back and forth with my colours and water until I have the look I want.  Try not to use too much water.
Once your bricks are dry, take a Distress Marker Spritzer and Vintage Photo Distress Marker and randomly spritz around the outside of the vellum square.
The flowers were die-cut from a piece of Wallflower Vellum.  I used Sizzix's Tim Holtz Tattered Flower Garland (my favourite flower die!) and the Tim Holtz Tattered Pinecone Bigz Die.  After I had my flowers assembled, I just ran a Distress Marker along some of the edges to define the petals.  I used a combination of Rusty Hinge, Walnut Stain, Dried Marigold, Pumice Stone and Fired Brick
With #4 (red)Kraft-Core Core'dinations cardstock, I die-cut  the Birds in Flight Decorative Strip.  Before removing the die-cut, I sanded the birds with my Sanding Grip.
I wanted just random parts of my die-cut embossed, so I used my Clear Emboss It Dabber and dabbed those areas.  Apply the embossing powder (this one is an older one from Ranger called Antique Gold).
My Crinkle Ribbon was dyed with Antique Linen Stain, Vintage Photo Stain, and Fired Brick Distress ink and blended using a mister.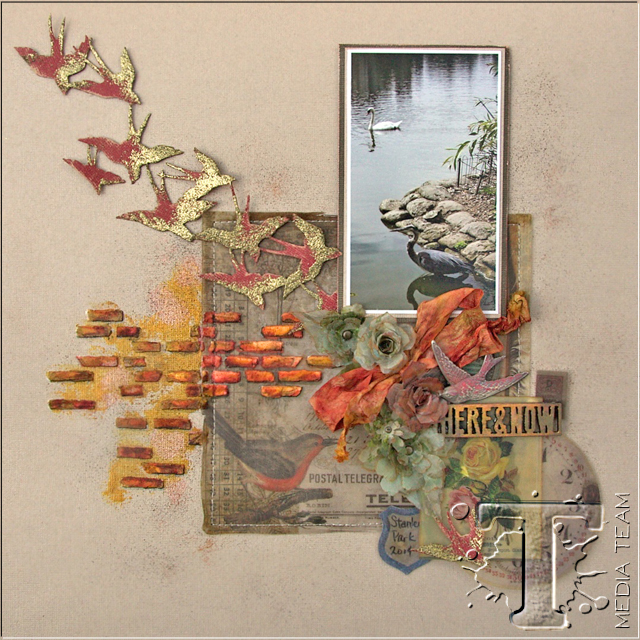 Now that I had all my embellishment made, I was ready to adhere them to my layout.  For extra dimension, I like to use regular or thin pop-dots to the back of some of my pieces.  Next came my matted photo (my photo of the swan and blue heron in Stanley Park, Vancouver), pieces from Thrift Shop Vellum Ephemera Pack, and my vellum flowers.  When adhering vellum, I try and adhere the adhesive on places that are covered or hidden, so it's not visible. To finish off the layout, I added in a Framed Alpha Part that was painted with Dried Marigold and Vintage Photo Distress Paint, and a metal bird that was lightly painted with Fired Brick, Antique Linen Distress Paint, from the Nature Adornment set.
I love working with the Wallflower Vellum line, I think printed vellum makes the most beautiful flowers, they are so delicate looking.  I'm sure you will see a lot more of this in my future projects!
Hope you enjoyed my tutorial.
Thanks for visiting!
*be sure to check your local stores for these supplies or you can click the links below to purchase online…
(SSS=simon says stamp / IE=inspiration emporium)

Pin it to remember it!
Don't forget to follow Tim Holtz on Pinterest for more great ideas and inspiration!