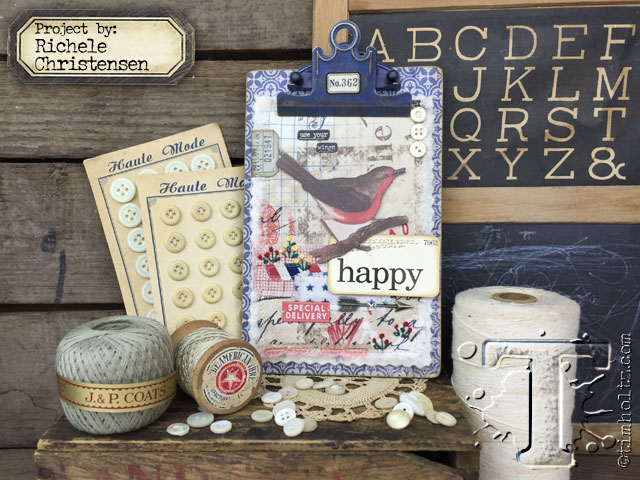 today i want to share a quick tutorial from richele christensen using fabric to create a home decor piece.  this project showcases the versatility of incorporating eclectic elements fabric and new craft thread with idea-ology ephemera, flashcards, small talk stickers and the mini clipboard.  i love how this project comes together by combining elements from the papercraft world with textiles for a true mixed-media masterpiece…t!m
thanks for sharing your excitement for the latest release of eclectic elements, and for posting your comments on monday's blog post giveaway.  congrats to the following winners – if you see your name and comment, please email mario@timholtz.com with your shipping info to claim your prize:
– Candi Cissek: Tim is love your fabrics. Such a vintage feel. I would love to use the fabrics for tags and junk journals but I must say being able to make one of the lovely books would put me over the moon! Giant hugs, Candi
– Judy D: My grandmother was a quilter out of necessity – reusing every scrap of fabric rather than throw them away. My mom is a quilter by hobby, creating beautiful quilts for fun and inspiration. I tease Mom that my paper stash almost matches her fabric stash! I have started buying Tim's fabric, because I love his paper, and the fabric is even yummier. I'm hoping to make a quilt some day… In the meantime, I use snippets of fabric on cards.
– Tona: Your booths are always so fabulous looking and the projects so amazing. I have used your material to make curtains in both my bedroom & craftroom. I have also sewn it onto cards and used it to cover chipboard which I then die cut and add to cards and layouts. I like the added textural element that material brings to my papercrafting projects.
supplies:
surfaces: mini clipboard, eclectic elements fabric correspondence collection, batting
inks: distress ink/frayed burlap, distress paint/chipped sapphire
mediums: distress collage medium/matte, mini collage glue stick
embellishments: adornment arrows, ephemera/emporium, flash cards, remnant rubs/numerals, small talk, vial labels, buttons, craft/stitch thread
tools: mini ink blending tool, distress collage brush, remnant rub tool, sanding grip, scissors, steel wool
misc: sewing machine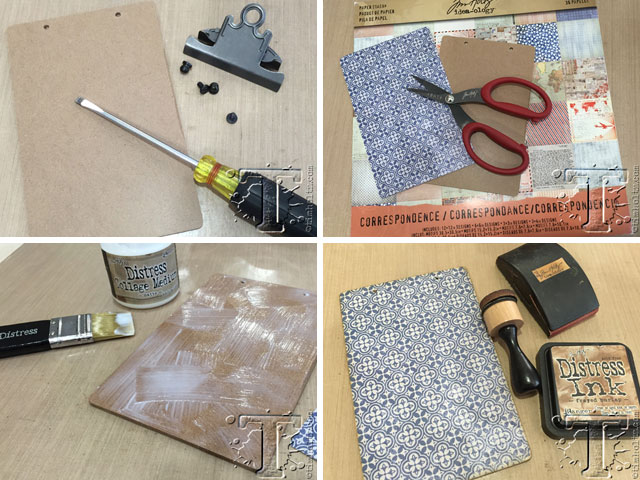 – remove hitch fasteners using a screw driver.
– trace mini clipboard on to patterned paper and cut out with scissors.
– paint a generous coat of distress collage medium on board and attach paper.
– sand and ink the edges of the clipboard.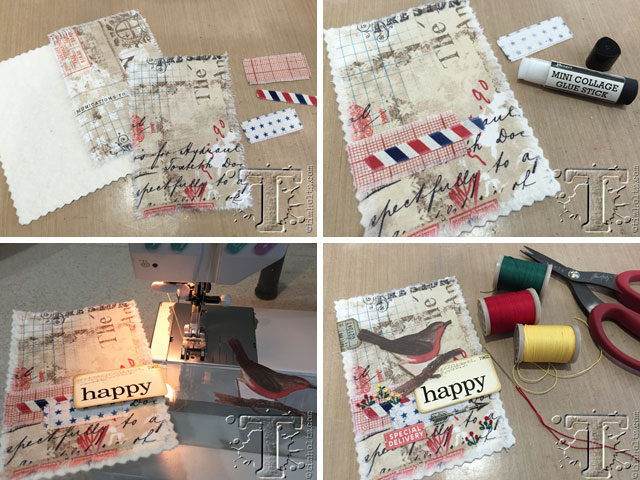 – cut a piece of batting to 4" x 6", tear fabric front and back 4" x 6" and cut a few small strips from various fabrics.
– adhere fabrics front, back to the batting and strips to the front with mini collage glue stick.
– sew around the edge of the fabric pieces. sew on ephemera pieces as desired.
– add stitches using a straight stitch for the stems, french knots for the flowers and a lazy daisy stitch for the leaves with craft thread. hand stitch adornment arrow and buttons on.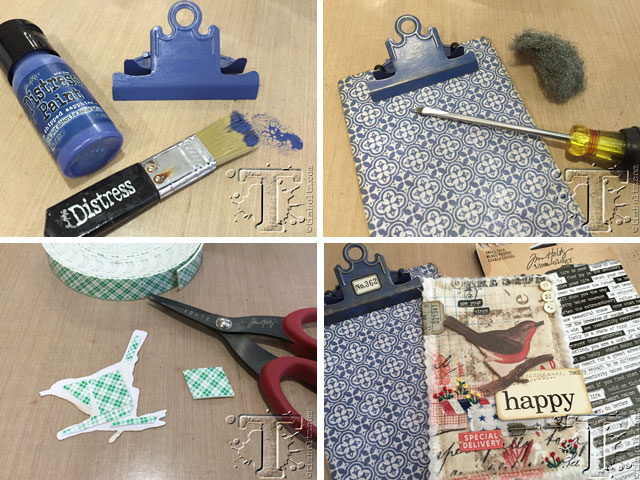 – paint clipboard clip with distress paint and let dry.
– sand clipboard clip using steel wool. reattach clipboard clip to clipboard.
– attach bird with foam tape.
– embellish with small talk, vial label, remnant rubs and attach fabric piece to clipboard.
be sure to check out these other great tutorials using eclectic elements fabric on richele's blog by clicking the images below…