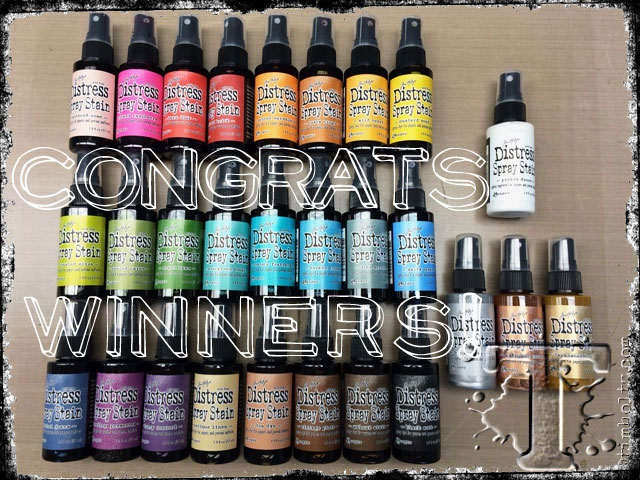 thanks to all of you who have shared in the excitement of the new distress spray stains this weekend!  we appreciate your comments on the blog, tweets, and shares and likes on facebook.  i know many of you have been asking for a sprayable distress ink for a while now, and we've finally listened by releasing the same water reactive formulation of the distress stains, but in a spray.  these new distress spray stains are shipping NOW so check with your favorite local or online retailer and get your spray on…t!m
congrats to the winners of 4 assorted distress spray stains!
if you see your name (and it's your comment) please email mario@timholtz.com with your shipping info to claim your prize.
1. Vickie Kammerer: Shut the front door ! There is nothing I like using more than spray inks except now Distress spray inks !!!! Can NOT wait
2. Tona: WooHoo! I can't begin to tell you how excited I am to see these sprays. I'm a grab & go kind of girl so to not have to fill a mini mister with my stains is wonderful.
3. Gayle Montayo: Now that's what I'm talkin' about! I really like the splotches the Distressed Spray Stains create..and with no effort! I really need to get my hands on some of these. The blotched orange sun ray's on the blotched yellow? Yah…I am totally excited about that! Thank you for the tour and demo Mr. Tim Holtz.
4. Rosetta Jenkins: OMG to the nines! What have we here? My oh my! I truly cannot wait to start my collection of these spray stains. Especially since I have misplaced my box of stains. Was sad? But now I be happy!!!
5. Kathryn in Washington: Just in time to inspire holiday crafting! It must be really cool to sit around pitching an idea for a new product or brain-storming together eventually creating something awesome! Synergy!
6. Dani B.: FINALLY!! I've been wondering….where is the "spray" distress??? He must be working on it…. I can't WAIT to create with these!!!
7. Annie Schriever: I can't tell you how long I've wanted you to make sprays…and now here they are in all their amazing glory! I'm bouncing up and down in my cube!