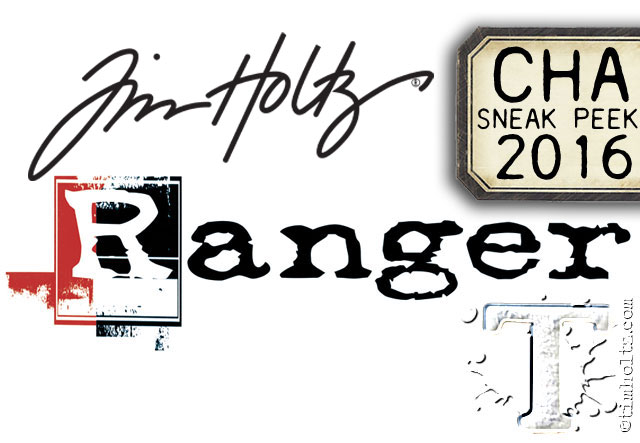 welcome to day 5 – the final day of the CHA2016 sneak peeks.  we're here in california busy setting up the trade show booths, teaching workshops, and getting everything ready for the big show starting this weekend.  today i'm thrilled to announce all of the latest products i'm releasing with ranger.  if you love distress, this launch has a little something for everyone as well as a couple of cool new surfaces to create with – so let's get right to it…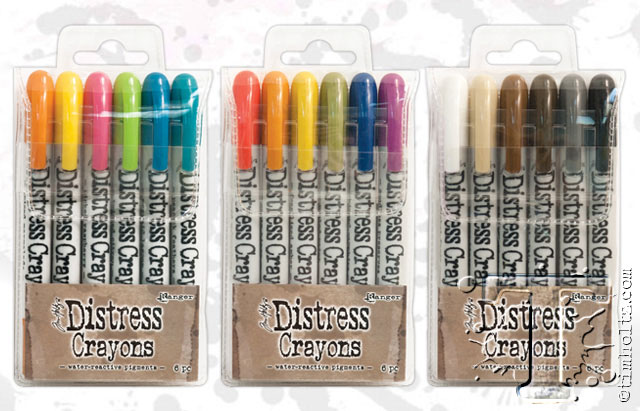 first up are the new distress crayons formulated to achieve vibrant coloring effects on porous surfaces for mixed-media. the smooth water-reactive pigments are ideal for creating brilliant backgrounds, watercoloring, smudge effects and more! color directly onto your surface and blend with water or layer with distress inks or stains for more creative possibilities. available in 3 sets that coordinate with the distress palette, these new crayons are definitely a game changer and i can't wait to show you what these are all about…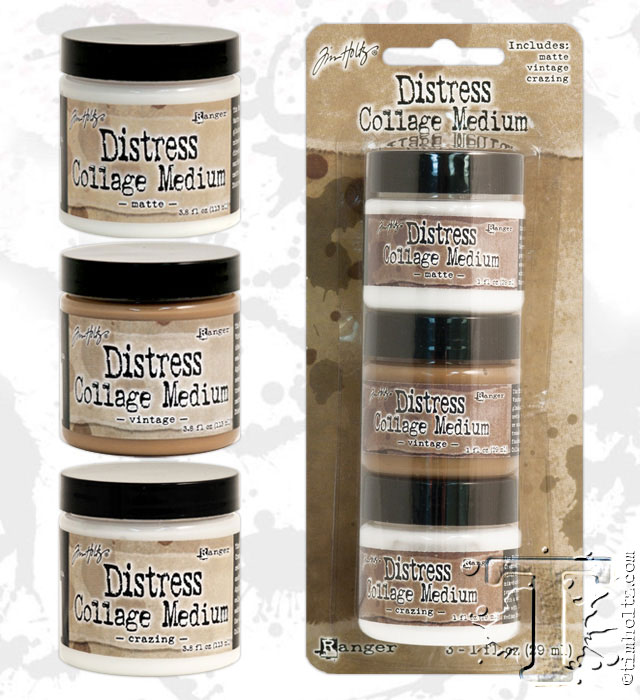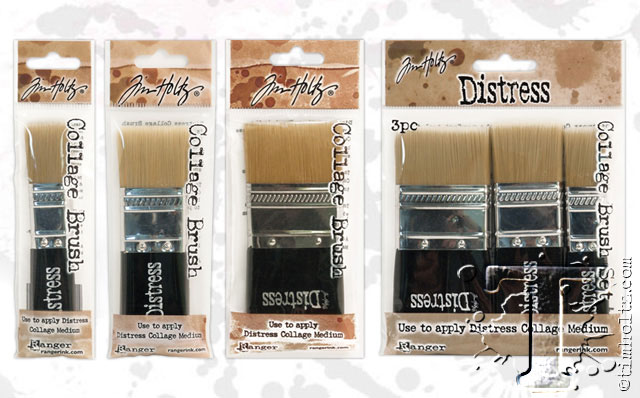 the new distress collage mediums are gel mediums designed for gluing, layering, and sealing mixed-media projects. available in three unique finishes – matte which dries translucent to a matte finish, vintage which dries semi-translucent with a vintage tinted matte finish, and crazing which dries translucent with a sublte crackle/craze matte finish. use the collage mediums with an assortment of new collage brushes specially designed for the application of all the collage mediums. the short, soft bristles are ideal for applying smooth, even layers, and are available in three sizes: 3/4", 1 1/4" and 1 3/4" and also a 3 pack assortment…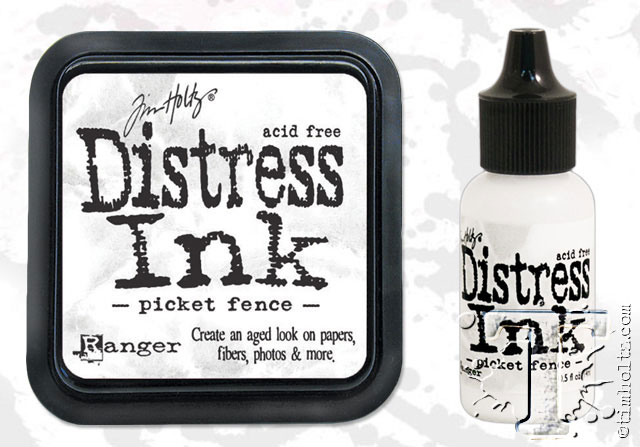 the distress picket fence ink pad is finally here!  you've been asking for this for years and since we already have the marker, paint, stain, and spray stain, we needed a perfect white pigment ink is created with the same unique distress formulation. the new picket fence distress ink is a water-reactive pigment ink, and available in the standard distress ink felt pad size only (sorry no mini planned) with a coordinating .5 oz. re-inker…
speaking of minis, the mini distress ink pads collection continues to grow with now 60 individual colors that include the latest release from 2015 available open stock….
we know that for the crafter on the go, mini items have been a convenient and cost effective way many crafters try out a product.  now the same fluid, water-reactive formula of distress stains crafters have come to love is also available in a convenient travel size 1 oz. bottle!  the mini spray stains are available in six of new colors of 2015 along with six classic distress palette colors. use for quick and easy ink coverage on paper, and other porous surfaces. spray through stencils, layer colors, spritz with water and more…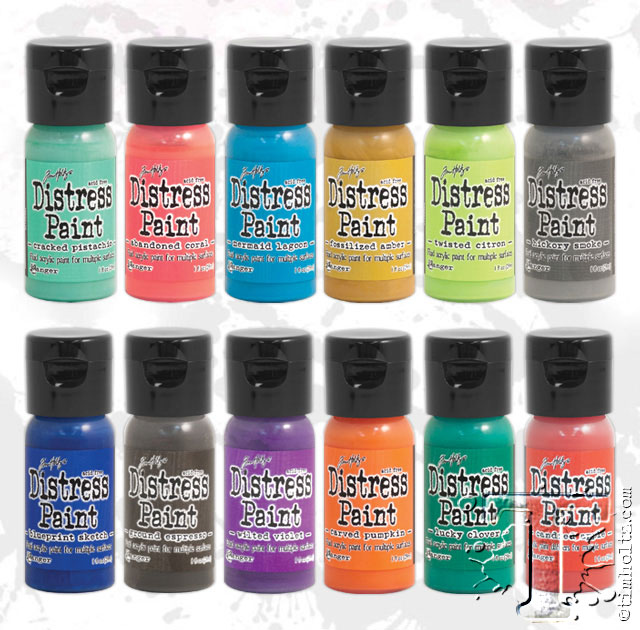 for distress paint lovers, the convenient flip tops have been a huge hit for quick and easy application of distress paint with brushes, blending tools, splatter brush and more! now the 12 new colors from 2015 are available in a flip top version as well as dabbers with a timeless matte finish.  developed to be reactive with water, like other products in the distress family, distress paints are the perfect choice to accomplish a wide variety of artistic techniques…
the distress storage line continues to expand – introducing, the new distress marker storage tin. this new sleek metal tin is the perfect horizontal storage solution for distress markers. organize and transport markers easily in this tin that features a clear window & hinged metal closure that can hold up to 70 distress markers. the angled design also makes your markers easily accessible while working…
each ranger signature designer now has a custom designed mixed-media palette featuring the archival ink formulation. the new distress mixed-media palette includes hickory smoke, vintage photo, ground express, and black soot permanent on many surfaces. archival inks create crisp, waterproof stamped images that won't bleed when used with water-based inks, markers, acrylic paint, alcohol ink, and more…
another addition to the ranger signature designer lines are new mica spray sets designed to add pearlescent shimmer to any paper craft or mixed media project. distress mica sprays include tarnished brass, brushed pewter, and antiqued bronze and adhere to most porous surfaces such as paper, canvas, wood and fabric. these luminous sprays can be used as a finishing accent over inks and paints without reacting the bottom layer of colors…
introducing the new distress woodgrain cardstock – a textured surface with a detailed woodgrain embossed design. this new surface is ideal to use with distress ink, paint, stain, and crayon techniques to create layered effects. woodgrain cardstock is a heavyweight 111 lb. cover weight cardstock (similar to distress watercolor cardstock) that is durable and maintains its texture. this new surface comes in convenient pack of 12 pre-cut sheets measuring 4 1/4" x 5 1/2" – perfect for card making and mixed media projects…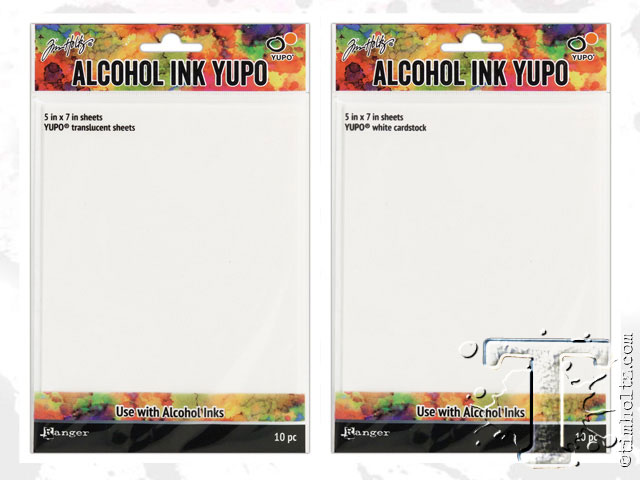 lastly we're excited to announce the addition of alcohol ink Yupo®.  this versatile surface is especially suited for alcohol ink & mixed media techniques using alcohol inks, mixatives, and blending solution. this smooth, synthetic surface is available in translucent 104 lb. text weight and white 86 lb. heavyweight that resists buckling and dries quickly. each pack includes 10 – 5" x 7" non-porous and water resistant sheets – this surface is amazing…
so there you have it!  a little something new throughout my signature lines with ranger that i hope will inspire your creativity.  i can't wait to share all of the new techniques and effects you can create with these products.   don't forget we will be bringing you live booth tours, demos, and behind the scenes video from CHA via periscope so be sure to download the app and follow me (tim_holtz).  of course we will continue to share on instagram, twitter, and facebook making sure you're part of the excitement throughout the show.
thank you all for sharing a fun week getting the first glimpse at all of the new products releasing this weekend at the craft and hobby association trade show.   it's been such fun reading your comments and taking part in the excitement of all of the new products coming your way soon…t!m