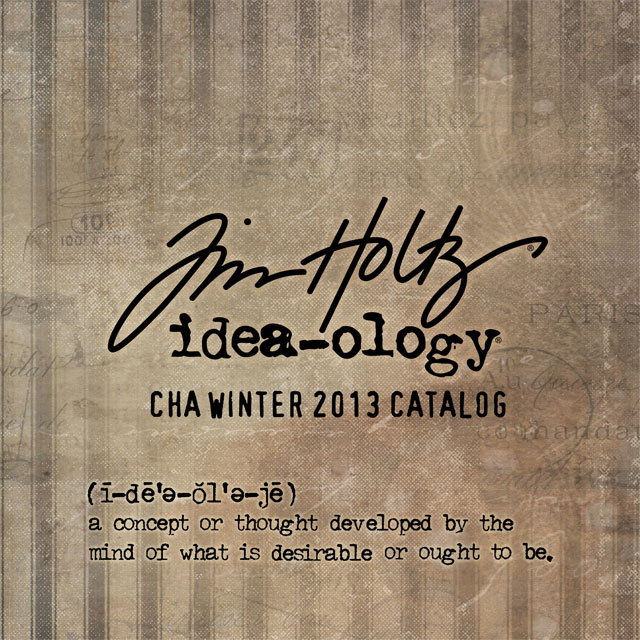 happy new year bloggers!  i hope your creativity is off to a great start in 2013.  if you haven't joined the fun of the "12 tags of 2013" i encourage you to take time this year to make a tag each month.  whether you're trying one of the techniques i've shared, or experimenting with your own ideas, it's all about creative motivation.  speaking of motivation, be sure to read to the end of the post for the list of the december tag winners (remember to upload your tag each month, and 12 winners will be chosen at random from the submissions)…
today i'm excited to start off the new year by also sharing previews of the new products i've designed that will be released at the upcoming cha (craft & hobby association) winter trade show.  there is no doubt a ton of planning, prep, sample making, and work goes into cha, but when it all comes together on the show floor it's an ensemble of creative magic.  in years past i've always referred to these types of posts as "product previews" since after all, that's what i'm doing.  i've come to learn that the industry has embraced the term "sneak peek" for this sharing ritual.  i never found anything sneaky about it, but i googled the definition for "sneak peek" and there it was in black and white…
sneak peek: a preview; an opportunity to see something before it's officially available
so i guess i need to get with it and embrace this term right?  with that, let's get started with today's first "sneak peek" at some of my new idea-ology products released at cha and shipping early spring…
my theme for this year's paper stash is french industrial.  a combination of many of the things that inspire me including ornate handwriting, vintage ephemera, european imagery, old photographs, a nostalgic color palette, and a touch of steampunk.  this paper is subtle enough for the shabby vintage crafter and ready to distress for the grungier crafter like me.
another cool paper stash i'm releasing is the new 8×8 collage stash.  this single pad contains some of my favorite designs from the lost & found, crowded attic, destinations, and the new french industrial collections in the perfect 8×8 size.  sometimes i think the designs for 6×6 are too small, 12×12 are too big, and as a card maker and mixed media crafter 8×8 is the perfect size…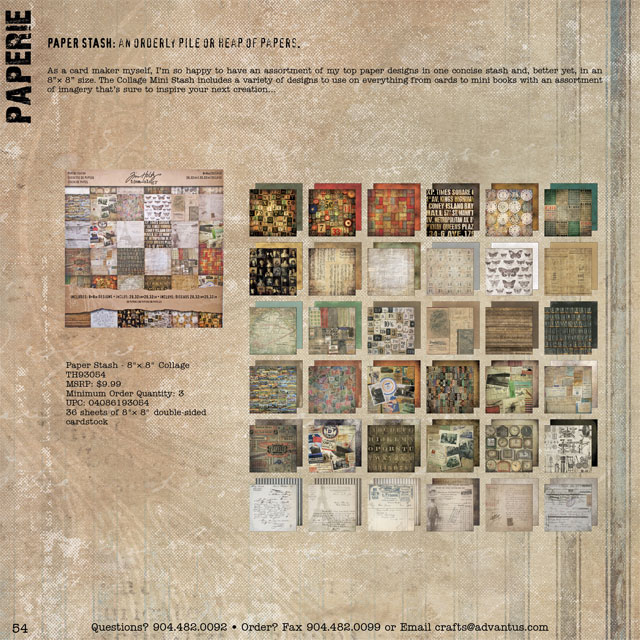 if you love configurations like i do, then you're going to flip for the new configurations book.  sized about half of the printers tray configurations, this one has an attached cover to lay completely flat when closed, or display open when standing up.  of course it includes all of the completely customizable inserts configurations is all about, but wait until you see what creative uses we've come up with for this one…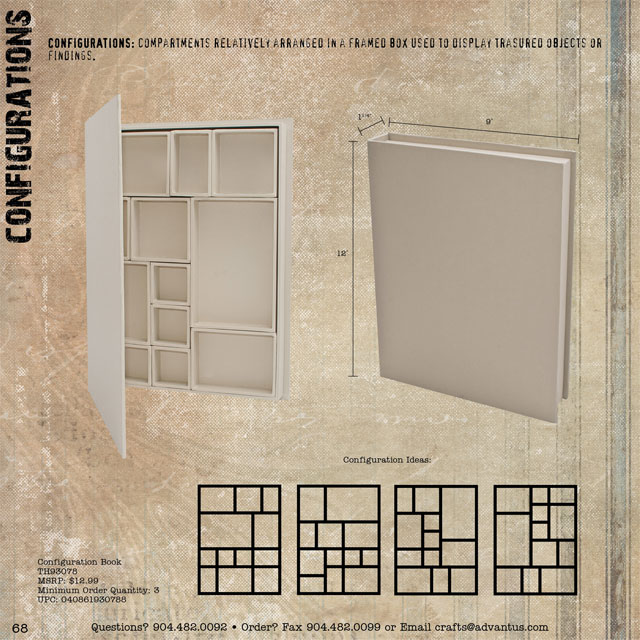 next up are products that speak for themselves.  new salvage stickers to match the latest french industrial paper stash and a new collection of tissue tape with 4 sizes in one pack – this one is awesome…
since i craft on just about every surface, this new product debut has be so excited.  whether you're creating on paper, wood, glass, metal, or plastic, these rubs will give you added imagery for great effects.  i've loved rub-ons for years, but of course there is always the concern of "will they work?".  well trust me on this one when i say these remnant rubs definitely do.  i designed them as a cluster of imagery that can either be carefully cut apart, or simply place the sheet on a project, randomly rub an area, and reveal "remnants" of the design.  the best part is you get 2 sheets of the same design per pack so you don't have to worry about using your favorite one on a single project – funny but true right?…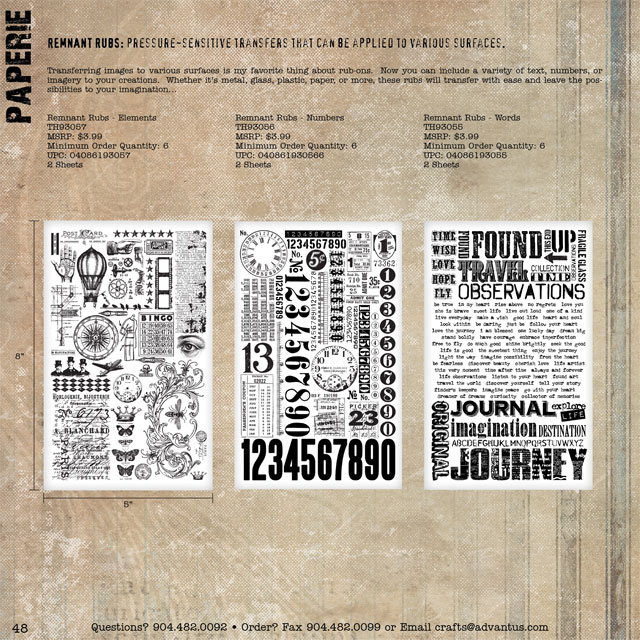 if you're wanting to add a look of aged metal to a card or layout, but don't want the weight or bulk of it, just wait until you see these industrious stickers.  they sure look like the real thing, but they are actually embossed cardstock with an amazing aged metallic finish…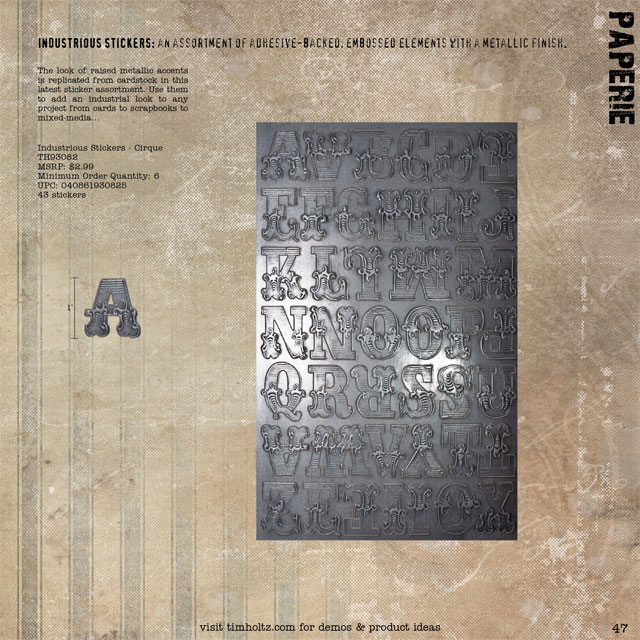 if you like to create mini books or journals and love the vintage texture and style of an antique book you might want to sit down for this one.  introducing worn covers… this heavy book board is wrapped in vintage printed fabric and lined with distressed printed kraft paper.  this cover is just like an old book without tearing out all of the pages and even better is that it comes with 2 eyelets in the spine for easy attachment of my ring binders or create your own binding using ribbons or twine.  this is the first design with more to come at the next cha show i assure you.  also being released are these new cabinet cards made from printed chipboard and amazingly detailed nostalgic imagery.  these have a slot in the top which allow you to simply slide in a 4×6 photograph.  whether using them alone, on a layout, or as pages of a journal you will find lots of uses for these cabinet cards…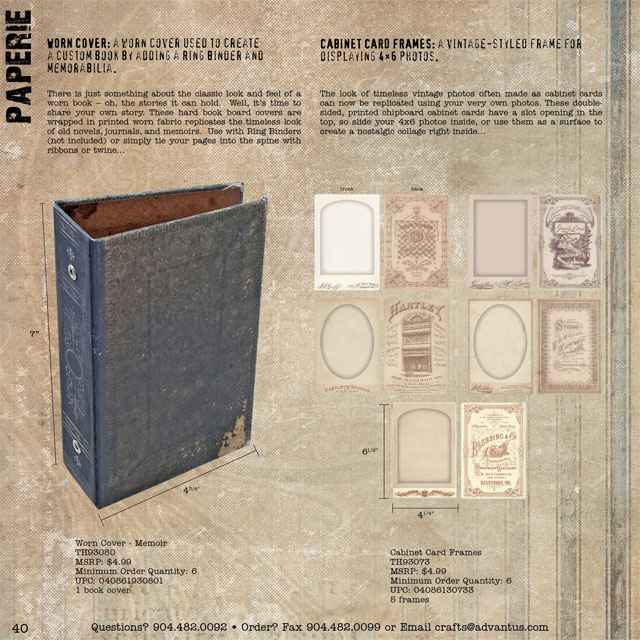 finally for today is the new ruler binding.  this was a big request from many of my students this past year who took my journey journal class.  this clever hardware kit contains 2 cut wooden rulers with drilled holes, oxidized bolts, washers, and wing nuts.  it's the simplest way to create a mini tag book using #8 tags or create your own with cut papers…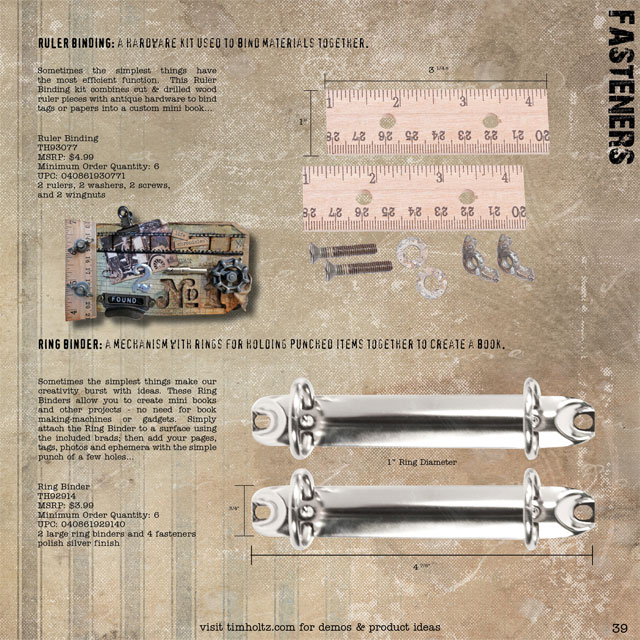 alright so that's enough for day one, but don't forget i'll be sharing new previews everyday here on the blog.  once the show starts on 1/12 i'll also be sharing photos of the finished booths and all of the projects made – talk about creative anticipation huh?…t!m
congrats to the winners from the december 12 tags of 2012 gallery post.  if you see your name (and it links to your tag), email mario@timholtz.com with your mailing info to claim your prize.
1. kayla turner
3. linda w
4. jody hammond
5. marina
6. jackie
7. ng cards
8. glitterykate
9. carol yeo
10. jenny veale
11. terry
12. lisa mcgushion