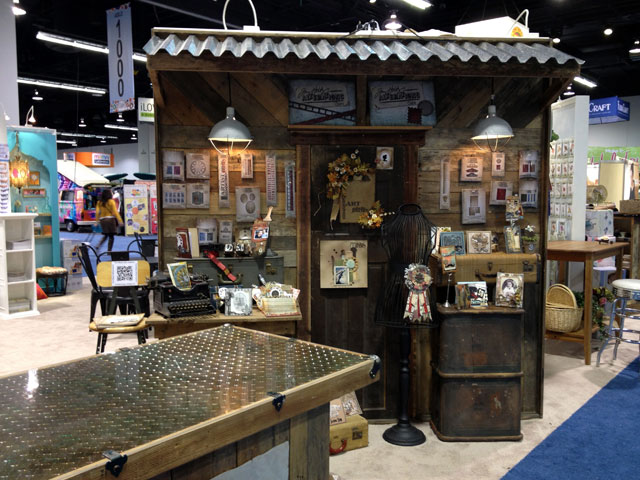 hey bloggers!  thanks again for sharing in the excitement of all the new releases from cha.  it's always such fun to design new things, but even more fun to see ideas on how they work with the stuff we already have.  i appreciate all of the comments you've left on the blog so be sure to read at the of today's post to see if you're a winner.  today i'm excited to share a recap of my new products from sizzix alterations.  one thing i really love about dies and embossing folders is just how easy it is to always incorporate the old with the new.  the booth samples were amazing once again thanks to the many talented designers who continue to push the limits of traditional die cutting.  also in today's post i have several videos to share with you featuring my latest alterations products thanks to my friends christine and mark from scrap time who always do a great job capturing many of my demos throughout the show – so let's get right to it…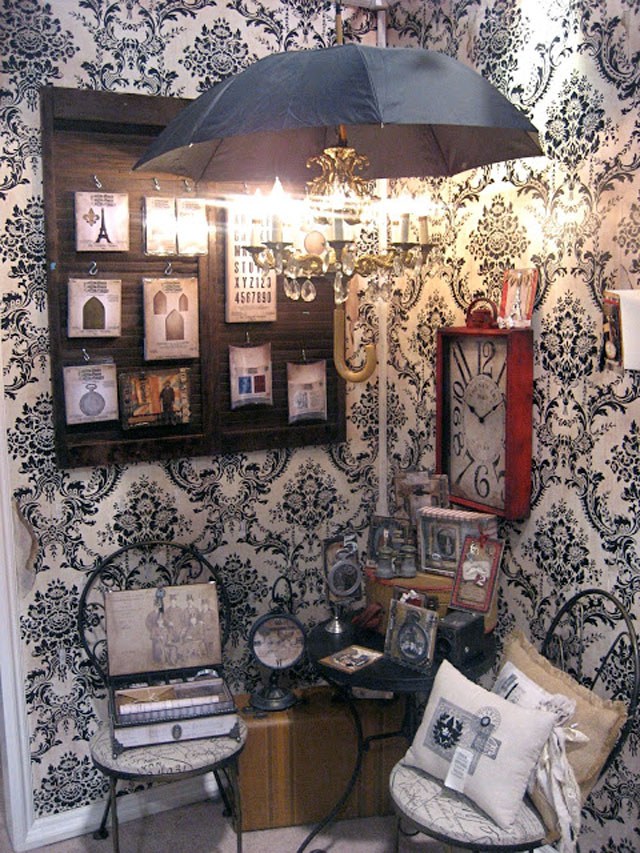 the alterations area is just a section of the massive overall sizzix booth where each designer has a vignette showcasing their products.  i love the displays that marty and debi collaborate on to decorate the alterations booth, some pretty amazing and clever ideas from the vintage style building front, to my fave at the show, this umbrella chandelier – amazing…
of course we all know that the creative samples play a big role in the inspiration this booth shares.  with valentines day just around the corner, these samples are the perfect creative jump start using mostly dies that have already been released last year. (love xo: richele christensen, all others: debi adams)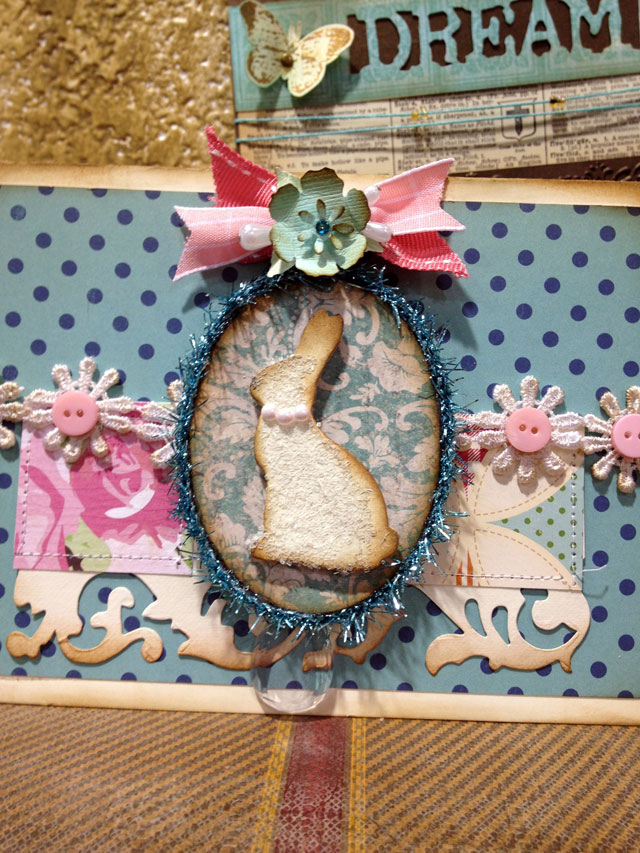 easter will be right around the corner since it's at the end of march this year so these card ideas are wonderful for creating some of your own once again with mostly dies that were released last year. (debi adams)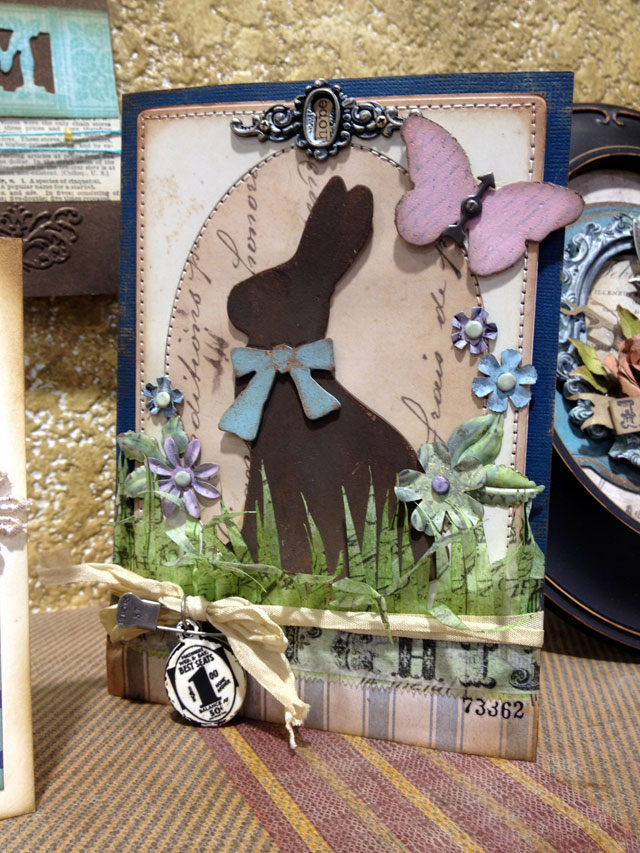 Scrap Time – CHA Winter 2013 – Tim Holtz at Sizzix – The Tapered Fringe Die from Mark Giles on Vimeo.
one of the new dies "tapered fringe" is used to cut fringe strips with a tapered edge.  whether using it for grass like this clever card from (richele christensen), or roll up the strip to make pom-pom flowers.  check out the quick video too.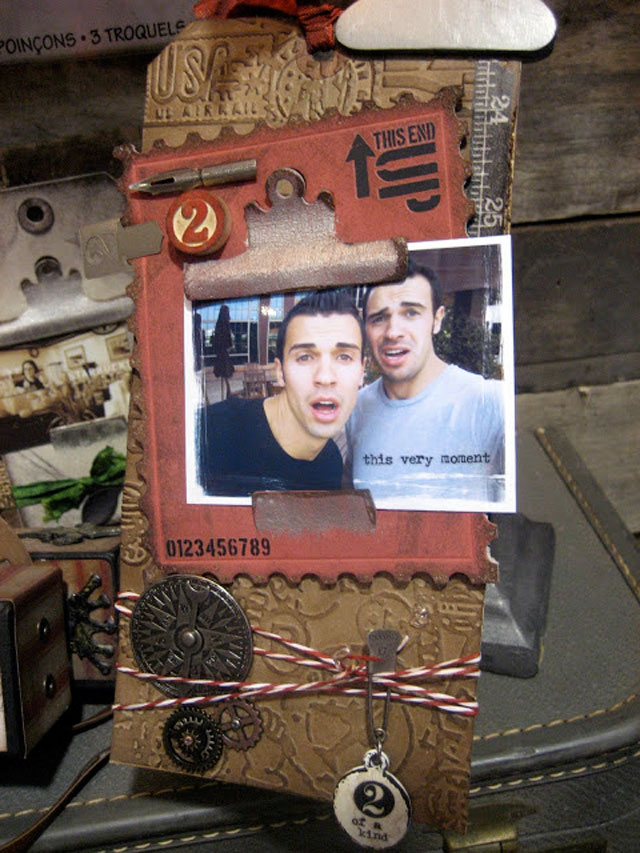 Scrap Time – CHA Winter 2013 – Tim Holtz at Sizzix – The Clipboard Die from Mark Giles on Vimeo.
another new die is the clipboard mini movers & shapers which i have to say this is one of my favorites.  use it to create an actual functioning clipboard to hold gift cards, photos, etc. like i did on this card with this great pic of mario's twin boys – classic.  you have to see how this die works to really get it's possibilities, and thanks to scrap time they've captured the demo on video for you to see.
moustaches also continue to be a trend, and i have to say it's just something about them that makes me smile.  the new moustache mini movers & shapers was a hit too so i wanted to share these cards i made using both the positive and negative shape of this classic icon.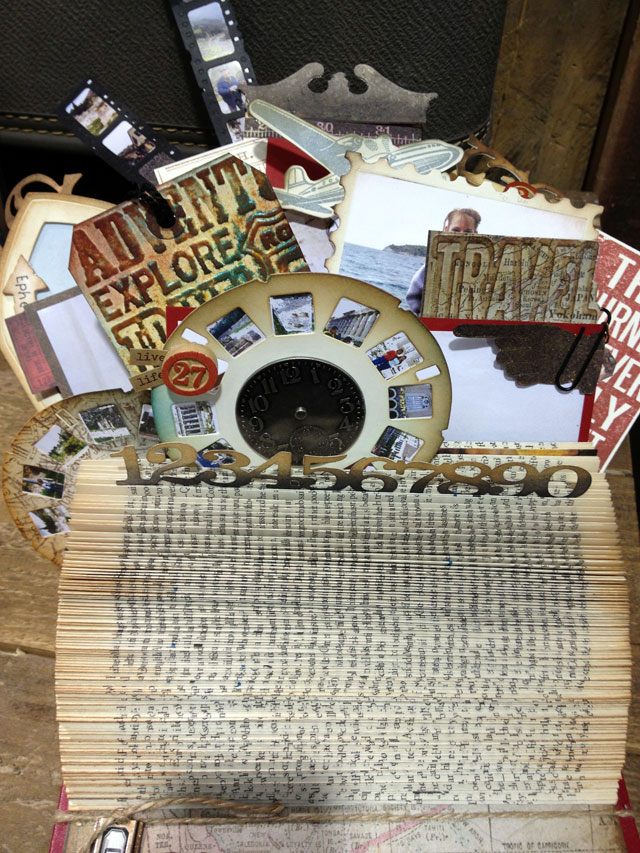 next up is the picture wheel die which was amazing to see all of the projects the various designers made with it.  everything from using it in a cool travel journal project by (debi adams), to a steampunk viewer by (jim hankins aka gentleman crafter), to even a wonderfully layered and dimensional prize ribbon by (amy baldwin).  see what i mean?
of course there were so many samples in this sizzix alterations booth that i wish i could capture them all, but here are a few more to inspire…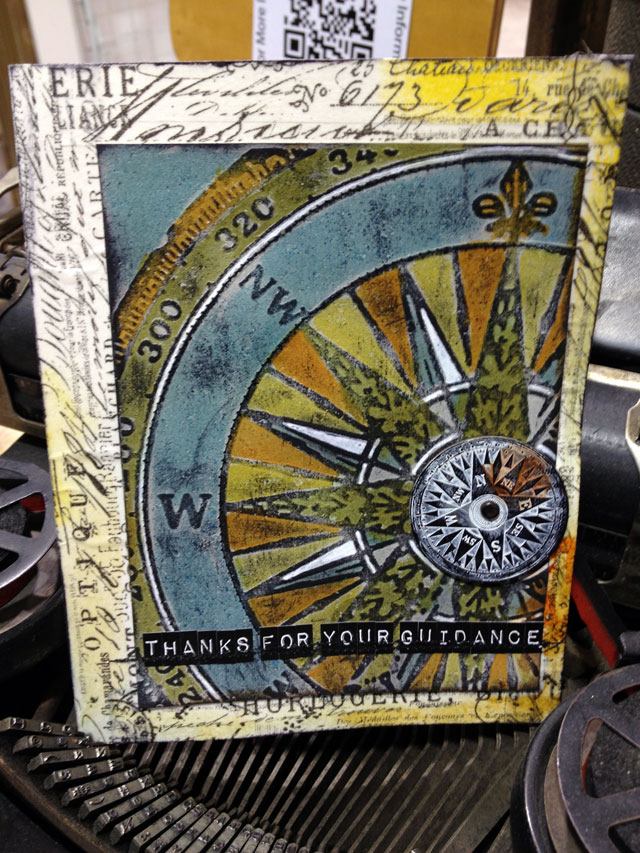 (mou saha) thought the the new compass texture fade would make a wonderful background to color in.  it certainly does.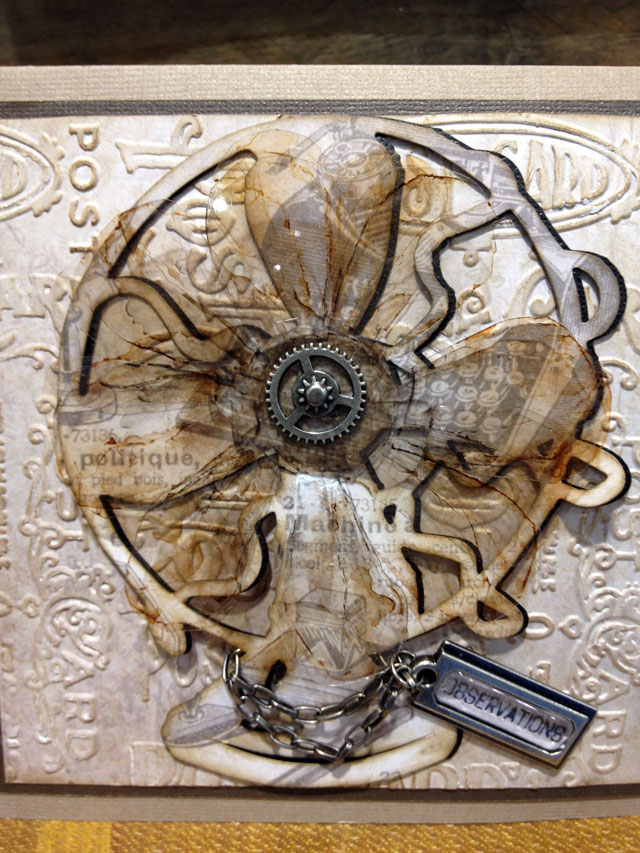 (jan hobbins) created this layered grunged fan card using some of the new idea-ology stuff too.
(amy baldwin) designed another layered masterpiece with this colorful card using the regal crest die and some favortie older texture fades.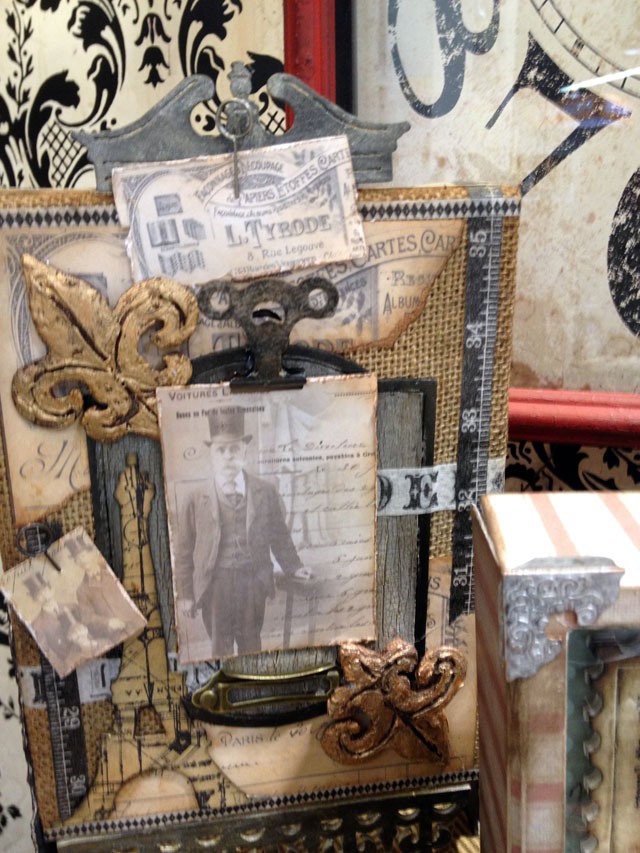 (jim hankins) shows off more of his steampunk side with this altered burlap panel using lots of the new bigs dies.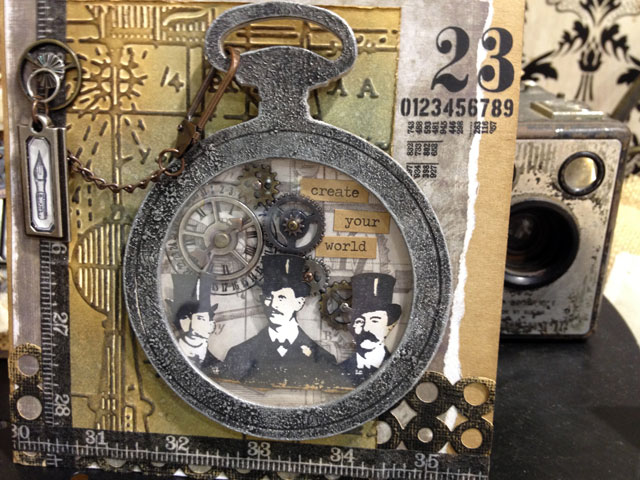 (shelly hickox) decided the new pocket watch movers and shapers die would act as a dimensional shadow box on a card.  love the steampunk look of this one and the new blueprint texture fade background is perfect for this one.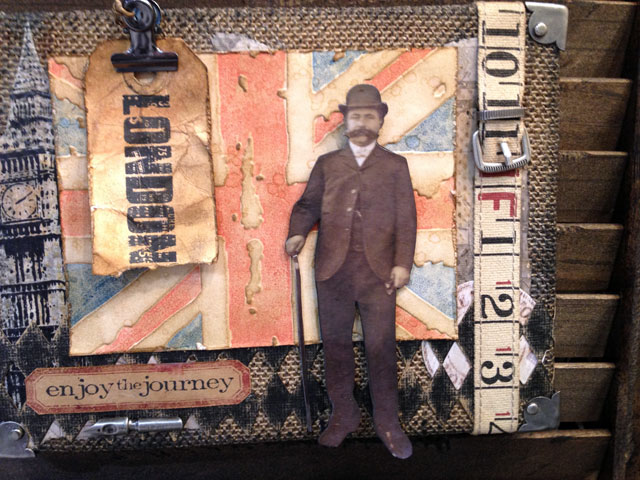 another project from (shelly hickox) showcasing the new union jack texture fade.  just by inking the folder before you emboss it, allows the color for this flag to be de-bossed into the paper for the perfect worn union jack look.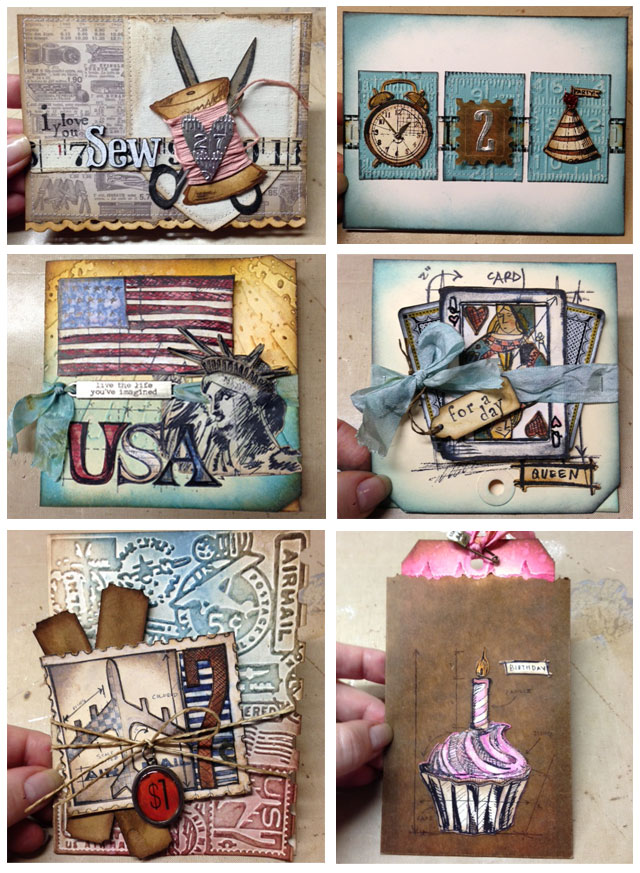 if you're looking for wonderfully layered cards, (tammy tutterow) shows off her amazing talents using stamp2cut and my stamps from stampers anonymous.  these were some of my favorites.
i couldn't resist asking (paula cheney) to bring her wonderland village made from the artful dwellings die.  paula actually shared a tutorial on how she created this on her blog here so check it out.
now each day at the show i got to demo an hour a day in the sizzix alterations booth so i did my best to share snippets of what's new.  check out this series of videos once again thanks to our friends at scrap time…
Scrap Time – CHA Winter 2013 – Tim Holtz at Sizzix – The Dimensional Cutting Pad from Mark Giles on Vimeo.
first up is a brand new release i didn't even mention on my blog during the sneak peeks.  this of course created lots of interest when people saw it at the show.  i didn't mention it, because you really have to see this one to truly get all that it can do.  get ready because die cutting just got a lot more dimensional…
Scrap Time – CHA Winter 2013 – Tim Holtz at Sizzix – Movers and Shapers from Mark Giles on Vimeo.
there are quite a few new movers & shapers base dies but these new ones feature crease rule.  if you don't know what crease rule is, check out this video and learn all about it and of course using a crease pad.  plus i get to introduce you to my partner in crime at sizzix e.l. who is the mastermind behind taking all of my crazy ideas and making them into products – i love her…
Scrap Time – CHA Winter 2013 – Tim Holtz at Sizzix – The Pocket Watch Die from Mark Giles on Vimeo.
Scrap Time – CHA Winter 2013 – Tim Holtz at Sizzix – Gears Texture Fade from Mark Giles on Vimeo.
if you're a steampunk lover, these are a couple great videos to see featuring the new pocketwatch movers & shapers die and the new gears texture fade…
Scrap Time – CHA Winter 2013 – Tim Holtz at Sizzix – Dies with Co-Ordinating Texture Fades from Mark Giles on Vimeo.
another new release that seems to be a favorite of many is the new eiffel tower and fleur de lis die.  as i mentioned during the sneak peeks, i also created a texture fade to work with this die to add dimension.  check out this video to see how…
Scrap Time – CHA Winter 2013 – Tim Holtz at Sizzix – Texture Fades with Diffusers from Mark Giles on Vimeo.
finally a quick video showing how to use the diffusers with one of the new texture fades.  i have to say that diffusers sure have allowed me to incorporate more stamping with my embossing folders…
wow – what a recap for sizzix alterations filled with so many ideas on this single post.  thanks again to all of the designers for sharing their creative skills in making projects for the booth.  also thanks again to christine and mark from scrap time for taking the time to film, edit, and upload these great video demos from the show.  sizzix is am amazing company to design for and once again i thank them (including e.l. of course) for always being willing to push the creative boundaries and explore new thoughts and ideas.  i hope you take the time to watch the videos today and be sure to click the links to the designers as well.  i'll be back on friday with the final cha recap showcasing stampers anonymous, and another giveaway you won't want to miss out on…t!m
congrats to the following random winners of the promo idea-ology bag.  thanks for sharing your comments so if you see your name and comment listed, please email mario@timholtz.com to claim your prize…
1. Lisa Byers: I think I am falling in love with the worn covers. They are so versital and fun. I can't wait to make one. Thanks to everyone for their inspiration!!!  Loved watching your enthusiasm with all the designers.
2. Glen: My favorite has to be the French paper pad and the entire French industrial theme in the new line, my prayers were certainly answered!  Thanks Tim
3. Shirley: I absolutely love the clock. My mind raced as I realized what wonderful things could be created inside of it. The booths at CHA were absolutely stunning.
4. Kathy O'Brien Meyer: First, I want to say how nice it is to hear Tim give credit to all the designers! Not every "big name" does. I knew he had to be a nice guy, because Carol Duvall was so fond of him! I am loving the new clock! I would be so fun to fill to mark a graduation, a wedding, a new house, a new baby …..
5. Kathy G.: Oh I would kill to get this give-away! My favorites of the new releases are the rub-ons (since I am a card maker and use flat items for mailing purposes), and the cool clock for me to play with and maybe give as gifts. Thank you for all these new ideas – never enough time to use all of them!
6. Patty N.: I am lusting over those run-ons- I have all kinds of ideas for them. What amazing samples! The creativity staggers the imagination!Thanks for the sharing!
7. Olive: Such talent! All I can say us WOW! My favorites are the worn book covers and the burlap panels. Can't wait to get my hands on them.