hi bloggers!  thanks for your great comments yesterday about the re-release of the classic stampers anonymous cling mount sets.  i must say that i did get a couple of emails asking about who the original artists were for the stamps?  well to be honest, i don't know who all the artists are since their names never appeared or were credited on the original stamps or anywhere else for that matter.  i guess that's what made the original stampers anonymous truly…"anonymous".  like i said on yesterday's post, what i loved the most about the classics is "the mix of eclectic designers who all submitted artwork for the stamp line".   many of you are seeing these images for the very first time, and are as happy as i am that they are now cling sets.  be sure to scroll to the end of today's post to see if you're a winner of one of these great stamp sets…
now today i'm excited to share the new stamp2cut cartridges!  i have to say i'm relieved that sizzix is finally caught up with the shipping since i know it was a late start, but the cartridges are now in stores and everything is back on track including the seasonal cartridges for their scheduled july/august release.  whew!  of course this new release of cartridges (scheduled to ship in september) will coordinate with my new stampers anonymous stamps – so cool.  okay, back to the studio i go…t!m
*UPDATE: cartridges #20 and #21 will not be produced due to licensing conflicts.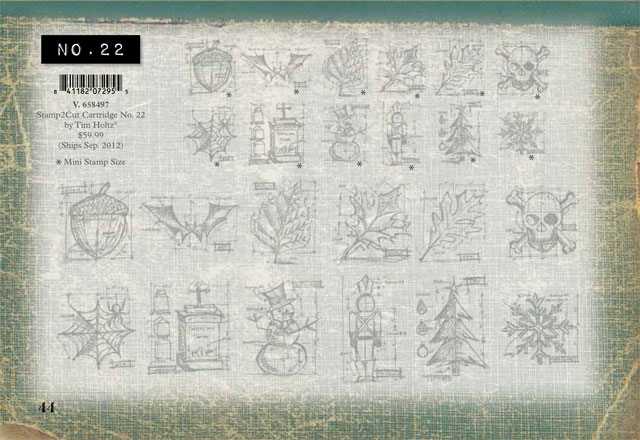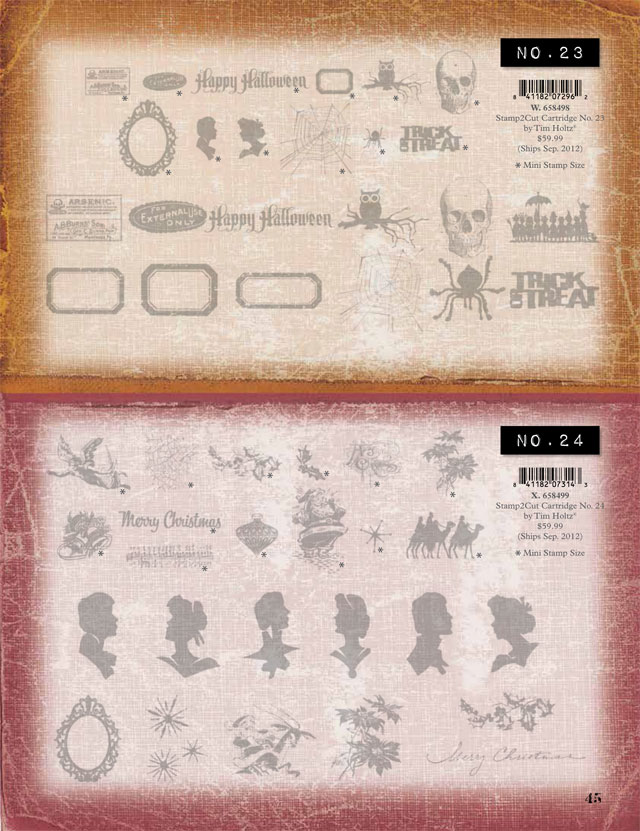 congrats to the winners from yesterday's stamp giveaway preview post.  if you see your name and comment, please email mario@timholtz.com with your info – thanks!
suzanne casto says:  I dearly love the classic # 8 with the phrase about love, that is what happened to me!
Dawn Sansone says:  I would love to win the Classic's #5. It's got a great vibe to it and can really see being able to use it in my steampunk designs.
Cim Allen says:  I love them all, but I have to say set #4 would be my pick .. I just love words and saying and those art stamps are awesome !! excellent job at picking the good ones!

Theresa Grdina says:  I am SO GLAD you convinced Stampers Anonymous to do this!! I have loved many of the "older" stamps but to buy them all would have cost me a mortgage payment! ha ha!! So my TWO new faves are set #6: can't get enough of those borders and set #1: blueprints AND words AND a way-cool compass!!! YIPPEE!!

Ange B says:  Oh My!!! What a great day for all us stampers! I have always loved Stampers anon but couldn't really afford to buy wood stamps as the postage always got me. Now I can have lots of yummy stamps to add to my vast collection. I think my fave stamp would have to be the diamond pattern in set #3 (not sure what it's called). Having said that, I love them all!!! Thanks for the chance to win Tim.

Ivy says:  I teach Global History to High School students with disabilities – this is a teacher's dream. I would definitely choose Classics 2. I usually use clay to facilitate our study of Classical Greek architecture, and will certainly supplement our study with your stamps. My kids will have a blast stamping in their notebooks. Thanks!

lis says:  Really great stuff! What can I say but WOW! Im so glad that Mr Anonymous is bringing back some of the oldies. (My personal favorites are the letters. I tried to collect as much of the laphabet as possible…HEY! do you think he would do a mini of the entire set???? I would LOVE LOVE LOVE THAT!!!)  Anyway – for the sets above #10 I like the best.

Tracy Bayley says:  Oh Its a complete toss up between No. 1 and No. 7 set … So suited to journals and cards! I love your choices Tim and can well understand how they can be your favourites.  Take care and thanks so much for your generosity….again!

M. C. says: Love Classics 9 – gonna have to go for that one.

Yvonne C. says:  I think bringing back the original stamp designs is a great idea! "What's old is new again." Especially for those of us that haven't seen some of those designs. And what an awesome array of designs you have!! I love them all, but the dragonfly really speaks to me.