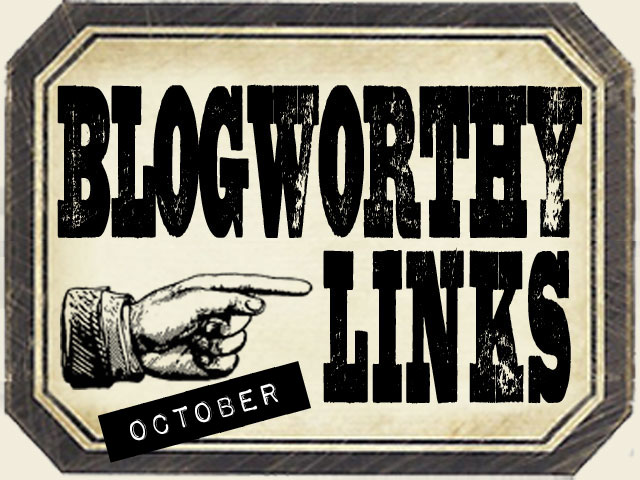 get ready to be inspired for fall and halloween creativity as today's blogworthy links will certainly inspire you to create projects to celebrate this time time of year.  i continue to be amazed by all of the sharing of ideas on blogs, pinterest, instagram, and facebook and want to share some links we've discovered from many of you.
be sure to click the links to check out these talented artists, and please leave a comment on their blog to let them know they've inspired you too…t!m
– brenda brown: so when it comes to halloween, you have to check out what brenda brown made .  using a variety of ideas she credits inspiration from others, brenda combines them with her own amazing talents for the ultimate decor piece.
– wanda guess: i love fall, and this card embraces all of the coloring, layering, and of course distress glittering of the season. check out this is a great card from wanda showing the creative bliss when stamps meet dies.
– pam hooten: i just had to share another project featuring the stamp/die sets from sizzix.  check out pam's clever "handy" halloween treat bags – brilliant.
– mou saha: the colorful talents of mou never cease to amaze me.  her use of design, layering, and colorful mediums make her style something truly unique.  check out her clever ideas for using dies in a whole different way.
– kath stewart: if you love layering stencils and looking for a creative way to store them, kath has the solution.  check out a fun way to reuse and repurpose all in the name of art.
– mona pendleton: the foundation of a project can certainly inspire an overall look and feel.  this shabby burlap panel from mona is a great way to remind you that stamps don't always have to be for cards and layouts.
– rachel: if you haven't had a chance to play with remnant rubs yet you're missing out.  wait until you see how rachel incorporated them in her art journal for bold statements and creative play.
– anne kristine: a return to blogworthy, anne shows a sweet way to use the new deco mirror die and idea-ology mirrored to create a charming tag to show "the fairest of them all".
– kaz hall: another return to blogworthy, and when you see what kaz has created you'll know why.  she has outdone herself with this layered masterpiece with all of the detail she shares on her blog.  this one will definitely inspire you with so many elements all combined to achieve creative perfection.