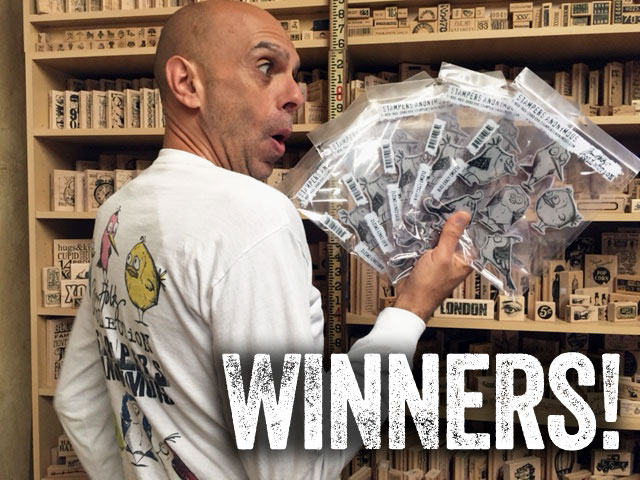 what a fun time we had reading all of your comments this weekend.  it's clear that many of you have gone a little bird crazy too and we love that.  thanks for taking the time to be part of this giveaway and thanks to stampers anonymous for providing us the stamps to share…t!m
congrats to the following winners!!!
if you see your name (and comment) please email mario@timholtz.com and include your shipping info to claim your prize.
– Normajean Brevik: Does Mario count as a "crazy bird", cause I would definitely vote for him, buuuuuuut incase he's not in the running I vote the "For You" dude with the great feather do!  Thanks for a shot at winning Tim. Keep the inspiration coming!!!
– Michelle Laulu: These are so cute! Certainly not like anything we have ever seen before. I just adore the plump chubbier bird! That belated birthday card with the deflated balloon is awesome
– Catherine Marshall: My favorite one is the middle one on the bottom row. I have seen that look on my husbands face when I am trying to explain how I am saving him money buy buying more crafts supplies so I can get free shipping. Poor guys just stands there with that look on his face while all the while his head is going up and down.
– Rita Montgomery: I think they are so individually adorable. I like the chubby one, he's more like me. I really liked how Kristina added that cute deflated balloon and birthday hat to him. Thanks for a chance to win.
– Pat Krauchune: I love the "you're old embrace it bird…just turning 70 it fits me to a tee!