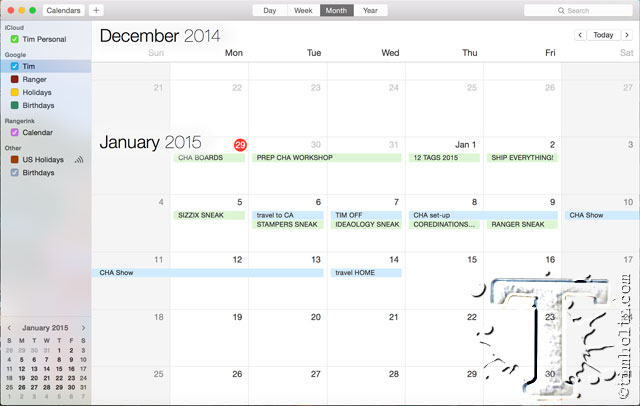 i hope you all enjoyed your holidays.  we decided this year that instead of working through them like we always seem to do, we would take time to enjoy it.  for us that meant no work, no blog, no social media, just enjoyed being off the grid for a while to relax – it was perfect and much needed.  now we're back in the groove and in full "show-mode" as the time ticks away closer and closer to CHA.  as you can see from the calendar we've got lots to do this week to have everything ready to ship out including all of the ranger display boards, workshop kits, and booth samples – it's going to be a busy one for sure…
a couple of highlights are:
1/1/2015 – what better way to kick off the new year, than with some creative inspiration with the new 12 tags of 2015!  are you planning on joining this monthly challenge by digging into your craft stash, trying new techniques, and simply putting your creativity to work?
1/5 – 1/9 – get ready for a week of CHA show "sneak peeks" to get a glimpse of the new release products coming your way in the new year.  each day i will share my new releases from the various companies i design for including sizzix, stampers anonymous, idea-ology, core'dinations, and ranger.  i can't wait to share all of the exciting new things we've been working on for the past year – the fun begins next monday here on the blog!
ok, well time to get back to work – happy monday everyone…t!m