"hardware holiday" – tim holtz 2007
supplies:
craft sheet (ranger)
distress inks: fired brick, peeled paint, brushed corduroy (ranger)
adirondack metallic paint dabber (ranger)
mini mister (ranger)
ink blending tool & foam (ranger)
stamp set (stampers anonymous)
grungeboard (tim holtz idea-ology)
texture hammer (tim holtz idea-ology)
tag and embellishments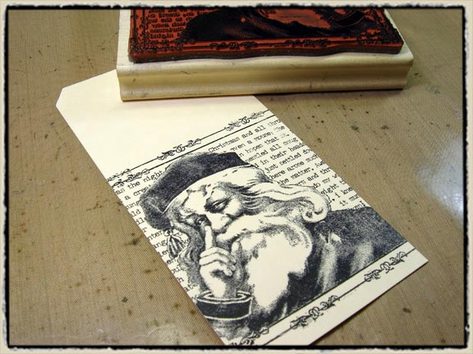 step 1: stamp the santa image with black waterproof ink.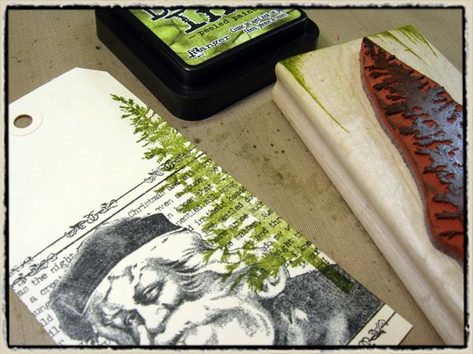 step 2: stamp the tree with peeled paint distress ink. (*tip: to create a collage look, stamp your image off of the edge of the tag.)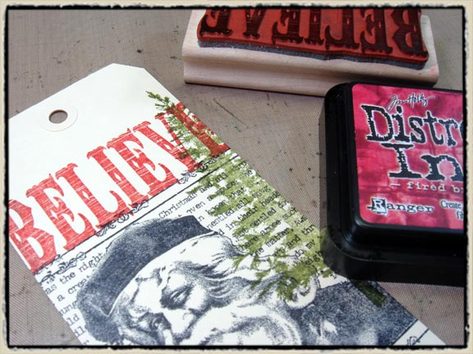 step 3: stamp the "believe" stamp with fired brick distress ink – overlapping the other images.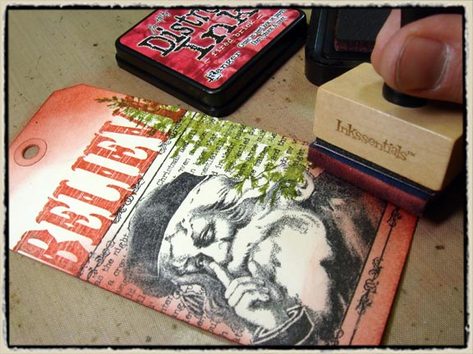 step 4: using the ink blending foam and tool, apply color to areas of the tag.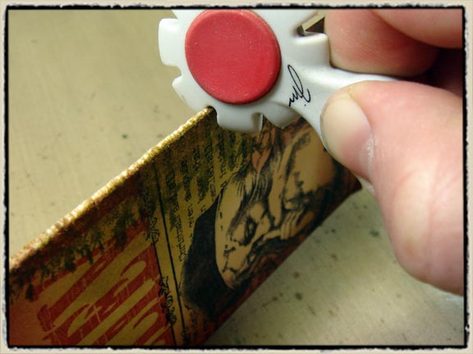 step 5: drag paper distresser along the edges of the tag.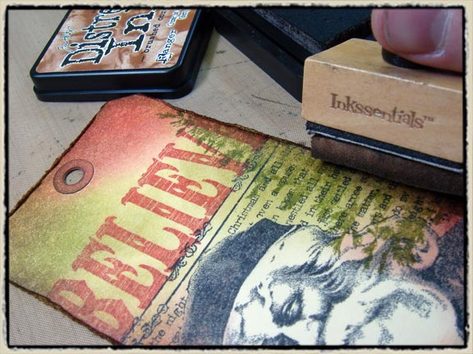 step 6: ink edges using brown distress ink with ink blending foam and tool to finish background.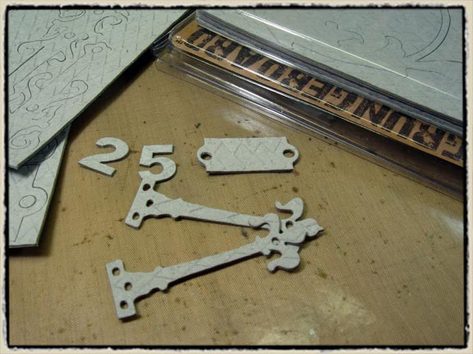 step 7: to create hammered hardware for tag, remove 2 hinges from grungeboard elements pack, 1 bookplate, and numbers 2 and 5.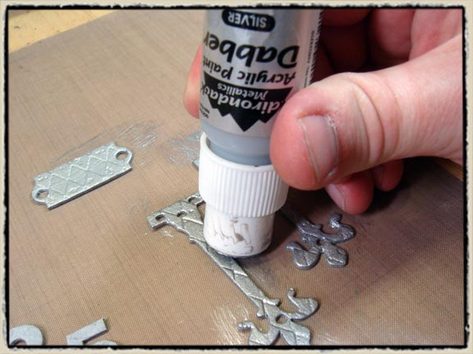 step 8: paint hardware grungeboard pieces using metallic paint dabbers and numbers with black paint dabber – let dry. (*tip: don't forget to attach the grungeboard pieces to the craft sheet with glue dots so they are easier to paint)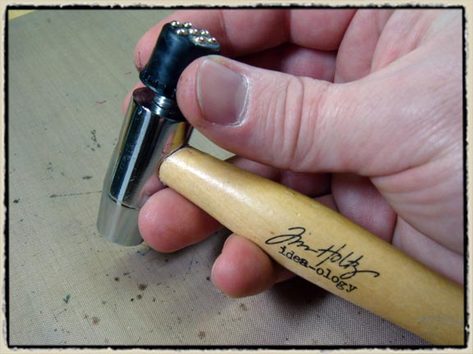 step 9: attach metal bump tip to texture hammer.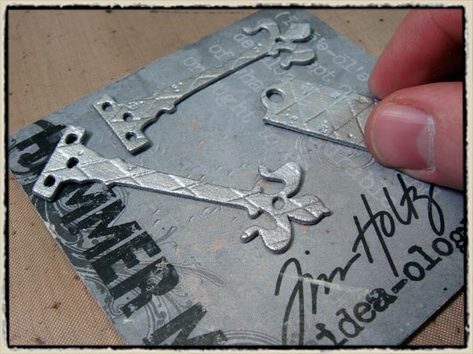 step 10: place hardware grungeboard shapes on to hammer mat.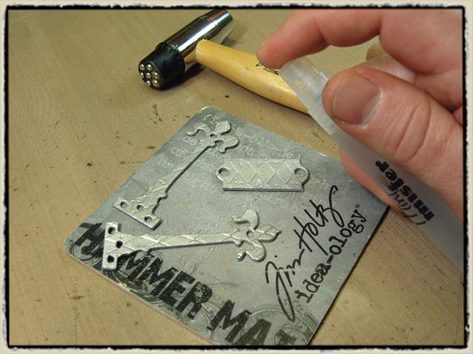 step 11: mist painted grungeboard with water. (*tip: whenever you are texturing heavy board, be sure to mist with water first. this will help the thicker materials hold the texture).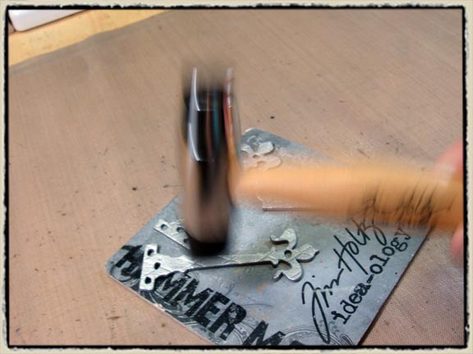 step 12: start hammering the piece using firm pressure, but smaller taps – we're not building a house here so don't just bang away on it. (*tip: continue hammering pieces until desired look is achieved. grungeboard will not fall apart when hammered. if you need to re-wet, no problem).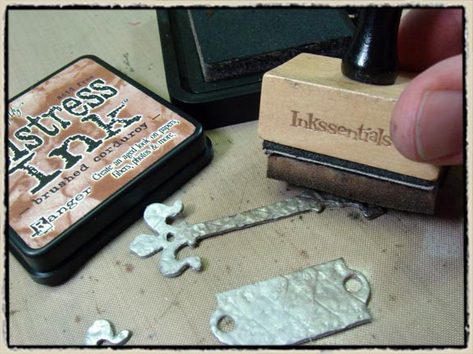 step 13: ink hammered pieces using ink blending foam and tool. (*tip: this will get inks into the crevices your created with the hammer).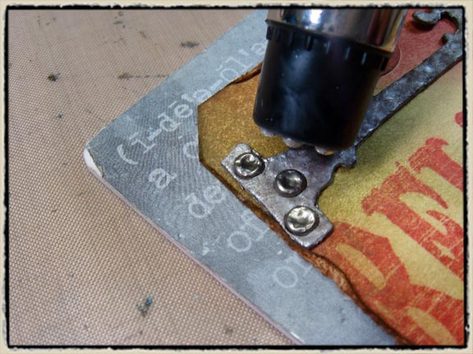 step 14: attach brads to tag, and since the texture hammer also works great on metal, make your brads look like old nail heads by tapping on the tops of them to dent them. (*tip: be sure you are working on the hammer mat as it will protect your work surface and provide more resistance to the hammer).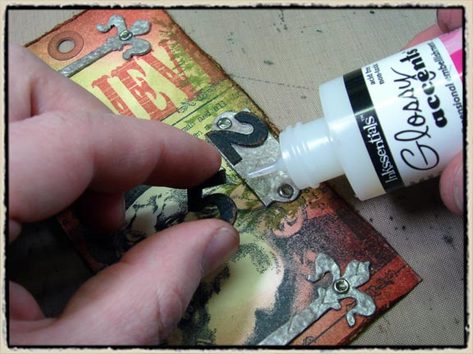 step 15: attach painted numbers with adhesive of choice.