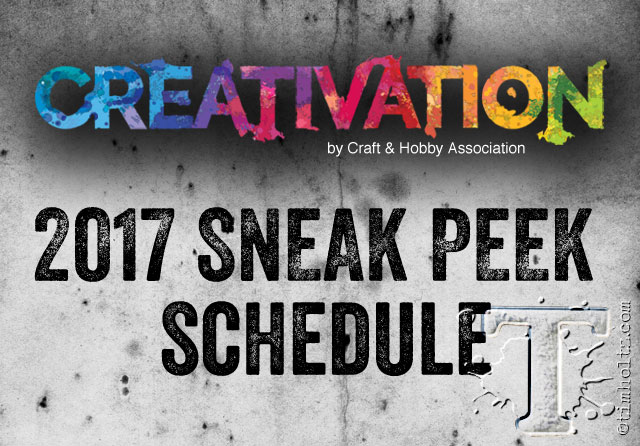 it's that time of year when the craft industry becomes a frenzy of ideas & innovation.  where a collective gathering of designers, manufacturers, and retailers set out to explore the next chapter of our creative chronicles.  what was once a spark of curious imagination becomes reality in this magical place called "creativation" (formerly CHA) – the show kicks off later this month january 19-23 in phoenix, arizona.  leading up to the show i think it's important to share the excitement with all of you too!
so here's how this all works:
starting monday jan.9 at 9:00am PST i'll be sharing sneak peeks on Facebook LIVE followed by a post and the recap video here on the blog.  that means if you can't join Facebook LIVE or don't even use Facebook, the video will be uploaded here on the blog following the broadcast. *(note: the blog and video will post later in the day).  if you're not familiar with Facebook LIVE, there is nothing to pre-register or sign up for, simply follow the Tim Holtz Facebook page by clicking "LIKE".  if you choose to turn on notifications for my page you should be notified whenever we post or go live.  if not, just head to my page on Facebook and it will be at the top.  during the broadcast i'll talk through the products along with sharing a little insight as to my inspiration for bringing it to market.  these sneak peeks give you the opportunity to check things out, ask questions, or simply join the excitement of what's coming your way in 2017 – here's the line up.
monday 1/9 at 9:00am PST – stampers anonymous stamps
tuesday 1/10 at 9:00am PST – stampers anonymous stencils
wednesday 1/11 at 9:00am PST – sizzix alterations
thursday 1/12 at 9:00am PST – idea-ology pt.1
friday 1/13 at 9:00am PST – idea-ology pt.2
monday 1/16 at 9:00am PST – ranger
tuesday 1/17 at 9:00am PST – tonic studios
please keep in mind these are only "sneak peeks" no projects will be shown at this time.   not to worry once the show starts we'll definitely be doing more Facebook LIVE and blog posts to show all the cool projects using the new products.  hope you'll join the fun of sneak peeks – see you soon…t!m