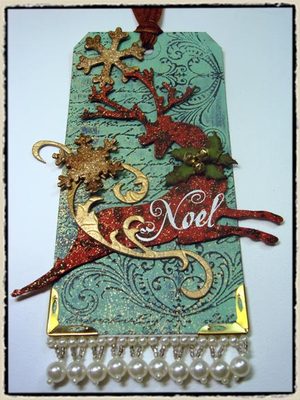 "day 5" -tim holtz(c) 2008
supplies: craft sheet, adirondack paint dabbers/pitch black, juniper, red pepper, lettuce, gold, distress ink/walnut stain, ink blending tool, mini mister, glossy accents, distress stickles/antique linen, clear embossing powder, distress embossing ink, cut n' dry foam, heat tool, metallic mixative/gold (ranger); grungeboard/seasonal, elements swirls, sanding grip (tim holtz idea-ology); glue dots dot n go (glue dots); scissors (tonic); stamps/script P3-1378, scrollwork P5-1374 (stampers anonymous); rub ons (hambly); metal corners, home pro setter (american tag); snowflake embossing folder (provo craft); big shot express (sizzix); beaded trim, ribbon, tiny bells, tag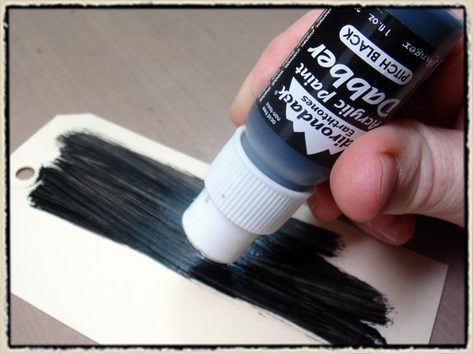 step 1: shake pitch black paint dabber and paint tag with dabber.
step 2: blend paint with a piece of cut n' dry foam to paint and cover tag. let dry.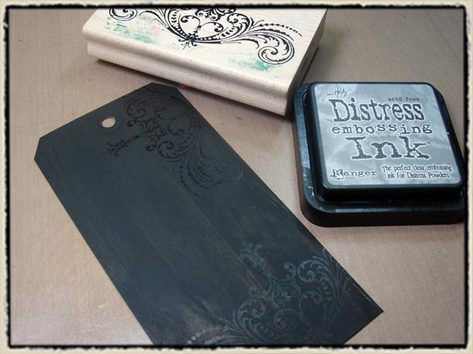 step 3: stamp scrollwork stamp with distress embossing ink twice.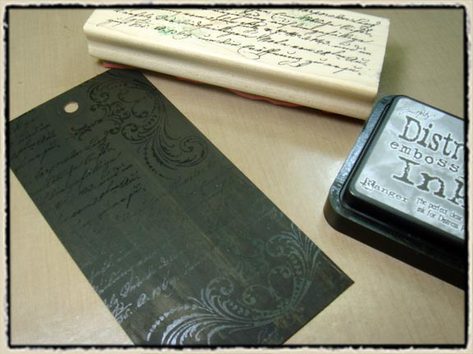 step 4: stamp script with distress embossing ink filling in the space on the tag. (*i prefer to use distress embossing ink for all of my embossing since it provides the best detail – and it smells so GOOD – seriously!)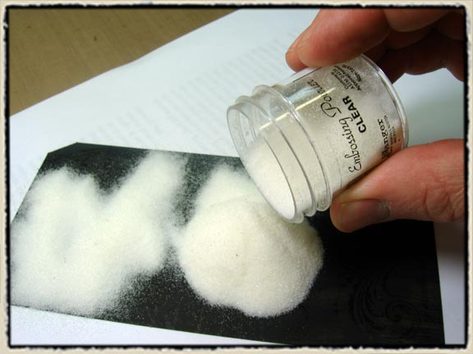 step 5: cover images with clear embossing powder. remove excess – put back into jar.
step 6: heat emboss with heat tool until powder melts and becomes shiny. let cool.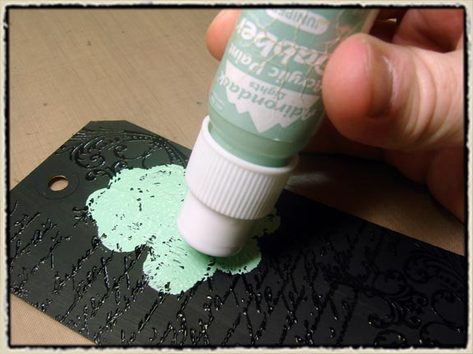 step 7: paint over entire embossed tag with juniper paint dabber.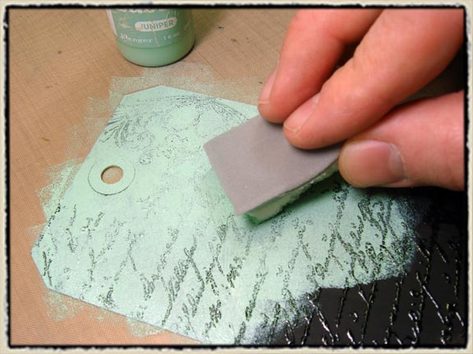 step 8: blend paint with cut n' dry foam making sure to cover the images.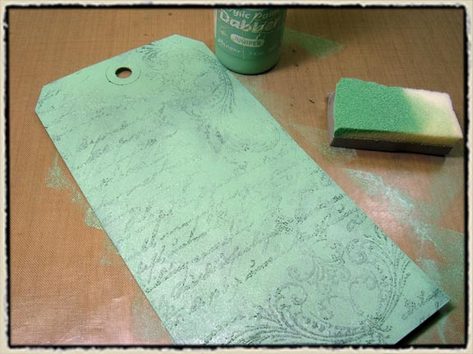 step 9: repeat until entire tag is covered with paint. let dry to the touch until it's tacky. (*do not let paint dry completely before moving on to next step!)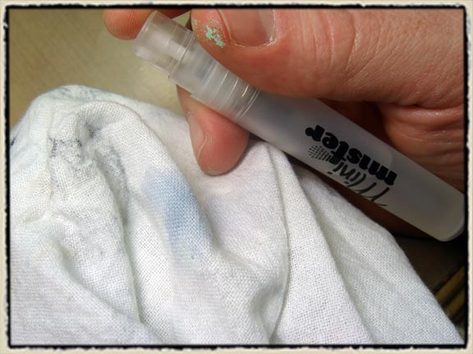 step 10: spray a cloth with water from a mini mister.
step 11: wipe over painted tag with damp cloth to remove paint from the top of embossed designs. (*paints will not stick to the embossing completely and creates a shabby chic effect revealing our black base color. how cool is that?)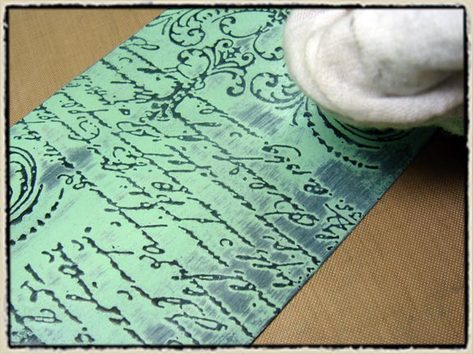 step 12: continue to wipe the tag with cloth – the harder you wipe the more of the background you will reveal.
*BONUS VIDEO STEP: learn how to emboss grungeboard using cuttlebug embossing folders and the new bigshot express! for another video using grungeboard click here!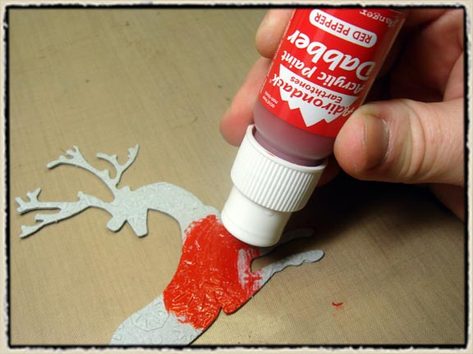 step 13: paint embossed grungeboard deer with red pepper paint dabber. let dry.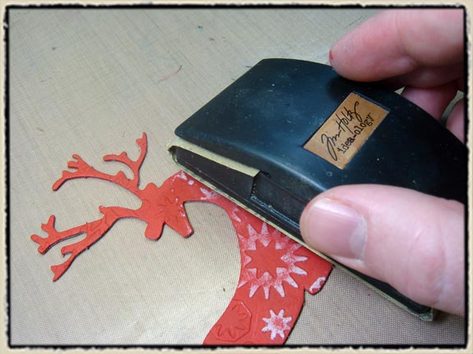 step 14: using sanding grip, sand over the embossed/raised areas of the grungeboard. (*grungeboard is designed to be sanded and the importance of using a sanding grip for this step is that the grip will remain FLAT allowing you to sand only the raised areas. using a piece of sandpaper with your finger will sand off too much of the paint in the recessed areas.)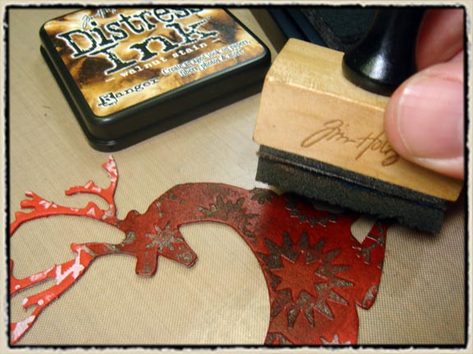 step 15: ink sanded grungeboard piece with walnut stain distress ink using ink blending tool. be sure to ink entire piece.
step 16: mist a cloth with water again from mini mister.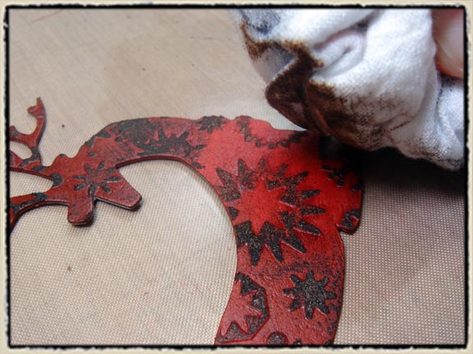 step 17: wipe over inked grungeboard to remove the distress ink from the painted area. (*the paint dabbers will resist distress inks – yet another cool resist technique!)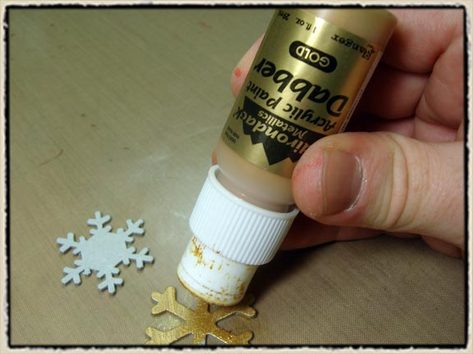 step 18: paint grungeboard snowflakes with gold metallic paint dabber. let dry.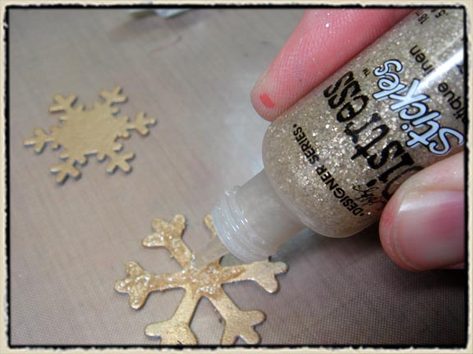 step 19: cover painted pieces with antique linen distress stickles.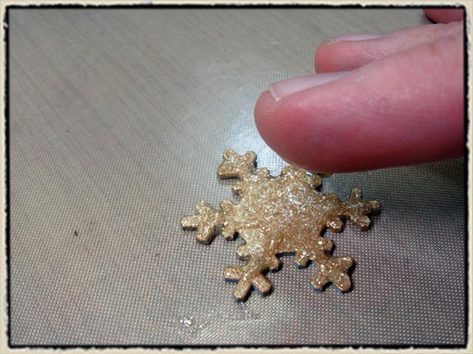 step 20: spread out distress stickles using your finger. let dry.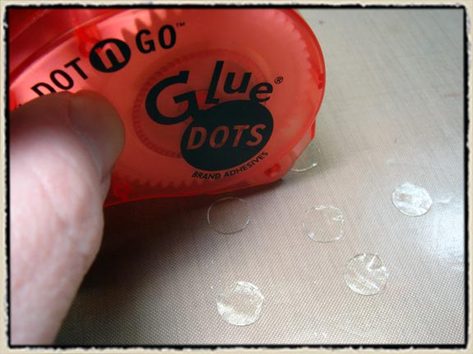 step 21: apply craft glue dots from dot n go on to your non-stick craft sheet.
step 22: using your finger, roll the glue dots into little glue strips.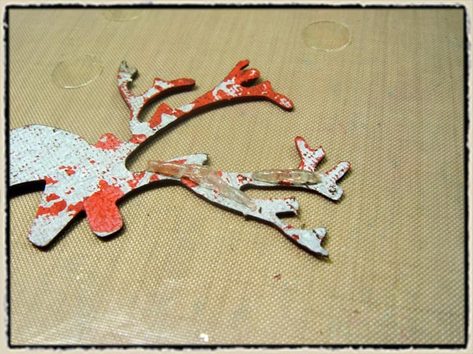 step 23: apply these to the thin detailed areas on the back of the grungeboard reindeer. (*this will allow you to create dimension and not have to cut little pieces of foam tape or thicker glue dots – pretty tricky huh?)
step 24: repeat for all areas of grungeboard that require adhesive. for larger areas, simply add a few more for dimension – apply to tag to create a raised effect. (*remember the grungeboard is totally flexible and pliable so it can hang off the edges of the tag without any problem!)
step 25: shake gold metallic mixative and apply to craft sheet.
step 26: here's the cool little brush again! dip speckle brush into mixative.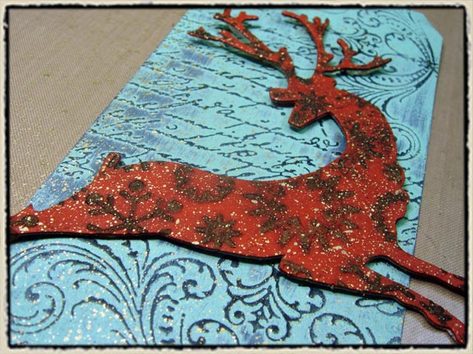 step 27: twist brush to create gold metallic speckles on to your tag. (*love this step!)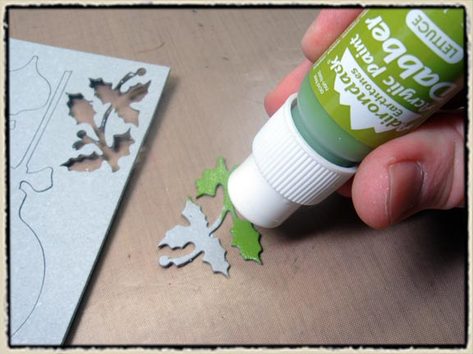 step 28: remove small holly from grungeboard sheet and paint with lettuce paint dabber. let dry.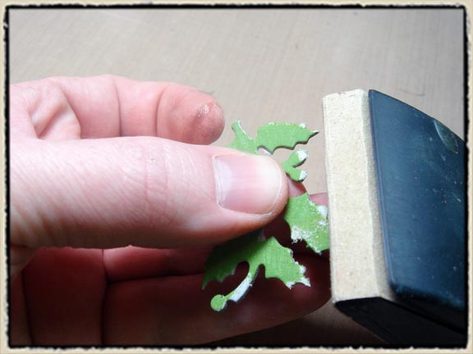 step 29: scuff edges with sanding grip exposing areas of grungeboard.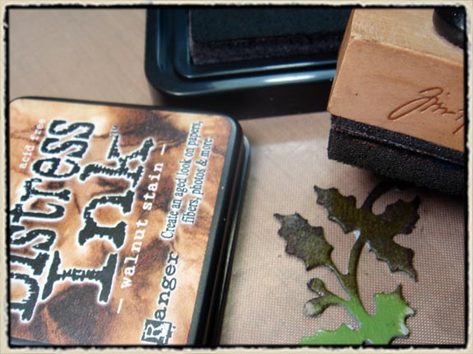 step 30: ink sanded piece with walnut stain distress ink using ink blending tool.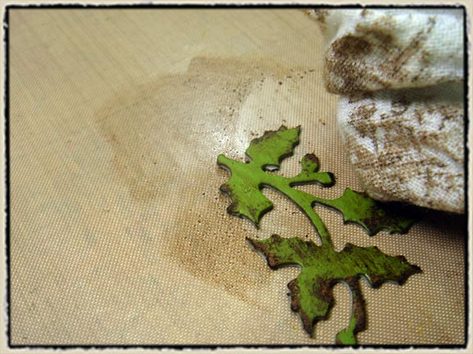 step 31: with damp cloth, wipe off inked grungeboard. (*remember the paint resist the distress ink!!!)
step 32: cut grungeboard pieces apart with scissors.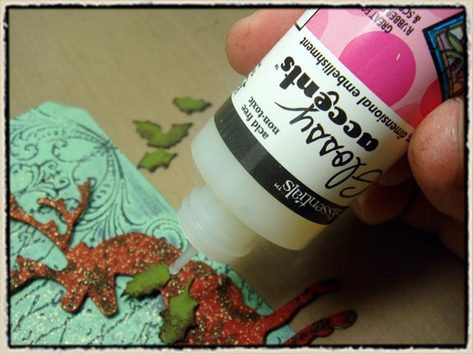 step 33: adhere to neck of reindeer with glossy accents. (*i like using glossy accents for detailed accents.)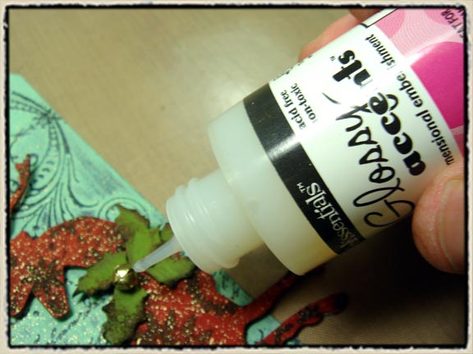 step 34: adhere tiny jingle bells with glossy accents. let dry.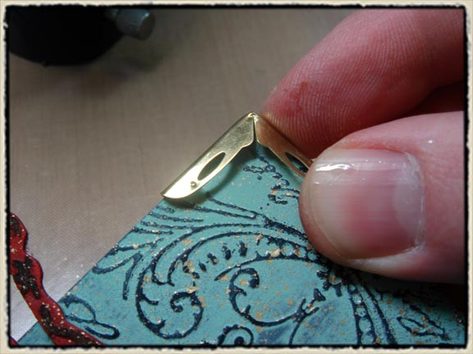 step 35: position metal corner on to bottom corners of tag.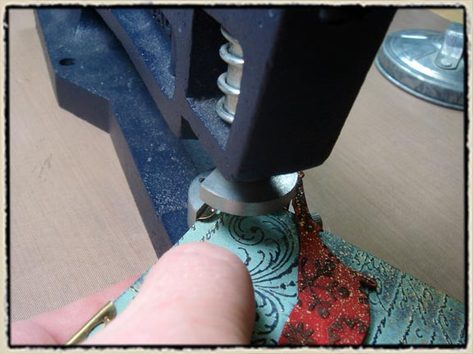 step 36: position corner into home-pro and crimp corner down. (*this tool is so great for punching holes, setting eyelets, nailheads and crimping metal corners.)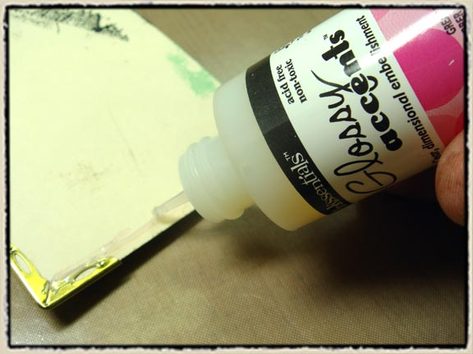 step 37: apply glossy accents to the bottom edge on the back of the tag.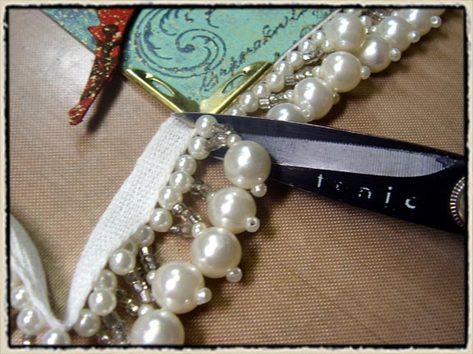 step 38: adhere beaded trim to tag and trim off excess trim with scissors. (*i apply a small amount of glossy accents to the edges of the trim to keep it from fraying.)
step 39: cut out rub-on word.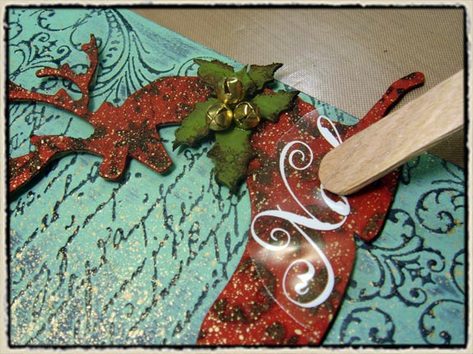 step 40: apply to grungeboard reindeer with craft stick. (*i like the contrast of the white rub-on.)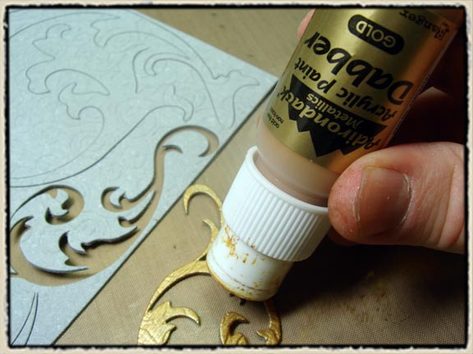 step 41: remove detailed flourish from grungeboard elements pack and paint with gold metallic paint dabber. let dry.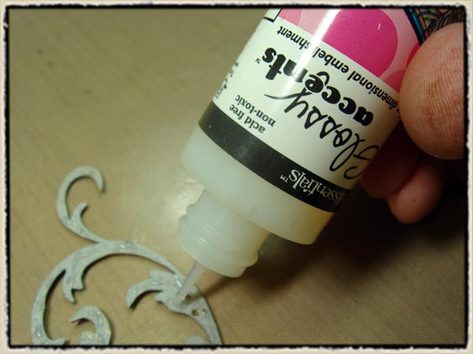 step 42: apply glossy accents to back of grungeboard.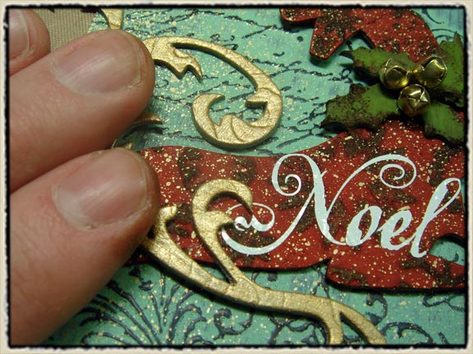 step 43: adhere to tag over the reindeer. (*we want this to lay flat across the tag.)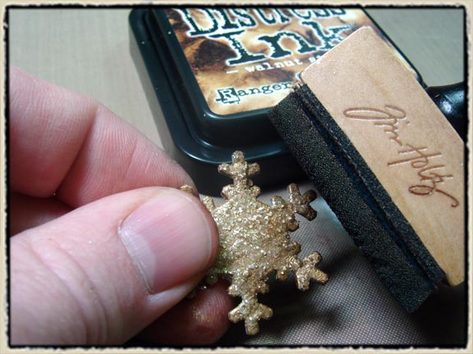 step 44: once distress stickles are dry, ink snowflakes with walnut stain distress ink using ink blending tool. (*distress stickles are actually "inkable" so you can create an instant tarnished look since distress stickles look like vintage glass glitter.)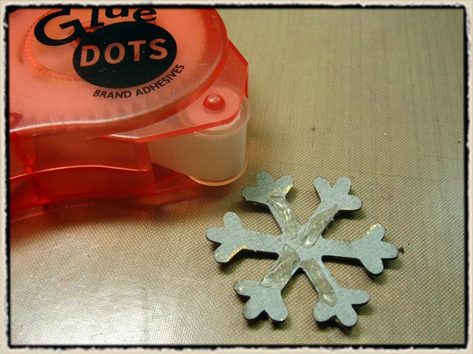 step 45: repeat glue dots technique by rolling glue dots to create dimensional snowflakes and adhere to tag.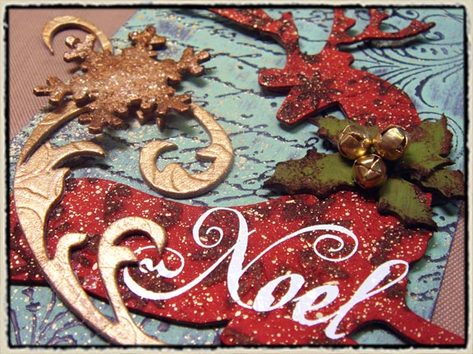 *in the details: look at how the variety of golds add to this tag using metallic mixatives, gold paint dabber, and distress stickles. the unique color palette of this tag captures a shabby holiday look.