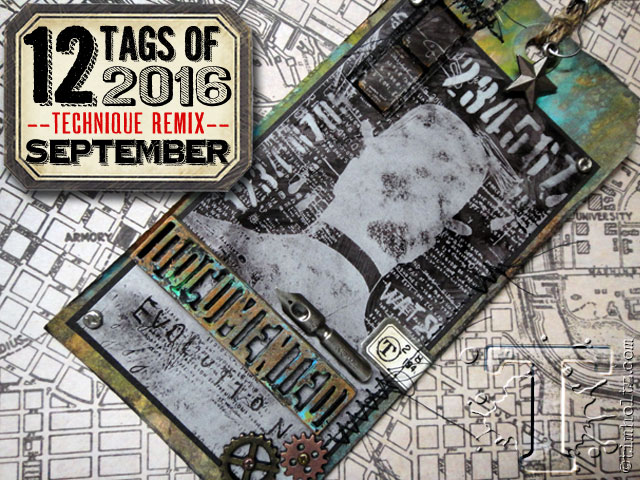 this month's tag was inspired by a technique i shared in my online class creative chemistry 103 this summer.  in class we explored various techniques on a "new to ranger" surface called alcohol ink yupo.  this synthetic paper is the ultimate surface for alcohol inks and gives older techniques new possibilities.  one of the techniques was something i've done for years, but the color combo i used in class created and entirely new effect that i want to share with you.  pair that with faux distress paint patina and we have a cool industrial grunge combination – after all, art is not what you see, but what you make others see…t!m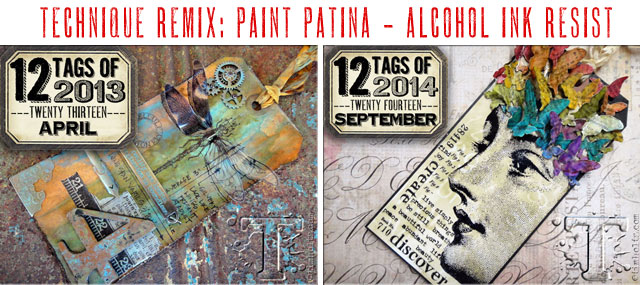 supplies:
surfaces: #8 manila tag; alcohol ink yupo/white; black cardstock
inks: alcohol inks/pitch black/mushroom; blending solution; distress archival/black soot/hickory smoke; distress ink/walnut stain/vintage photo
paint: distress paint/salty ocean/broken china/mermaid lagoon/cracked pistachio/peeled paint/antiqued bronze
adhesives: multi-medium/matte; xyron mega runner
embellishments: film strip ribbon; pine nibs; mini sprocket gears; adornments/souvenir; loop pins; mini fasteners; long fasteners; vial labels; remnant rubs; alpha parts/framed
tools: alcohol ink applicator tool; mini ink blending tool; craft sheet; heat tool; distress sprayer; texture hammer; craft pick; scissors; remnant rub tool
stamps: CMS262 evolution
misc: sewing machine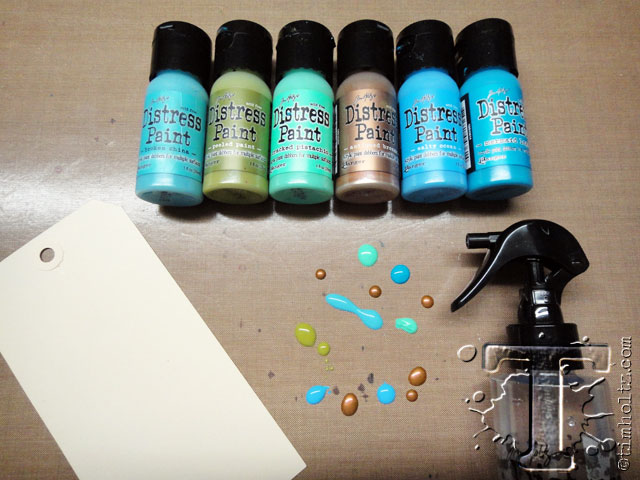 – follow the distress paint patina technique linked above to create a background on the tag using your favorite colors of distress paint.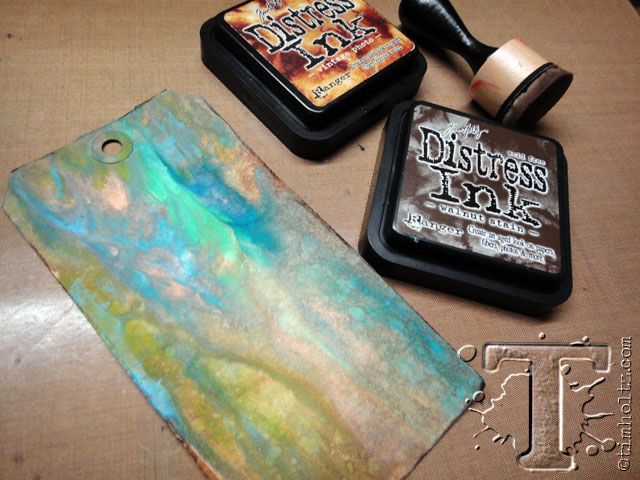 – once the background is finished (what a cool faux patina) ink the edges with distress ink to create some contrast.
– select an alpha part to use, and cut it from the matrix.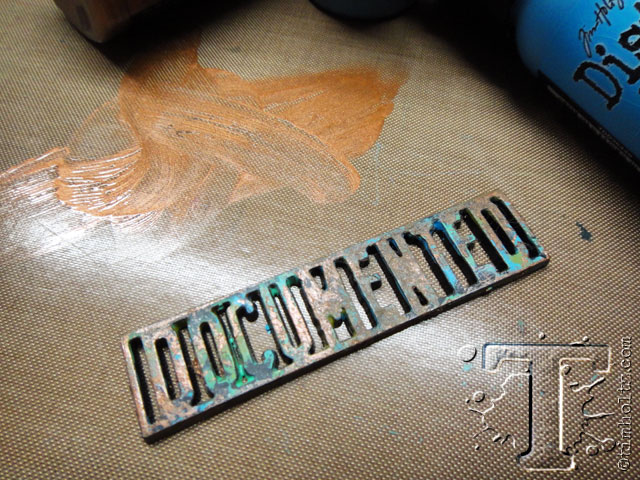 – follow the distress paint patina technique to alter the alpha part and create a worn effect.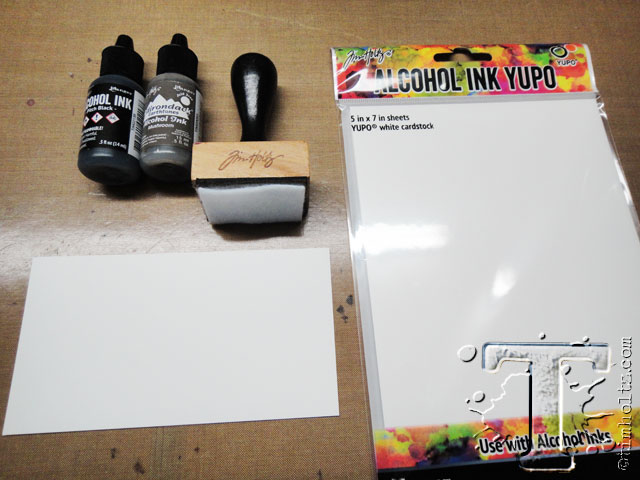 – for the next background, cut a piece of white yupo to fit the tag (approx. 2.75″ x 5″) and gather your alcohol inks and ink applicator tool.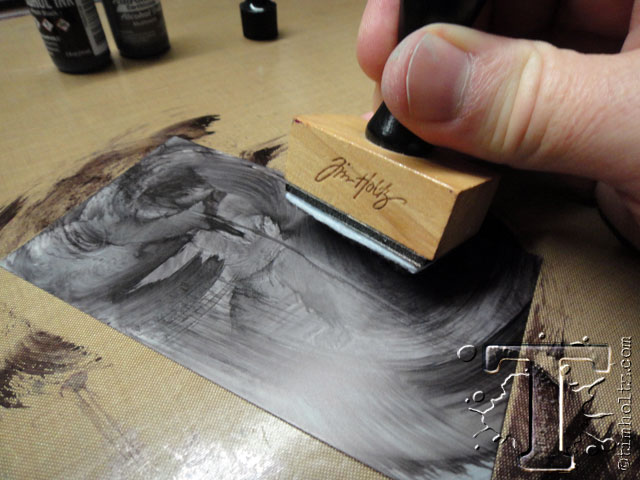 – apply both colors of alcohol ink to the felt on your ink applicator and wipe the inked tool over one side of the yupo covering it completely with this mixture of color. note: you can use either side of yupo.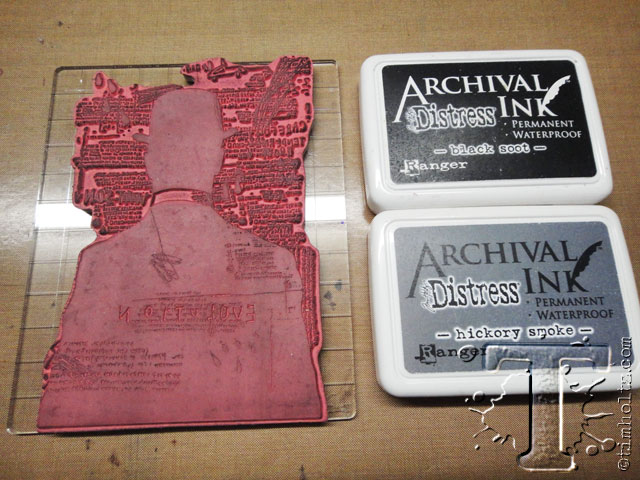 – next select your stamp image and archival ink. i created my own distress archival ink pads using the reinkers for the distress archival mixed-media palette and the archival DIY pad. note: you can download the customer labels here.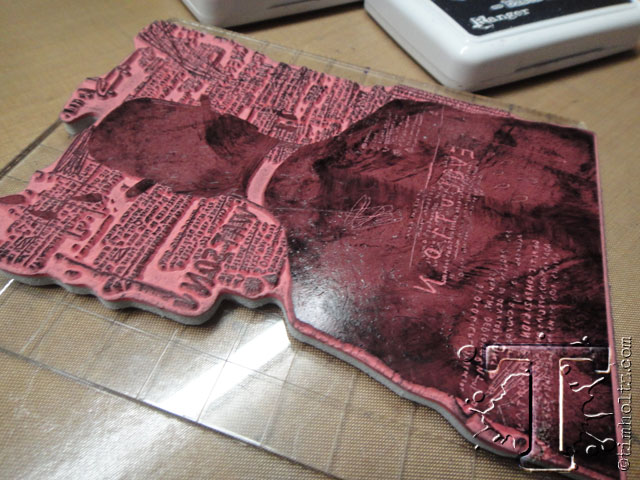 – ink your stamp with both colors of ink since it will affect the way the resist appears.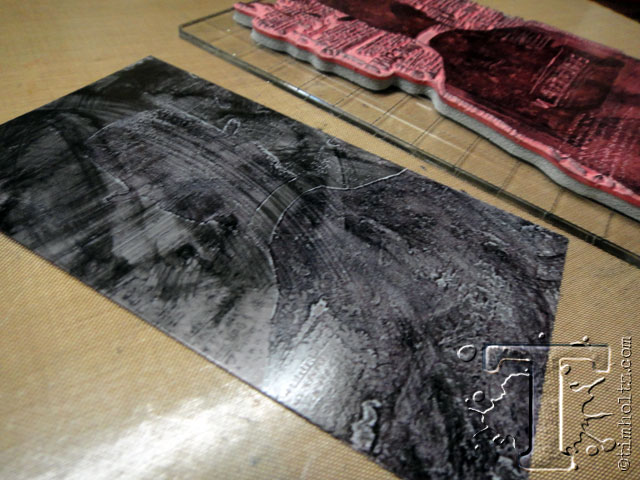 – stamp the image over your inked background (you can see the subtle stamped outline in the photo).
– immediately wipe the stamped image off the yupo using a soft cloth. be sure to continue using clean areas of the cloth to avoid smearing the excess archival ink around.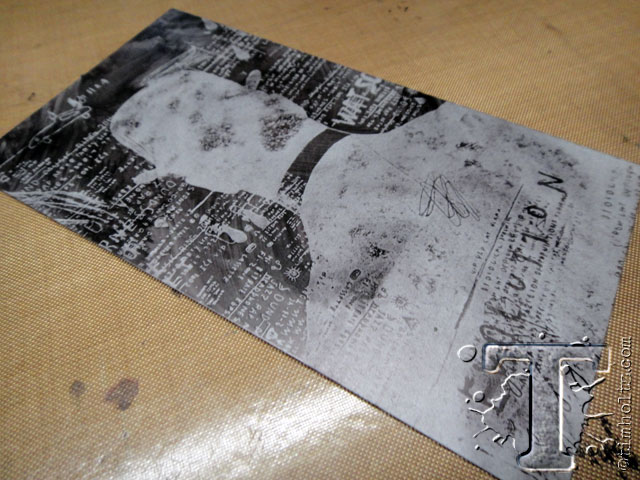 – check out this cool resist – hello yupo!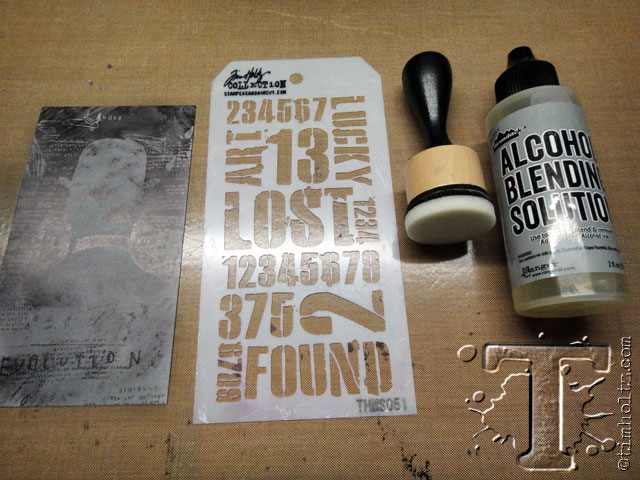 – for this next resist we are following the technique linked above, but with yupo it is so much easier and more intense.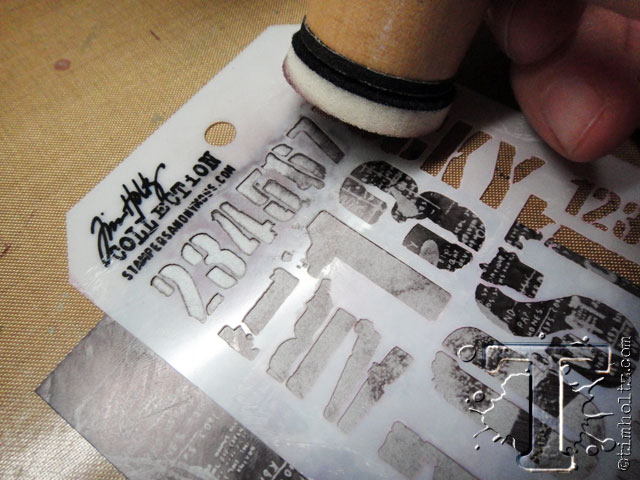 – remember to use smaller designed stencils for this since we are doing this over a resisted background.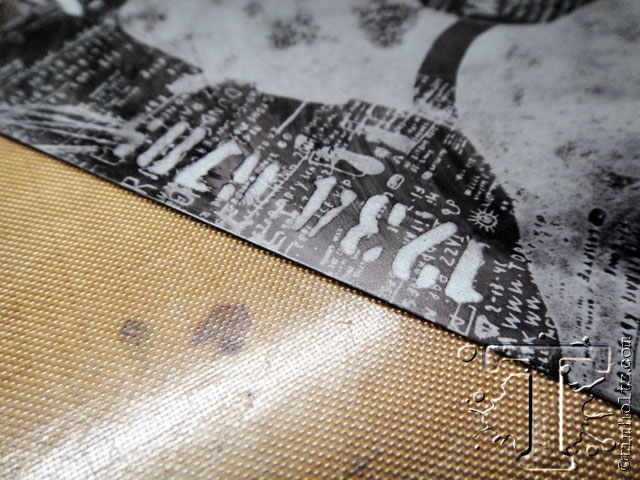 – another amazing resist right?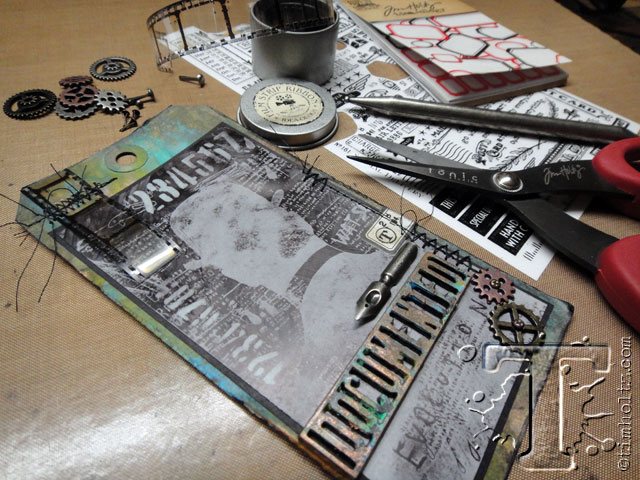 – adhere your yupo background to the tag (i prefer the mega runner from xyron) and embellish using various elements.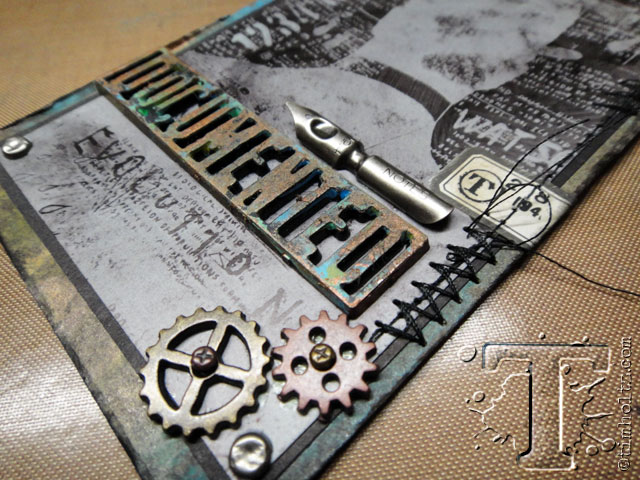 – the details: adding various steampunk inspired embellishments really gives this tag an industrial look.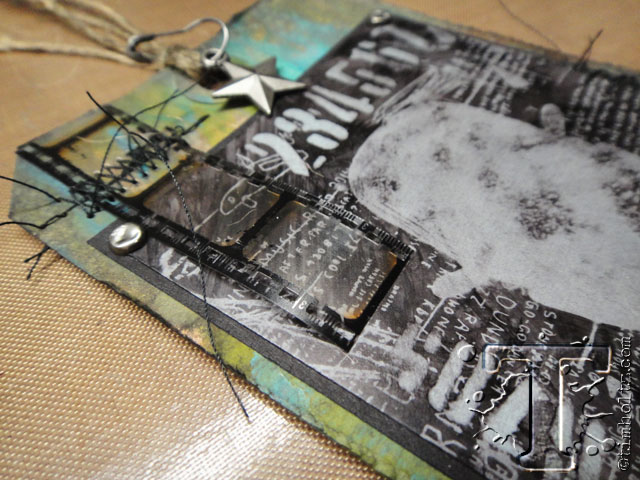 – the details: the contrast of the dark alcohol ink background against the colorful patina makes this a perfect technique remix.
congrats to the winners from the august 12 tags of 2016.  if you see your name (and it links to your tag), please email mario@timholtz.com to claim your prize…
1. Mona Pendleton
2. Lynn Copas
3. Inksplatters
4. Cathy P.
5. Brita
6. Pat's Place
7. marianneskortdager
8. Elisabetta
9. Carole Dion
10. Mary M.
11. Sarah
12. Brandy
*be sure to check your local stores for these supplies, or click on the links below to purchase online from Simon Says Stamp with a discount of 10% off your purchase – use code: 10SEPTEMBERTH9