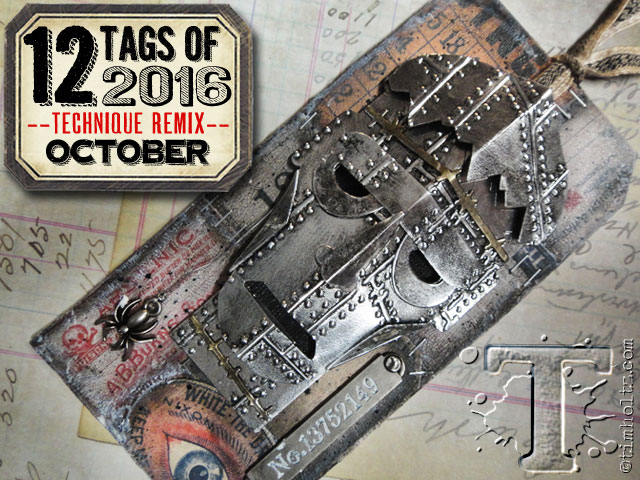 it's halloween time so this month i've decided to conjure up some creativity with a few new tricks!  we'll start by creating a collage of curiosities using the new distress collage crazing medium colored with distress crayons for a ghoulish grunge.  next we'll construct a monsterous masterpiece with an industrious incantation to frighten the most faint of heart.  so get ready to work your own artful magic and cast a spell spectacular on this month's 12 tags technique remix…t!m

supplies:
surfaces: metal foil tape, cardstock, manila tag
crayons: distress crayons/walnut stain/black soot/picket fence
paint: distress paint/black soot/tarnished brass
adhesives: distress collage medium/crazing, scotch quick-dry, black foam tape
embellishments: ephemera/curiosities, adornments/wicked, word bands/incantation
tools: distress collage brush, distress splatter brush, craft sheet, scissors, tiny attacher, paint brush, craft pick, vagabond
dies/folders: thinlits monster, rivet texture fade
misc: wire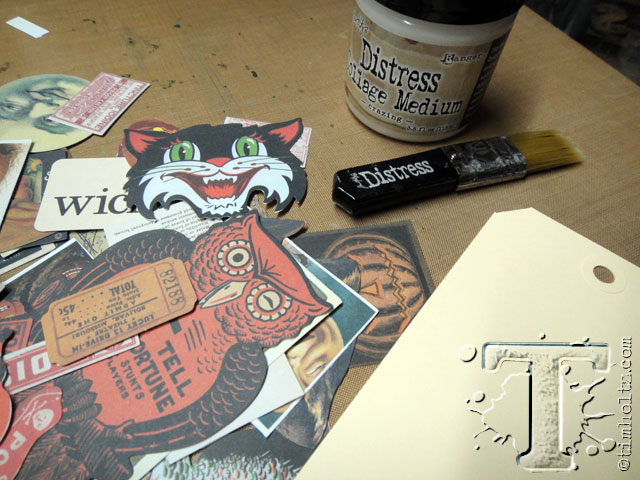 – follow the patchwork technique linked above using distress collage medium/crazing, distress collage brush, and halloween ephemera to create a background on a tag.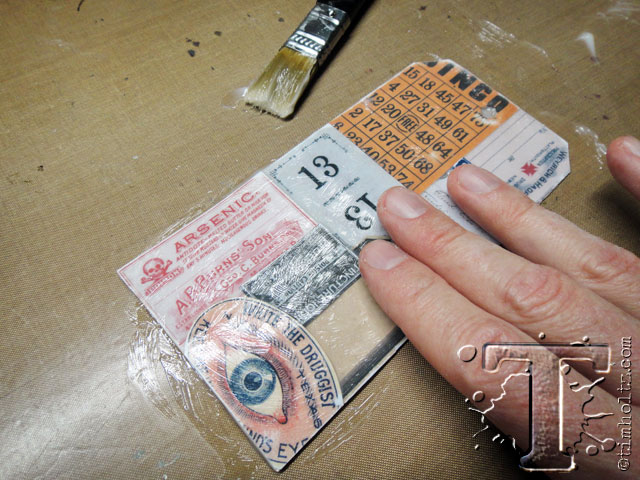 – cover tag with a layer of distress collage medium/crazing and rub around with your fingers. note: it's important to add a wet enough layer of crazing in order for it to work and using your fingers let's you feel that you have enough medium on the surface. your fingers should be able to slide across the surface as your spread it out. if your fingers don't glide, you don't have enough medium on. once the surface is covered set aside to air dry until crazing appears.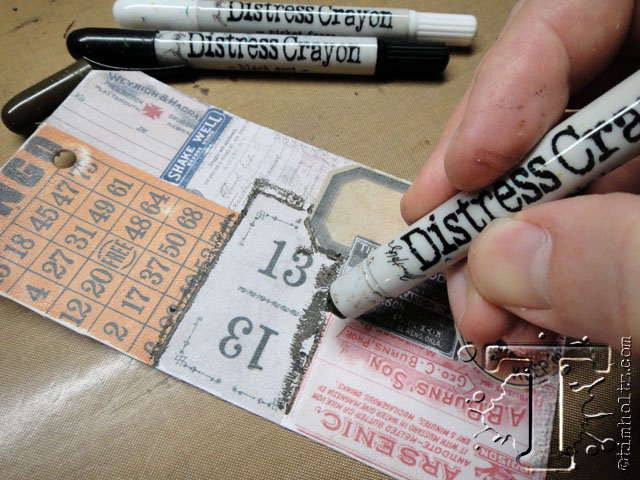 – to grunge the ephemera and crazing,  draw a heavy line with a distress crayon along the edge an ephemera piece working one section at a time.
– immediately smudge and rub the crayon line to work the color into the crazing and highlight the seams.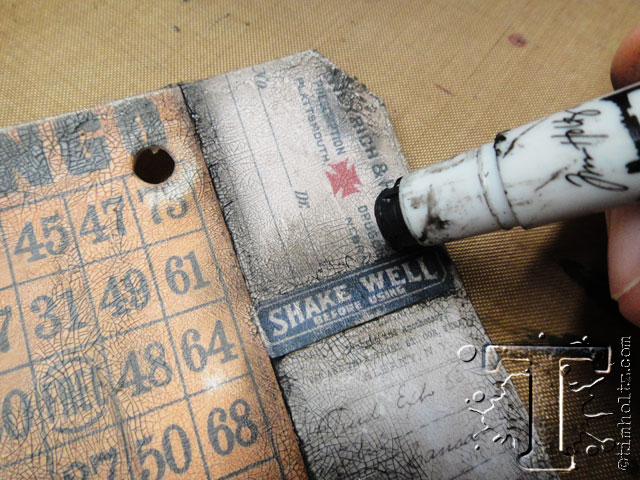 – continue adding shadows with darker tones of distress crayons and rub the color in with your fingers.  if you get too much color, simply wipe it off with a damp paper towel or baby wipe.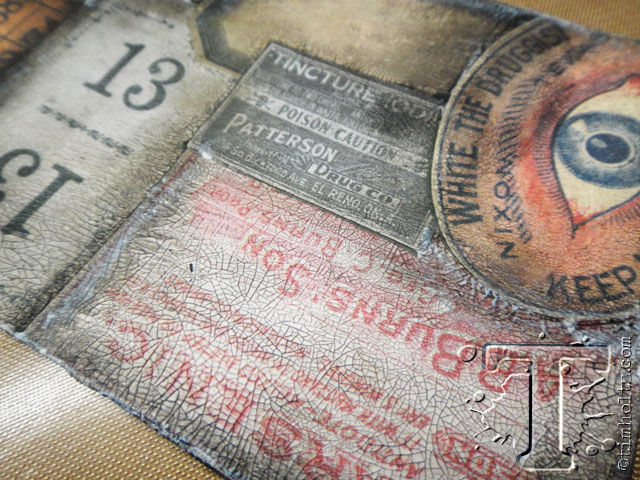 – to add a ghostly highlight, quickly sketch across the ephemera seams with picket fence (white) distress crayon and do not smudge, just let it dry.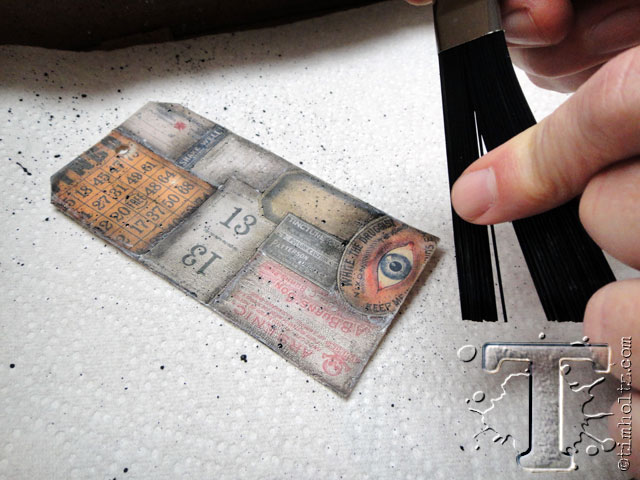 – apply distress paint to craft sheet and pick up paint using splatter brush. angle the brush toward your tag and pull bristles back slowly releasing them to splatter paint on to the surface.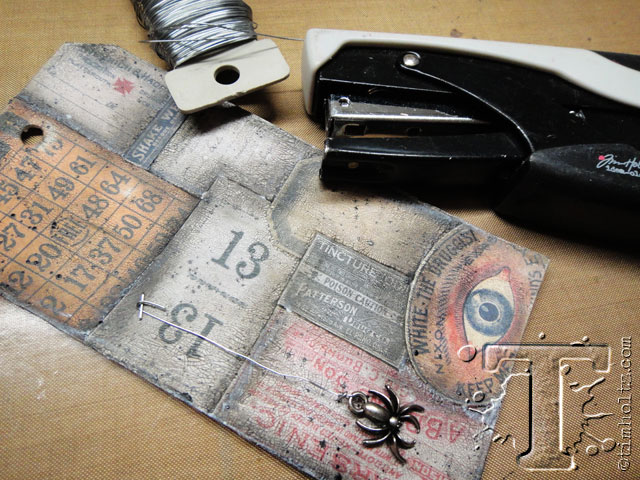 – attach a spider adornment to a think piece of wire and secure wire to the tag using a tiny attacher (as shown).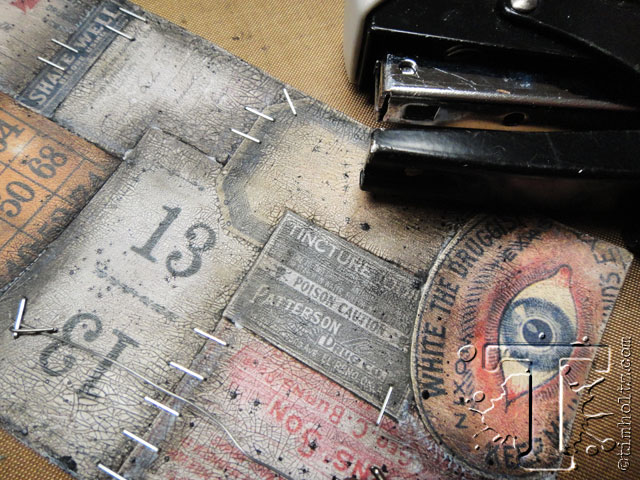 – create metal stitches along the seams of the ephemera using the tiny attacher.


– i am so excited sizzix brought these monster dies back for their FINAL season and with a new lower retail of only $19.99! be sure to get them while supplies last because they will NOT be returning next year – once they are gone, they're gone for good…
– follow the monster cutting instructions linked above. i was inspired by emma williams monster she did using cardstock covered in metal foil tape, so i thought i would give it a more industrial look.
– emboss the face, hair, brow, and neck using the rivet texture fade.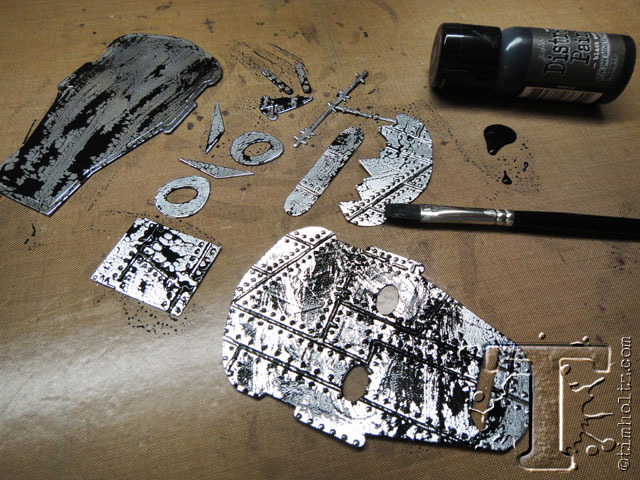 – paint all of the foil pieces with black distress paint.  note: distress paint is very fluid and will appear to bead up on the metal, don't worry just paint all of the pieces and let it dry for only a few minutes.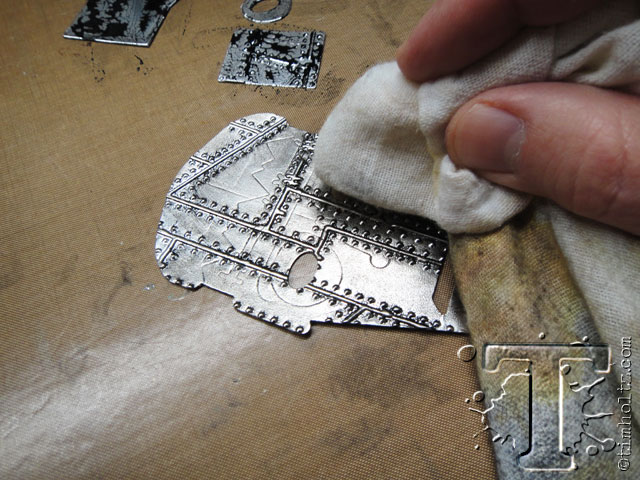 – once paint starts to feel tacky but not totally dry, start wiping it away using a soft cloth. note: a paper towel is too abrasive for this and will scratch the paint off.  a baby wipe is too wet for this and will wash the paint off.  if the paint tires completely you will not be able to remove any of it since distress paint adheres to metal.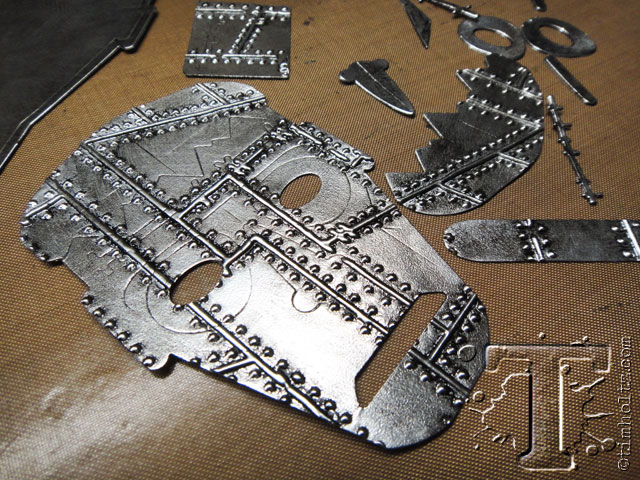 – once all of the pieces have been wiped, allow paint to dry completely or heat set to dry.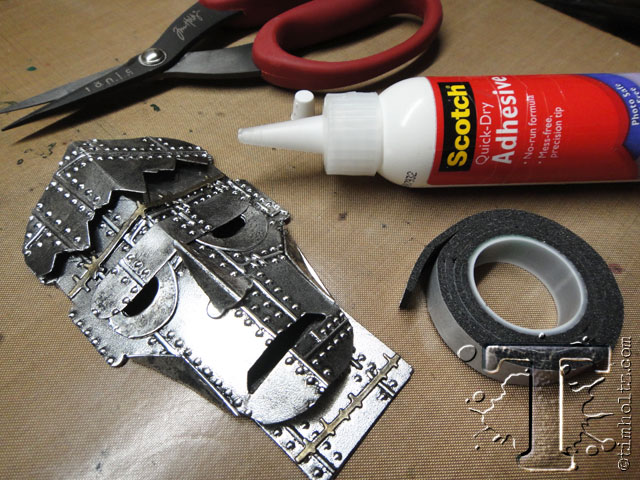 – follow the assembly instructions and assemble your monster. note: i like to work with a very quick drying adhesive for this that dries matte and not glossy.  i also used foam tape for the hair piece to add dimension.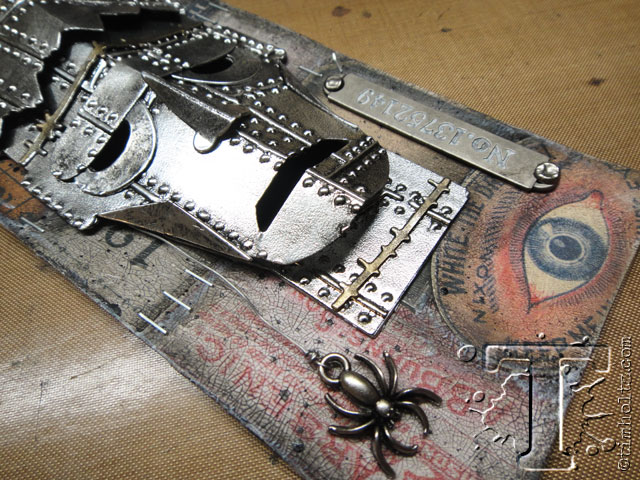 – the details: once the monster is adhered to the background, embellish as needed. i added a new word band of numbers from the incantation pack colored with distress crayons for a more vintage look.  if you're still not in "love" with these monsters, check out this blog post to see a softer side of them – remember this is your last chance to to get them.
congrats to the winners from the september 12 tags of 2016.  if you see your name (and it links to your tag), please email mario@timholtz.com to claim your prize…
1. Brenda Brown
2. Antonia
3. That Crazy Chick
4. Annie Claxton
5. Sabrina G
6. Sandra M
7. Charyns Corner
8. Curly Moon Crafts
9. Stampwilly Designs
10. Sarascloset
11. Mary Elizabeth
12. Sandy Diller
*be sure to check your local stores for these supplies, or click on the links below to purchase online from Simon Says Stamp with a discount of 10% off your purchase – use code: 10OCTOBERTH1