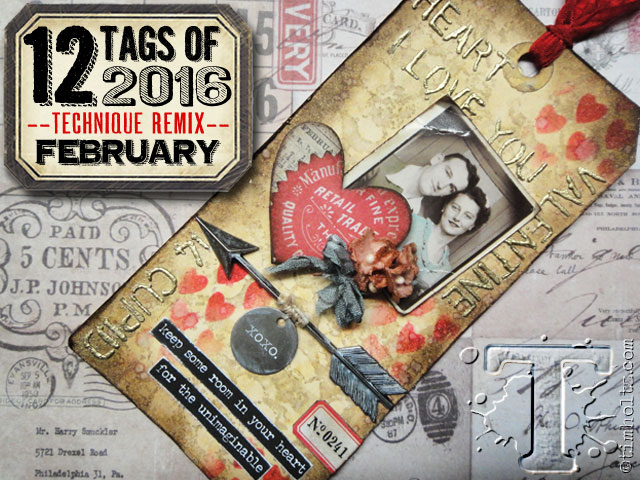 welcome to the second month of the 12 tags of 2016 – technique remix.  thank you for all of the great comments about this year's 12 tags remix concept.  it's definitely a great way to see techniques in new ways, and from the record breaking tag submissions (over 250 tags last month) it appears to have inspired many of you too.  the concept behind the "12 tags" is simply an opportunity to share and learn techniques – this isn't about tags specifically…it's about creating.  so remember, you don't need to make a tag to submit, make whatever type of project you like making.  whether you're a card maker, scrapbooker, mixed media artist, or if you just like making tags (like me), you can utilize these techniques to suit your creative style…
supplies:
surfaces: manila tag
inks: distress ink/candied apple/frayed burlap/walnut stain, distress stain/antique linen, distress spray stain/candied apple
markers: distress markers/broken china/peeled paint
embossing powder: princess gold
mediums: texture paste
embellishments: adornments/arrows, typed tokens, photobooth, vial labels, small talk stickers, remnant rubs, crinkle ribbon, ephemera/thrift shop
adhesives: foam tape, multi-medium/matte
tools: mini layering stencils/set #6, distress sprayer, sanding grip, heat tool, scissors, palette knife, mini ink blending tool, remnant rub tool
misc: string, paper flowers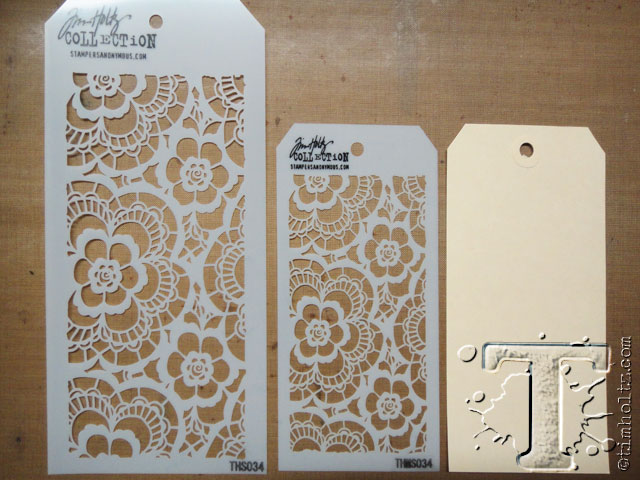 – both of the remix techniques this month use stencils and i'm excited to use the new mini layering stencils i released this year at cha with stampers anonymous.  i love working with my layering stencils, but i found that there were times i wanted/needed the design a smaller scale depending on the project i'm working on.  as you can see, the new mini layering stencils are about 40% smaller than the original ones – the perfect size for tags, cards, pocket pages, etc.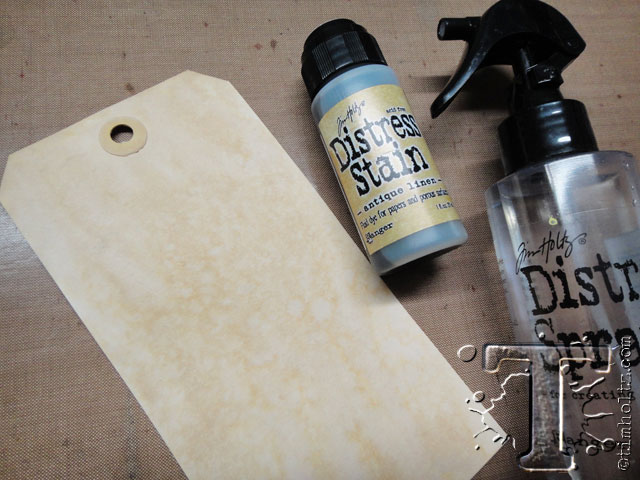 – instead of working with a plain background like i did in the original tutorial, i stained the tag with distress stain, a spritz of water from the distress sprayer, and dried with a heat tool.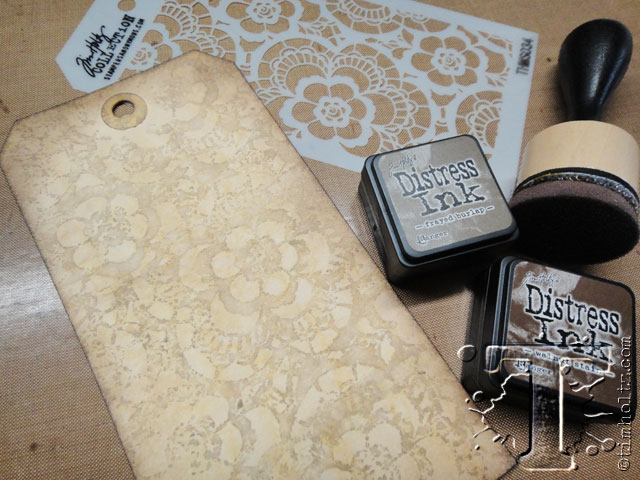 – following the monoprint technique, i used frayed burlap on the mini lace stencil, and printed horizontally three individual times (reinking each time) to create the background.  next i inked the edges of the tag with walnut stain distress ink using a mini ink blending tool.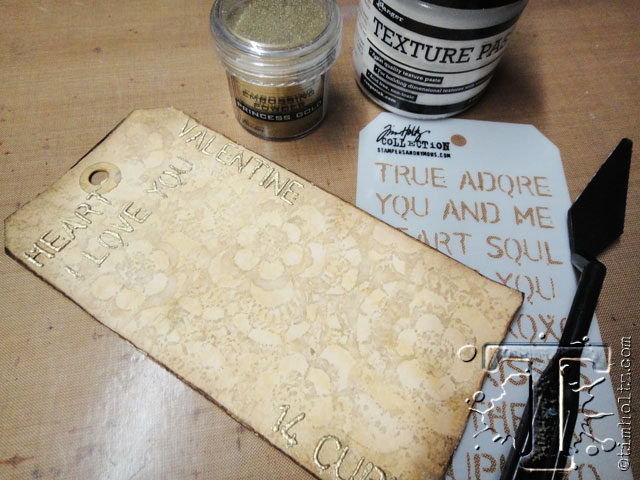 – following the embossed texture past technique, i applied texture paste through the mini valentine words stencil in a few areas to add a metallic texture to the background.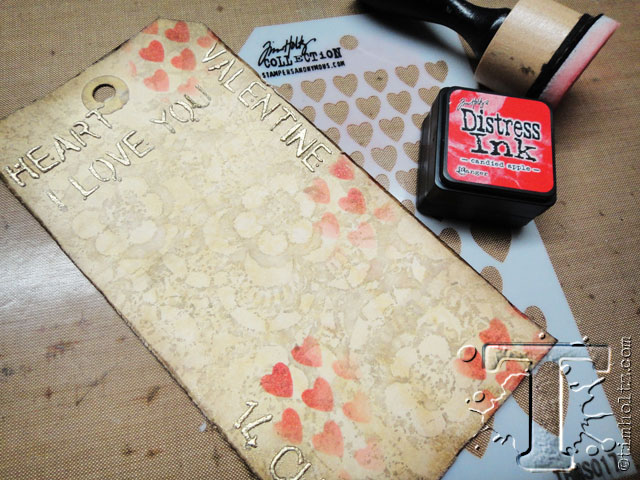 – next i inked through the mini hearts stencil with candied apple distress (the perfect red) using a mini ink blending tool.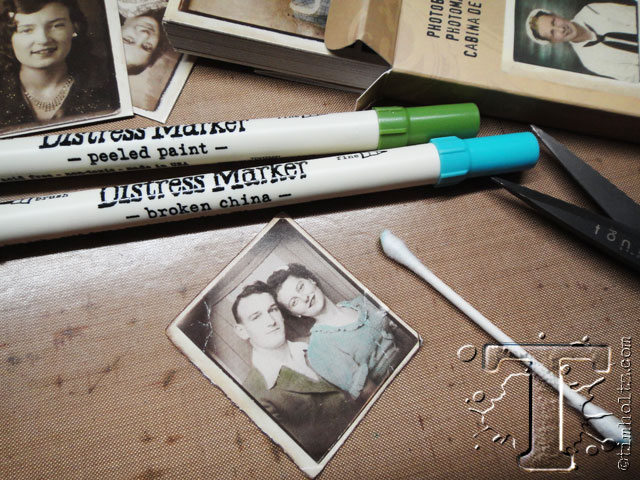 – tinting photobooth or found relatives with distress markers is easy.  just apply the marker directly to the photo and blend the color using a cotton swab.  for added authenticity, bend fold, and crease various areas of the photo.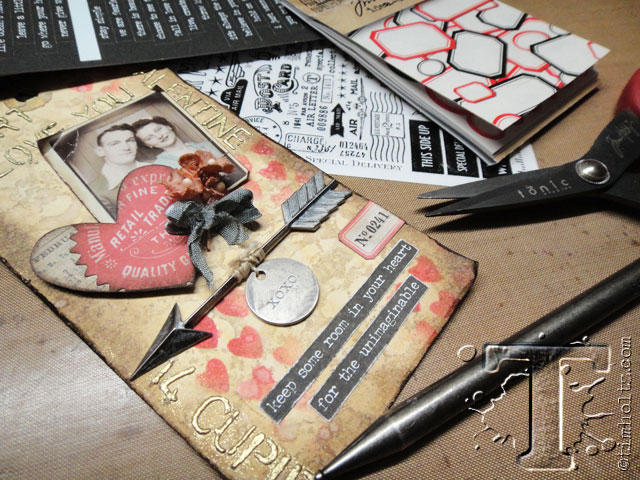 – to embellish the tag i started by adhering the photobooth photo, layered it with an ephemera heart (i just die cut a heart, glued ephemera over it, trimmed off the excess).  next i added an adornment arrow with a typed token tied to it with string, and added a quote from small talk scuffing the edges of the sticker with a sanding grip. finally for a touch of vintage detail i adhered a small vial label folded off the edge accented with a remnant rub.  embellishing is where you can let your creative personality shine so have fun creating your own "12 tags remix" this month…t!m
congrats to the winners from the january 12 tags of 2016.  if you see your name (and it links to your tag), please email mario@timholtz.com to claim your prize…
1. Carmen C
2. Amy
3. Sammy Jean
4. Liz Russell
5. Nikki Acton
6. Catherine Cowels
7. Plays Well with Paper
8. Lo Shakerato Alberto
9. K Jacobson
10. ScrappyMum
11. Mo Stokes
12. Sylvia
*be sure to check your local stores for these supplies, or click on the links below to purchase online from Simon Says Stamp with a discount of 10% off your purchase – use code: 10FEBRUARYTH