well we did it! a whole year of technique remixes reminding us once again that techniques are truly timeless.  i wanted to share my initial post from january when it all started…
"happy 2016!  as we embark on a new year, many of us set new goals, plan new adventures, and like any creative person, seek new ideas (after all it's those ideas that drive our passion for making things).  so as i sit here in my studio knowing it was the first day of the month when i usually post a new tag, i started looking back through my previous "12 tags".  it's hard to believe this will be the 10th year of doing "12 tags" on my blog?!  what started out as a way to share inspiration with "12 tags of christmas" back in 2007, turned into a monthly tag series in 2012, and the rest as they say, is history.   years of step by step photos, instructions, and videos shared on these tutorials reminded me of some favorite techniques that inspired me all over again.
i believe that when it comes to seeking new ideas, sometimes our creative focus is blurred by the products used like a specific stamp, die, embellishment or color of ink vs. the techniques being shared which is most important part of learning things.  as a designer it's a balance between the excitement of new products and remembering to use what we already have.  so i've decided to change things up with the "12 tags of 2016 – technique remix".
remix /rē'miks/: a piece of media which has been altered from its original state by adding, removing, and/or changing pieces of it.
i'm going to be taking you back into the archives of my blog to explore techniques that might be new discoveries for some, and re-discoveries for others.  each month i will be "remixing" two previous 12 tags techniques to show you an entirely different outcome using the same techniques.  i plan to highlight new ideas i may have, perhaps show a new product that might exist now to achieve a similar effect, or just helpful hints i've learned since i originally shared the technique.  my goal is to empower your creative way of thinking and remind you that inspiration is right at your fingertips…"
for our final tag i wanted to create a festive holiday remix!
i hope you've enjoyed creating these tags as much as i've enjoyed sharing them through the years.  may this magical time of year capture your childlike imagination, and the spirit of the season fill your hearts with creative wonder & hope…t!m

supplies:
surfaces: #8 tag, textile surfaces/burlap, paper stash/tidings, chipboard, kraft core/asst. green
ink: distress ink/walnut stain, distress embossing ink, distress spray stain/fired brick
paint: distress paint/picket fence
embossing powder: princess gold
embellishments: wishbone, typed tokens/christmas, vial labels, remnant rubs, adornments/arrows, jingle brads, star fasteners, jute string/christmas, mirrored star
stencil: layering stencil/dots
tools: mini brayer, heat tool, craft pick, remnant rub tool, sanding grip, mini snips, mini ink blending tool, distress splatter brush, hot glue gun
sizzix: shadowpress/christmas, shadowpress station, vagabond, punches/pine/juniper/holly/laurel
misc: sewing machine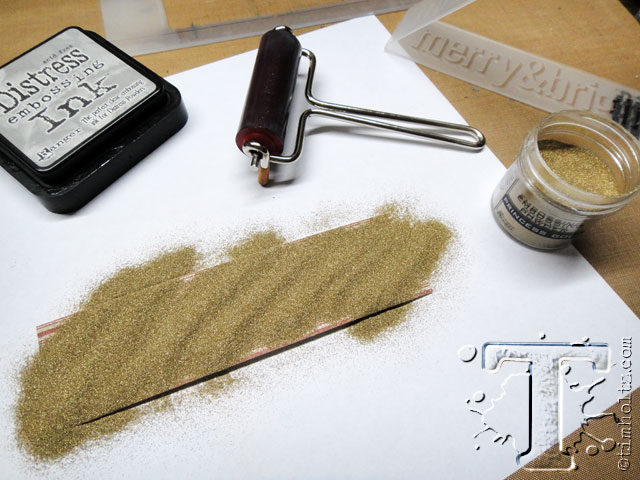 –  follow the steps from the may 2014 tag linked above to create a shadowpress word, but this time using the shadowpress station (shown in the video below) with embossing ink vs. black ink.  cover the embossed word with gold embossing powder as soon as you've embossed it through your machine.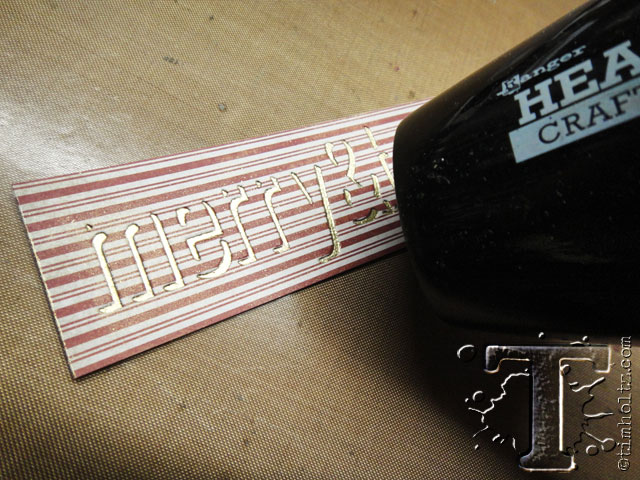 – heat emboss using a heat tool to melt the powder filling the debossed drop-shadow with enamel.  you can try this with various colors of embossing ink for different effects, pretty neat right?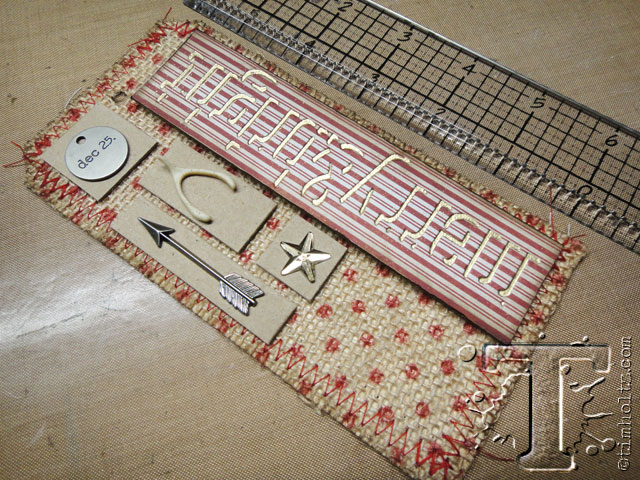 – select your favorite festive elements and create "tiles" by cutting various sized chipboard pieces to fit each one.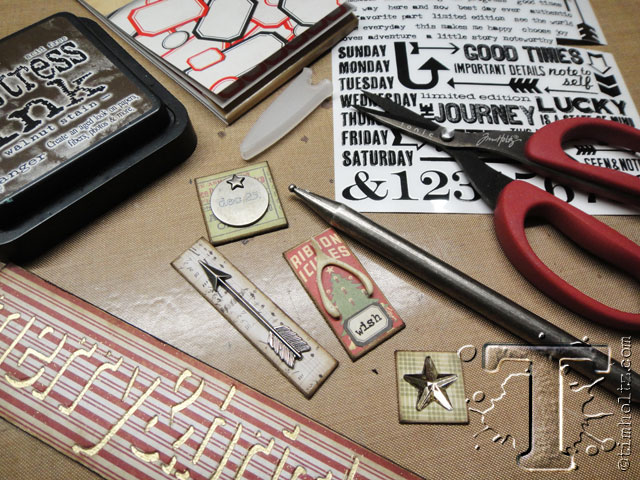 – sand the edges of each tile and ink with distress ink using a mini blending tool.  secure each embellishment to the tile using a liquid adhesive.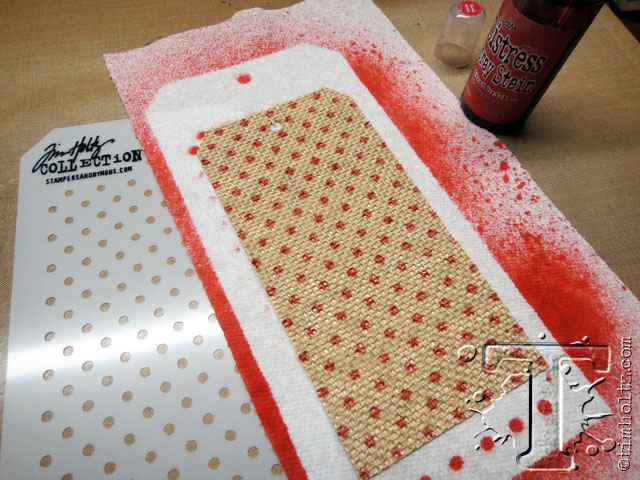 – follow the steps from the december 2015 tag linked above to create a patterned burlap background using distress spray stain and a layering stencil.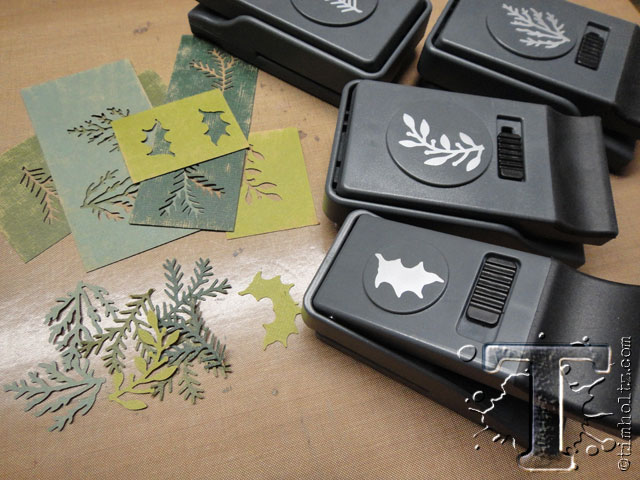 – sand pieces of kraft core and punch various holiday greens.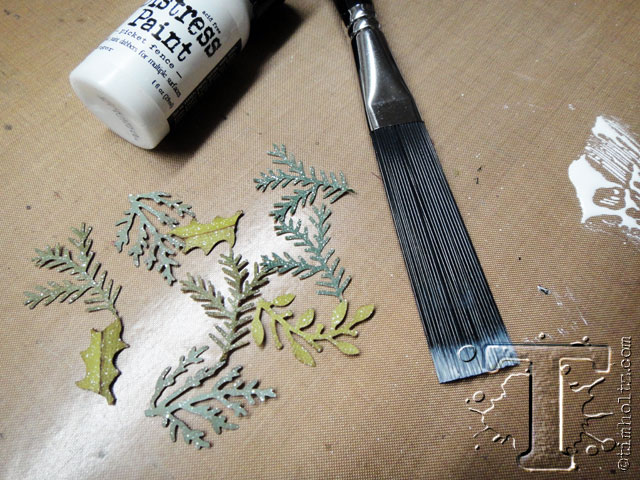 – ink the edges with distress ink using a mini blending tool and splatter with picket fence distress paint and splatter brush.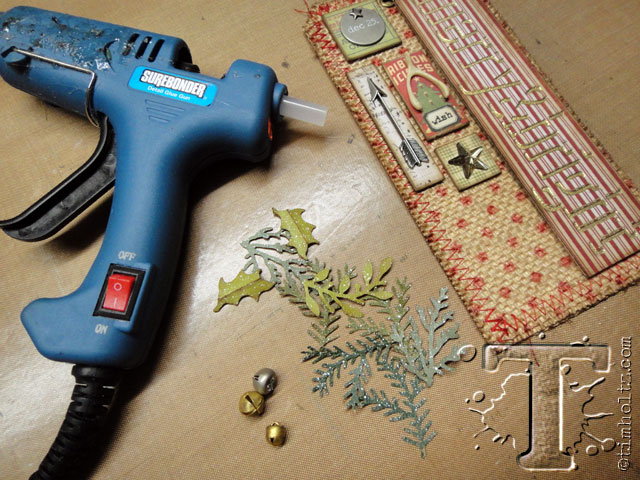 – assemble the tag by adhering the tiles with hot glue.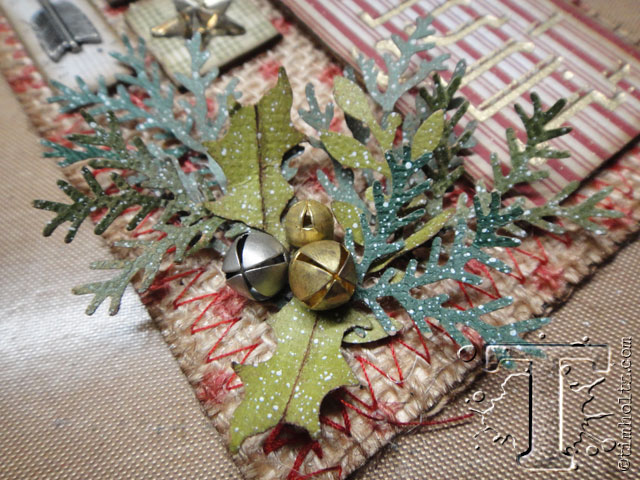 – adhere the punched holiday greens with hot glue and finish with jingle brads.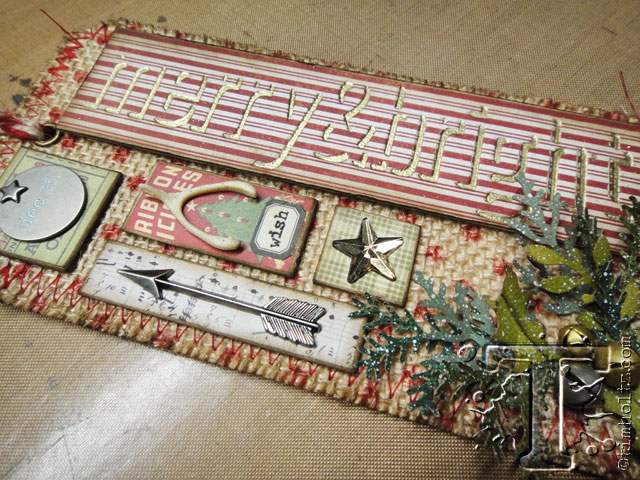 – the details: the metallic embossed shadowpress adds a classic accent without overpowering the tag.  each trinket captures a bit of holiday magic then finished off with a cluster of festive greenery.
congrats to the winners from the november 12 tags of 2016!!!
if you see your name (and it links to your tag), please email mario@timholtz.com to claim your prize…
1. Anita H
2. Kath Stewart
3. MartyF
4. Jojos Whimsy
5. Criarte
6. Hanifa Scraps
7. Valerie A
8. Melissa S
9. WG Burgoyne
10. Margikscrap
11. Terrie
12. Laurie Y
*be sure to check your local stores for these supplies, or click on the links below to purchase online from Simon Says Stamp with a discount of 10% off your purchase – use code: 10DECEMBERTH1