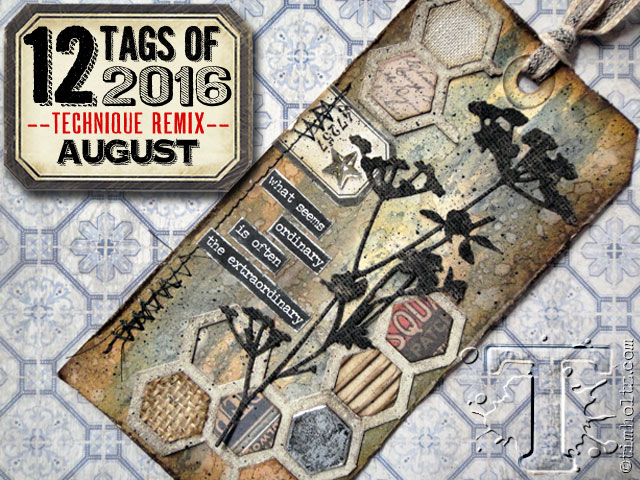 the beginning of this year i made a list randomly choosing 2 different techniques from previous 12 tags to remix together.  some techniques were done months apart while others years apart.  having no clue what i would make of the collaboration, i'm fascinated by the unexpected outcome of creative harmony. this month's tag is a reminder of embracing the unexpected with the words "what seems ordinary is often the extraordinary". i hope you are enjoying this process of discovering the ability to see things in new creative ways…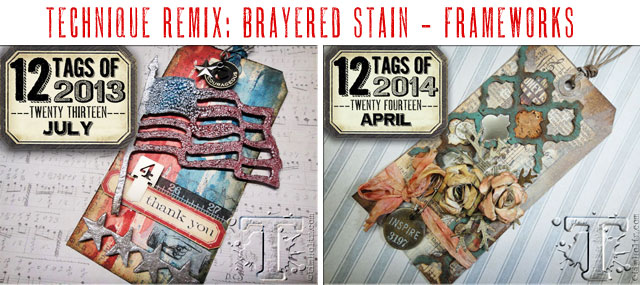 supplies:
surfaces: #8 manila tag, black cardstock, textile surfaces, textured surfaces, grungepaper, ephemera
inks: distress stain/stormy sky, distress ink/walnut stain/brushed corduroy
paint: distress paint/antique linen/black soot
mediums: multi-medium/matte
embellishments: mirrored star, small talk stickers, remnant rubs, vial labels
dies: thinlit wildflowers, frameworks honeycomb, vagabond
tools: mini brayer, distress sprayer, paper distresser, mini ink blending tool, craft sheet, heat tool, sanding grip
misc: sewing machine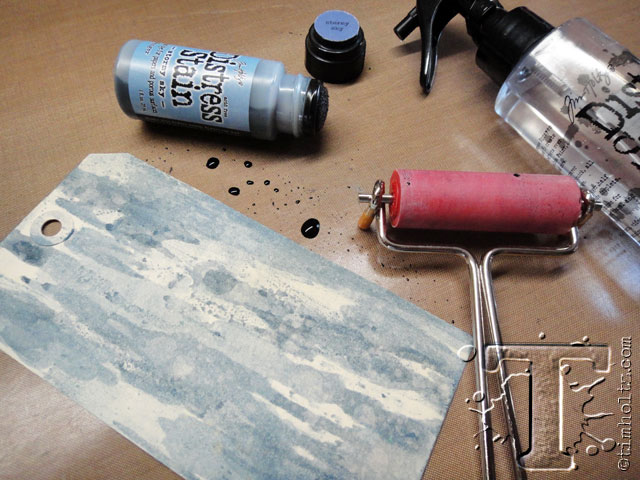 – i went for a simple color palette of distress stain following the july 2013 technique, and spritzed water to blend the color creating various tones.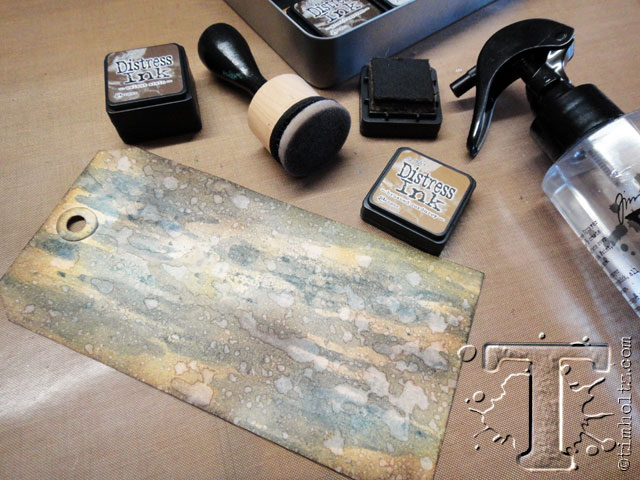 – once the first layer was dried with a heat tool, i applied a couple of shades of brown distress ink using a mini blending tool and then spritzed water again to create droplets.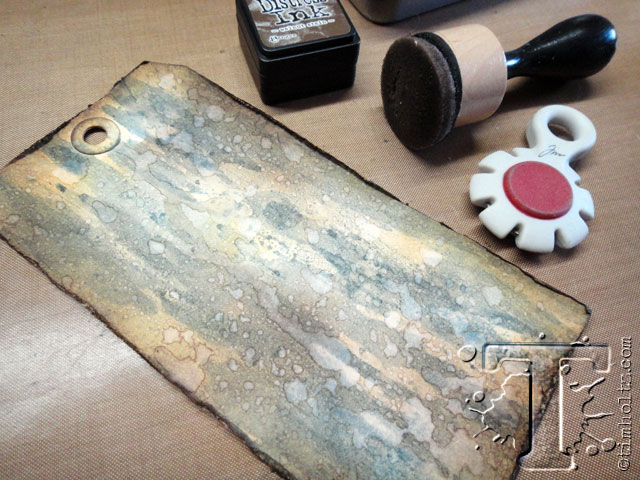 – distress the edges of the tag using a paper distress and add a final layer of distress ink to the edges. i really love the effect of this weathered background.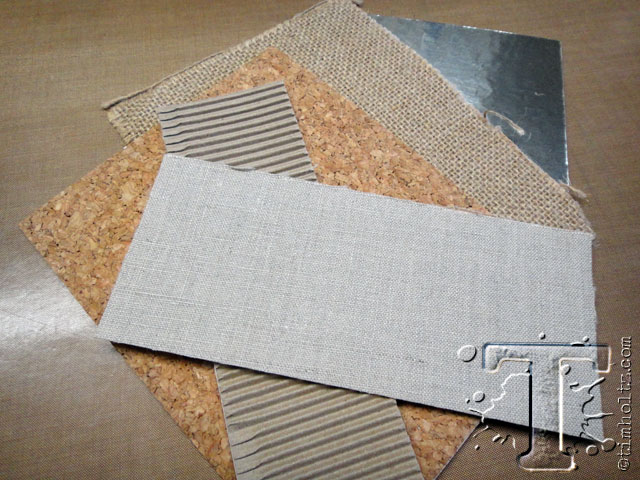 – select a variety of textures for the inside pieces of the frameworks and cut them out. i used textile surfaces, textured surfaces, and mirrored for this.
– i die-cut my honeycomb frameworks from grungepaper and painted with a light layer of distress paint. i then sanded the paint and inked it before cutting it into 3 pieces.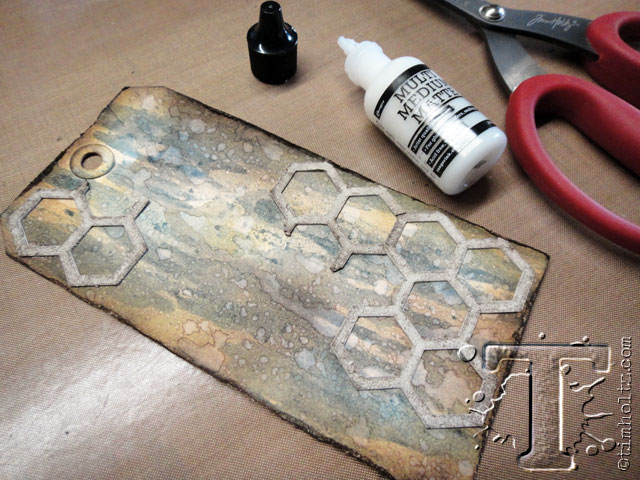 – adhere the frameworks to the tag to create your own pattern.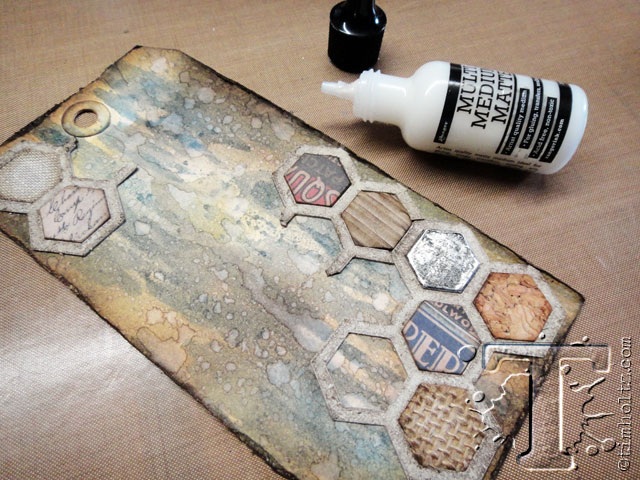 – adhere the tiled pieces into the framework as you like.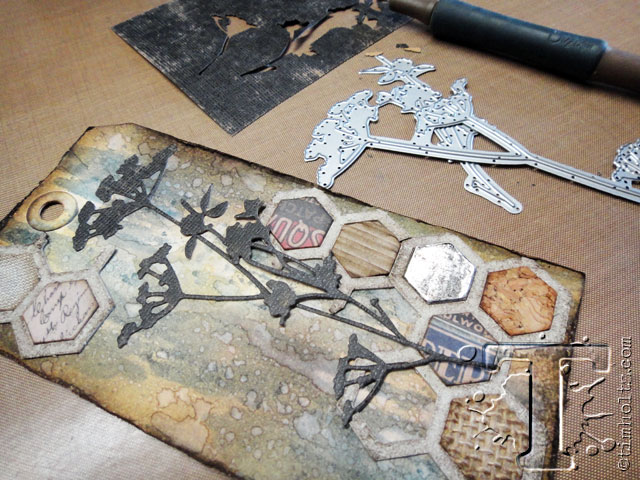 – die-cut the wildflowers from black cardstock to create a contrasting silhouette and adhere to the tag.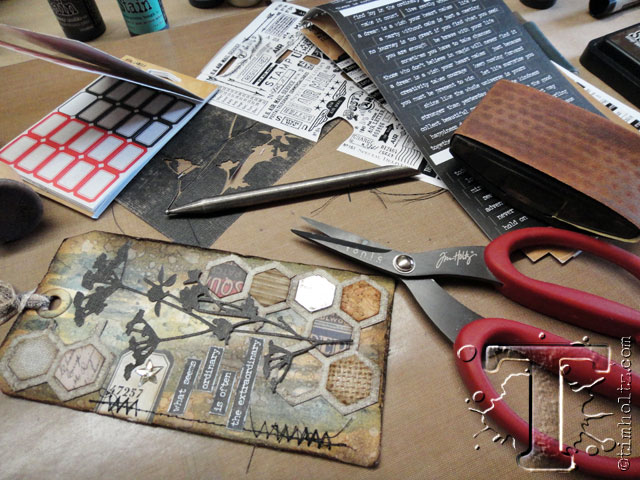 – embellish with a few elements like small talk stickers, vial labels, mirrored star, and remnant rubs.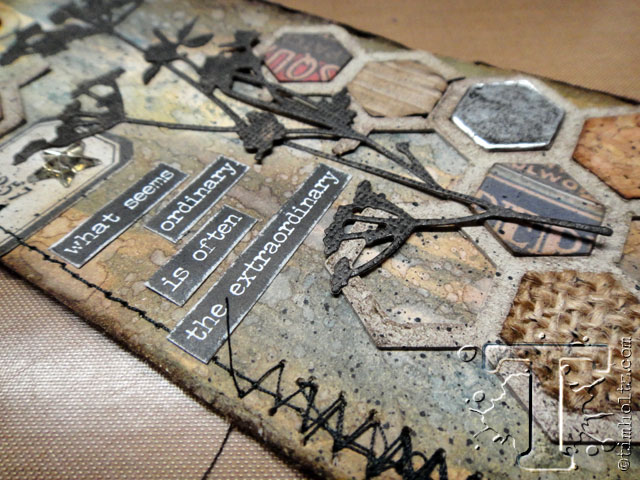 – the details: i love the effect combining the fluid wash of the brayered stain with the geometric design of frameworks. the combination of both techniques provide the perfect way to incorporate various textures and embellishments. the finishing touch was stitching around the edges, and splattering black paint to highlight the flowers – "extraordinary" indeed… t!m
congrats to the winners from the july 12 tags of 2016.  if you see your name (and it links to your tag), please email mario@timholtz.com to claim your prize…
1. Deb L
2. Julia
3. Karen D
4. Danee K
5. Discover the Wonder
6. Inky splatters
7. Kriss D
8. Ink-a-pink
9. Tonya D
10. Christina S
11. Lynn
12. Mo Stokes
*be sure to check your local stores for these supplies, or click on the links below to purchase online from Simon Says Stamp with a discount of 10% off your purchase – use code: 10AUGUSTTH8