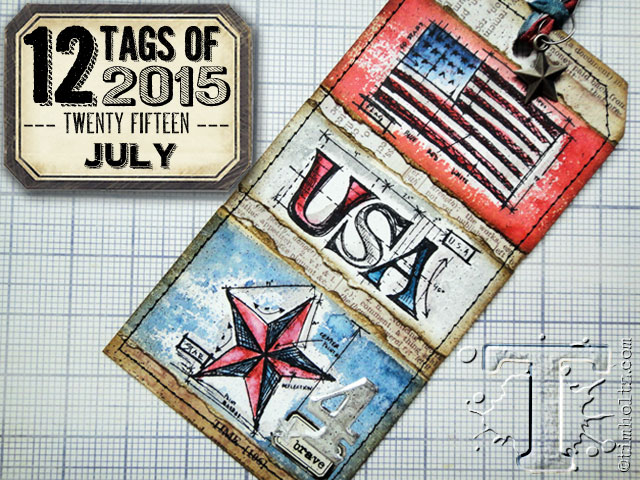 ahh summer…the longer days, hot weather, vacation adventures, and celebrations we have this time of year.  the 4th of july holiday is one of my favorites and a time to show gratitude for this country and embrace the celebration of our independence day.  it was certainly my inspiration for this month's tag, and i love that creativity gives us the opportunity to express ourselves in such unique ways.  i hope you take some time this month to do something creative with whatever inspires you.  after all, that's what makes the world we live in so amazing…t!m
supplies:
surfaces: #8 manila tag, distress watercolor cardstock, paper stash/lost & found

stamp: CMS146 or THMB006

embellishments: crinkle ribbon, loop pin, adornments/souvenir, mini numerals, mirrored star, vial label, remnant rubs/special delivery

distress ink: fired brick, faded jeans, hickory smoke

distress markers: fired brick, festive berries, chipped sapphire, faded jeans, pumice stone, black soot

distress paint: picket fence

inks: jet black archival ink

tools: distress micro-glaze, distress sprayer, distress marker spritzer, sanding grip, tonic shears, waterbrush/detailer, waterbrush/flat, heat tool, remnant rub tool, design ruler, mini ink blending tool, hole punch

adhesive: collage glue stick, matte multi-medium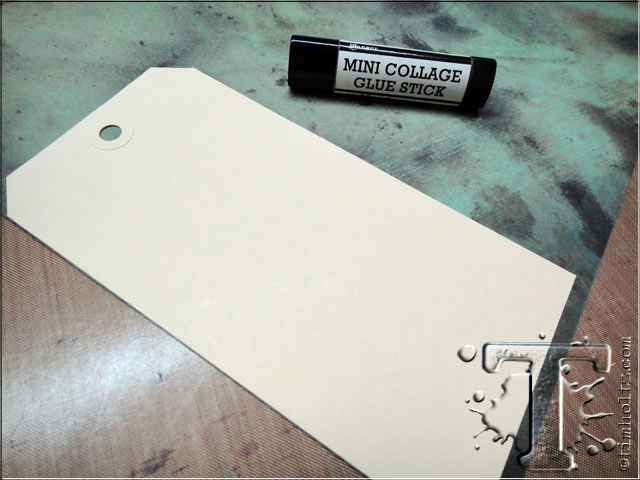 step 1: adhere a #8 tag to the back of patterned paper using a collage glue stick.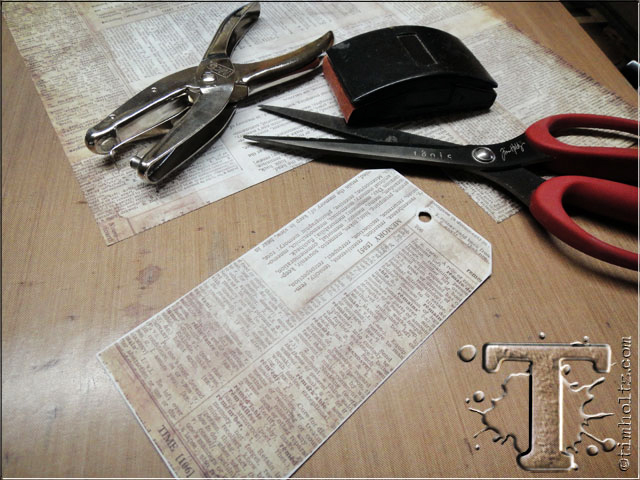 step 2: cut the tag out, punch a hole through the top, and sand the edges with a sanding grip to distress it.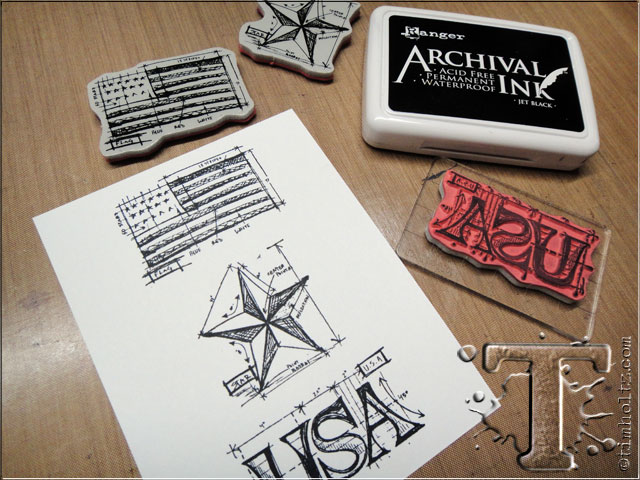 step 3: stamp the mini blueprint images on distress watercolor cardstock with archival ink.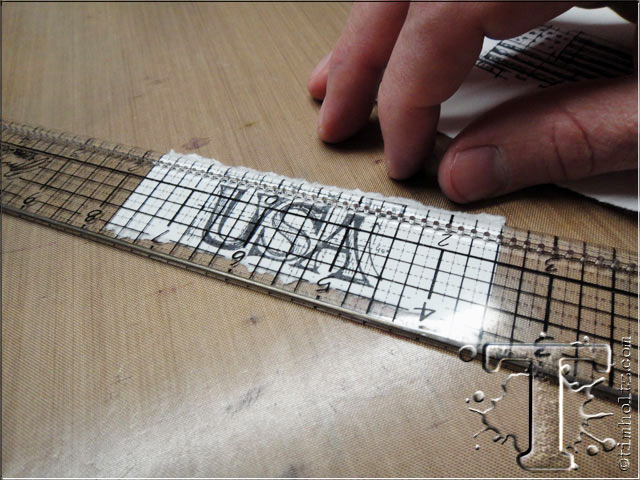 step 4: using the tapered edges of a design ruler, tear the top and bottom edges of each stamped image.
step 5: this is the tattered effect we are going for.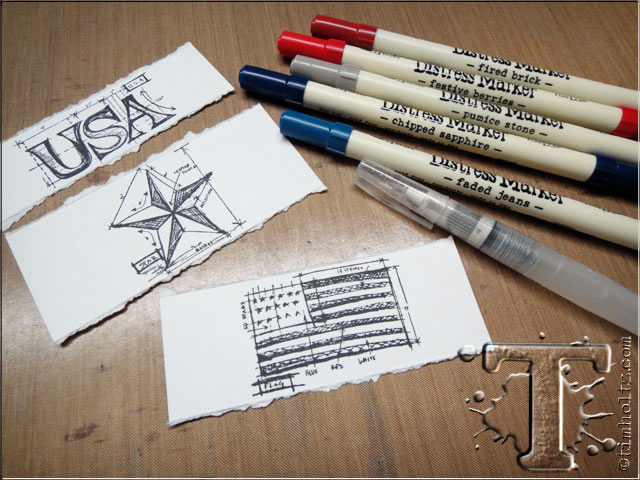 step 6: gather your colors of distress markers and detailer waterbrush.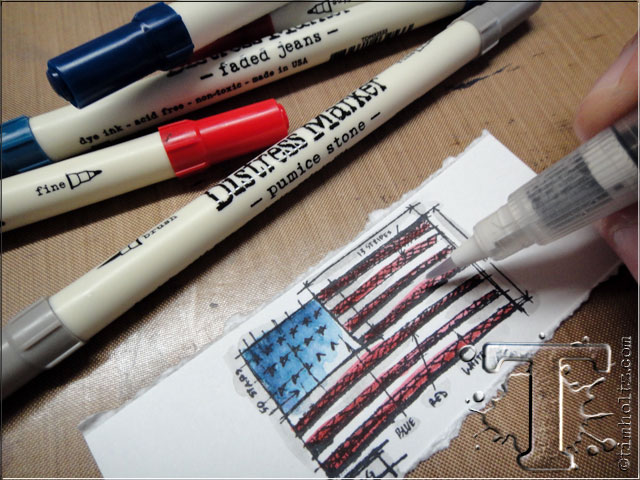 step 7: watercolor the stamped images by coloring directly on the image and blend with waterbrush.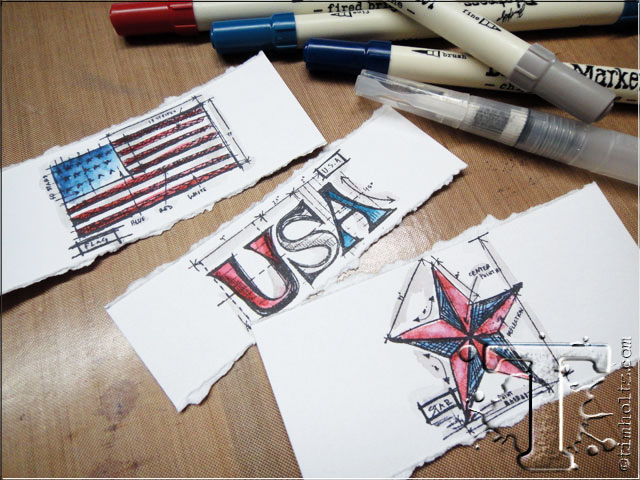 step 8: continue layering and watercoloring all images and dry with a heat tool.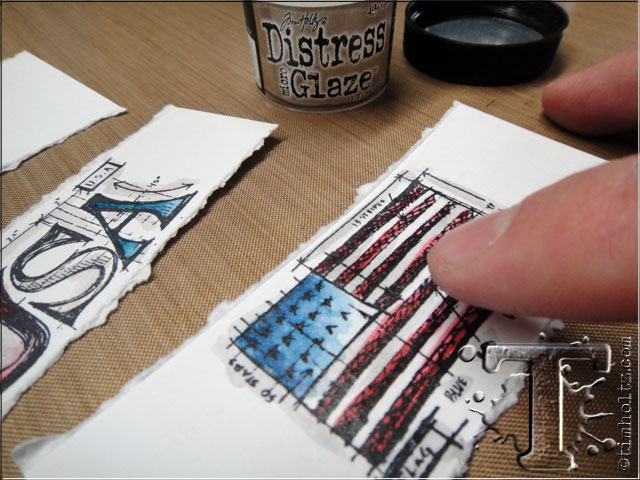 step 9: apply a small amount of distress micro-glaze over all colored images using your finger.
*check out the distress micro-glaze video here… https://www.youtube.com/watch?v=EoRdB28ST9I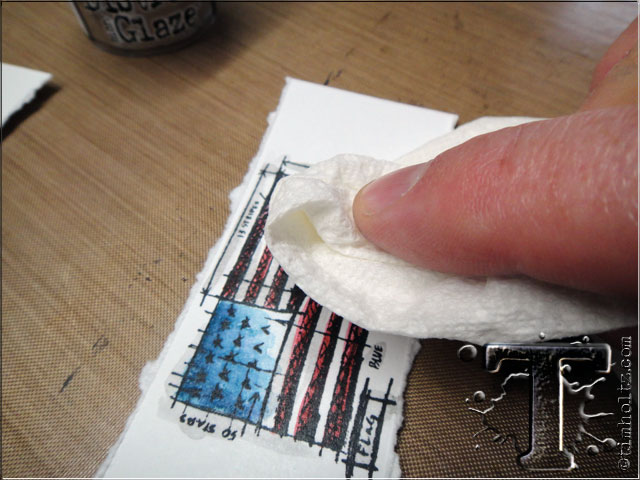 step 10: buff off the excess distress micro-glaze with a dry paper towel.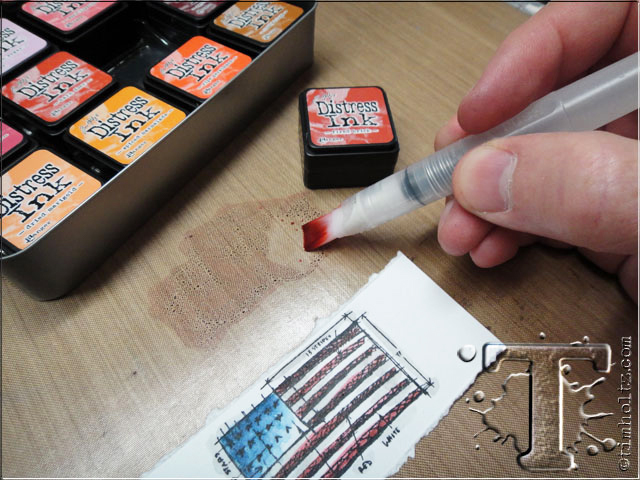 step 11: apply fired brick distress ink or stain to craft sheet and pick up color with a flat waterbrush.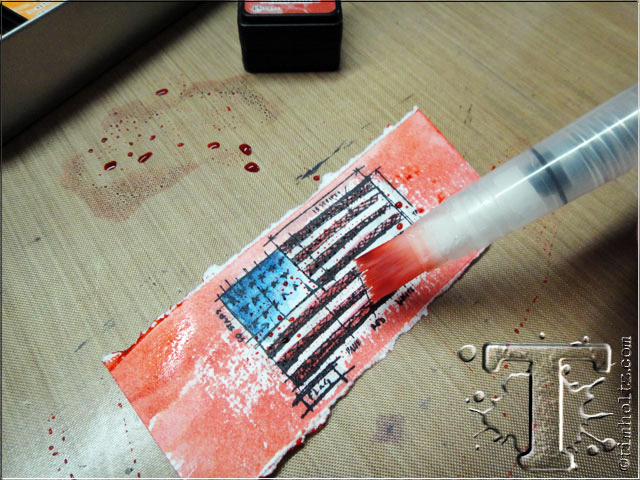 step 12: watercolor directly over the entire image. note: the distress micro-glaze seals the colored image creating a resist.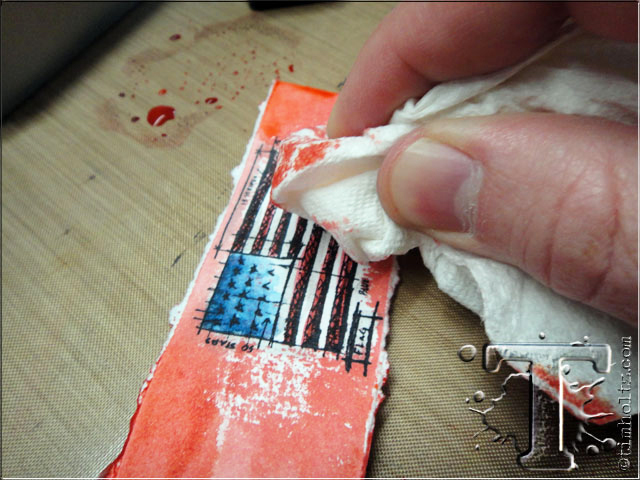 step 13: blot off the excess ink over stamped image.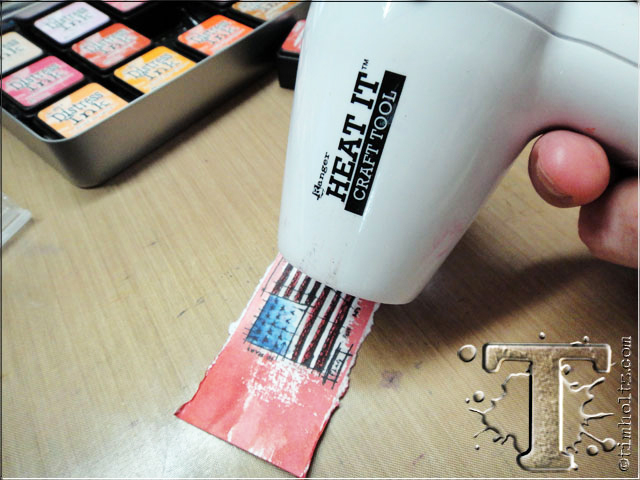 step 14: dry watercolored background with a heat tool.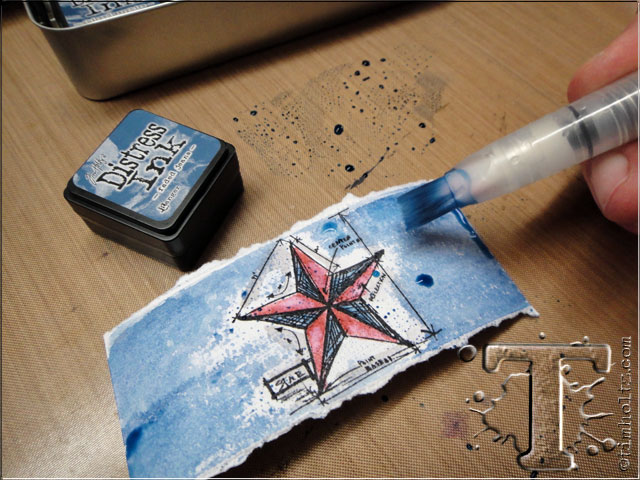 step 15: repeat above steps over the star image with faded jeans distress ink.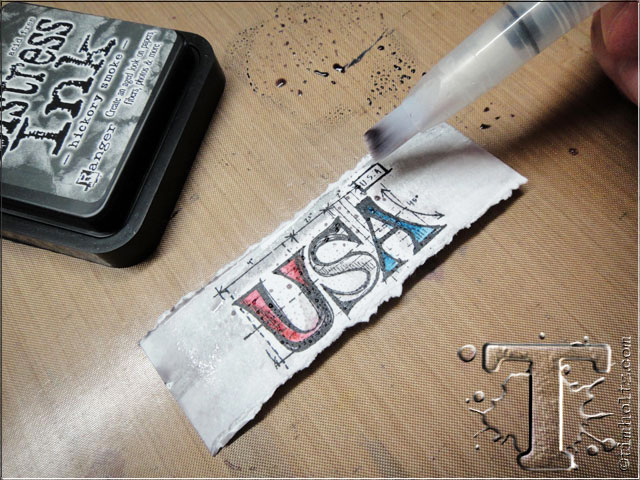 step 16: repeat above steps over the USA image with hickory smoke distress ink.
step 17: once pieces are dry, ink the edges with frayed burlap using mini blending tool.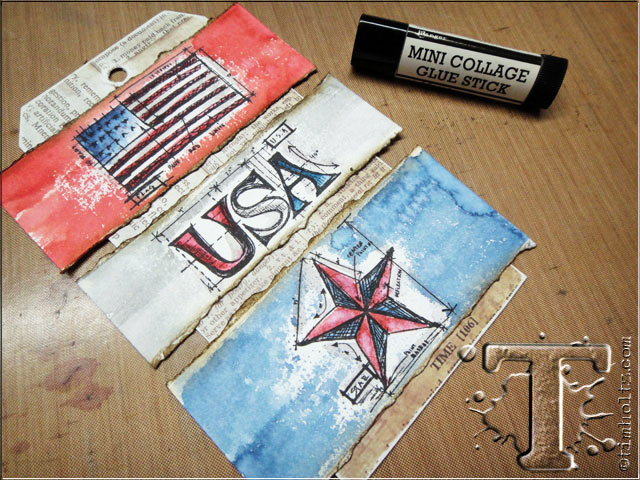 step 18: adhere each strip to the tag using a collage stick.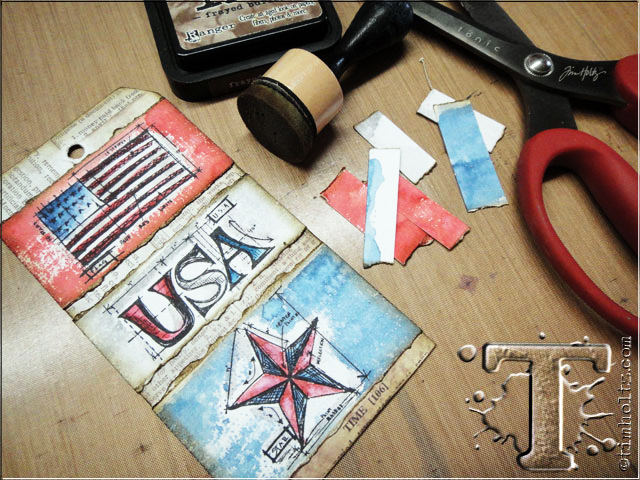 step 19: cut the excess paper from tag, and ink edges using mini blending tool.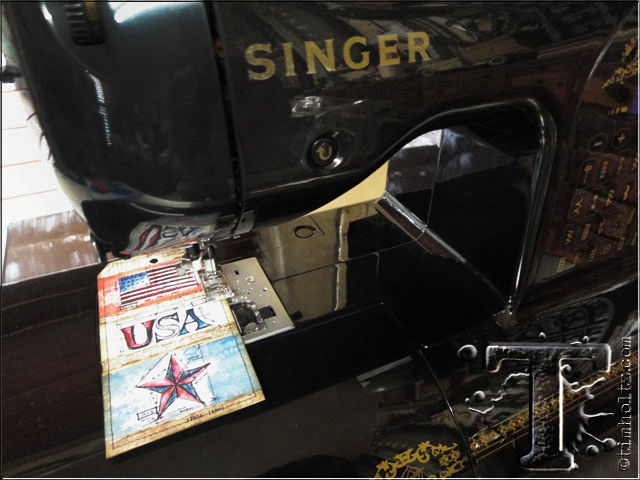 step 20: sew around entire tag to finish the edges.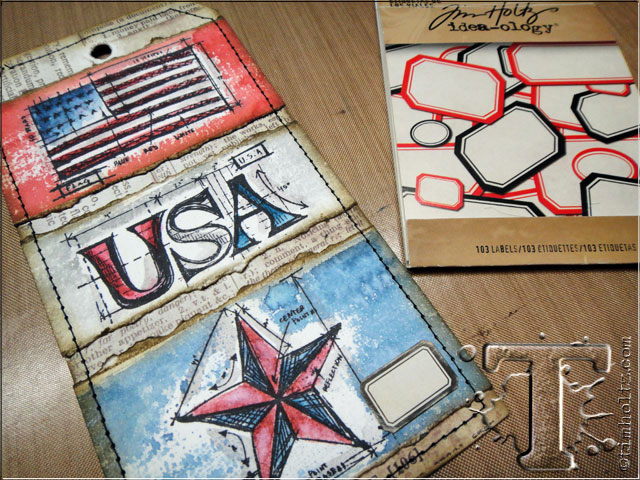 step 21: adhere a small vial label to the bottom corner of the tag.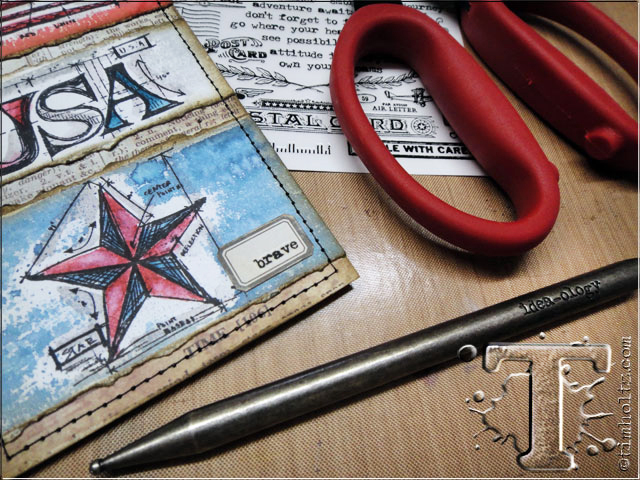 step 22: apply a remnant rub using a remnant rub tool.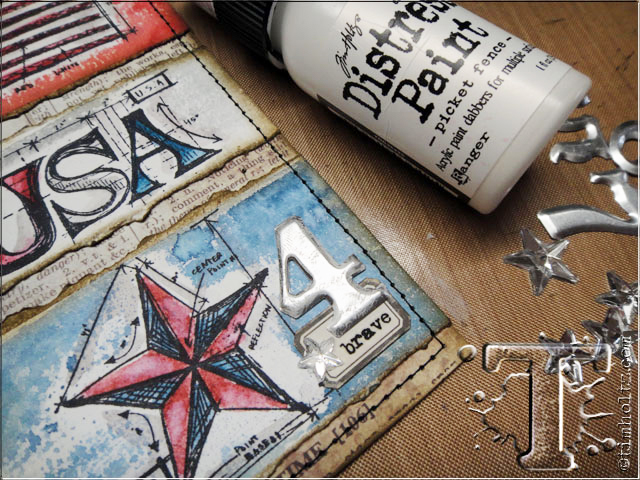 step 23: alter a mini numeral and mirrored star with distress paint and adhere to tag with multi-medium.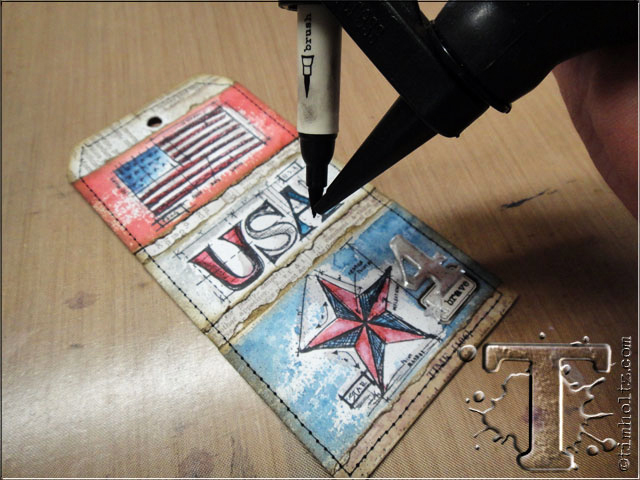 step 24: spritz black soot distress marker over entire tag using a distress marker spritzer.
step 25: tape a piece of crinkle ribbon to craft sheet and color one edge using brush nib of distress marker.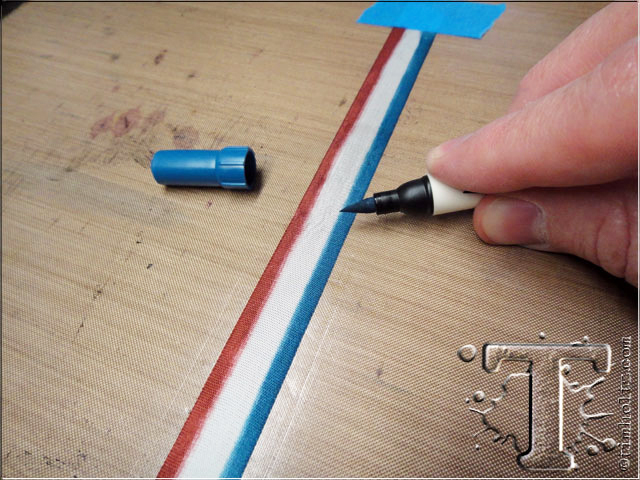 step 26: repeat for the other edge of the ribbon leaving the center area white.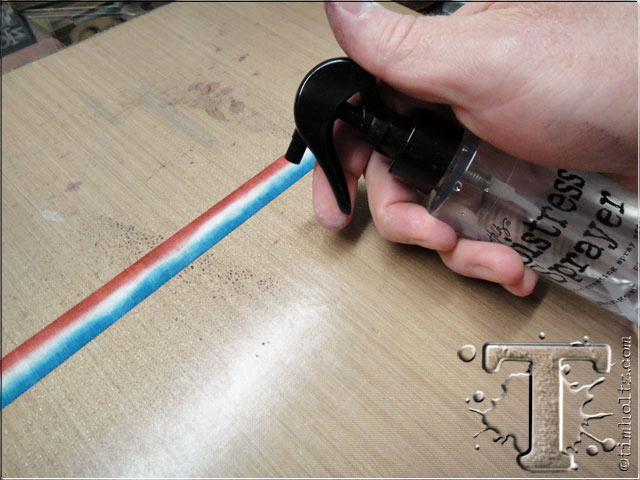 step 27: mist ribbon with water using distress sprayer allowing inks to blend.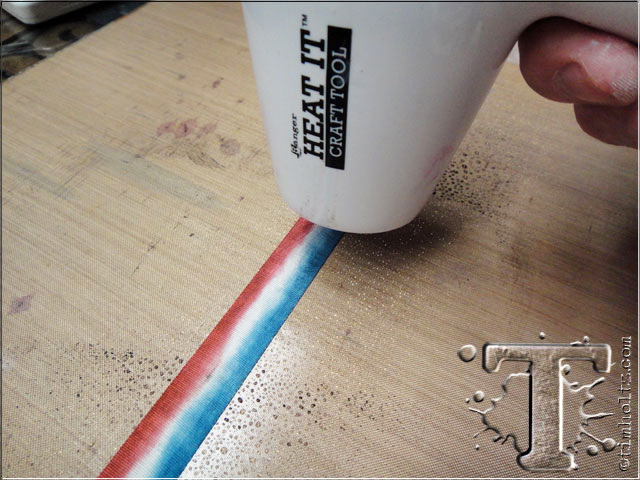 step 28: dry inked ribbon with a heat tool and scrunch to crinkle as it dries.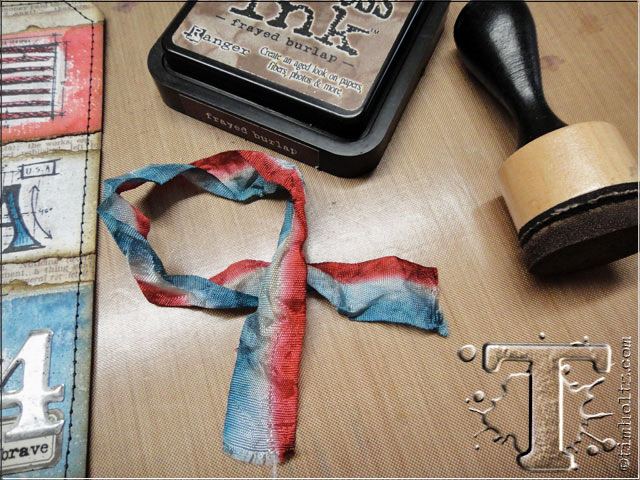 step 29: ink the dry ribbon with distress ink using mini blending tool.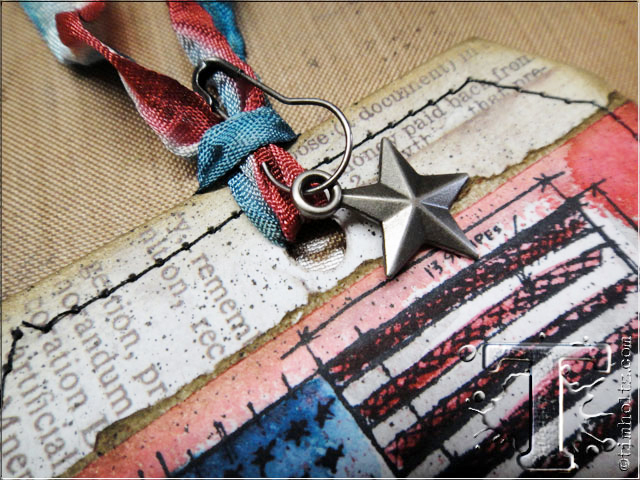 step 30: embellish ribbon using a loop pin and star adornment.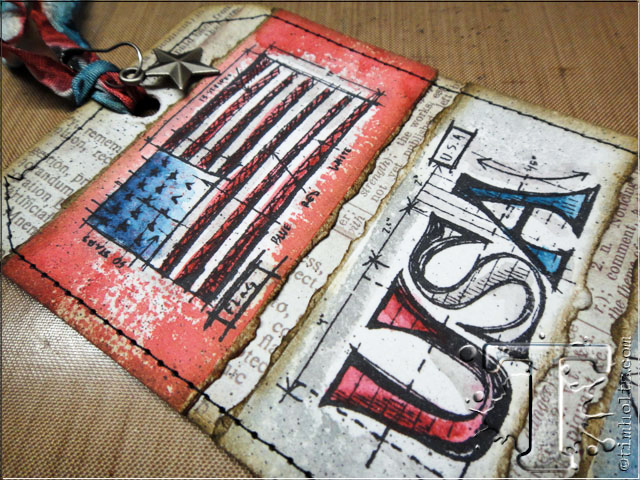 the details: i love the tattered layered look of these watercolored mini blueprint images.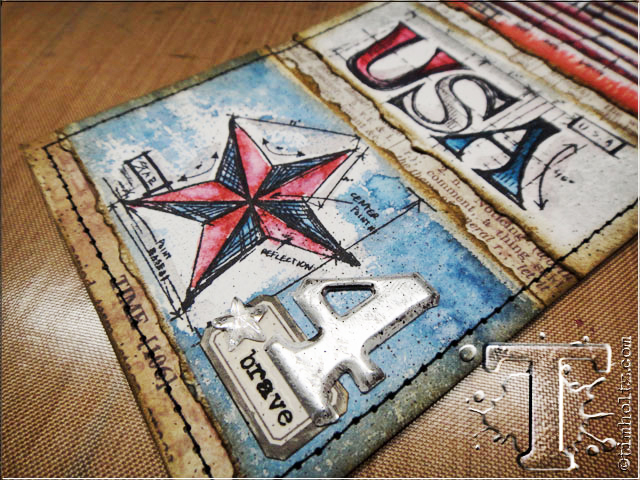 the details: create a collage focal point as a layered embellishment.
Pin It To Remember It!
congrats to the winners from the june 12 tags of 2015.  if you see your name (and it links to your tag), please email mario@timholtz.com to claim your prize…
1. Bubbles
2. Mary Elizabeth
3. Tracy Evans
4. Barbarayaya
5. Tara's Creative Accents
6. Lyla Larimore
7. Kourtney Osborne_Vallee
8. The Start of My Journey
9. Wanda G
10. Lisa's Ink, Paint and Paper
11. NicollelovesScrapbooking
12. kim
*be sure to check your local stores for these supplies or you can click the links below to purchase online with a discount of 10% off your purchase – use the following code with your order: SSS code: 10JULYTH

.