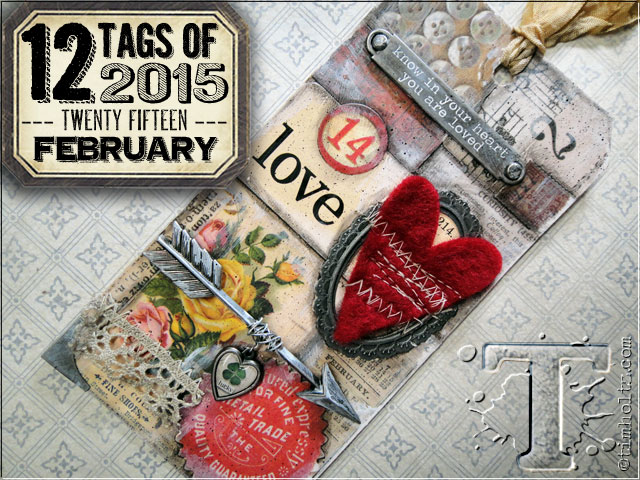 i hope your year is off to a great start. thanks to all of you who are participating in the the 12 tags this year. it's been great seeing all of the creative versatility you are sharing, and i hope the commitment continues throughout the year. the month of february is all about about the things we love, so what better theme for the tag than my simple love of making things. check out this easy way to layer your favorite ephemera to create this patchwork inspired collage – have fun…t!m
supplies used:
surfaces: ephemera pack, flash cards, #8 manila tag, tissue tape
dies: mini movers heart die, base tray
distress paint: picket fence
distress marker: black soot
adhesives: glue n' seal/matte
tools: craft sheet, heat tool, sanding grip, texture hammer, distress marker spritzer, scissors, vagabond
embellishments: adornment arrows, word bands, heart charms, metal corner, crinkle ribbon, industrious stickers
misc: lace, wool felt, thin wire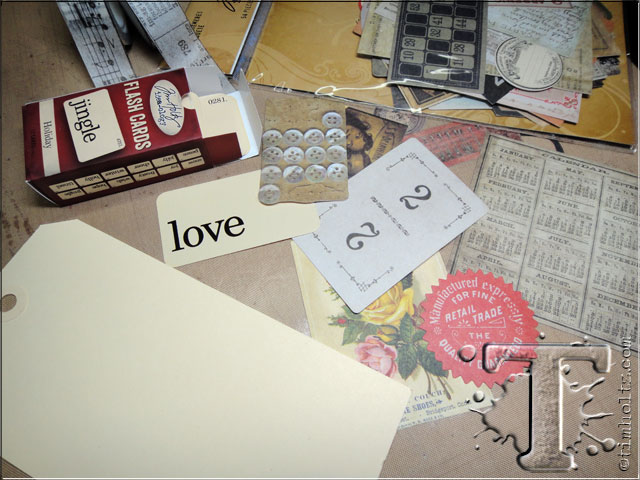 step 1: for me, the easiest way to approach collage starts by gathering up the various elements you want to use including ephemera, papers, photos, etc.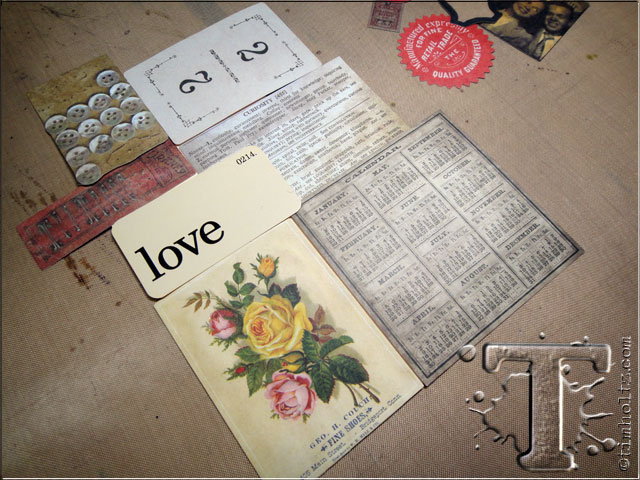 step 2: begin laying out the selected pieces to create a patchwork arrangement to cover the size of the tag. don't worry about the pieces that hang off of the edges of the tag, this is just to give you an idea of how many elements you need.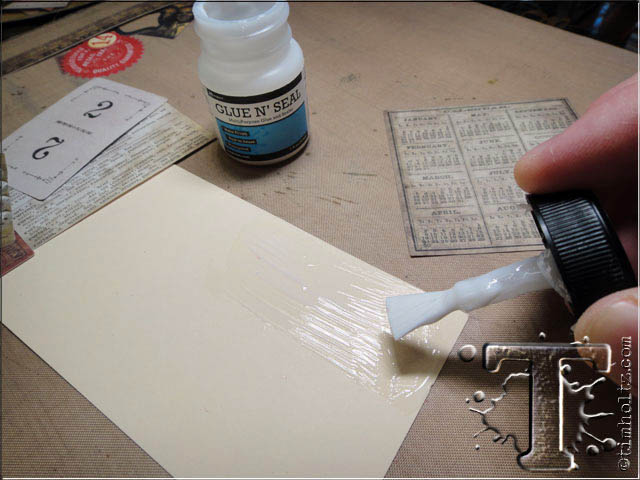 step 3: apply a later of glue n' seal to your base tag working in sections at a time.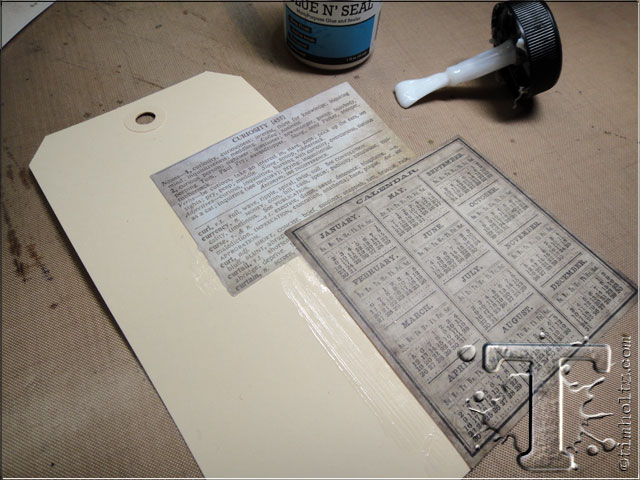 step 4: adhere each piece as you go sometimes layering on top of the previous layers, and sometimes tucking the edges behind previous layers.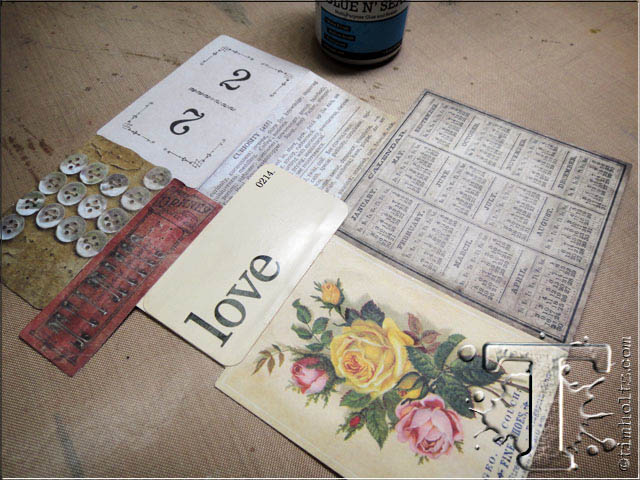 step 5: continue adhering all layers until the tag is covered and let everything dry.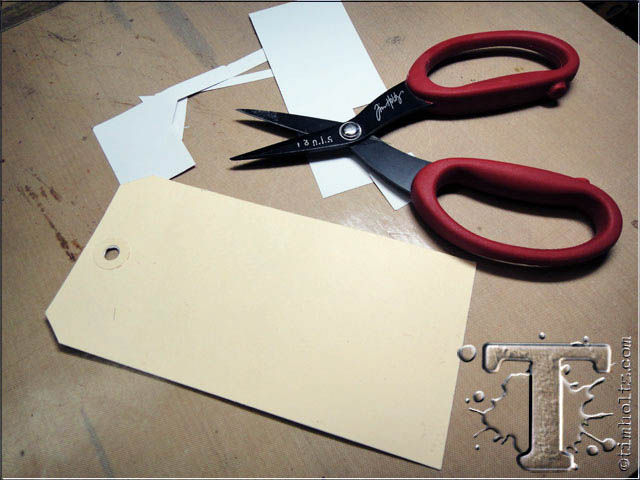 step 6: flip the tag over and trim the excess elements hanging off the tag.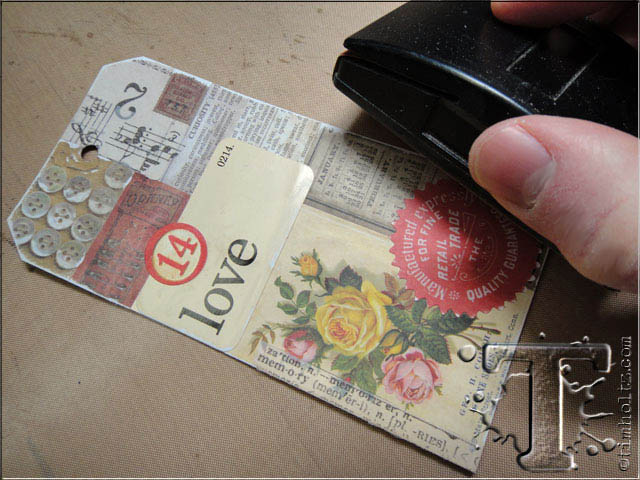 step 7: add pieces of tissue tape to fill in any open areas of the collage and lightly sand the edges and overlapped layers of the tag to distress.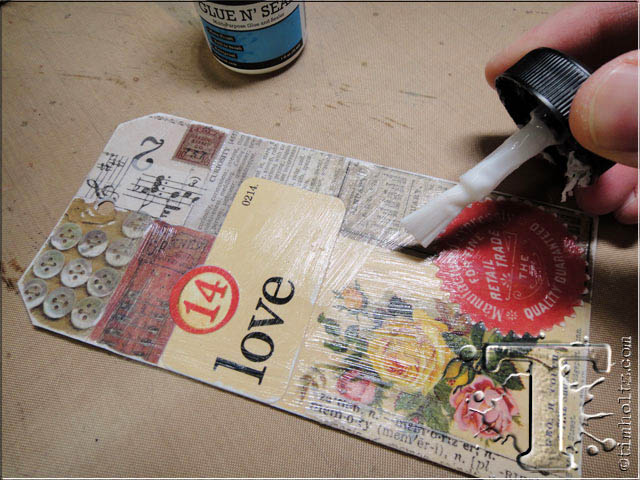 step 8: cover the entire collaged tag with a thin layer of glue n' seal and let dry.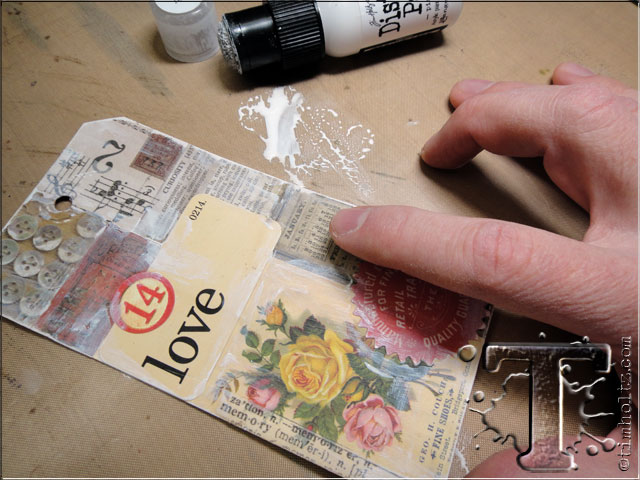 step 9: shake picket fence distress paint and apply a small amount to the craft sheet. using your finger, wipe paint in various areas to create a shabby effect.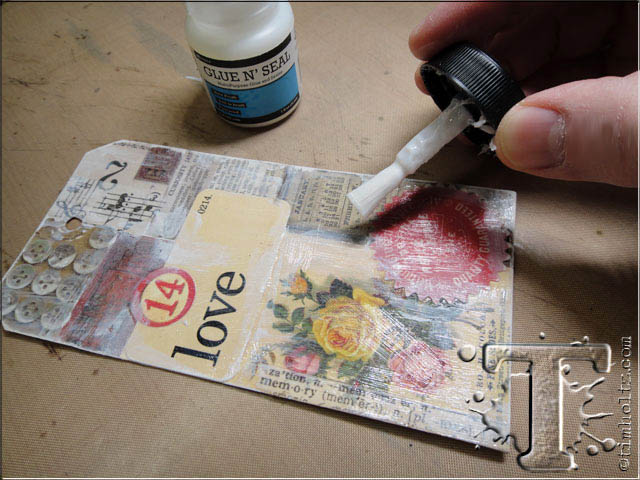 step 10: once paint has dries, cover tag with another thin layer of glue n' seal and let dry.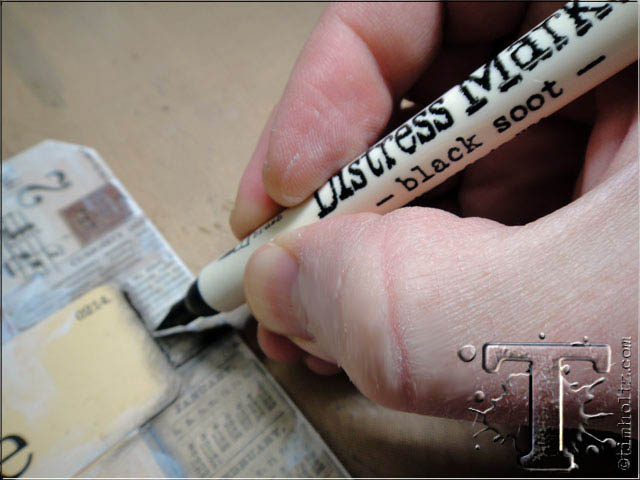 step 11: using the brush tip of a distress marker, apply along the edge of each ephemera layer.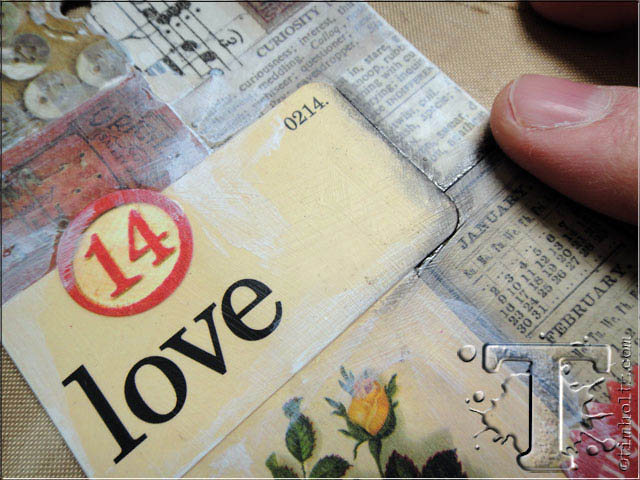 step 12: using your finger, immediately rub the ink to smudge and create a shadow.
step 13: repeat the previous steps for all ephemera layers outlining and shading each edge.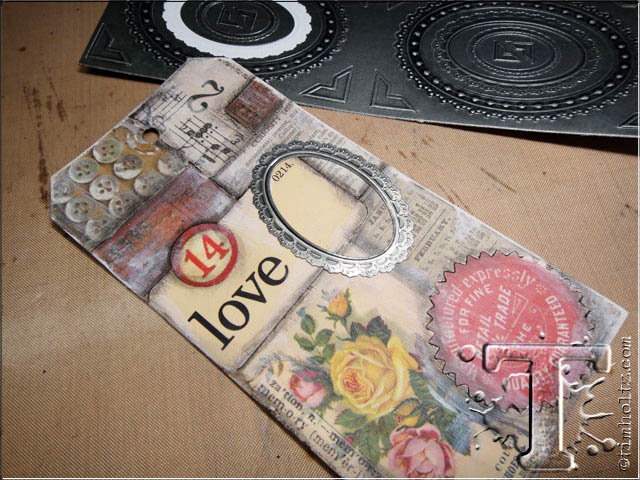 step 14: adhere a small industrious sticker frame.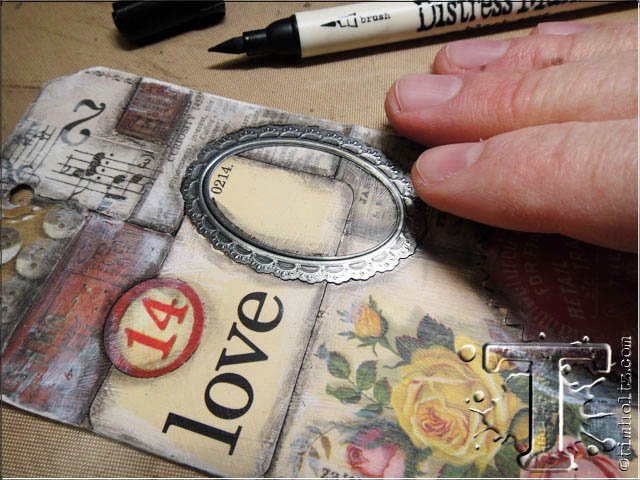 step 15: smudge a shadow around the frame with the distress marker and your finger.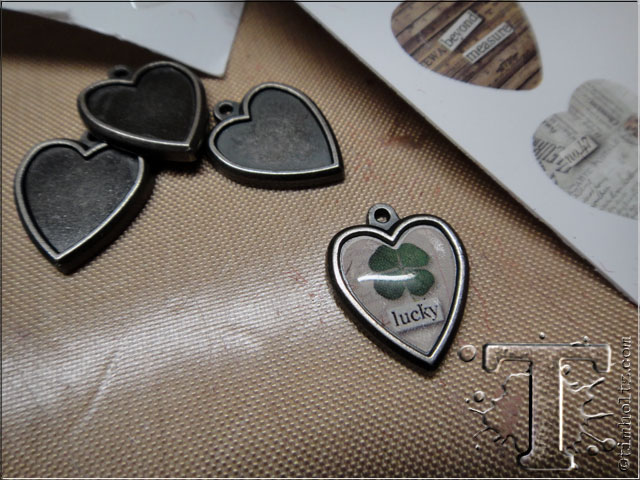 step 16: create a heart charm.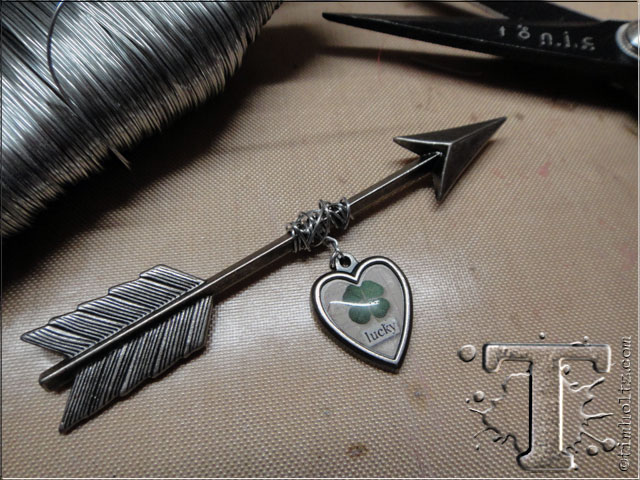 step 17: attach the heart charm to an arrow adornment by wrapping with thin wire.
step 18: distress the metal pieces using distress paint and your fingers.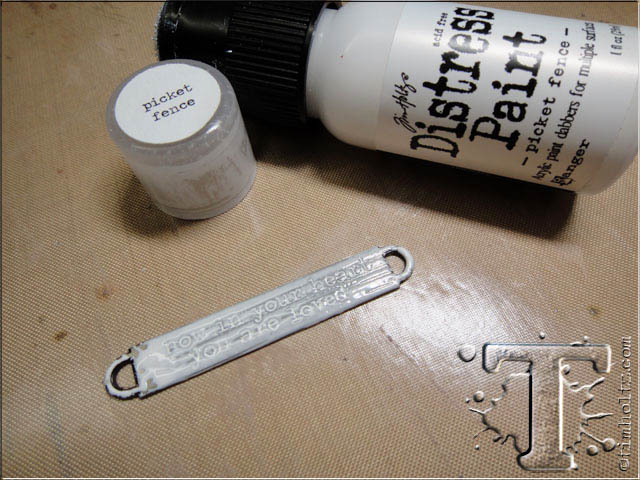 step 19: cover the front of a word band with distress paint and let dry for about a minute.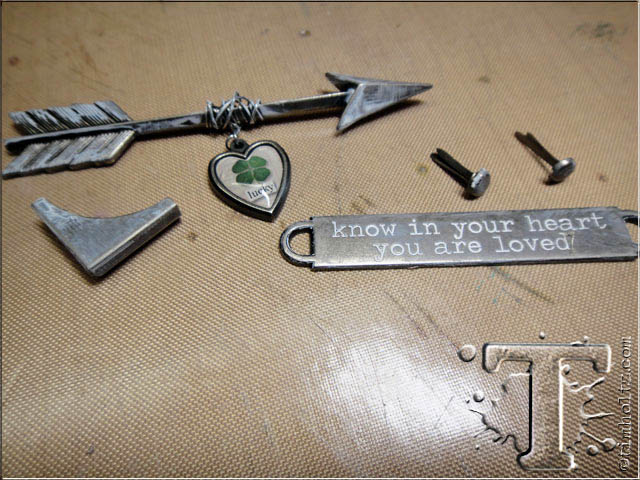 step 20: once paint has had a chance to set, wipe away excess with your fingers allowing paint to stay in the recessed areas. also distress the corner and fasteners.
step 21: die cut a heart from thick wool felt using a steel rule die like the mini movers and shapers heart.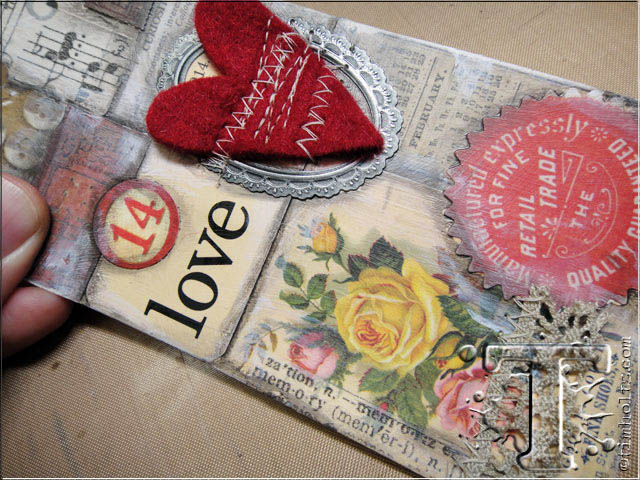 step 22: sew this heart on to the tag using random stitching. also sew on a scrap piece of lace of ribbon trim if needed.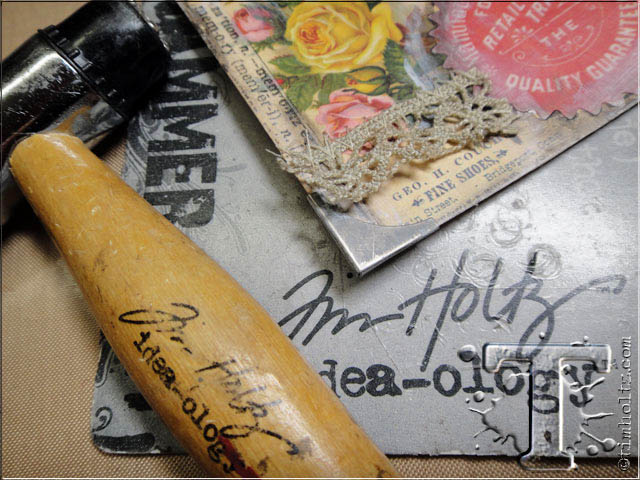 step 23: attach a mini corner to the tag using a hammer or pliers.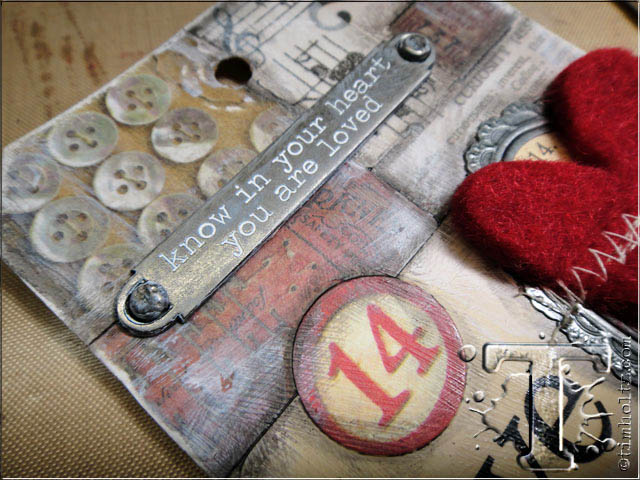 step 24: attach a word band to the tag using fasteners.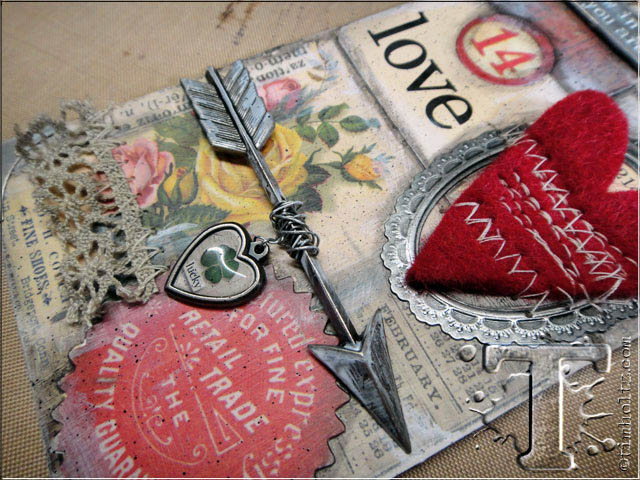 step 25: adhere the arrow adornment using strong adhesive. *note: i used a hot glue gun.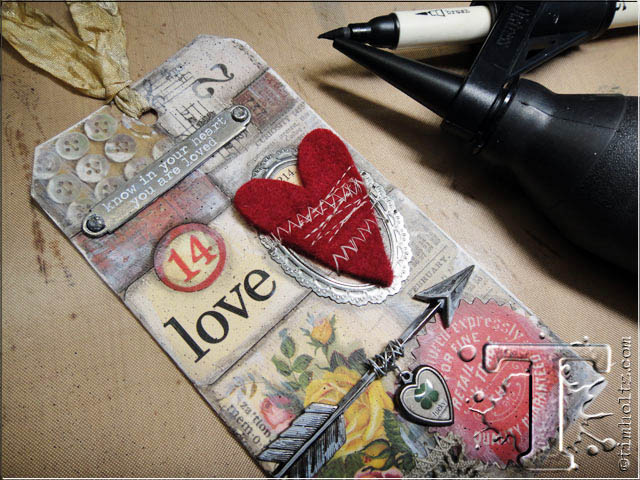 step 26: lightly spritz the tag with a distress marker spritzer for the finishing touch of splatter.
Pin it to Remember It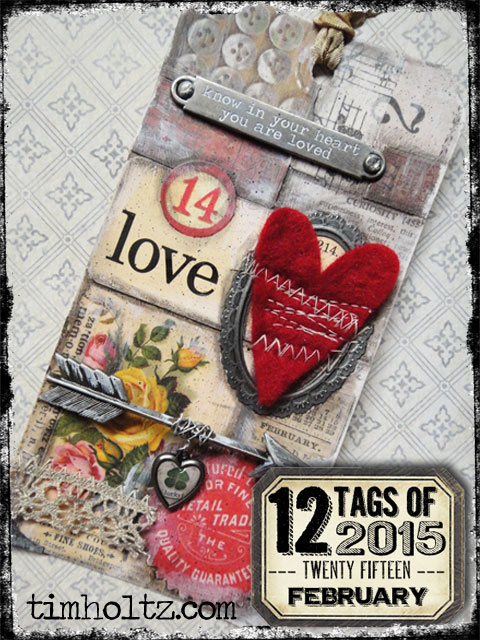 congrats to the winners from the january 12 tags of 2015.  if you see your name (and it links to your tag), please email mario@timholtz.com to claim your prize…
*be sure to check your local stores for these supplies or you can click the links below to purchase online with a discount of 10% off your purchase – use the following code with your order: SSS code: 10FEBRUARYTH
.