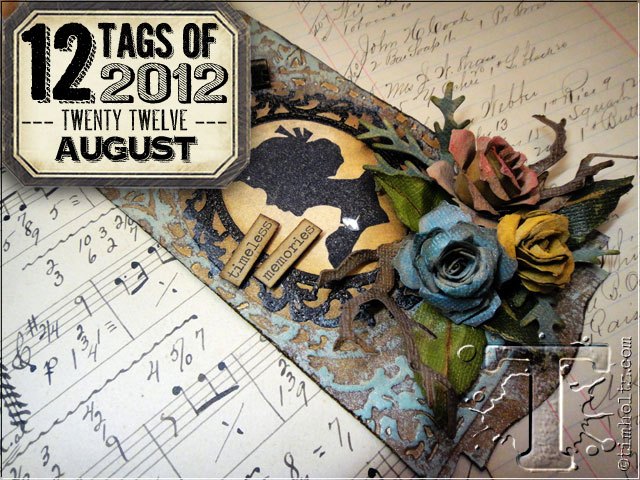 it's been back to business as usual around the studio mixed with a little creativity as we've had some friends visiting us since we've been back from our trip.  we've also been busy with a few last minute details and surprises from my upcoming workshops and demos at stampaway this weekend.  i'm telling you, this one-day show is a must for any serious stamper, it's really incredible.  busy, busy, busy…but not too busy to share the august tag…
well, as you know i've said it many times before, inspiration is everywhere – i truly believe that.  so this month's tag was inspired by my recent trip to the happiest place on earth – a place filled with imagination and "timeless memories".  as we strolled down main street i couldn't resist catching a glimpse of the silhouette artist clipping away those iconic shapes.  there's truly something nostalgic about the look, the art, and the craft of it all.  of course this inspiration also provided me the opportunity to use my new silhouettes stamp set from stampers anonymous.  combine that imagery with this custom rose making trick, and we've created a tag with pure vintage goodness.  let's get started…
supplies: craft sheet, distress ink/antique linen/pumice stone/vintage photo/walnut stain/tattered rose/worn lipstick/broken china, distress stains/tattered rose, ink blending tool, felt, paint dabber/juniper, archival ink, distress embossing ink, black embossing powder, heat tool, perfect pearls mist/heirloom gold, #8 manila tag, mister; crinkle ribbon, baubles, wire pin, type charms, locket keys, chit-chat stickers, sanding grip; kraft core; tattered pinecone die, mini leaf and branch die, base tray, book covers texture fade, on the edge die/plaque & postage, vagabond; stamp set cms#137 , paper distresser; glue gun; foam tape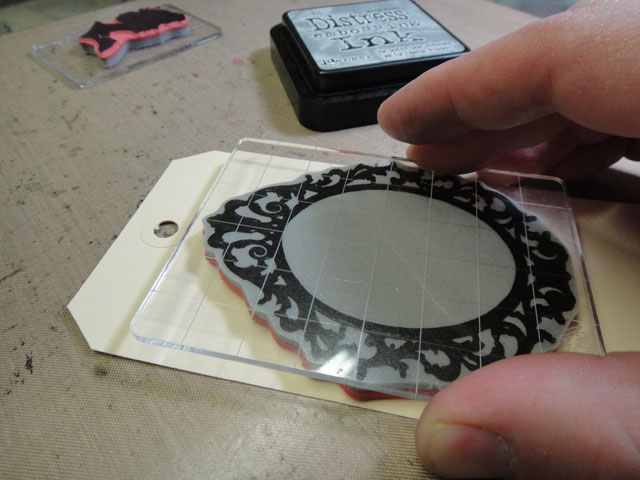 step 1: stamp frame on to tag with clear embossing ink.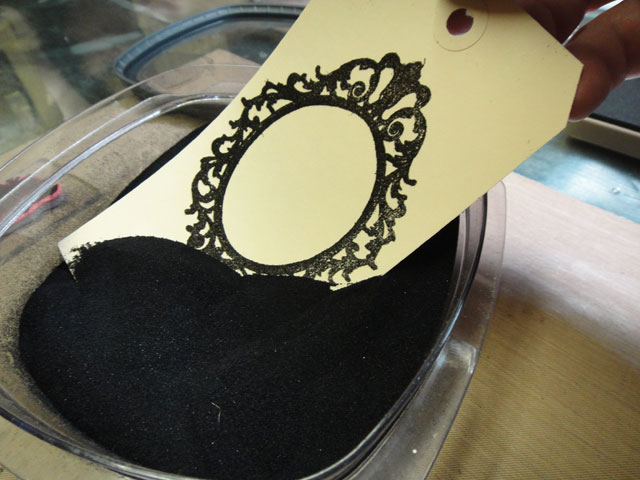 step 2: apply black embossing powder over image and remove excess.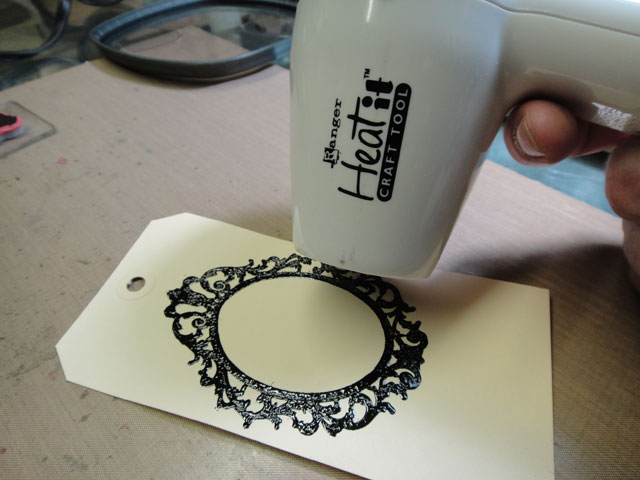 step 3: heat emboss with heat tool until image has melted and is raised.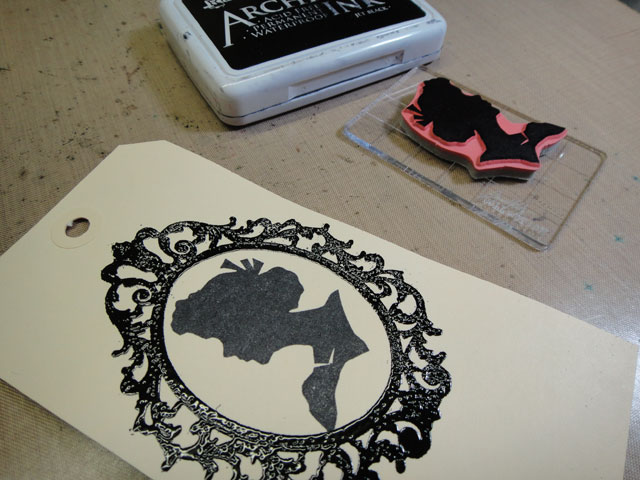 step 4: stamp silhouette image into center of frame with archival ink.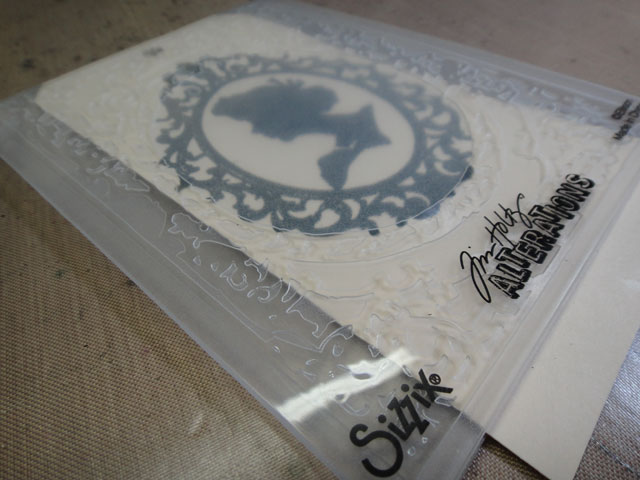 step 5: emboss the tag using the oval book cover texture fade leaving the stamped areas of the tag smooth.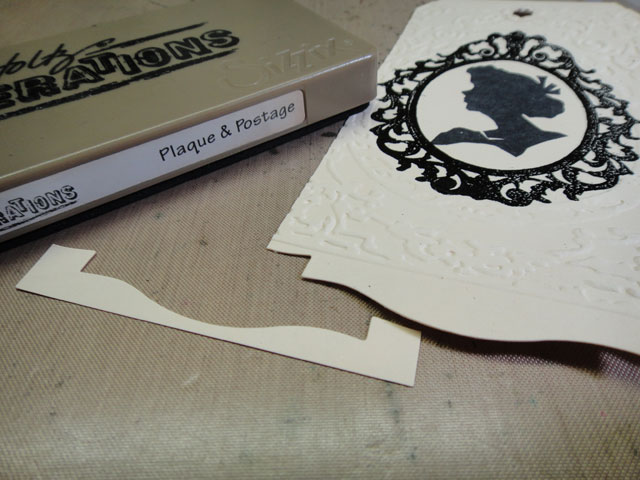 step 6: die cut the bottom edge of the tag using the on the edge plaque die.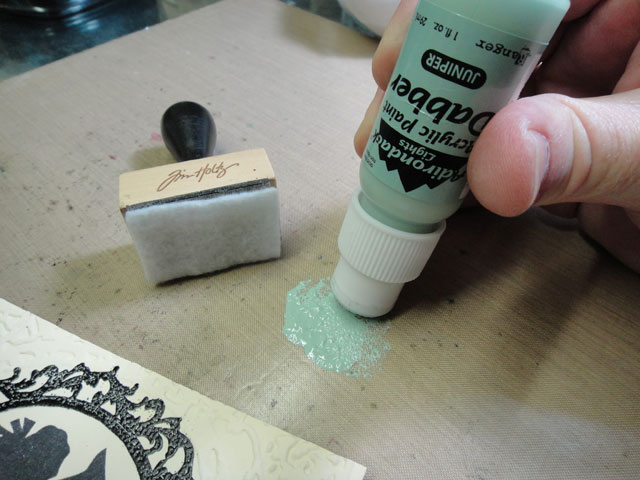 step 7: apply paint dabber to the craft sheet.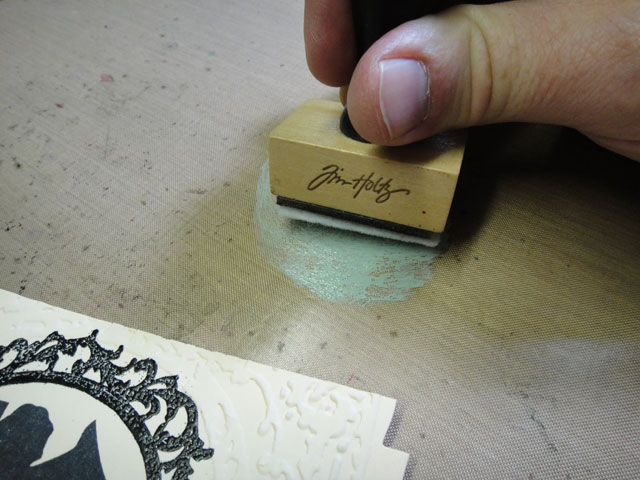 step 8: apply a piece of felt to the ink applicator tool and rub over paint on craft sheet saturating the felt.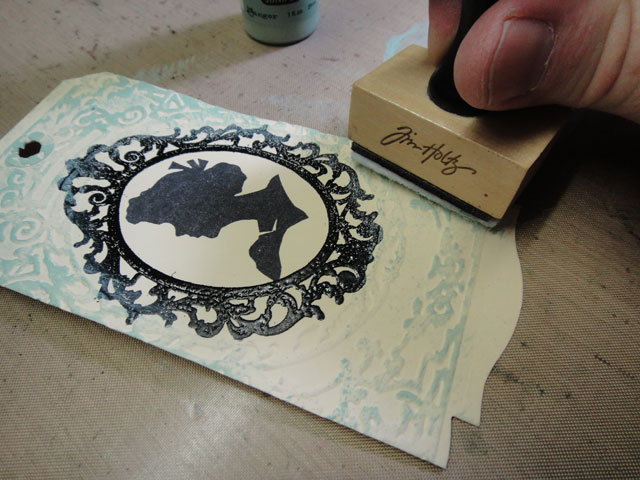 step 9: lightly tap and swipe painted tool over raised embossed surface – let dry.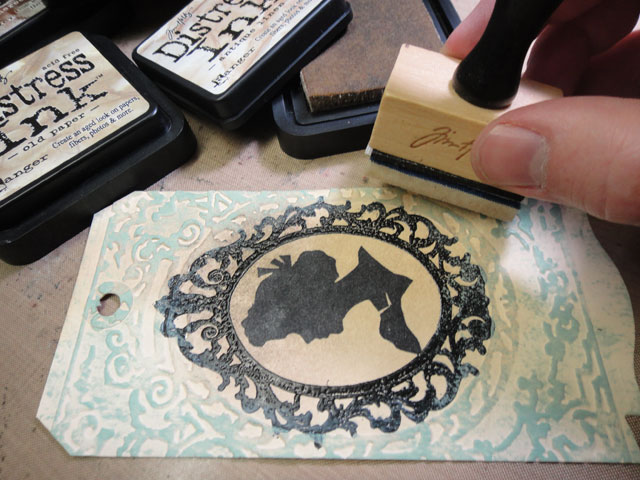 step 10: ink the tag with distress ink using an ink blending tool starting with the lightest color of distress ink in the center and working out with darker shades of brown.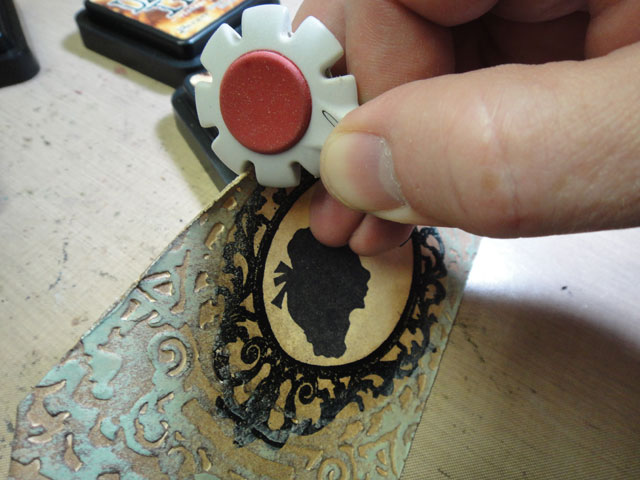 step 11: drag paper along edges of the tag and ink if desired.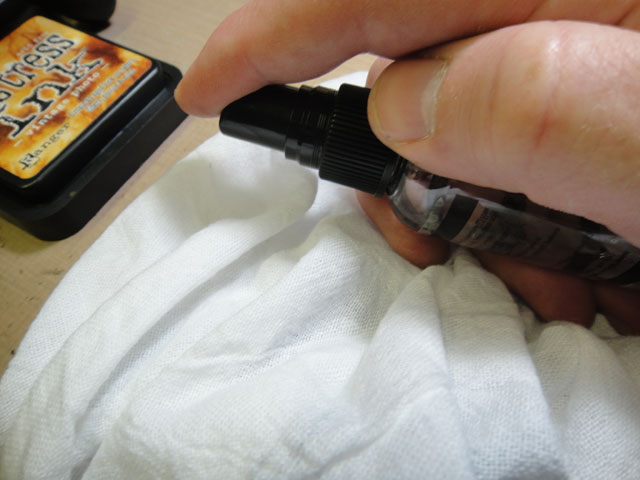 step 12: mist cloth with water from mister.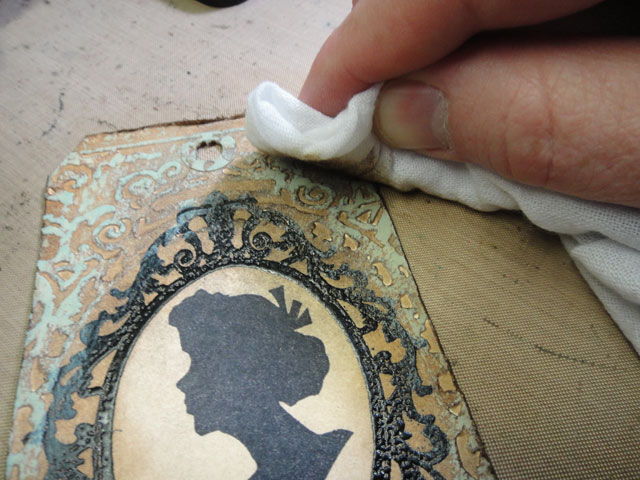 step 13: lightly swipe damp cloth over inked tag revealing paint color as paint resists the distress ink.
step 14: create 3 roses from kraft core paper using the technique i shared in this video from last year's 12 tags of christmas.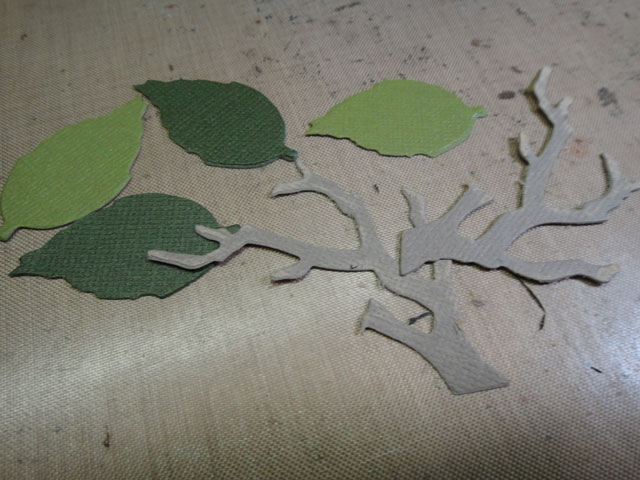 step 15: die cut leaves and branch from kraft core.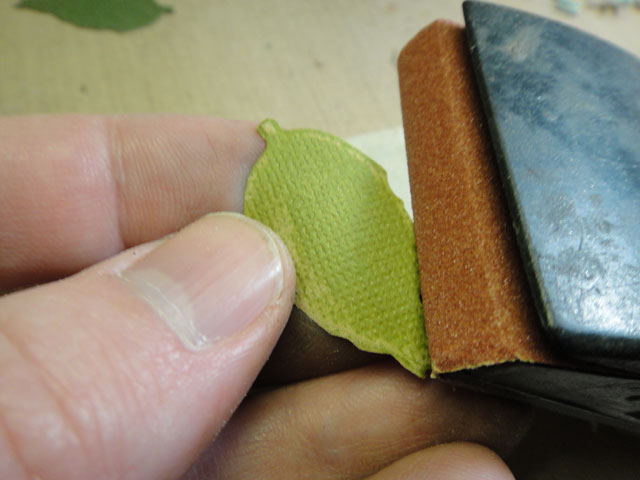 step 16: sand edges of all die cut pieces using sanding grip.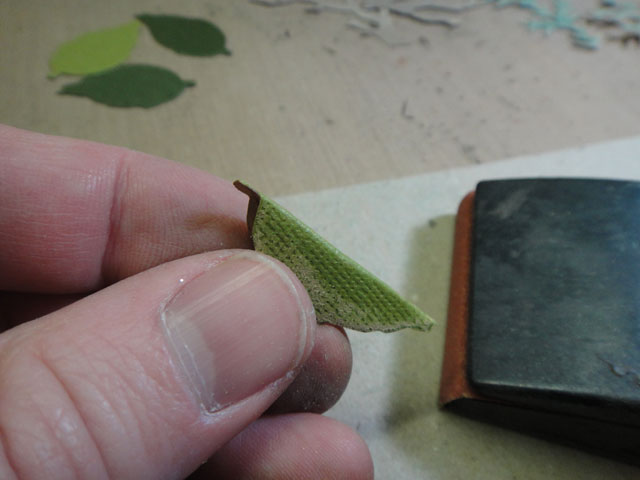 step 17: for leaves, fold in half and sand along fold to create a leaf vein.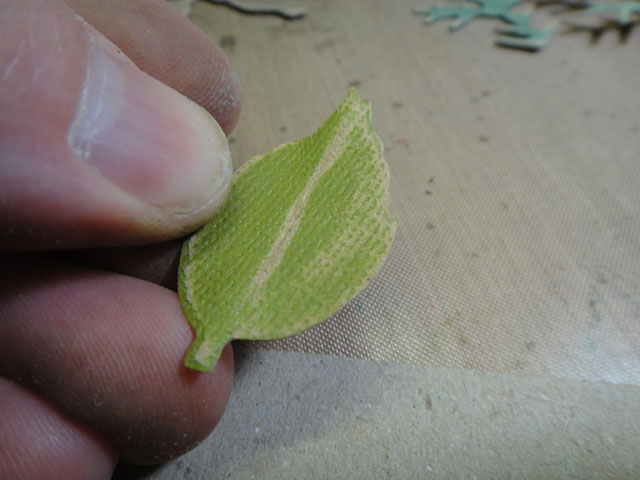 *this is the effect you should get…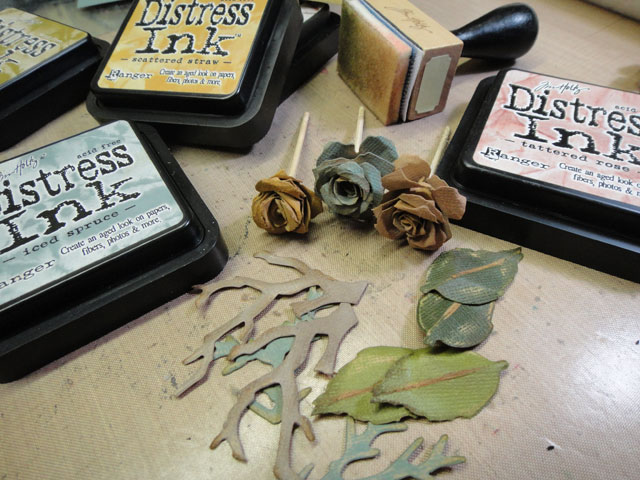 step 18: ink edges of roses and all die cut pieces with various colors of distress ink using an ink blending tool.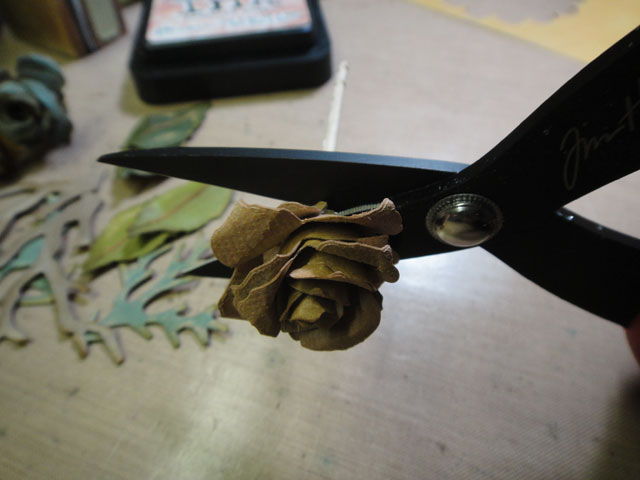 step 19: snip toothpick from base of rose.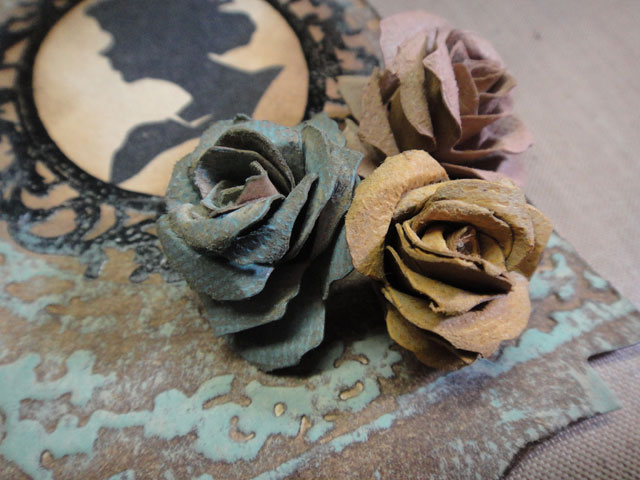 step 20: adhere roses to bottom of tag using a glue gun or other adhesive of choice.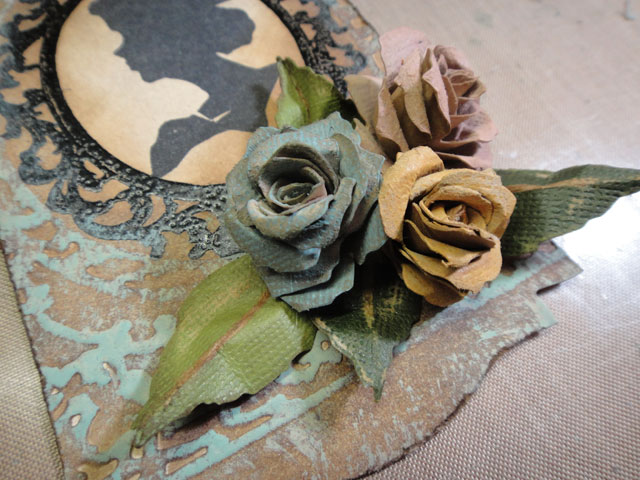 step 21: adhere leaves tucking under the roses.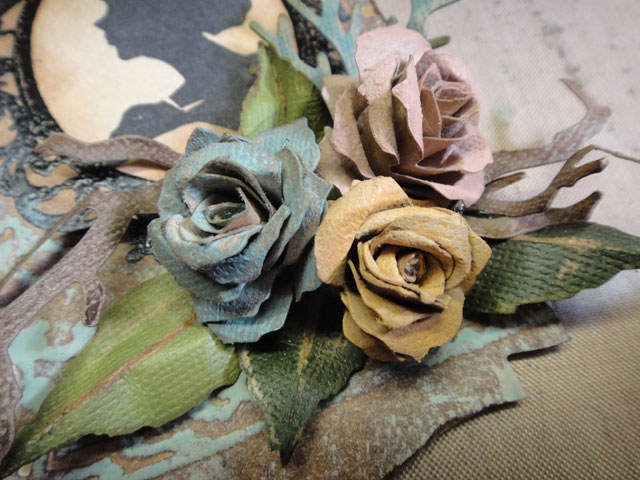 step 22: adhere twigs around roses and leaves.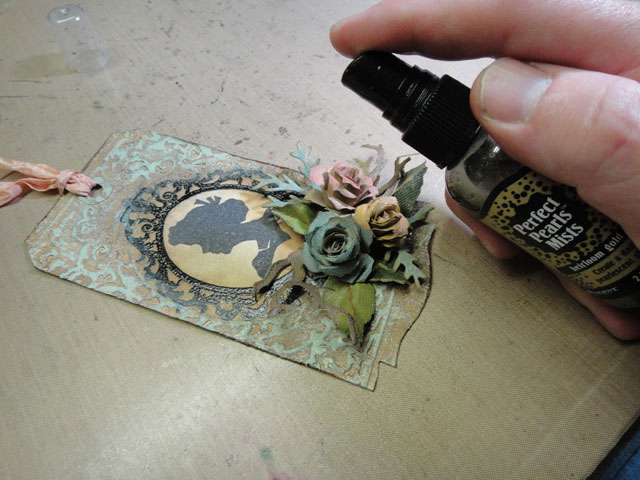 step 23: shake perfect pearls mists and lightly mist over completed tag for a pearly shimmering effect – let dry.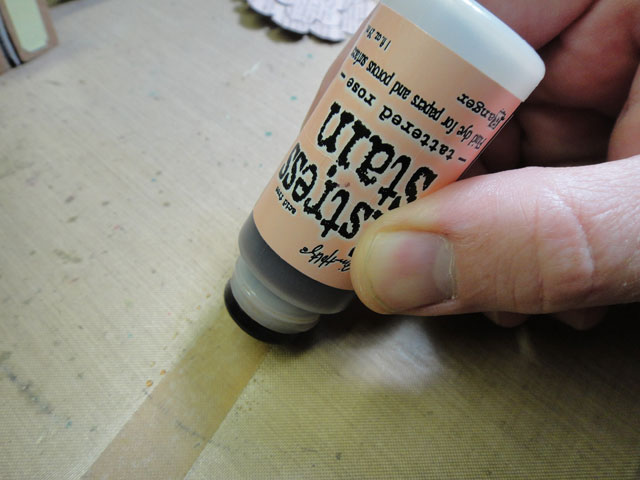 step 24: colorize crinkle ribbon using tattered rose distress stain, and dry with heat tool – tie on to tag.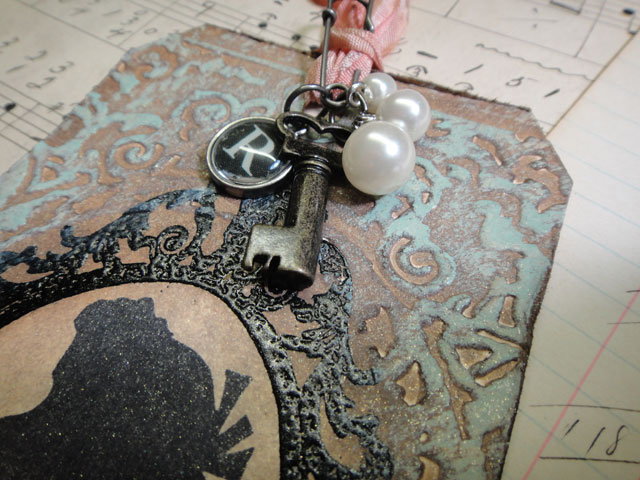 step 25: attach type charm, locket key, and baubles to wire pin and secure through ribbon on tag.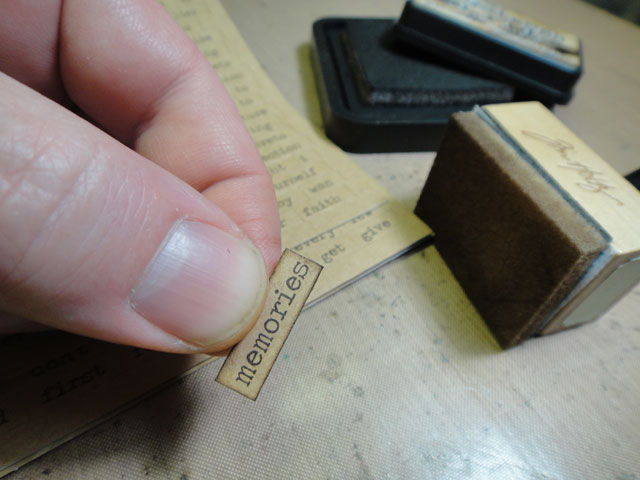 step 26: remove chit-chat stickers and ink edges with distress using ink blending tool.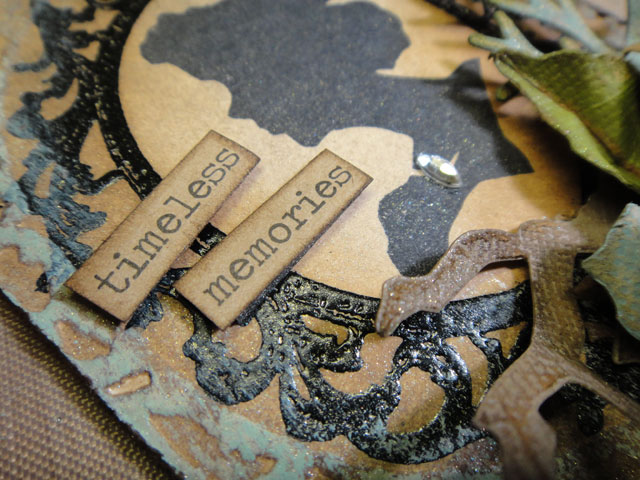 step 27: adhere words to tag using foam tape for dimension and the finishing touch.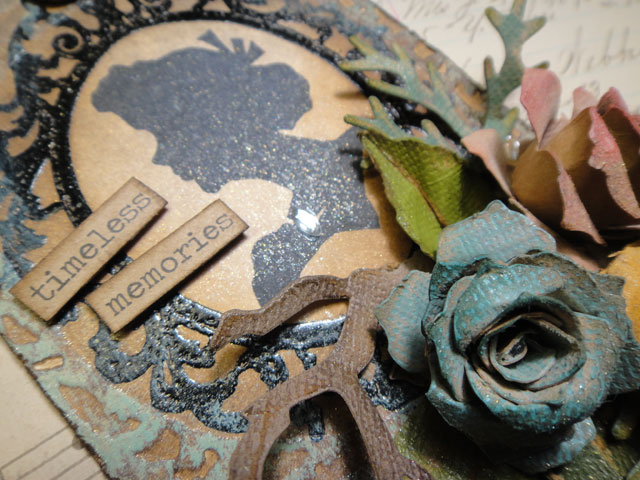 *in the details: i love the dimensional look of these hand-made paper roses and how they adorn the vintage iconic look of the silhouette.
well i hope you give this month's tag a try.  the possibilities of creating your own roses are endless especially with the variety of papers out there.  of course for this tag, if you don't have all of the supplies you can get creative and make your own flowers using decorative scissors, torn papers, you name it.  remember the reason for 12 tags is to hopefully inspire you, and more importantly, give you time to create and enjoy the journey too…t!m
congrats to the winners from the july 12 tags of 2012 gallery posts.  if you see your name below and it links to your tag, please contact mario@timholtz.com to claim your prize!
1. Debi Ryan NZ
2. Cynthia
3. Cheryl
4. Kimberly F
5. Anne Rx
6. Helen
7. inkypinkycraft
8. Nicie Ibarra
9. Lisa Sackett
10. Melody Holcomb-Ho…
11. Sarah M
12. Sue
*be sure to check your local stores for these supplies or you can
click the links below to purchase online…
(SSS=simon says stamp / IE=inspiration emporium)
GREAT NEWS! both of these online stores are offering a discount of 10% off your purchase – use the following codes with your order:
(SSS code: TH12AUG / IE code: timtime)