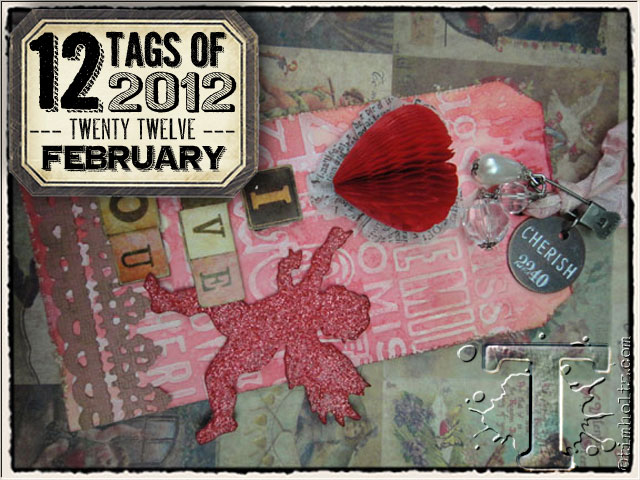 one thing about my creative journey in this industry is that i'm always looking for ways to think differently, to change my perspective, and to be open to change.  after returning from cha, my mind has been spinning with ideas from the many conversations i've had with store owners, and other crafters about the impact of the 12 tags of christmas.  there is no doubt there is a creative surge during that time of year, but there are challenges for everyone including having the time to create during such an already busy time of year.  not only that, but i also feel that there are so many other great products, stamps, dies, ink colors, papers, embellishments, etc. that i don't seem to have the time to create with throughout the year.  so what to do???
well, after 5 amazing years of the 12 tags of christmas, it's time for a new direction.  so i've decided to officially retire the "12 tags of christmas" as we know it, and begin the 12 tags of the year.  of course with this year being 2012, what better time to kick off this new concept with the "12 tags of 2012".  so at the beginning of each month i will post a  tag tutorial (with step by step photos, video, etc).  this tag will be themed to that month's holiday season if applicable, or just a new idea to share.  i will have the inlinkz live to allow you the entire month to upload your creation inspired by that month's tag.  at the end of that month, we will select winners at random from those who have uploaded a project, and post them on the blog with some great prizes.  of course there is also a blinkie on the side of the blog you can download and post on your own blog sharing your participation in the new "12 tags of 2012".  i'm so excited for this new concept since it will inspire me with new ways to create each month, give you time to create as well, and share a wider variety of ideas.  just think… the new 12 tags will be like christmas every month!!!
(okay so i already know i'm behind this new brainstorm, but let's just focus on this month's tag and i'll catch up with january's tag another time – fair enough?)

supplies: distress ink/fired brick/barn door/aged mahogany/worn lipstick/festive berries/frayed burlap; distress stickles/barn door; distress stain/spun sugar; paint dabber/snow cap; mister; heat tool; craft sheet; ink blending tool; glossy accents; #8 manila tag; sanding grip; grungeboard; seasonal salvage stickers; baubles; trinket pins; trimmings; philosophy tag; tissue tape; dies/mini love struck/mini hearts/vintage lace; texture fades/valentines; kraft core; stamps/valentines silhouette; grid-blocks; scissors; paper distresser; honeycomb paper

step 1: apply snow cap paint dabber to valentines background stamp.

step 2: stamp on to the center of the tag (you'll see why) with firm pressure and clean paint off stamp.

step 3: dry stamped image with heat tool.

step 4: ink tag with distress ink using ink blending tool (ink in circular motion to avoid lines).

step 5: continue inking with various colors of distress ink.

step 6: mist towel with water.

step 7: lightly wipe over inked tag to remove ink from stamped area – the paint resists the ink.

step 8: mist the tag with water to blend and activate the distress ink colors.

step 9: dry with heat tool.

step 10: drag paper distresser along edges of the tag.

step 11: ink edges with distress ink using ink blending tool.

step 12: place tag into texture fade (i cut a slit on the fold of my folders with a craft knife to allow me to slide the tag to through).  *this is why i stamped in the center so i could emboss it.

step 13: emboss tag tag using the vagabond (check out the cool raised text).

step 14: die cut the mini cupid and 2 mini hearts from grungeboard.

step 15: ink the cupid solid with distress ink using an ink blending tool.

step 16: apply a medium layer of distress stickles to the inked grunge.

step 17: spread out the distress stickles with your finger and set aside to dry.

step 18: apply tissue tape to the edge of one of the grungeboard hearts by gathering it to create a ruffle.

step 19: continue until the entire edge is ruffled.
 step 20: check out this video about this very cool honeycomb paper.  die cut one mini heart and attach to the grunge as shown in the video.

step 21: apply a generous amount of glossy accents to the back of the honeycomb heart.

step 22: adhere the honeycomb heart to the ruffled heart.

step 23: die cut the vintage lace from kraft core.

step 24: sand and ink with distress ink.

step 25: adhere a couple of strips to the bottom of the tag with glossy accents.

step 26: adhere cupid and heart to tag with glossy accents.

step 27: remove seasonal salvage sticker from book and cut words apart as shown.

step 28: sand the edges with a sanding grip.

step 29: ink the edges with distress ink using an ink blending tool.

step 30: adhere word stickers to tag.

step 31: cut a piece of crinkle ribbon from trimmings and stain with spun sugar distress stain.

step 32: crumple into a ball and dry with heat tool.

step 33: once dry, stretch out and rub over the crinkled ribbon with an ink blending tool to distress further.

step 34: tie ribbon through tag and embellish with baubles, philosophy tag, and trinket pin.

the details: i love the nostalgic look of this honeycomb paper.  keep in mind this has a number of uses throughout the year.

the details: for added dimension, adhere the word stickers with foam tape instead.
well i hope you're ready to be inspired every month with a new tag and join in the new "12 tags of 2012".  i'm so excited for this new way to share creativity all year long and of course this doesn't mean it's the only time i'll share projects on the blog.  i'll be sharing as much as i can whenever i can, but at least you can count on a new tag every month to inspire your creativity.  thanks for embracing something new as we continue to enjoy the journey…t!m